So you just got an… Oculus Quest
Get set up, grab some great games and apps, and consider some gear too
While the Oculus Rift and HTC Vive deliver on the promise of high-end VR for those with powerful gaming PCs, the Oculus Quest hits the sweet spot of VR for everyone.
It's properly powerful enough, running many of the same games as on PC and PlayStation VR without external hardware, it's fully self-contained and portable (including onboard tracking sensors), and the wireless motion controllers work like a charm. In fact, it's our 2019 gadget of the year. It's that good!
If you've just found one under the Christmas tree, then you're in luck: there's loads of fun to be had with the Oculus Quest, between a strong slate of early games and plenty of potential ahead. Here's a look at how to set up the headset, which games are most worth your time and money now, and which extra gear is worth considering.
1) Get up and running
Right out of the box, you'll want to do a couple of quick things: attach the lanyards to the Oculus Touch controllers, to avoid flinging them at a TV, window, or cat during usage, and also insert the glasses spacer if you'll be wearing specs while playing. It adds just a smidge of extra space to make that a comfortable experience.
Grab the USB-C cable and power brick and plug the Oculus Quest into a wall outlet to charge the headset itself. The Touch controllers each use an AA battery, so be sure to pop one of those in each as well. Once the charging indicator on the headset is green, it's fully charged. You'll typically get two to three hours' usage from a full charge, so it's worth filling it up completely if you plan to play for a while.
Download the Oculus app for iOS or Android and follow the steps to pair it to your headset. The app is the easiest way to download games and apps and manage your library, although you can do all of that from within the headset once you're all set up.
Once you're all paired, strap on the headset and get familiar with the feel of the Quest and the Touch controllers. When playing in a new space for the first time, you'll need to set up your play area using the Oculus Guardian software. It's really neat: you'll essentially trace an outline of your area using the Touch controllers, and the headset will understand where you are in the room and what kind of space you have to work with. When you get close to a wall or obstacle, the Quest will let you know to back off. Smart.
2) Grab some games
Less than a year after release, the Oculus Quest already has a strong library of games and experiences – in large part due to mining the existing lineups of other headsets and making them available on a self-contained device.
In any case, if you're new to VR, then there's loads here worth checking out. Here are five of our favourites, and you can find more on our list of the best Oculus Quest games and apps.
Beat Saber (£23)
If there's one game we'd recommend to anybody with a VR headset, it's definitely Beat Saber. Imagine trading Guitar Hero's plastic instruments for virtual lightsabers and you have an idea of what to expect, as you slash through flying cubes and dodge obstacles in time with the beat. The Quest version is actually the best yet, thanks to the lack of any tether.
Vader Immortal: A Star Wars VR Series (£20)
If The Rise of Skywalker reignites your Star Wars passion, then point it at Vader Immortal next. This immersive three-part series casts you as an unwilling disciple of Darth Vader himself, who intimidates with his impressive scale in VR – although you'll eventually be swinging your saber at him by the time the brief quest ends.
Superhot VR (£19)
Superhot was a super-cool game on traditional screens, but this reimagined VR edition is even better. The gleaming red enemies only move when you do, physically, and each challenge tasks you with rapidly procuring the weapons around you and blasting them to bits. They're like little puzzles: how can you grab this pistol and clear the room while slow-mo bullet trails whiz by? Figure it out!
Tilt Brush (£15)
It's not all games (just mostly games) on the Quest. Valve's brilliant Tilt Brush is also available, letting you paint on a new kind of canvas: the 3D space around you. You kind of have to see it to believe it, as the brush strokes hang in the air where you leave them, letting you build them into incredible 3D designs.
Moss (£23)
Unlike some of the more active, intense experiences above, Moss is quiet and charming – an adventure game about a brave mouse on a grand quest. It's the subtle touches that make this a compelling VR experience, including dazzling atmosphere and rich storytelling.
3) Get some extra gear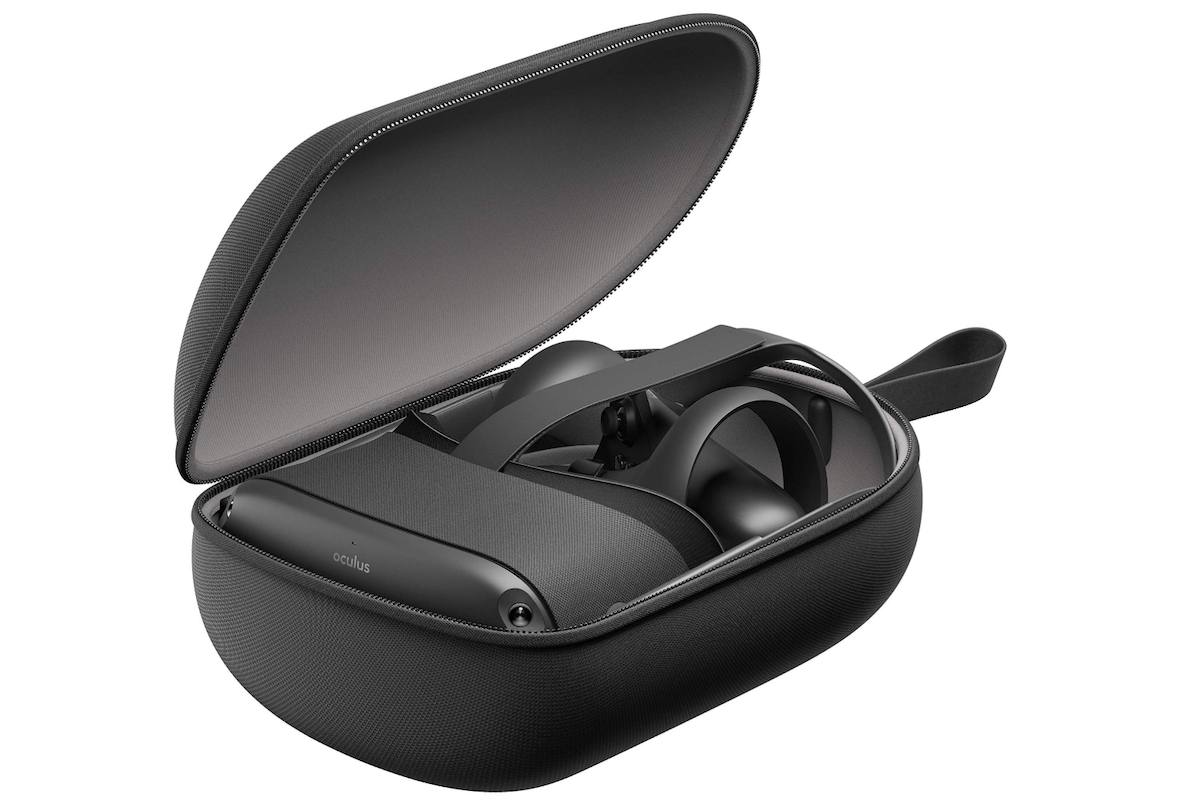 The Oculus Quest package has everything you need to start playing, but it's worth considering some add-ons to protect your device or extend the experience. Consider these ones:
Oculus Quest Travel Case (£40)
There are plenty of Quest-centric cases out there, but we like the official Oculus one. It's built to compactly hold the headset, Touch controllers, and cables, and has a sturdy exterior without adding a bunch of weight.
Anker PowerLine 10ft USB-C to USB 3.0 (US$17)
Did you know that the Oculus Quest can essentially become an Oculus Rift? It's true! You have to have a certain type of cable, and this is the one that Oculus recommends until its pricey new cable launches in Europe. Be sure to read the how-to guide for Oculus Link, as only certain PC GPUs are supported, and you may encounter issues if you don't follow it precisely.
VR Cover Facial Interface & Foam Replacement Set (US$29)
With extensive use, the padding on your VR headset can get kind of gross thanks to sweat – but VR Cover makes a number of accessories to help. This set includes wipeable PU leather foam replacements that also help prevent light leakage during use.