Bang & Olufsen Beosound Theatre is a statement piece soundbar
12-speaker design darling can also perform double duty as a home cinema hub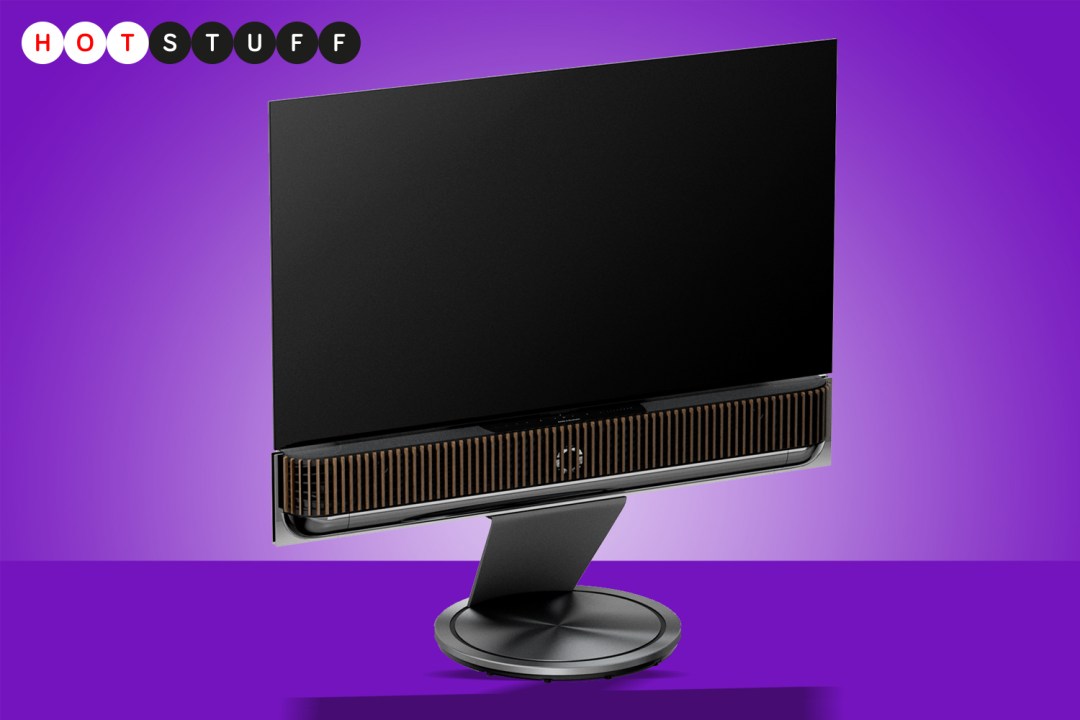 As far as soundbars go, the new Bang & Olufsen Beosound Theatre is a case of jaw meets floor. The Danish audio experts have crafted a stunning system inspired by sailing boats, with a mix of premium materials hiding some serious speaker tech underneath.
Designed to sit flush underneath your TV (preferably an LG OLED – seriously, the firm has optimised the size specifically around LG's retina-soothing screens), the Beosound Theatre packs in a colossal 800W of power and 12 separate speaker drivers. They have been aligned for room-filling audio while also keeping speech easy to hear, courtesy of a custom-built centre channel.
A motorised mounting bracket makes it look like the soundbar is floating beneath your TV, with space to store cable clutter and keep any streaming media boxes out of sight. Those polished aluminium 'wings' at either end are extendable, in case you plan on upgrading your telly to a larger size later down the line. Bang & Olufsen also ship the Beosound Theatre with a fixed wall bracket and a table stand, if you want to it like a traditional soundbar.
The lamella cover is made from a solid oak that exactly matches the Beolab speaker line-up, or there's a more subtle fabric version if you prefer the sound to hit you before the styling. Combined with the touch-sensitive controls on the top of the unit, which light up when powered on and disappear when switched off, it can be impressively low-key for such a premium unit – if you want it to be.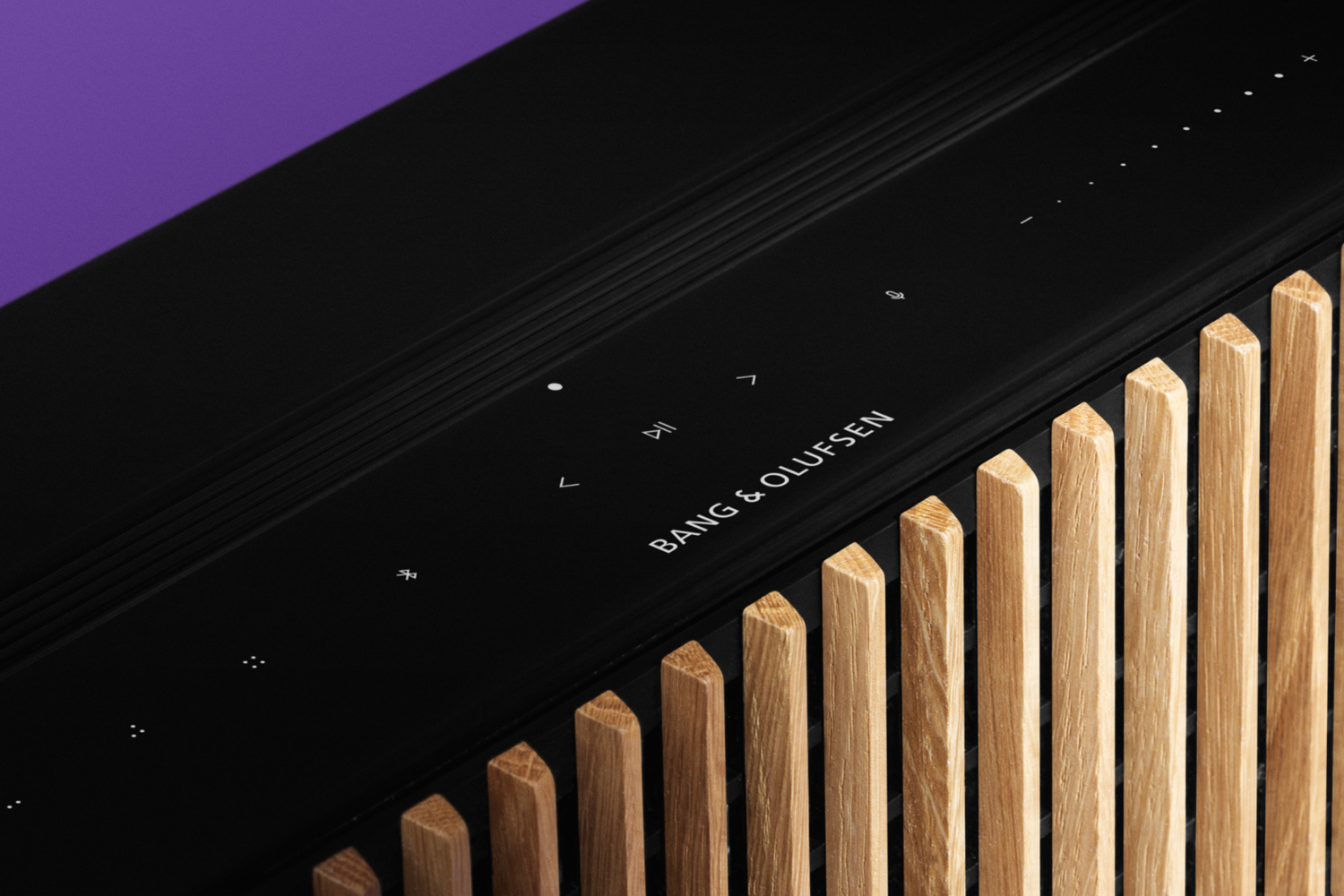 Inside, it has Dolby Atmos decoding for spacial surround sound, and a bespoke bass system that asks every speaker driver to work together on the low-end. This should help pump out sound without certain drivers drowning out the others.
This isn't just a one-and-done soundbar, either. There are seven outputs on the back, with support for up to 16 separate loudspeakers – effectively becoming the hub for a full 7.1.4 home cinema system. The unit itself is then dedicated to the centre channel. Or you can add a pair of rear loudspeakers to start with, then upgrade over time – the unit will adapt accordingly.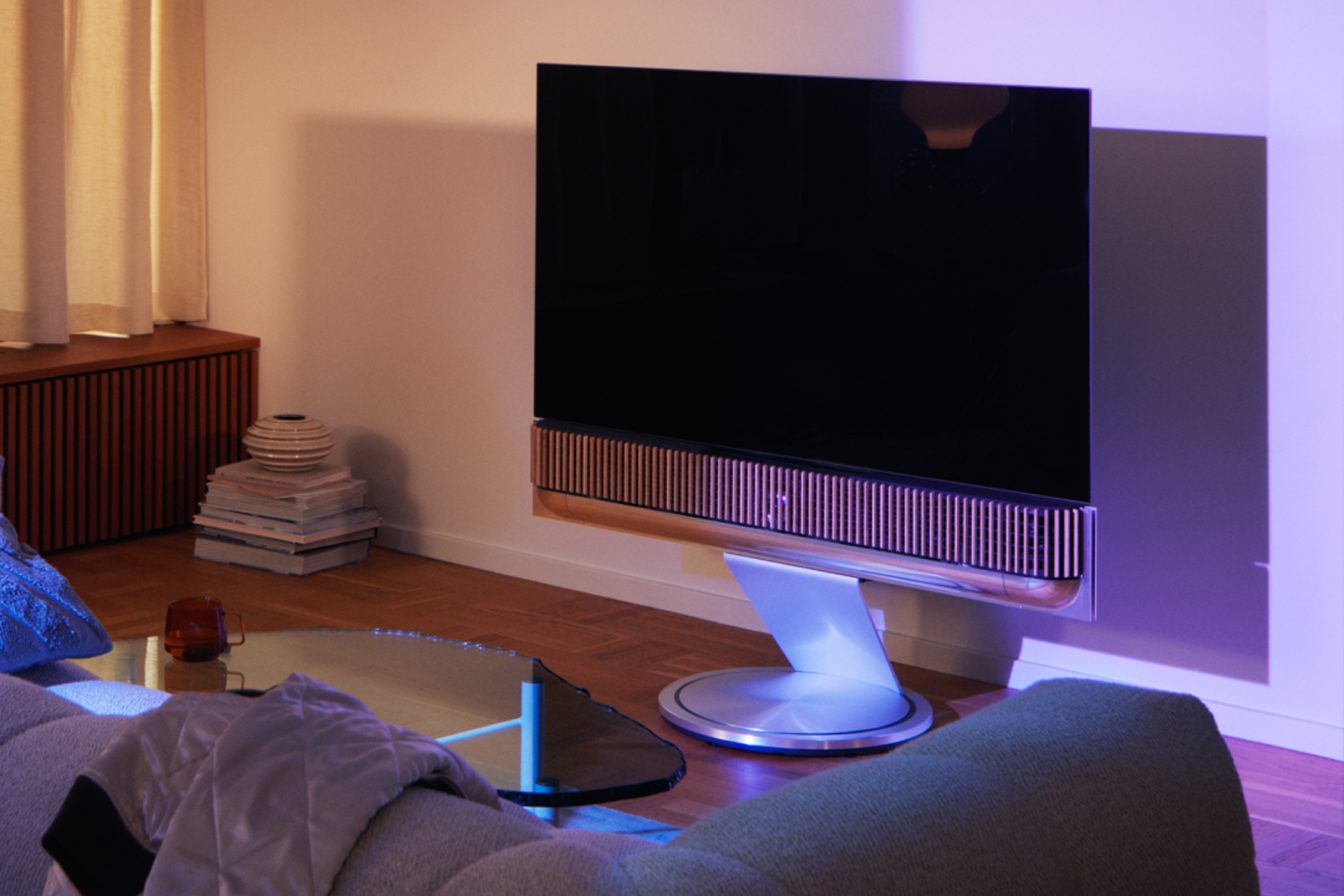 The Beosound Theatre is first out the gate with Bang & Olufsen's new Roomsense tech. It uses an external microphone to measure the distance from soundbar to listener and calibrate each speaker accordingly, as well as compensate depending if the unit is placed against a wall, in a corner, or freestanding. That should make sure you're getting convincing surround sound from a single source, and cut out any unwanted resonance.
The Bang & Olufsen Beosound Theatre is going on sale later this year, in a choice of fabric and wood finishes. Prices look set to start from £5590. We'll be getting a proper listen at this week's IFA show, so stand by for first impressions.