Huawei FreeBuds 5 swap straight stems for eye-catching curves
Quirky open fit earbuds don't skimp on active noise cancellation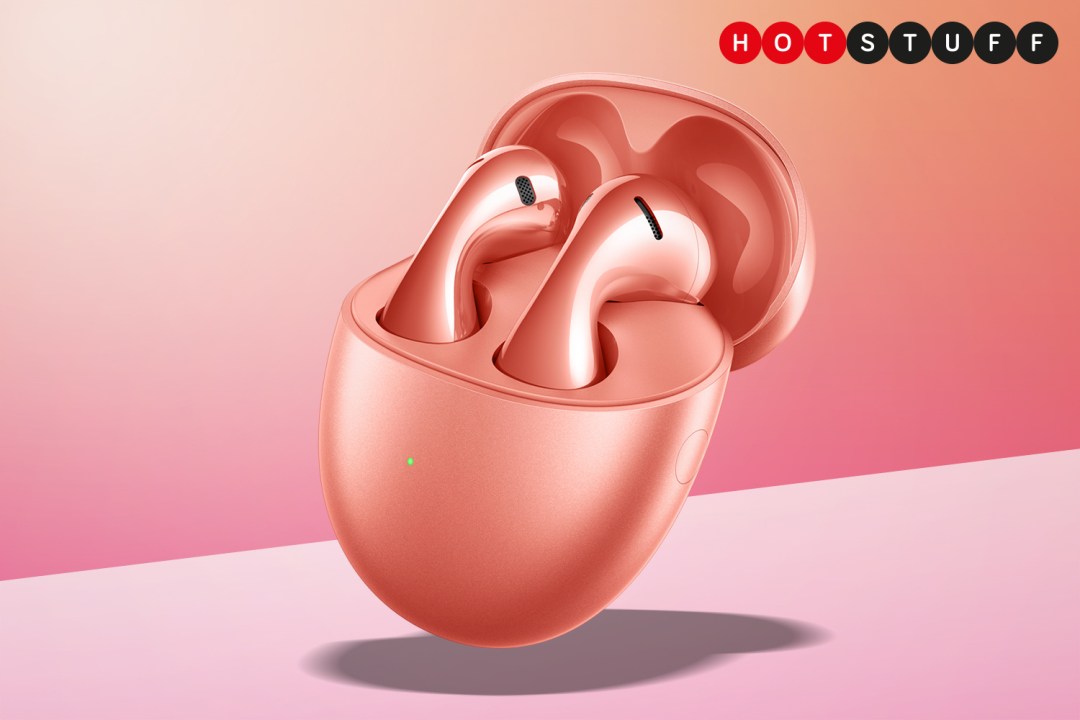 Huawei is shaking things up for its latest pair of open fit earbuds, which ditch familiar straight stems for something altogether curvier. The Huawei FreeBuds 5 (£140/€159 from Huawei) also pack active noise cancellation (a rare addition for open fit earbuds) and hi-res Bluetooth playback.
The unique bulbous appearance, which apparently took a whole lot of prototyping to perfect, was picked for its ergonomic fit. Each asymmetric bud is tilted to distribute weight evenly between the inner and outer ear, with a shallower in-ear portion than the outgoing FreeBuds 4. That means they should stay locked in place while also being comfortable to wear for marathon music sessions. And speaking of marathons, IP54 water resistance mean they should work just fine for workouts, too.
They might not use silicone tips to seal your ears, but the shape should provide a decent amount of passive noise isolation, and active noise cancellation is then on tap to mute the rest of the outside world. The FreeBuds 5 use a triple microphone setup and adaptive cancellation to swap between general and cosy modes, depending on how loud your surroundings are. Those mics are also called into action for voice calls, with the noise cancelling algorithms used instead to make your voice as clear as possible.
Huawei has found room inside each bud for a dual-magnet dynamic driver, with greater airflow than previous efforts for a claimed 50% boost to low frequency sensitivity over the rival Apple AirPods 3rd gen. That should mean punchier bass – something open fit 'buds don't always get right. The companion app's new 10-band equaliser should allow for fine-grain audio customisation, too.
The distinctive buds have an equally distinctive oval charging case, which supports USB-C and wireless top-ups. The matte case opens up like a jewellery box, revealing the polished metal effect buds inside. Huawei's familiar Silver Frost colour option makes a reappearance, alongside the more subtle Ceramic White, but it's the new Coral Orange that's guaranteed to draw attention.
There's dual device connectivity on board, as well as LDAC and L2HC codec support for high resolution audio playback. Tap and slide gestures built into the buds should give plenty of control without needing to reach for your smartphone.
Huawei reckons it has one of the fastest charging cases of any true wireless earphones, giving the buds an extra two hours of play time after just a five minute stint inside. ANC does impact total battery life, though. The buds will manage five hours of listening between trips to the charging case with it switched off, but that drops to 3.5 hours with it enabled. The case brings that figure up to 20 hours with ANC, or 30 hours without.
The Huawei FreeBuds 5 will be heading Westwards on the 17th of April for music lovers who prefer an open fit form factor to in-ear monitors. Prices are set to start at €159 in Europe and £140 in the UK.