Promoted: Philips Ambilight – the next generation
With its latest 4K OLED, Philips is boldly going where no Ambilight TV has gone before
Back in the 1950s, when the television as a household item was still something of a novelty, people would often buy a 'TV lamp' – a simple low-wattage light, sometimes in the shape of a panther or other exotic beast, designed to reduce eye-strain by casting a gentle glow on the wall behind the set. You could say those lamps were the origins of Ambilight – but while we've come a long way since the '50s, there's no sign of Philips winding down the innovation in its wall-lighting tech just yet.
Here at Stuff we've been raving about the screen-matching colour effects created by Ambilight tellies for years; but with an ultra-slim profile and an array of top-class features, Philips' latest 4K OLED takes things to a new level. 
Available in 55in and 65in sizes, the Philips OLED805 is a stunning piece of European design with three-sided Ambilight and two new modes for making the most of it (outlined below)… but perhaps more important than all of that is the sheer realism of what's on the screen itself. Because in terms of picture quality, the OLED805 could be Philips' best TV yet.
Chips don't lie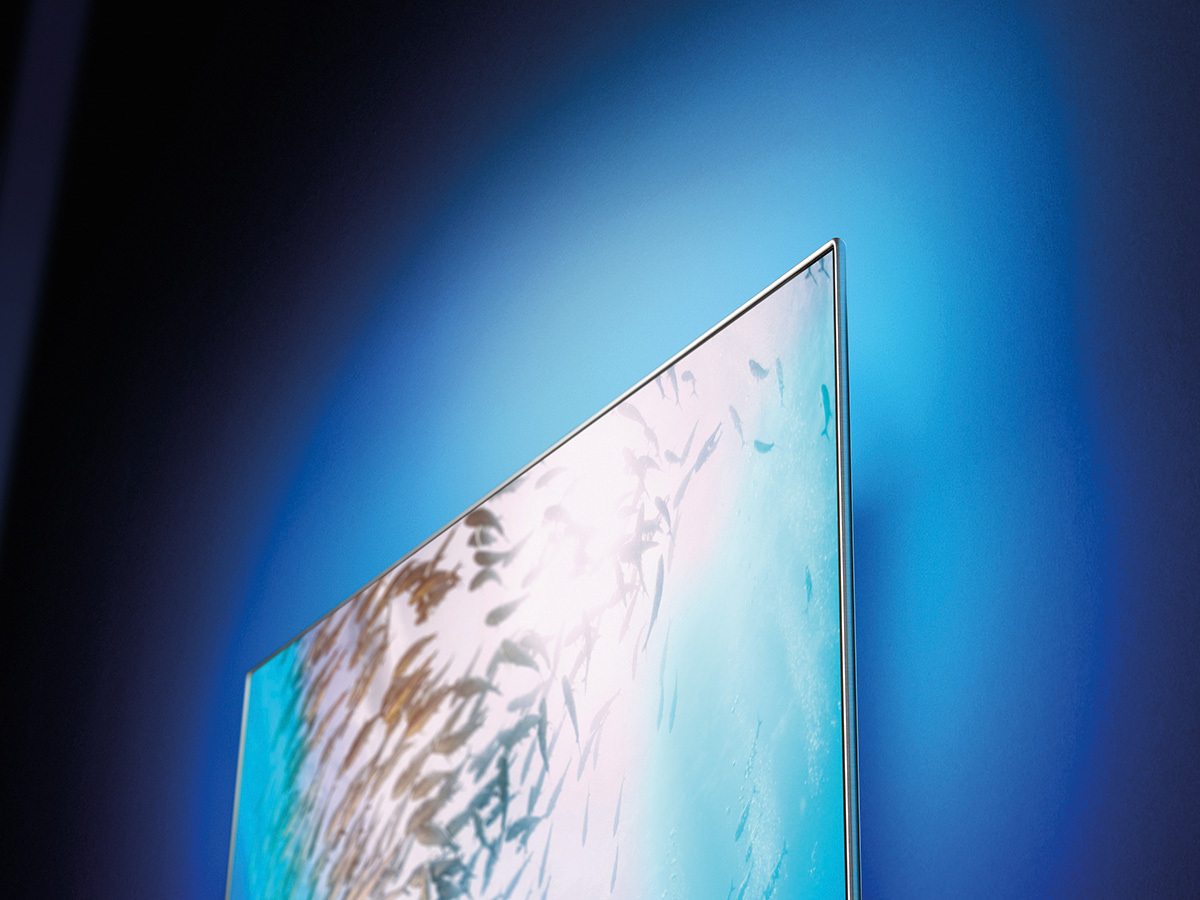 Deep in the brain of the OLED805 lies the new fourth-generation P5 processor, with AI functionality for the first time in a Philips. This builds on the processing power of the previous P5 chip, but with the addition of Philips' new AI skills to take that familiar stunning OLED picture quality up to a whole new level. The software here doesn't simply work to pump out even more colour, contrast, motion and sharpness, but is designed to create a better balance between them. By analysing all elements of the content, frame by frame, the fourth-gen P5 reproduces a much more realistic, natural image that no longer feels like a TV picture but more like… well, real life.
And let's not forget the work being done by those plucky little LEDs round the back. Ambilight is also key to the quality of the viewing experience, giving the impression that images extend beyond the edges of the screen for greater immersion. Think it sounds like a gimmick? Once you've experienced it, there's a very strong chance you'll change your mind: over 80% of consumers who own an Ambilight television say it'll be an essential feature for their next TV.
New Ambilight features
AmbiWakeup
We're big fans of the Philips Somneo wake-up light, and the OLED805 offers a TV version of that same functionality. At your designated alarm time, the set turns on and shows a slow sunrise animation, enhanced by Ambilight and soft music. After that, a random backdrop image is shown with weather information overlaid.
AmbiSleep
Well, if you're using Ambilight to wake you up in the morning, why not to help you nod off at night too? AmbiSleep creates a comfortable environment to help you fall asleep easily by simulating sunset (with the screen off) and gentle sounds of nature. And at the end of the simulation, the TV will automatically switch to standby.
Designed, sealed, delivered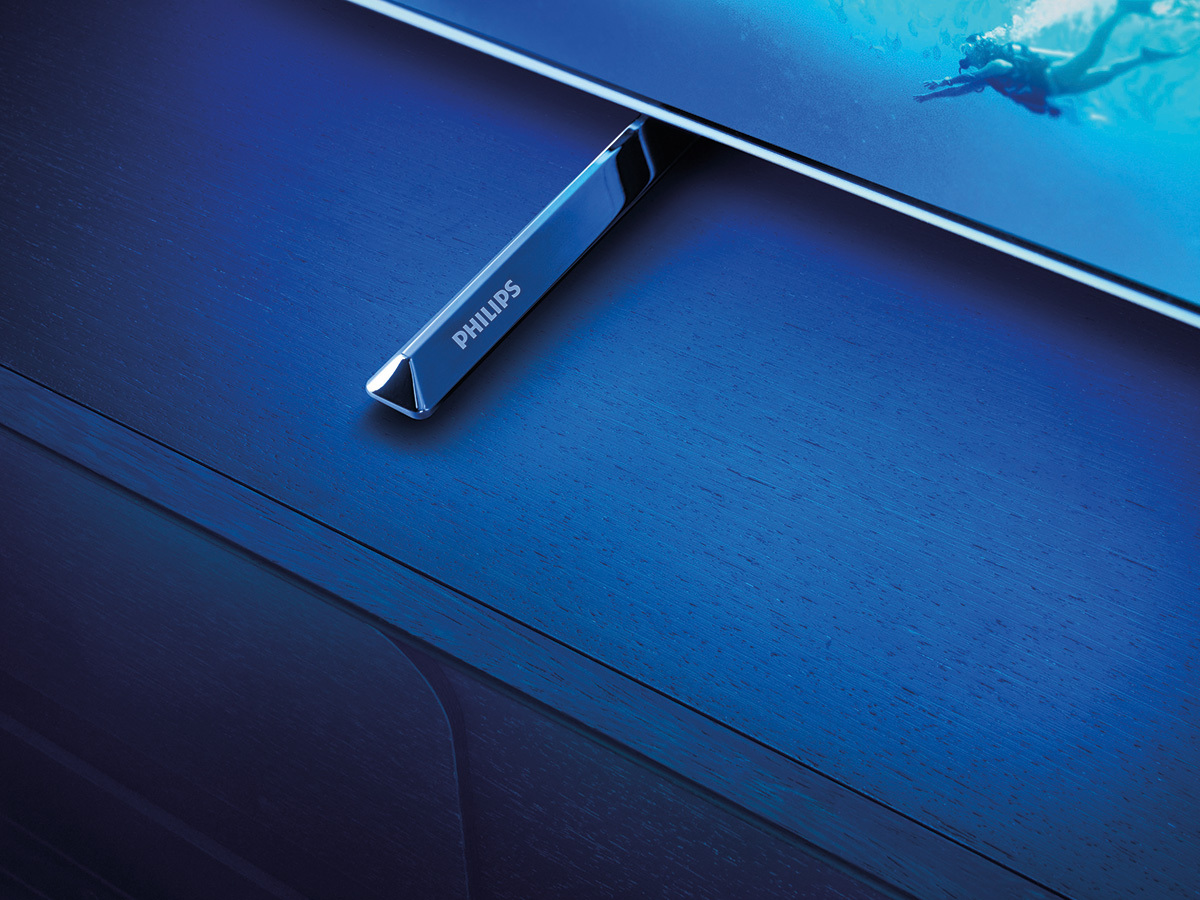 The television is likely to be the largest single object in your living room, unless you have some very radical ideas about looking after horses… so you want yours to look good, right?
Here's where that European design comes in, setting off the OLED805's delectable picture with a slim chassis and minimal bezels, all atop a new chamfered stand with a stylish dark chrome finish for a subtle 'floating above the tabletop' effect. And if you want it to float slightly higher, it can be raised to make room for a soundbar.
Philips has also applied its design expertise to the remote control – a new, distinctly premium unit with elegantly flush backlit keys. For the ultimate luxury touch, its sides and rear are wrapped in responsibly sourced Muirhead leather.
I feel like being a specs machine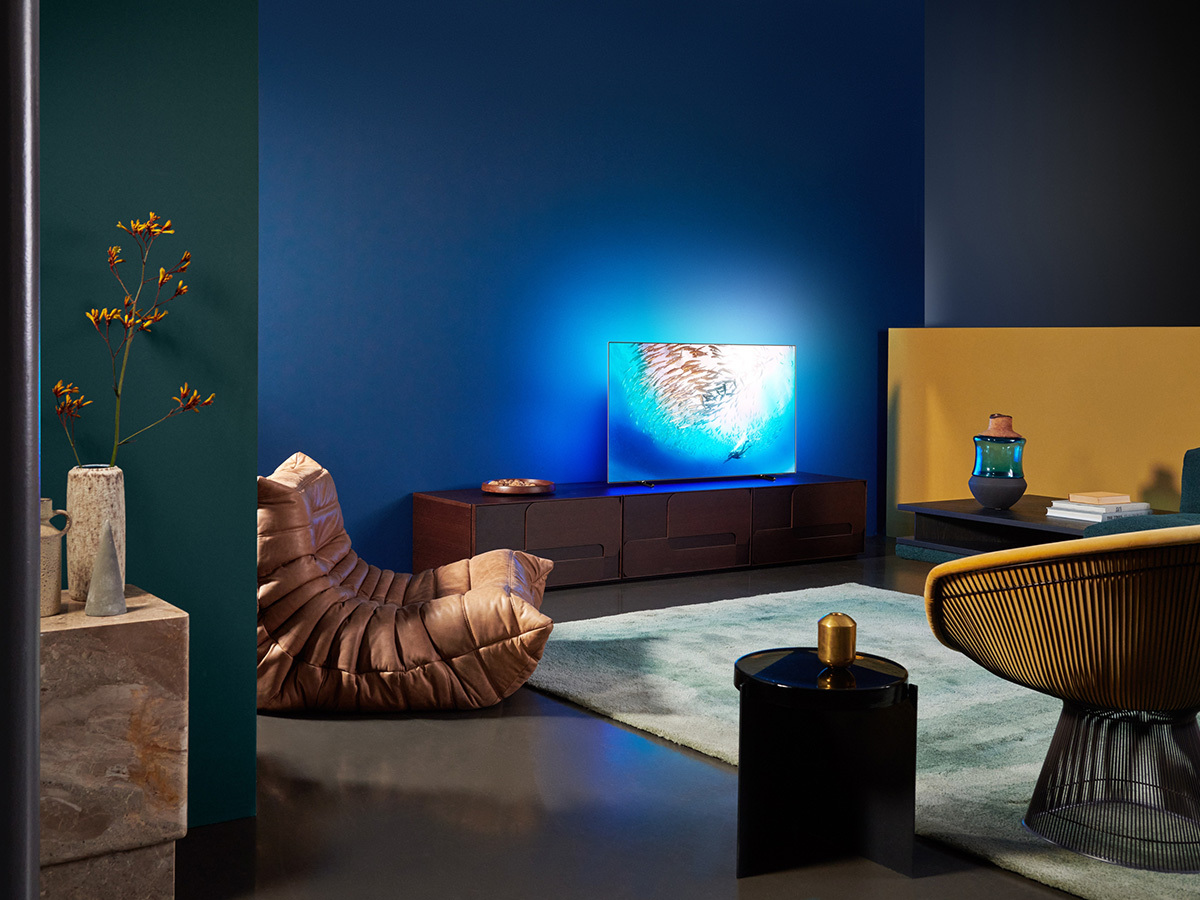 If you've read this far, it's probably safe to say you're serious about tellies – so you'll be wanting to know more about what's going on inside the OLED805.
Obviously we're talking about an OLED panel with 4K resolution and HDR, but there's much more to it than that. Philips is one of few brands to support all HDR formats, so this set offers compatibility with Dolby Vision, HDR10+ and HLG, plus a Perfect Natural Reality feature for bringing the quality of HDR to non-HDR content.
Dolby Atmos 360° sound is supported, while the 50W Philips sound system with improved drivers means a soundbar is very much optional. And finally, you get the latest version of the Android TV OS with built-in Google Assistant and 'Works with Alexa' certification.
The only thing you don't get, in fact, is enough room to put an ornamental panther on the top.