5 of the best comic apps
On the eve of Comic-Con, we're in the mood for some graphic novelry. And not a protective bag in sight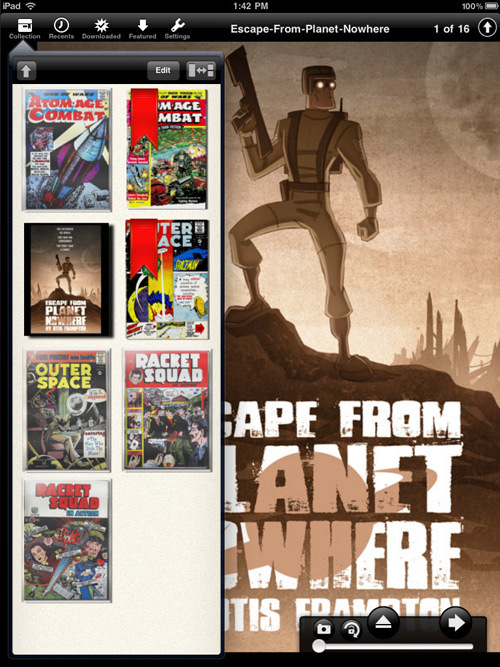 Comic Zeal
£4.99, iOS
Even die-hard printed comic readers will be tempted by this app that lets you organize by series. A clear layout with tap to zoom viewing means borderless reading and intuitive guidance navigates panel by panel in the order your eyes would naturally follow – even between pages. If you're really lazy it'll even turn the pages for you at preset intervals. Pass the Pot Noodle…
Comics
Free, iOS and Android
Welcome to the largest digital comic store in the world: a stash of 6,000 titles – 300 of which are free. That's not to say the freebies are good, or much more than tease fodder, but it's still worth a download, not least as it's home to DC comics and its (arguably better) subsidiaries including Vertigo (of Sandman and Preacher fame). It even has Marvel comics for iOS users. Comics cost around £1.50 and page flips couldn't be quicker and smoother if The Flash himself was on turning duty.
Manga Watcher
£1.87, Android
There's no shortage of manga online, but Manga Watcher lets you download to read later, choosing your reading matter from a beautifully laid-out iBooks-style shelf. It even supports landscape mode so you don't lose the intensity of those famous wide shots as Ichigo runs, tailed by a train of motion lines, to plunge his Zanpakutō into a Hollow.
Marvel Comics
Free, iOS
One of the first comic reader apps and still one of the best. Not just because of the simple layout, smooth transitions and hi-res views – but because of the content. Marvel is still making some of the best comics around and selling them for around the £1.20 mark. Not including the £400 you need to shell out on the iPad, of course.
Good Reader
£2.99, iOS
Less comic reader, more all rounder, Good Reader is nonetheless capable and unfussy. If this was a superhero it would be Superman – not necessarily the best but certainly kitted out to best deal with almost anything. It'll read CBZ comic files, PDFs and Word documents, letting you add notes, highlight sections and set width parameters. Don't let the green theme worry you: even Kryptonite can't stop this app.
Also
5 of the best superhero movies you need to watch
Pentax does a DC superhero team-up
25 of the best superheroes ever