Acer Iconia W700P and W510P tablets offer full-fat Windows 8 Pro
Acer delivers the full Windows 8 shebang to tablet users with the W700P and W510P slates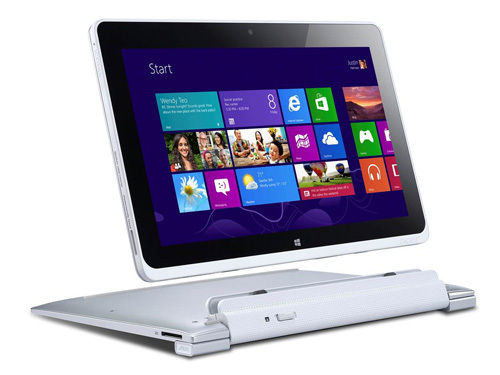 If you're looking for a Windows 8 tablet with some serious grunt, Acer's two new Iconia slates – the W700P and W510P – might be just the thing you need.
The W700P comes packing a 11.6in IPS HD touchscreen display, Dolby Home Theatre sound and what Acer claims is a 178-degree viewing angle, making it handy for presentations. You also get a keyboard dock that doubles up as a stand, and adds three high-speed USB 3.0 ports plus a 'sound tunnel' for amplifying the audio. Finally, there's a pen stylus for taking notes, digital style.
Up next is the W510P. The 10in tablet comes with a keyboard dock that doubles up as a keyboard, battery-prolonger and stand for when you just want to kick back and watch a movie or watch YouTube videos of cats with friends. Acer claims a battery life of 18 hours.
Both new Iconias focus on playing nice with IT equipment and security – so the IT department has no excuse for turning down your request for a Windows 8 tablet. You need it. For work.
There's no word on pricing or availability just yet – you'll just have to wait until after October 26th, when the dust has settled on Microsoft's Windows 8 launch event.
[via Acer]
You may also like
Toshiba opens pre-orders for its Windows 8 PCs
Google invites suggest October 29th is the day of the Nexus
What we expect from the Apple announcement on October 23rd