App of the Week – AR Streets
You "need" AR Streets – an augmented reality app that lets you bomb your virtual neighbourhood with digital tags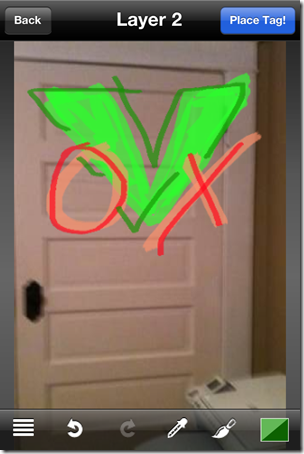 Price: Free
Platform: Apple iPhone
You're burning to be a street artist but your mum won't let you out past 10 o'clock. You're a frustrated graffiti king with a job that wouldn't appreciate you turning up with a criminal damage conviction. Or maybe you're just allergic to aerosols. Whatever. You "need" AR Streets – an augmented reality app that lets you bomb your virtual neighbourhood with digital tags.
The developers obviously thought that crossing a paint pad app with FourSquare would generate some street cred. And when that failed, they literally added 'street cred' – a ranking system where you earn points by burning shops, homes and businesses nearby with some sick shapes.
Getting started is easy. You just snap a photo at a location and getting designing. The starting paint app is utterly basic – just a colour wheel and a choice of brushes (although you can upgrade the app to unlock more spray styles).
Forget about blazing a wildstyle 3D piece, as you'll be lucky to put together a shaky tag with the tools on offer – and annoyingly you can't import decent artwork from a desktop arts package, say.
On the social side of things, it's easy to share your tags via Twitter, Facebook or FourSquare, view other art in the 'hood via AR (and even steal them for 'street cred'). Naturally, there's a leaderboard of the most prolific artists in the world, any one of whom would get the ink soundly kicked out of them if they tried pasting their efforts in the real world.
Frankly, the whole thing feels about as satisfying as eating a picture of a pork chop or smoking a cigarette in Second Life, but if this is your flavour of rebellion at least you won't get paint under your fingernails.