Asus outs nature-inspired U33 and U53 Bamboo laptops
Asus have confirmed the addition of two more eco-friendly laptops to its bamboo series - the U33 and U53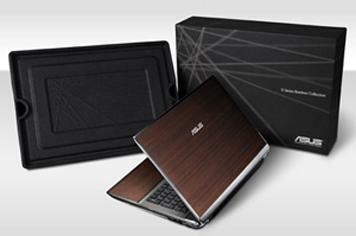 Asus' Bamboo series began as a bit of experimentation with natural materials for laptops, spawning a series of machines aimed squarely at the green consumer.
And Asus have announced two more models with an eco-edge will be coming to the UK – the 15.6-inch U33 and the 13-inch U53.
The major difference between both bamboo-clad lappys is the the U53 packs a bigger HDD of 640GB, compared to the U33's 500GB of storage. According to Asus "the U53 can reduce emissions by 18.43Kg whilst the U33 by 22.24Kg as compared with that stipulated by the ErP standard".
Hard drives aside, you're looking at two practically identical eco-friendly machines – Windows 7 Home Premium, 2.26GHz i5-430m processors, 4GM of RAM, NVIDIA Optimus graphics for discrete switching between power munching and power saving graphics options, a USB 3.0 port (and two USB 2.0 ports), a 2MP webcam and a screen resolution of 1366 x 768. There's also matching chiclet keyboards.
Asus' bambooey creations also come with its Super Hybrid Machine technology underneath the hood to monitor power consumption, dishing out high performance when needed – for example, when watching a HD movie.
The U33 and U53 models are due to arrive soon for £849 and £899, respectively. They even come in a recyclable bamboo box, so you can start your eco-friendly adventure the minute you take it out the box… or feed a panda. It's up to you.