The beer can keyboard – we'll drink to that
Arduino board and Raspberry Pi computer allow 44 cans of Czech beer to become an input device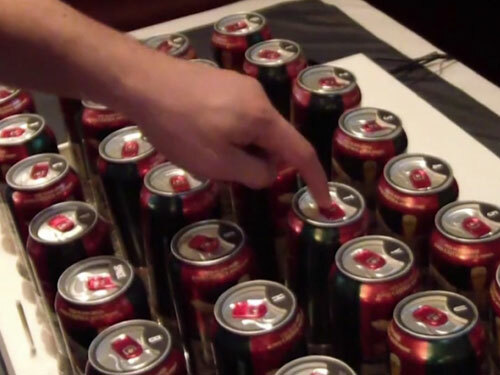 It might not be as portable or ergonomic as the average keyboard, but we're betting this promotional gizmo tastes a hell of a lot better.
Created by a team of engineers at Bucharest's Webstock show, it features 44 (full) cans of beer arranged in standard QWERTY alignment, hooked up to an Arduino controller board and the super-affordable Raspberry Pi computer. Attendees could use it to type in their email address to enter a competition run by Prague-based brewer Staropramen (who also provided the beer cans).
The keyboard won't be on sale any time soon, so if you want one you'll have to invest in an Arduino, a Raspberry Pi and a couple of crates of lager from your local offie. Just don't be tempted to celebrate finishing your building project by drinking the space bar, OK?
[via MobileNApps]
Nokia chief hints at Microsoft Surface phone potential
Sharp prepping 7-inch Aquos Pad tablet
A New Zero – the FPS that creates its world on-the-fly