The custom Star Wars Millennium Falcon drone is expectedly amazing
Finally, the iconic movie ship comes to life with an homemade quadcopter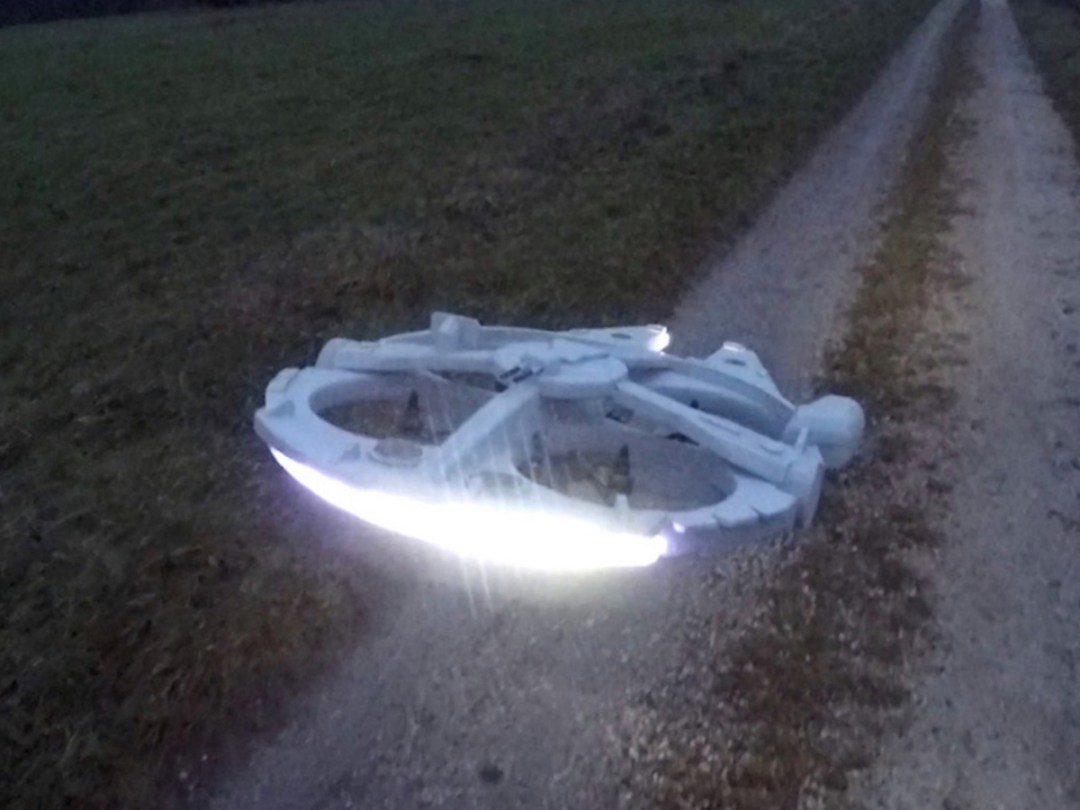 Flying drone enthusiasts are a fun bunch, tweaking their quadcopters to create things like the SHIELD Helicarrier from The Avengers. But the latest pop culture recreation really takes the cake.
Check out this custom-built Millennium Falcon drone from Star Wars, which was posted to Reddit by user Olivier-FR. He's got a wealth of quadcopter clips on YouTube, but this appears to be his first shared attempt at bringing an iconic ship to life.
The foam-based body is a little light on visual detailing, but the silhouette is spot-on, and it does a great job of incorporating quadcopter guts within the familiar shape. And those blinding lights are a perfect touch that help sell the illusion – well, beyond how great it looks hovering around the countryside.
Olivier says he spent a little over €1000 (nearly £750) on the copter parts, radio, and foam, and as you can see in the top video, the extra weight gives it a battery life of just about five minutes. He also said that the speed is cut down to about one-third of normal (here's an FPV video without the hull), reaching only about 30km/hour.
But it's still a very stellar effort, and we'd love to see him continue tweaking and enhancing it. You can find several work-in-progress of the project over at imgur.
For now, though, it looks like he's going to tackle another legendary Star Wars ship: the TIE Fighter. He already has plans drawn up, but says he's encountering problems "because of the tall solar panels." We're pulling for you, Olivier.
[Source: Reddit and Motherboard via The Daily Dot]