Dell shows off Inspiron Duo with odd swivelling screen
Pseudo-tablet makes an appearance, but is it going to win any fans?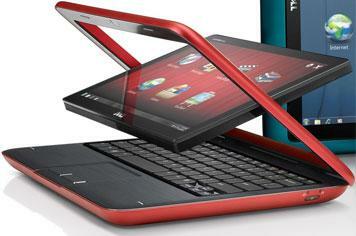 Dell has shown off a hybrid netbook/tablet with a unique hinge at Intel's IDF 2010 event this week,
The Inspiron Duo's 10in screen swivels within the frame so that when it's closed, you can still have the screen out for a bit of poking.
As far as we can see, there's otherwise nothing particularly noteworthy about it, and didn't the whole swivelling screen tablet PC go out of fashion a few years back? Maybe they were just ahead of their time…
It runs Windows 7 Premium on a dual-core Atom N550 processor, but apart from that, specs are scarce. It's expected to be released by the end of the year in the States, but there's no word on a UK release or pricing as yet.
[via Engadget]