Design your own custom built Ducati bike with new iPad app
Got £20,000 burning a hole in your pocket? Head on down to a Ducati dealership and design your very own custom motorbike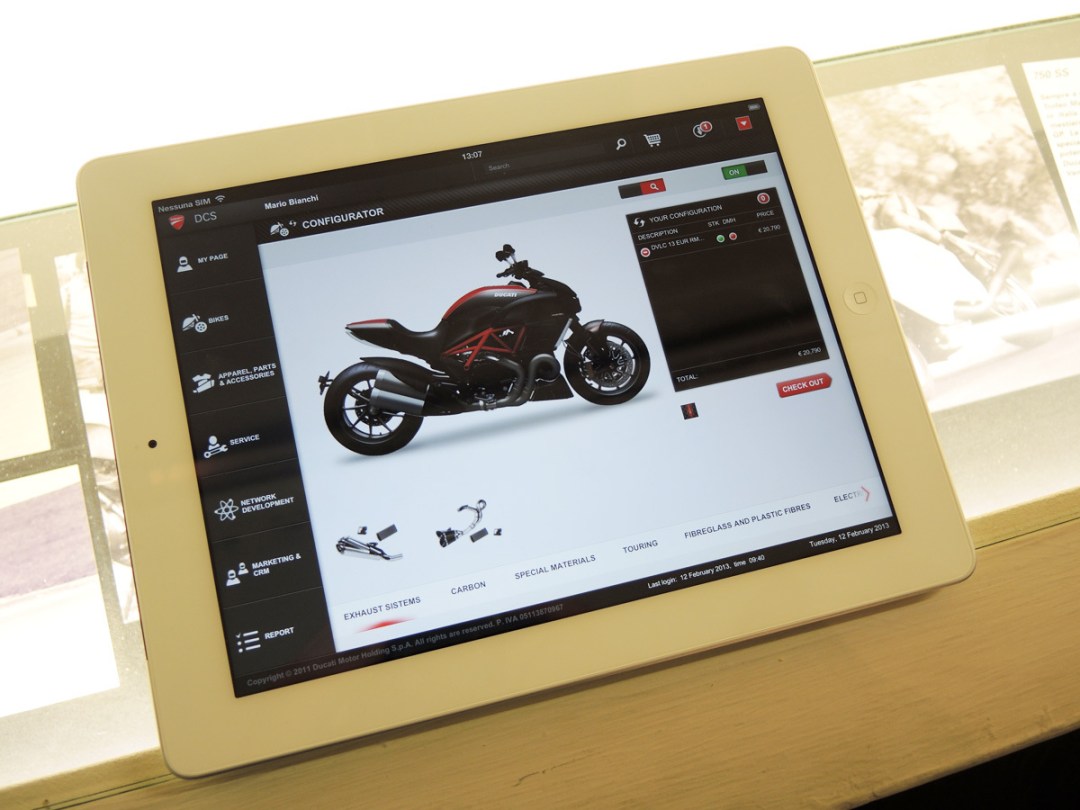 Cast your mind back to the launch of the iPhone 5 and you might remember some chat about custom apps – and the introduction of a dedicated iPad app from Ducati. Now it's arrived – enabling Ducati dealers to configure custom motorbikes for bike-loving enthusiasts and place orders right from the showroom floor.
Following two years of development, Ducati is rolling out its iPad-flavoured stock management system across its 796 dealer network in 87 countries. Customers can choose from over 300 motorcycle mods and accessories to equip their dream Ducati with and can actually see what it would look like – and more importantly how much it will set them back – in an instant.
Ducati has done away with its antiquated order system, replacing it with a native app that combines the six different systems Ducati previously employed to manage its orders. That means your local Ducati dealer can check the availability of models and parts in real time, easily manage previously saved orders and significantly reduce the time from ordering to delivery. What's that mean for you? Well, waiting times have been trimmed back from between nine months and one year to a matter of weeks – with your bike fully assembled in a mere three-hour window.
Plus, of course, the app lets you see exactly what your custom bike will look like in the form of a virtual mock-up – so it's a good thing that you don't have as long to wait, or you'd be drowning in your own drool.
Once you've become a part of the Ducatisti (yes, sadly, that is a popular term among bike folk), the app offers web access to a comprehensive range of accessory partners that will make you look every bit the part.
Can't afford a Ducati? Why not visit your local Ducati dealership for a virtual joy ride just for funsies. We're not sure Ducati dealers will appreciate what will inevitably turn out to be a huge waste of their time but hey, they don't need to know the closest you'll ever get to a Ducati is a toy model. Alternatively, you could just watch our video demo.