The Full Moon motorbike is barking mad
Akrapovic's new bike concept crams a 1524cc engine beneath its crazy curves
What. Is. That?
We know it's shocking but take a deep breath. This is the Full Moon concept from Akrapovic, a Slovenian exhaust manufacturer that is more accustomed to fashioning very loud tailpipes for superbikes and supercars. The bike is part of an annual tradition where the crazy Slovenians create an equally mad custom machine to show off at the bat-plop-bonkers Bad Salzuflen Custombike Show in Germany.
Does it actually work?
Yes it does, because underneath that shapely rump is 1524cc S&S Knucklehead engine. There are also two custom-made Akrapovic exhaust pipes that run the entire length of the sleek machine, essentially making the majority of the motorcycle a giant exhaust pipe.
Surely the rider would get a very hot bum…
Luckily the designers have thought of that and covered the toasty tailpipes in plenty of hand-formed sheet metal, so the rider's posterior is shielded from a roasting. Other notable features include that 30-inch composite front wheel, which requires specialist automated steering that's hidden beneath the bodywork to ensure it actually goes around corners.
How long did it take to make?
Over 800 man-hours went into this creation, which includes lots of time-consuming metalwork and engineering solutions to combat the issue of that gigantic wheel. The Akrapovic chaps even had to fashion a bespoke front brake disc to cope with the wheel's enormous circumference.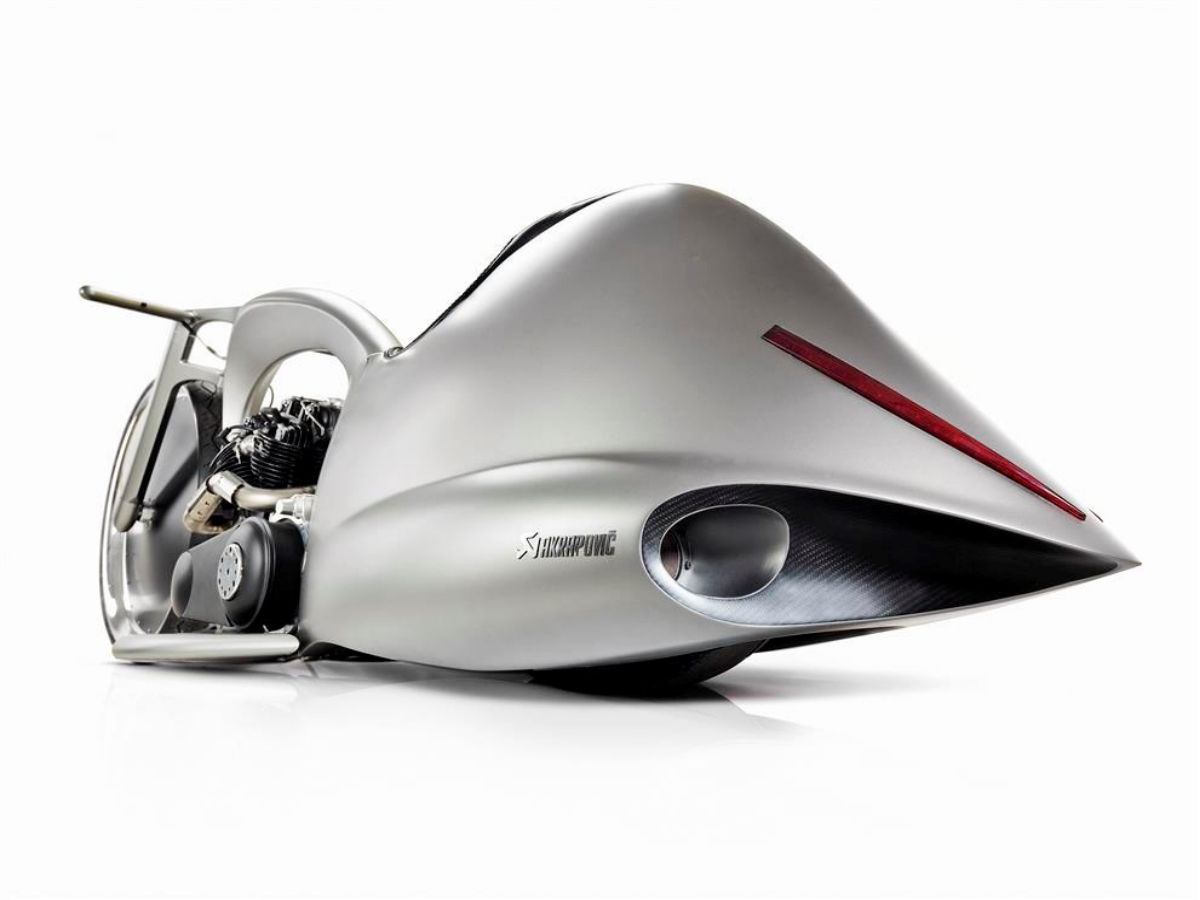 What is it like to ride?
We are guessing terrible. We've obviously not flown to Germany and stolen the keys but just look at those footplates and that seating position. Any sharp corner will see the Full Moon come unstuck and we don't really fancy reversing it out of the work car park on a slippery Autumnal day.
[Source: Designboom]
READ MORE: All our awesome Hot Stuff