Gibbs Quadski carries you speedily on both land and water
Amphibious vehicle almost 20 years in the making to go on sale in mid-November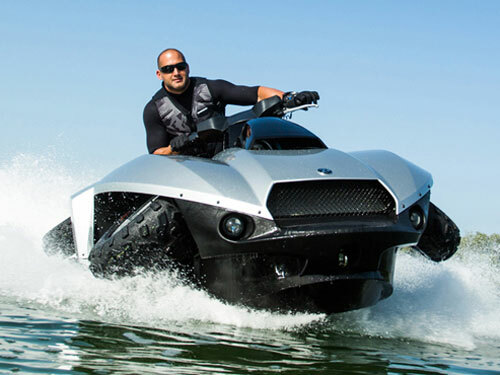 The Gibbs Quadski is an all-terrain vehicle of which James Bond himself would be proud: powered by a 1.3-litre BMW engine, it can travel at up to 45mph on either land or water, and its design means the transition from one to the other is near seamless: when the fibreglass hull enters the water, the wheels are raised in five seconds.
Michigan-based Gibbs has been working on the Quadski, along with other amphibious vehicles, for almost 20 years, but the ATV will finally be going on sale in mid-November. Distribution will be limited to around 20 dealerships in the US for the first batch (the company aims to build approximately 1,000 in the first year), with the price set at a cool US$40,000 – or around £25,000 at the time of writing.
The company is also beavering away on two other, much larger land-and-water vehicles: the 30-foot long Phibian and the 22-foot Humdinga, both of which will be aimed at the military and emergency services.
Like the look of the Quadski? Check out some rivals in our 5 of the best amphibious cars rundown.
[via Wired]
You may also like
Samsung attacks Apple Maps in advert
Microsoft Surface Phone incoming?
Google Nexus 7 for £60 anyone?