Hands-on review: Sony Cyber-shot QX10 and QX100 Smart Lenses
Cameraphones should be quaking in their boots right now – there are two new accessories in town and they want to make sweet imagery with your smartphone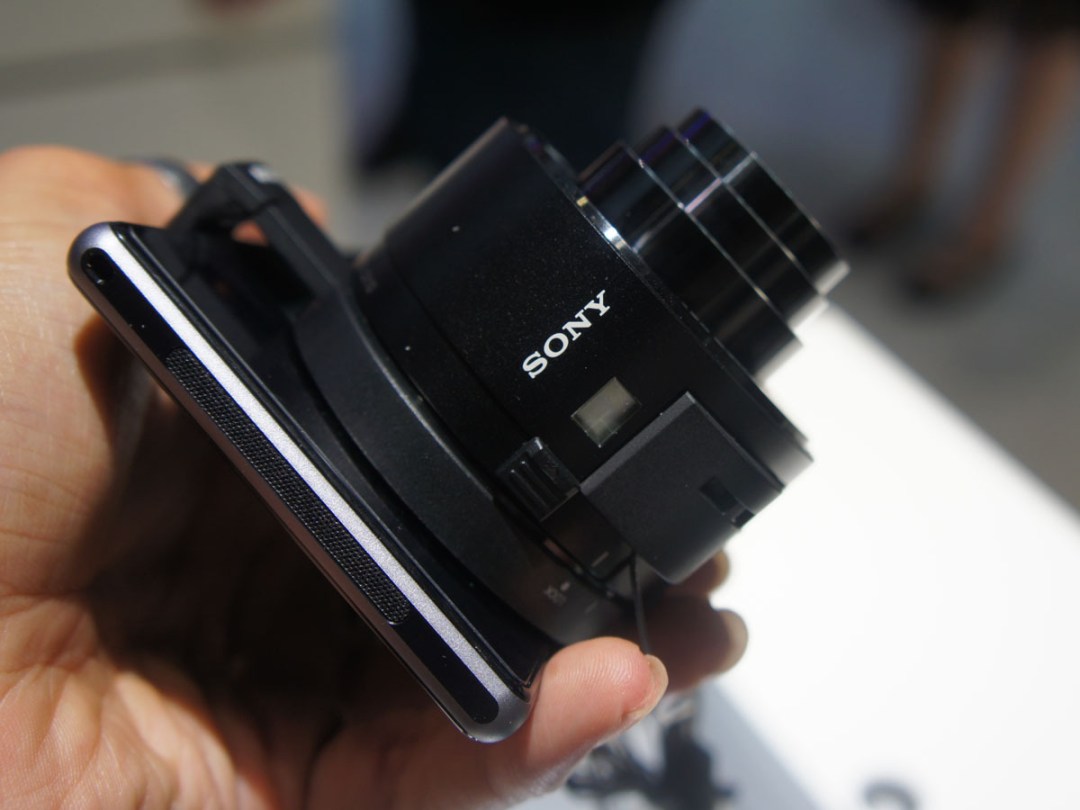 You wouldn't be completely alone in thinking that slapping a giant lens onto the backside of a smartphone is a bit comical – just look at the Samsung Galaxy S4 Zoom. But au contraire – Sony's high-res lens duo have been uniquely designed and tailored to work with Sony's smartphones, including the newly announced Z1, to the level of a true premium compact cam.
Better yet, even if Sony isn't your smartphone of choice Sony's smartphone accessories can transform pretty much any modern Android or iOS smartphone into a top-notch Cyber-shot camera with the help of an adapter.
We're going through something of a golden age of smartphone imaging right now, so the success of these rather chunky lenses is far from set. But from what we've seen, there are plenty of reasons to be tempted to augment your smartphone with a QX10 or QX100 rather than carrying a completely separate premium compact. Sony's plan might just work…
Design and build: A whole camera, minus most of the controls and the display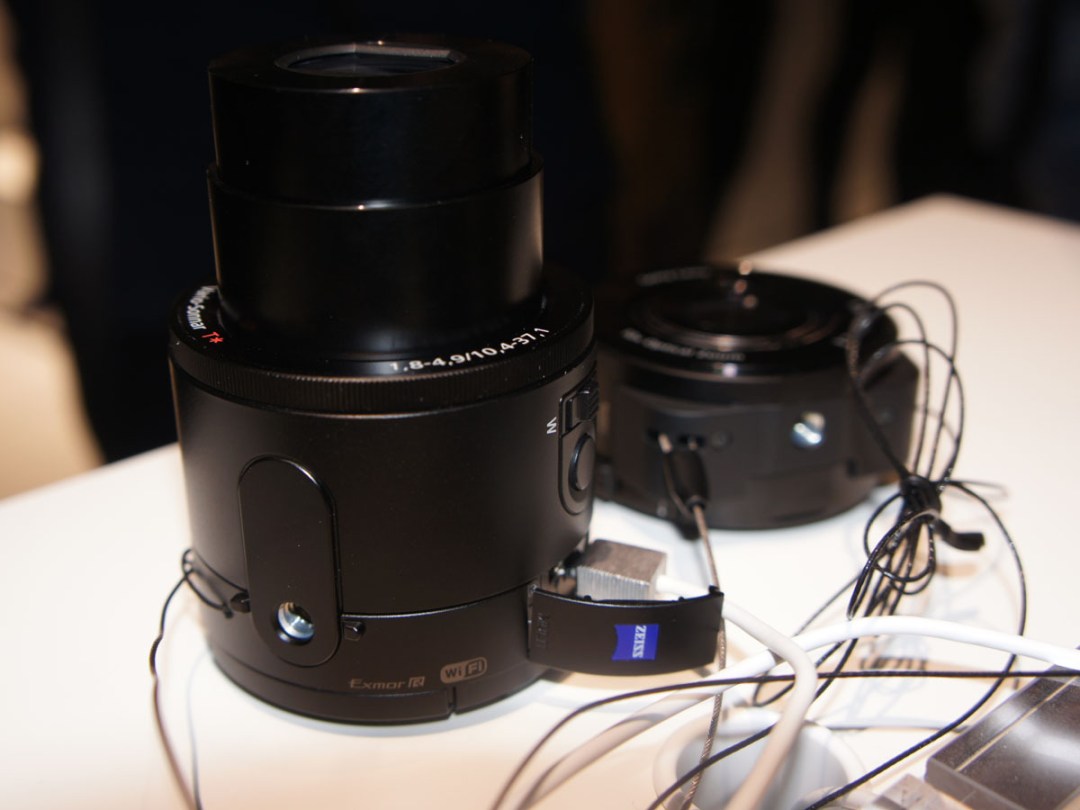 You're looking at a pair of powerful lenses. The QX10 (£180) rocks an 18.2MP sensor, 10x optical zoom, optical image stabilisation and 1080p HD video recording support. The pricier and better-specced QX100 (£400) crams in the same camera smarts as Sony's £600 RX100M2 – so a large 1-inch 20.1MP sensor and Carl Zeiss lens, which are complemented with a 3.6x optical zoom, an ISO range of 160-6400 and a control ring for manual zoom and focus adjustment. It also packs the ability to record 1080p HD video.
Both smart lenses have their own shutter button and dedicated zoom controls allowing them to work independently of the phone that's hooked up to them. Images are saved to a microSD card rather than the phone's memory, so you can take photos without a companion smartphone hooked up, but with no viewfinder or in-depth control over shooting settings, you're definitely better off using them with a smartphone.
While the zoom functionality was generally responsive on both lenses, we did experience occasional sluggishness in our tests, which was slightly disappointing.
How the QX10 and QX100 work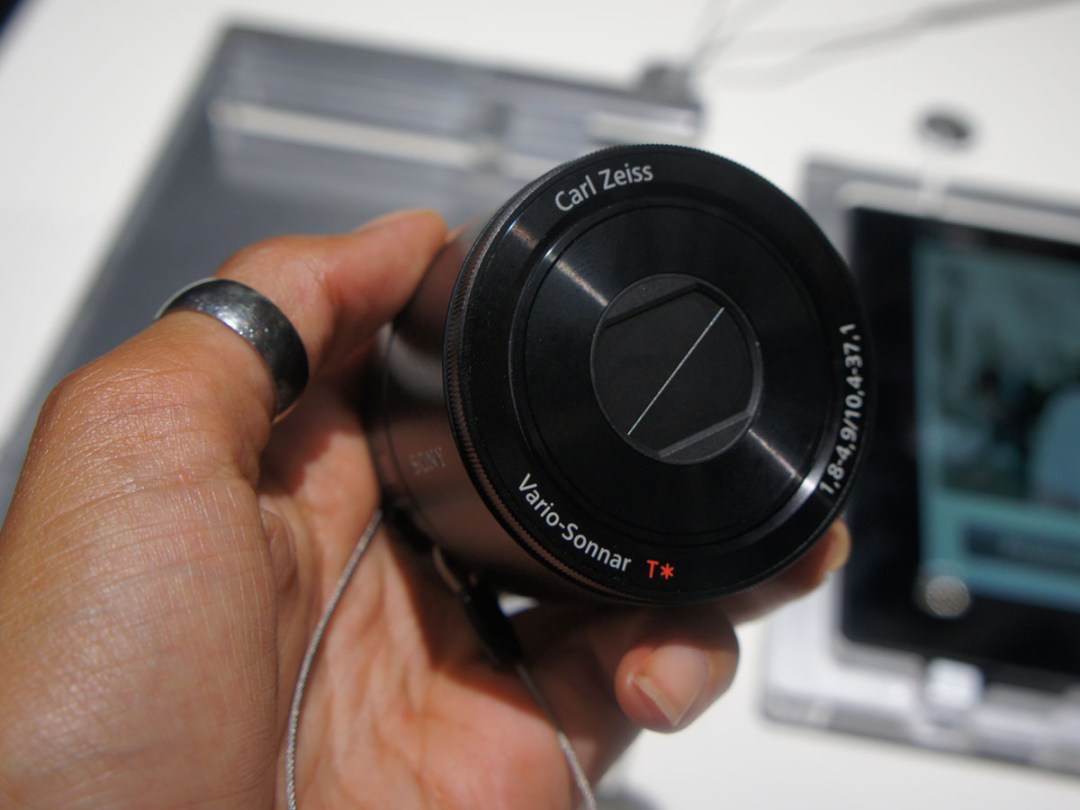 Both the QX10 and QX100 connect via Wi-Fi or NFC and take their commands from Sony's free PlayMemories companion app to channel into its remote viewfinder and shutter functionally. The bonus of NFC means you can connect both lenses to just about any posh Android smartphone with a simple tap, and if your smartphone isn't NFC-equipped set up is via Wi-Fi Direct.
This does mean you'll need to connect the lenses manually, but this only takes a few extra seconds. Connecting the devices wasn't always seamless in our experience, so until we get proper review units we'll remain optimistic that had something to do with the hundreds of other journalists trying to do exactly the same thing at the same time.

As they're hooked together wirelessly, both lenses can be used without needing to be physically attached to your smartphone, which will increase creative possibilities, simplify the capturing of hard-to-reach shots and will be a godsend for narcissistic selfie fans. You can do similar things with a Wi-Fi equipped camera such as Canon's Powershot S120, but the Smart Lenses are lighter and from our experience easier to manage one-handed.
Is that a big lens or are you just pleased to see me?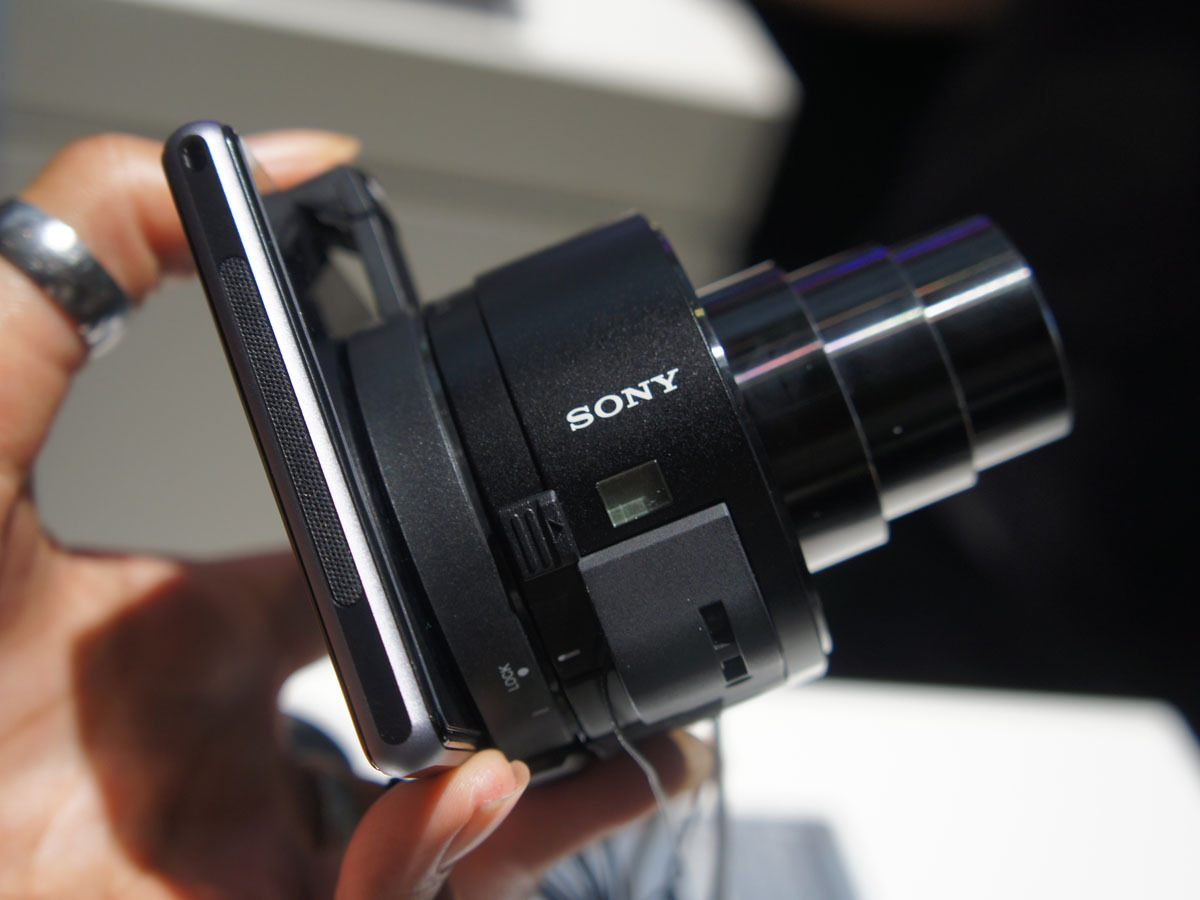 Attaching a fat lens to the back of your slender smartphone will chuck all claims of pocketability out the window. Happily, despite looking like they're going to make your smartphone tilt over and induce fatigue, both the QX10 and QX10 are deceptively lightweight – much moreso than your average digital camera. The simplicity of the physical hook-up between phone and lens is a bonus too: the sturdy adjustable plastic grips will clip on to any shape and size of smartphone pretty swiftly, no faff involved.
And the size of the lenses at least means they're not governed by the usual compromises associated with smartphone photograpy. Physics says there's only so much a small smartphone camera sensor that's been fitted into skinny hardware can do, but with their bigger sensors and big, bright apertures, the QX lenses have a natural advantage.
It's too early to judge the lenses camera quality, but as far as we could tell during our time with them, image quality seemed superb. There's no reason, in theory, why the QX100 couldn't be every bit as handy with a photo as the RX100M2 it takes its optics and sensor from.
Initial verdict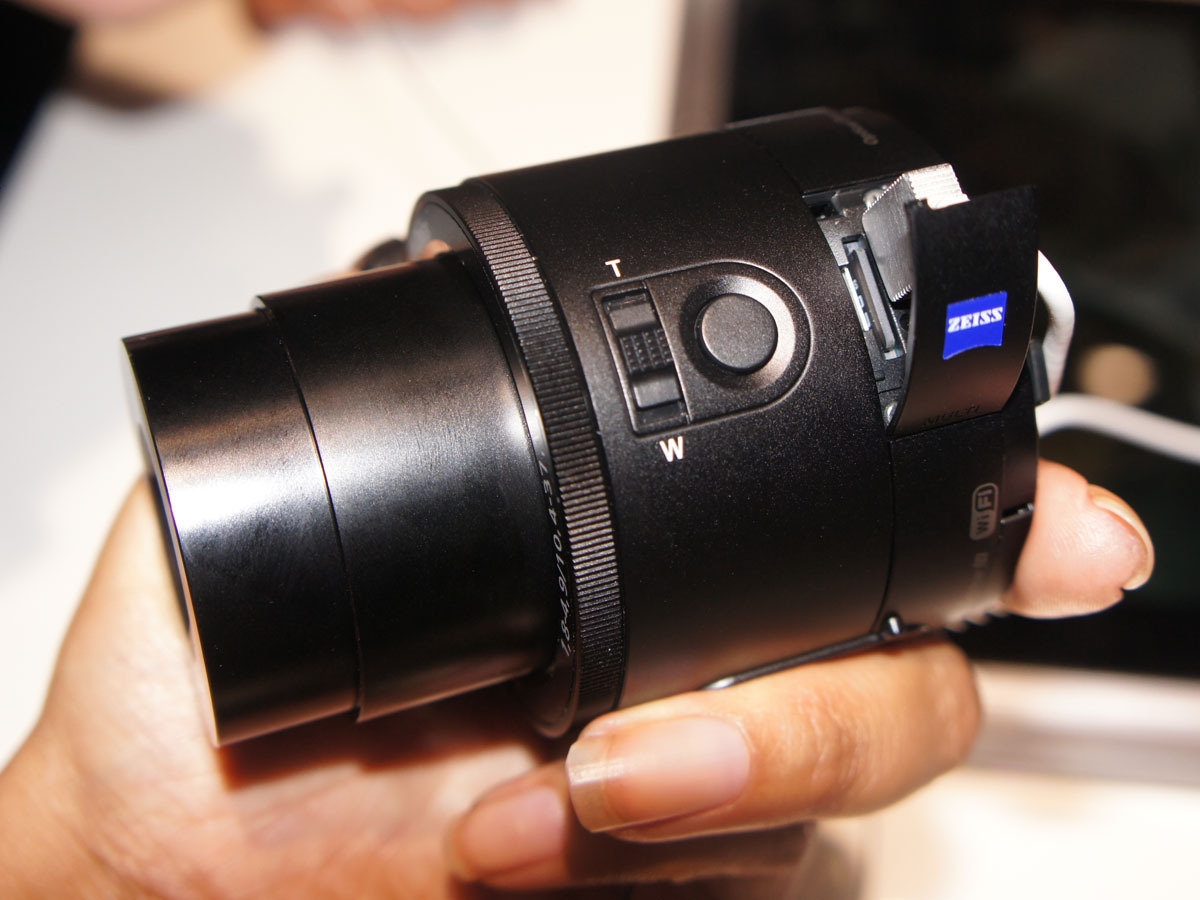 We think this new idea from Sony is so crazy it might just work. But not for everyone.
Together, Sony's lenses have created a new breed of smartphone accessory that eliminates the barriers associated with smartphones and high-quality imaging. By offloading all the photography heavy-lifting, they should allow you to take truly impressive photos from your existing phone.
On the other hand, adding one of these to your mobile won't boost its imaging credentials in a traditional sense. The QX10 and QX100 are more akin to Wi-Fi cameras than dumb accessories, taking only exactly what they need from an associated phone. The trade-off is the undeniable bulk of them both. Certainly, carrying a QX lens and smartphone is less work than carrying a premium compact and a smartphone, but more than, say, just carrying a Nokia Lumia 1020 (although you'll almost certainly get a better photo with one of the Sonys).
Despite that, we're pretty enamoured of the QX100 and QX10. We like Sony's thinking: screw the compromises, let's take great photos. If you're thinking about making the purchase for better selfies they probably aren't the accessories for you, but if you're keen to take your smartphone camera skills to the next level, the QX10 and QX100 will be worth checking out.
We'll bring you a full review as soon as the samples are in.