How to – get free gadgets from the World Cup
There are plenty of reasons to get excited about this year's World Cup. Obviously it's the biggest, fattest football feast we've had in four years, an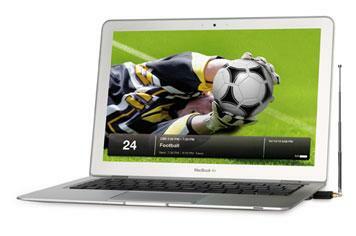 There are plenty of reasons to get excited about this year's World Cup. Obviously it's the biggest, fattest football feast we've had in four years, and the chance to see players like Kaka, Rooney, Cristiano Ronaldo and Lionel Messi strutting their silky stuff on the greatest stage of all is a mouth-watering prospect for any football nut.
But did you know the tournament could also net you a haul of free gadgety goodness? Read on and find out exactly what…
1. Elgato EyeTV DTT Deluxe Football Edition cashback
Elgato makes very decent digital telly tuners for your computer, and should you splash out on the EyeTV DTT Deluxe Football Edition (above right) on or before 11 June and England manage to win the World Cup, you'll find a refund in the post. Yes, that's right: if you needed another reason to hope England lift the trophy, it's right here.
Another offer dependant on England's World Cup performance, but there's a little more chance of you making back some bunce off this one. Buy any telly costing £599 or more at Currys prior to 11 June and the retailer will give you back a tenner every time England stick the ball in the onion bag. Penalty shootouts don't count – but given England's record, that's probably no great loss.
Just like the Elgato deal, this sees satnav sovereigns TomTom hand you back your money should England triumph in the tournament. Buy a TomTom GO 550 LIVE, GO 750 LIVE or GO 950 LIVE before 8 June and register it online to qualify. Interestingly, if you buy one in Brazil you'll get your dosh handed back if Brazil win. Might be a better bet…
Sony offers up to £150 off when you trade in old kit
Planning a telly upgrade in time for the World Cup? Should you choose a Sony Bravia, you can trade in your ageing gogglebox and Sony will snip up to £150 off the new TV's price tag. And it's not just TVs included in the offer: Sony will offer money off cameras, camcorders, Blu-ray and DVD players, e-readers, headphones and Walkman MP3 players too.
Update: KEF was a bit late to the party, but if you fancy a free home theatre system worth £1,000, check out the story here.