iPad Mini vs iPad 3
How well does the iPad 3 fare against the plucky, smaller upstart? Let's find out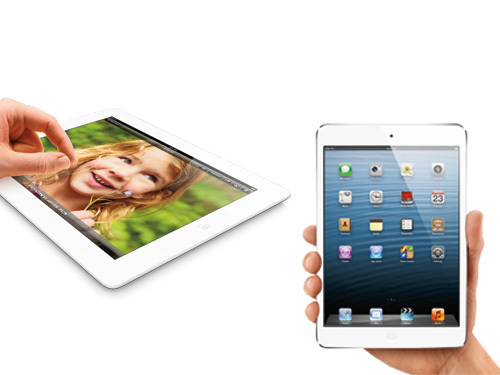 iPad Mini vs iPad 3 – fight
Apple's iPad in its three iterations has sat atop the tablet food chain with little in the way of competition. Now there's another soldier in the iPad army in the form of a smaller, more portable sibling known as the iPad Mini, a slate tablet most comparable with Google's Nexus 7. With what seems like only a size difference between the competitors, we decide to find winner.
iPad Mini vs iPad 3 – design and build
The clue with the iPad Mini is in the name – it's a much smaller version of the iPad 3. This makes it more portable and, with the thinner bezel, easier to hold. Minus the addition of the Lightning connector, which could be viewed as a negative if you own a lot of iPad accessories, it's a case of preference when it comes to form as the quality of both devices is excellent.
We like the smaller form-factor of the iPad Mini because it's dramatically smaller and lighter than a laptop, the previous iPad and even the Google Nexus 7 – 53 per cent lighter than the iPad 3, to be precise. For bedtime reading or checking emails on the train, the iPad Mini is ample and without taking up as much room. Plus we always rather liked the curved back of the iPod, another feature of the little slate.
iPad Mini vs iPad 3 – screen
It's a clear winner for the iPad 3 here if you are purely talking about pixels. The iPad 3 packs one hell of a detailed punch thanks to a 2048×1536 pixel resolution Retina Display resolution while the iPad Mini and its 7.9in display has the resolution of the iPad 2, 1024×768 pixels.
Ultimately it's a trade off between detail and portability, scale and ergonomics. If you just want something you can hold in one hand and feel the original iPad was just a little too unwieldy, the iPad Mini is for you. If you like to see every pixel as it should be in a digital SLR photo, you are better off with the iPad 3.
iPad Mini vs iPad 3 – OS and power
The iPad Mini and iPad 3 boast the same iOS 6 operating system, which means improved performance but you'll probably struggle to get where you want to go. Apple Maps is pretty terrible as things stand. But that doesn't affect the simplicity and ease of use associated with most Apple products, minus of course the reliance on iTunes, a piece of software that no man should have to suffer.
There are a few key differences, though, such as 4G support for the iPad Mini if you opt for the pricier model and that means slower downloads. Also, the dual core A5 processor from the iPad 2 has been used, which means it's not as fast as the iPad 3 or iPad 4. Still, at least the boasted ten hour battery life is on a par.
iPad Mini vs iPad 3 – camera
Photography has never seemed massively important to us when it comes to tablets because, let's face it, you look a plank when taking a photo with an iPad. Arguably, though, you would feel much less of a tit with the iPad Mini, which could almost be mistaken for a very large phone – the sort you see from Samsung.
The iPad Mini has a 5MP iSight camera, which means images should look detailed and bright, as well as a front-facing HD camera for Facetime video chats. Really there isn't much in this fight at all.
iPad Mini vs iPad 3 – initial verdict
Side by side, the iPad 3 should decimate the iPad Mini but specs mean little in the real word. Sure, the Mini slate fuses the internals of the iPad 2 with the case of an iPod Touch that's been on the Miracle Gro – but that 7.9in screen ends up allowing a device we would much prefer to use around the house. It's going to be less tiring to hold for prolonged reading sessions, easier to carry around and apps won't look weird if a developer couldn't be bothered to increase the resolution of their app.
All of that comes at a price of £270 – far less than its bigger brothers. And it remains cheaper even if you go for the 4G-enabled version at £370 and packs a similar amount of storage. Unless you love a large display and faster processing, we think most people will fall in love with iOS all over again, us included.