Lenovo touches up IdeaCentre A700 all-in-one PC
New touchscreen all-in-one PC uses medical tech for happy prodding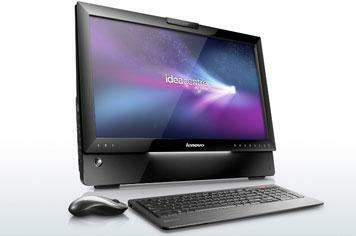 Lenovo has added a new all-in-one PC to its lineup – its first with a touchscreen.
Lenovo claims that the A700 is the world's first PC to use Surface Acoustic Wave (SAW) technology, which is apparently used in medical applications, and makes for a 'most reliable and responsive touch experience'. Let's hope they're right.
Other than that, it has a 23in Full HD screen, Intel Core i7 processor, and JBL speakers with Dolby Home Theatre to take care of movie night. There's also a 3-in-1 mouse that works as a pointer and motion-sensitive games controller.
If you're feeling flush, you can spec it to the hilt with up to 4GB RAM and 1TB of storage, but bear in mind it starts at a not-too-cheap £999…
The Lenovo A700 will be out in August
More like this: