Linux creator: make "Retina Display" resolutions the norm
Linus Torvalds takes to social media to call for 2560 x 1600 to become the new standard for laptops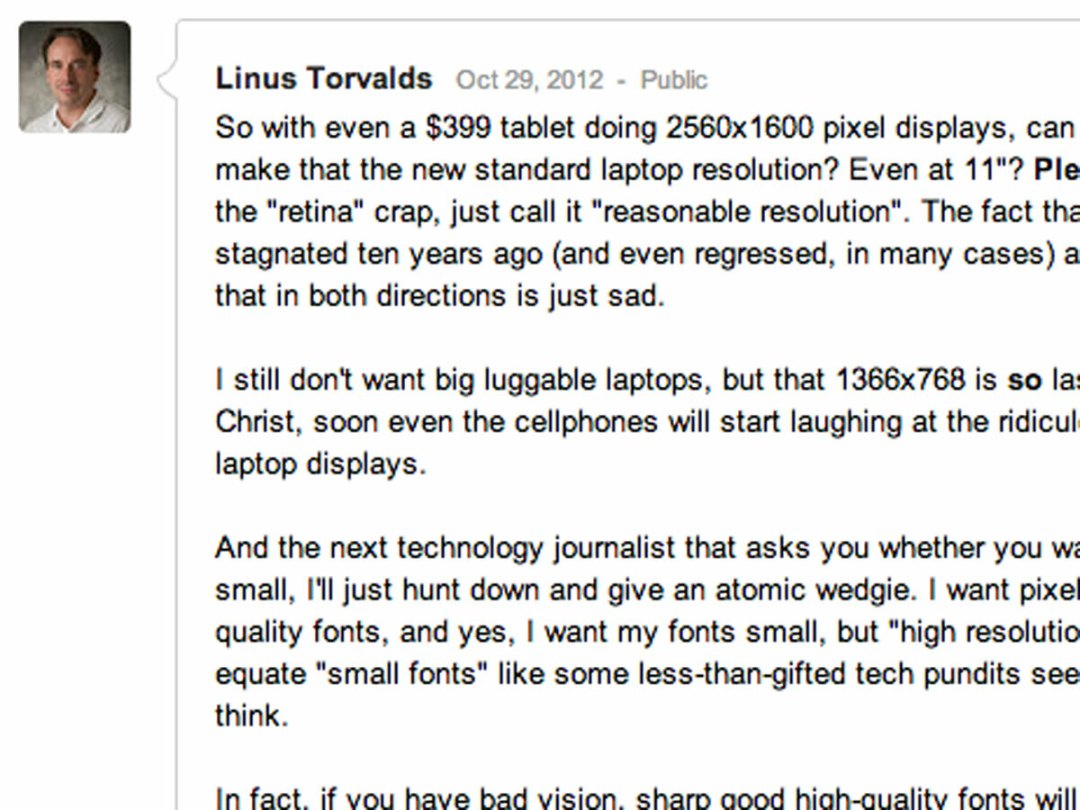 Linux creator Linus Torvalds has called for 2560 x 1600 to become the standard resolution for all laptops.
Spurred by the launch of the Google Nexus 10 earlier this week, Torvalds took to his Google+ page to declare/rant: "So with even a $399 tablet doing 2560 x 1600 pixel displays, can we please just make that the new standard laptop resolution. Even at 11"? Stop with the 'retina' crap, just call it 'reasonable resolution'. The fact that laptops stagnated ten years ago (and even regressed in some cases) at around half that in both directions is just sad."
Torvalds went on to say that soon even mobile phones would start "laughing" at "ridiculous laptop displays". He also took a swipe at tech journalists (ahem) that say high resolutions would mean small fonts: "I want pixels for high-quality fonts, and yes, I want my fonts small, but 'high resolution' really doesn't equate 'small fonts' like some less-than-gifted tech pundits seems to constantly think."
Torvalds has a point here: Apple's Retina Display devices have shown that, as long as the formatting is there, fonts and images can look gloriously natural and smooth – much more like they're on a printed page than a digital screen. If hi-res displays become the standard, the web and app makers would have no choice but to start making content suitable for those screens.
You may also like
UPDATE: Apple iPad Mini review round up
Apple iPad Mini vs Google Nexus 7 and Amazon Kindle Fire HD