Loewe Mediacenter announced for the UK
Loewe has announced it is bringing its Mediacenter to the UK, a new device for your living room that really does what it says on the tin.For audiophil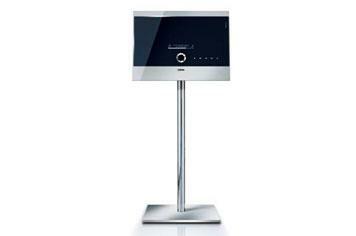 Loewe has announced it is bringing its Mediacenter to the UK, a new device for your living room that really does what it says on the tin.
For audiophiles, the Mediacenter will play CDs, store music on its 320GB internal storage (in two of the three versions), access music within a home network over a Wifi connection, and also has an iPod dock and radio tuner.
The Wifi connection also allows the Mediacenter to collect information from the internet such as album artwork, to be displayed on the Mediacenter's OLED screen, and also to stream music wirelessly to speakers throughout the house.
Music aside, the Mediacenter is also capable of playing DVDs in high def via an HDMI connection, and can even control an external Blu-ray player through the Mediacenter's Assist Media remote control.
Mounted on the wall or on an optional stand, the Mediacenter is available in three versions – the Loewe Reference Mediacenter and the Individual Mediacenter DR+ offer the hard drive functionality, but for those who don't require that, you can opt for the HDD-less Individual Mediacenter instead.
Pricing is to be confirmed, but we wouldn't expect it to be cheap. Like the look of it? Let us know below.