Movie Classic – Kung Fu Hustle (2004)
Stephen Chow's wacky martial arts comedy gets the Movie Classic treatment. Altogether now, "Everybody was..."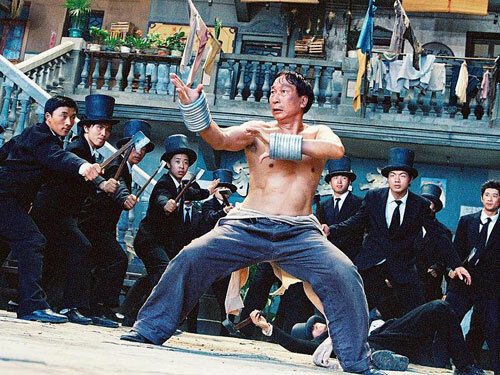 A martial arts film is often a thinly-plotted affair, with dialogue and story eclipsed by the choreographed fighting. That's all well and good – warring continents, Samurai and Ninjas present obvious plot lines and broad-brush themes – but as Ang Lee's Crouching Tiger, Hidden Dragon so gracefully pointed out, there's more to the genre that rests so much of its success on Bruce Lee's enviably-toned shoulders.
The antidote to Crouching Tiger's whispering stealth is Stephen Chow's Kung Fu Hustle, a bawdy crackpot comedy set in Pig Sty Alley. This slum-like tenement is presided over by the terrifying, and otherwise unnamed, Landlady, a chain-smoking matriarch with axes to grind.
Her grinding is put into overdrive, then, when the Axe Gang turns up looking for a pair of local impostors who've been trading on the fear factor of their violent tribe. The action takes a turn for the pugnacious – the perfect excuse to bust out some Kung Fu moves.
But don't expect humdrum martial arts fight scenes. Choreographer Yuen Woo-ping (who'd previously worked on Crouching Tiger, Hidden Dragon and The Matrix) resurrected outdated wuxia fighting manoeuvres, imaginatively updated and filtered through Chow's cartoon-inspired direction (think Loony Tunes, not Manga).
If that sounds like overkill, it doesn't feel it. Kung Fu Hustle is 95 minutes of non-stop fun, but its skilful sequences are on par with anything you've seen in the canon of po-faced, pseudo philosophical martial arts films.
Fans of movie reference won't be disappointed either. Kung Fu Hustle tips its paddy hat to everything from Road Runner to The Godfather, via The Shining, Raging Bull, The Untouchables and Of Mice and Men.
Yes, the characters are two-dimensional and there's a general lack of pathos, but if you're still thinking about that come the jaw-dropping finale, you've missed the point of Kung Fu Hustle. And you'll be all the poorer for it.
You may also like
25 best James Bond villains ever
Skyfall's stunt driver: "It was a bit like driving a tractor"