News Nugget – Oakley's Tron-styled 3D specs
Can Oakley inject some fashion sense into 3D glasses?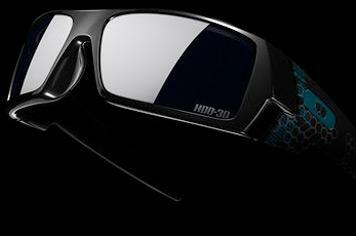 Oakley must be getting old. Once its glasses hung out with the extreme sports crowd, but now it's getting its geek on.
Not only is the shades company diving headlong into the 3D specs market, it's bragging about doing it Tron-style.
Oakley claims the special edition glasses will "introduce moviegoers to the unique innovations of Oakley 3D eyewear" and says it has interpreted the themes of Tron: Legacy into the design.
Those innovations supposedly offer greater clarity achieved by proprietary techniques that eliminate ghosting and crosstalk. All that comes at a price though. Oakley is quoting US$150 to get your ears under a pair of their latest eyewear.
The company is so excited by its Tron tie-in, it'll be making some normal shades with a Tron theme, too. Because you won't look like a nutter walking down the street in those at all.
Related stories
– 5 of the best Halloween apps
– 10 of the best new game apps
– 10 boardgame apps to download
– 20 best iPhone apps of all time
– 10 best Android apps of all time