Sanyo Xacti VPC-CS1 super-slim camcorder hits shelves Friday
In an effort to tick all the -est boxes, Sanyo has launched the Xacti VPC-CS1 – boasting that it's the smallest, thinnest and lightest full HD camera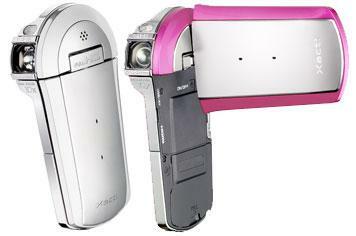 In an effort to tick all the -est boxes, Sanyo has launched the Xacti VPC-CS1 – boasting that it's the smallest, thinnest and lightest full HD camera on the market.
It was first outed at CES in January, but it's just been announced that it will be on sale from Friday 5 March for around £249.
It comes in the familiar Xacti pistol-grip format, with a 2.7in flip-out LCD screen and will do 1080i HD video and 8 megapixel stills (hence its 'dual camera' tag).
And what about its smallest/thinnest/lightest credentials? Well, it's 126cc in volume, 142 g in weight and 27mm thick.
No, we don't often measure our camcorders in cubic centimetres either. Regardless, we reckon it means you'll now have enough room for at least another 100cc of Jelly Babies in your pocket, which can only be a good thing.