Sony Vaio P gets refreshed with accelerometer and touchpad
Sony has updated its Sony Vaio P Series to now include an accelerometer and an optical trackpad. There were mutterings of a new incarnation of Sony's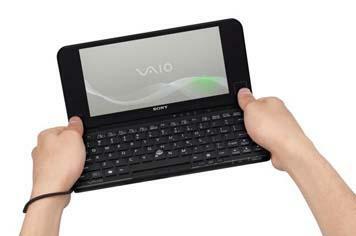 Sony has updated its Sony Vaio P Series to now include an accelerometer and an optical trackpad.
There were mutterings of a new incarnation of Sony's "not a netbook" P Series last year and while initial rumours pointed to an October/November release, Sony has finally unveiled the details of a refreshed version of its 1.3lb premium 8-inch laptop.
The optical touchpad is built into the LCD bezel and, as the picture demonstrates, the pad is on the right and the right/left mouse buttons are on the left, making it easier to use when holding it with both hands. The latest version will also pack an accelerometer. So as well as letting you flip the device vertically to read documents, it'll also let you tilt it to move back and forth while browsing the web.
The original P Series suffered a lot of criticism for its lengthy boot time and Sony is hoping to rectify that by replacing the slower 1.33GHz Atom CPU, with a faster Intel Atom Z560 processor. Though it is worth noting the entry-level unit has a slightly slower Z530 CPU.
Like its predecessor, it features built-in GPS, 2GB RAM and has crammed in the same amount of pixels (1600×768) into the widescreen display. Its other specs include a digital compass, up to 64GB solid-state storage, Wi-Fi, Bluetooth 2.1 and Windows 7 Premium.
Its aesthetics have been fiddled with – it comes in a new matte finish, with a choice of five different shades (including black, green and orange).
Word on the web is we could be seeing the new Vaio P as early as June. There's currently no pricing details, but if its predecessor is anything to go on, it'll be sure to make a premium-sized dent in your wallet. We'll definitely be keeping our ears to the ground until then and will bring you the news as soon we hear it.
In the meantime, why not see what we thought of the original P Series by watching our hands-on review – or read about it in our full review.