Stuff Gadget Awards 2016: These are the 23 best gadgets of the year
Actually, not quite: they're the 23 best gadgets, apps, cars, services, TV shows and games of the year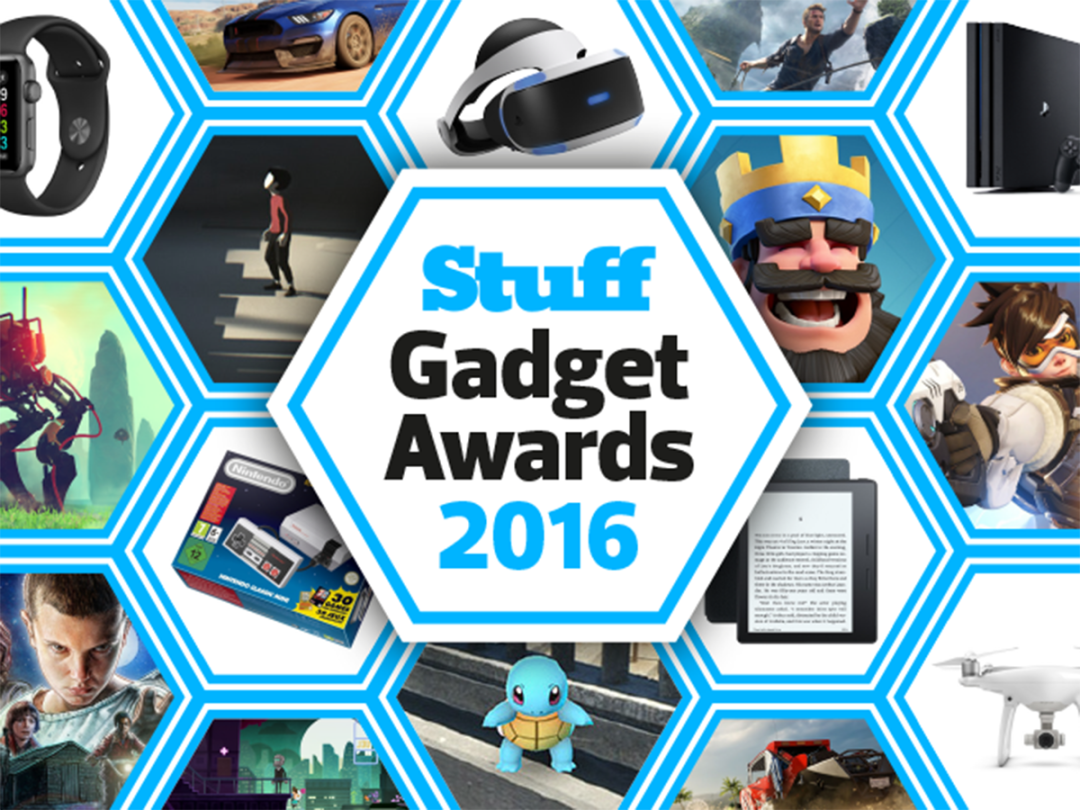 "Hello, and welcome to the Stuff Gadget Awards 2016. I'm your host, Donald Trump, and I'm about to make a load of terrible jokes about the Samsung Galaxy Note 7 being 'hot stuff'. Now, on with the show…"
Yes, as those of you lucky enough to attend our prestigious ceremony at Buckingham Palace last night will know, this year's Stuff Gadget Awards were a properly glitzy affair. And if you weren't there, you'll have hopefully caught it all on TV. No? Alright then, we'll recap.
It's been a pretty amazing year for gadgets. Take smartphones for instance: the Samsung Galaxy S7 Edge and Apple iPhone 7 Plus are easily two of the best ever, the LG G5 ushered in a new age of modularity and the Vodafone Smart Prime 7 proved a £75 handset could be worthy of acclaim. But none were as worthy of acclaim as our Smartphone of the Year, the awesome and bargainous OnePlus 3.
What else? Well there were some right lovely cameras released, plenty of great new drones to crash and a few smart home gadgets that really justified the 'smart' part. We also marvelled at a stack of great 4K TVs, spent time with loads of new 4K-streaming boxes and gave 4K gaming a go to boot. Somehow we found time to fall in love with what may well be the best tablet ever in the form of Apple's iPad Pro 9.7 and what almost certainly is the best smartwatch ever, namely the Apple Watch Series 2. We didn't fall in love with Apple's new Earpods, but you can't have everything.
And then there's VR: 2016's biggest trend saw new consoles, headsets and cameras arrive on a daily basis (it felt like). While the likes of the Oculus Rift and PlayStation VR were fantastic fun, it was the HTC Vive that really blew us away. If we didn't have a deadline to meet we'd be on it now, frankly. And that's why it's our Stuff Gadget Awards 2016 Gadget of the Year.
We would go on, but the repeat will be starting on ITV in a few minutes, so you might as well catch the full list of winners there. Or you could just scroll down the page. Oh, and listen to our Awards podcast below too. You're welcome.
Listen to our Gadget Awards 2016 podcast
Stuff Gadget Awards 2016: The winners
Smartphone of the Year 2016: OnePlus 3
We say: "The OnePlus 3 is a big brilliant bargain of a phone that looks and feels as good as a £600 mobile, but costs half the price"
Read the review | See the full shortlist here
System Camera of the Year 2016: Fujifilm X-T2
We say: "A dream of a camera which barely puts a foot wrong from start to finish"
Read the review | See the full shortlist here
Compact Camera of the Year 2016: Fujifilm X70
We say: "Bags of charm and stellar image quality in a small, affordable package – we're sold"
Read the review | See the full shortlist here
Action Camera/Drone of the Year 2016: DJI Phantom 4
We say: "Not just a simple step up – the Phantom 4 is a massive leap forward for drones that should open the doors to everyone"
Read the review | See the full shortlist here
Smart Home Gadget of the Year 2016: Amazon Echo
We say: "The AI revolution starts here – Amazon's Alexa can control your house, and pulls a great double duty as DJ"
Read the review | See the full shortlist here
Computer of the Year 2016: Apple iPad Pro 9.7
We say: "The new smaller iPad Pro hits the sweet spot between traditional tablet and laptop-like content creator. It's simply the best iPad yet"
Read the review | See the full shortlist here
Smartwatch of the Year 2016: Apple Watch Series 2
We say: "The Apple Watch Series 2's combination of sports and smarts make it a supremely exciting device. There's not another wearable out there that can match it"
Read the review | See the full shortlist here
Health and Fitness Gadget of the Year 2016: Garmin Vivoactive HR
We say: "Probably all the fitness watch you could want, with some useful extras on top"
Read the review | See the full shortlist here
TV of the Year 2016: LG OLED65E6V
We say: "It's no secret that OLED tech gives you the best 4K picture but the LG's HDR performance is equally awesome"
TV Gadget of the Year 2016: Sky Q
We say: "Undoubtedly the best TV experience you can get, Sky Q works flawlessly and could change the way you watch TV"
Read the review | See the full shortlist here
Hi-Fi Gadget of the Year 2016: Naim Mu-So Qb
We say: "Small, stylish and with a sound that'd make its big brother proud, the Qb is a stunning addition to the Mu-so family"
Read the review | See the full shortlist here
Headphones of the Year 2016: Bowers & Wilkins P7 Wireless
We say: "These outstanding over-ears set a new headphones benchmark in both build quality and wireless sound"
Streaming Service of the Year 2016: Netflix
We say: "Netflix is leading the way for telly tech and is just as full of must-watch shows as ever"
Read more here | See the full shortlist here
TV Show of the Year 2016: Game of Thrones
We say: "GoT has hit upon a perfect mix of honour, scandal, blood, politics, sex and dragons. Six seasons in, it's still essential"
Car of the Year 2016: Tesla Model X
We say: "The Model X is electric, will do 0-62mph in 2.9 seconds and has gullwing doors. No, this is no normal SUV"
Read the review | See the full shortlist here
Game of the Year 2016: Uncharted 4: A Thief's End
We say: "Drake's last romp is spectacular from top to bottom, whether it's the intense action and set pieces, natural performances, or mind-blowing graphics. Naughty Dog really outdid itself here"
Read the review | See the full shortlist here
Mobile Game of the Year 2016: Pokémon Go
We say: "The game that's done more for footwear sales than any exercise app, Pokémon GO's augmented reality larks grab hold as you trudge about"
Read about it here | See the full shortlist here
Indie Game of the Year 2016: Inside
We say: "A masterclass in dystopian sci-fi with an ending you'll never see coming"
Games Console of the Year 2016: Sony PlayStation 4 Pro
We say: "Sony's enhanced box takes everything great about the PS4 and makes it even better"
Read the review | See the full shortlist here
App of the Year 2016: Prisma
We say: "The app that turns all your friends into pound-shop Picassos by deconstructing their photos and using AI to put them back together again in the style of famous artists"
Read about it here | See the full shortlist here
Design of the Year 2016: Impossible Project I-1
We say: "The first Polaroid-format instant camera in 20 years is packed with bang-up-to-date tech and looks amazing"
Read about it here | See the full shortlist here
Readers' Gadget of the Year 2016: OnePlus 3
We say: "The OnePlus 3 is a big brilliant bargain of a phone that looks and feels as good as a £600 mobile, but costs half the price"
Read the review | See the full shortlist here
Gadget of the Year 2016: HTC Vive
We say: "Once you've tried virtual reality on the HTC Vive everything else – including real life – just pales in comparison"
Read the review | See the full shortlist here
Want more? You can check out full Awards winners, shortlists, reviews and more in our Stuff Gadget Awards 2016 hub
More like this: The hottest stuff of 2016: a retrospective