Wacom Bamboo Stylus duo draws on tablets and paper
When your gadgets run out of juice, this hero stylus-pen will save the day with real ink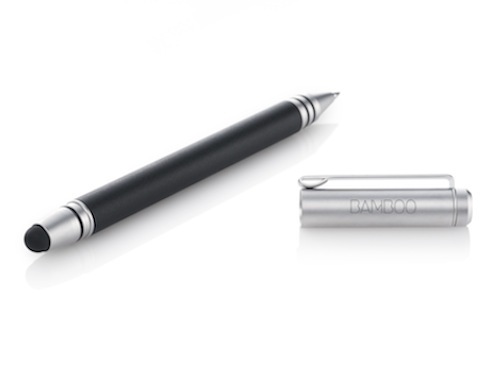 Wacom has stuck a ball-point pen on the end of its Bamboo Stylus for iPad and Android tablets and made it miles more useful in the process. The makers of the fiendishly clever Inkling smart pen have realised that most of us are still quite attached to paper, despite the latest shiny rectangles that want to do away with the medium altogether.
The Bamboo Stylus duo means you don't have to fling yourself into either camp. The lightweight (24g), metal stylus will make tidy work of your latest Draw Something challenge on your tablet with the rubber nib. And the ink end (with replaceable cartridges) means you can still jot stuff down when your iPad or Android tab is having a snooze.
Wacom is releasing the Bamboo Stylus duo in May for £35, alongside the Android version of its free Bamboo Paper note-taking app – out now for iPad. Just remember which way's which though – using the stylus on paper might mean making zero notes but use the inked tip by accident and you'll end up with one seriously scratched tablet display.
iPhone 5 to get 4in screen and unibody redesign
Monster Gratitude headphones blow Earth, Wind & Fire
NoteBook Case turns your iPad into a MacBook Pro