WhatSim promises near-unfettered access to WhatsApp when you're overseas
But would you want to buy a SIM that restricts you to just WhatsApp?
It's no secret that WhatsApp is one of the most widely used apps in the world. And even more so when we travel, since all we need is Wi-Fi or data to send messages on the app instead of paying a ton using SMS services.
In building on that need, an Italian company has created the WhatSim – the word's first SIM that allows you to chat on WhatsApp from anywhere in the world and with no limits. All it will cost you is €10 (£7.50) a year.
The service connects to signals from 400 operators across some 150 countries, so you won't have to worry about searching for Wi-Fi connections, or paying for roaming data services.
But here's what we don't get – the SIM locks you to the use of WhatsApp only and that's just to send messages. If you want to send pictures or videos, or share contacts or locations, you'll have to pay more – €5 for 1000 credits that allow you to exchange 50 photos, 10 videos or 200 voice messages in most countries.
You also won't be able to use any other app, make calls, or send the usual text messages, plus it works on "all unlocked phones" only.  
READ MORE: WhatsApp Web lets you continue chatting on Google Chrome
It cripples your phone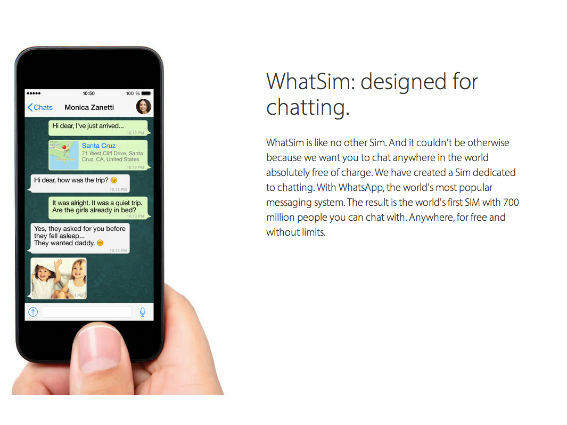 So, even though some of you might think this idea is a stroke of genius, we're struggling to make sense of this SIM. It still limits your WhatsApp usage (contrary to its claims) and you can't use the basic functions of your phone.
Yes, you pay more for a monthly plan or for an international pre-paid SIM when you travel, but that provides bang for your buck. You'll be able to play games on your phone, post Instagram shots and use a world of other apps – including WhatsApp.
We think it is kind of useless, unless all you ever use on your phone is WhatsApp. But if you're certain this SIM is for you, you can buy it from authorised dealers or the WhatSim website (deliveries start 26th February). It comes in micro, nano, and standard sizes.
READ MORE: 11 WhatsApp features you probably didn't know about
[Source: The Straits Times]