Xbox Music could give Spotify a run for its money
Purported leaked pricing details show the Zune Music Pass will be keeping the same price when it becomes Xbox Music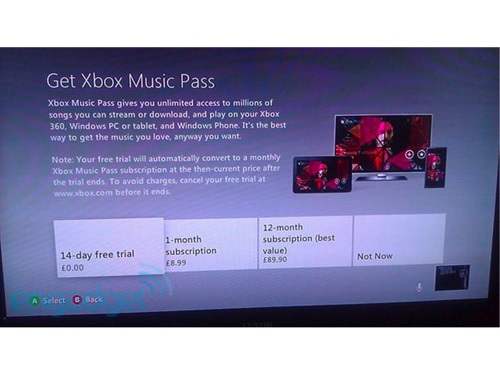 Good news for Xbox and Windows Phone owners who get your music fix via the Zune Music Pass. An image leaked online reveals Xbox Music will still cost less than a Spotify Premium account.
For £8.99 a month or £89.90 for the year (saving you £17.98 over paying for 12 months), Xbox Music will allow you to download all the tracks you could ever listen to – and all for £30 less than Spotify per year.
Microsoft said to expect more than 30 million tracks when it announced the service back at E3, which would give it the most comprehensive music library online. As of April 2012, iTunes boasted a roster of 28 million songs and Amazon's music library sits at just under 20 million. Still more than enough to keep you listening until you grow very, very old. And because you download the tracks, there's no need for an offline mode.
While you never own the songs unless you opt to buy an album outright, you can play the tracks via a Zune MP3 player – if anybody out there still uses one – as well as the Xbox console and Windows 8 desktops, phones and tablet devices.
It's not all good news, unfortunately. US users who enjoyed a free album every month will be disappointed to know that Zune Pass extra will die with the release of Xbox Music. And it looks like you will still need a Xbox Live gold subscription to gain access. But you probably already one have if you play Call of Duty online, don't you?
We've heard rumblings of an ad-supported subscription of Xbox Music, which would mean you get even cheaper access to music in return for some annoying adverts, and a new feature that allows you to save playlists in the cloud, presumably for all to see and use.
No doubt all the juicy details will be revealed when Windows 8 lands later this year.
[via Engadget]
You may also like
Angry Birds sequel Bad Piggies arrives on Android, iOS and Mac
Google Play five day app sale starts
Nemesis fastest electric car ever breaks world record today