Amazon Echo Buds review
Ear we go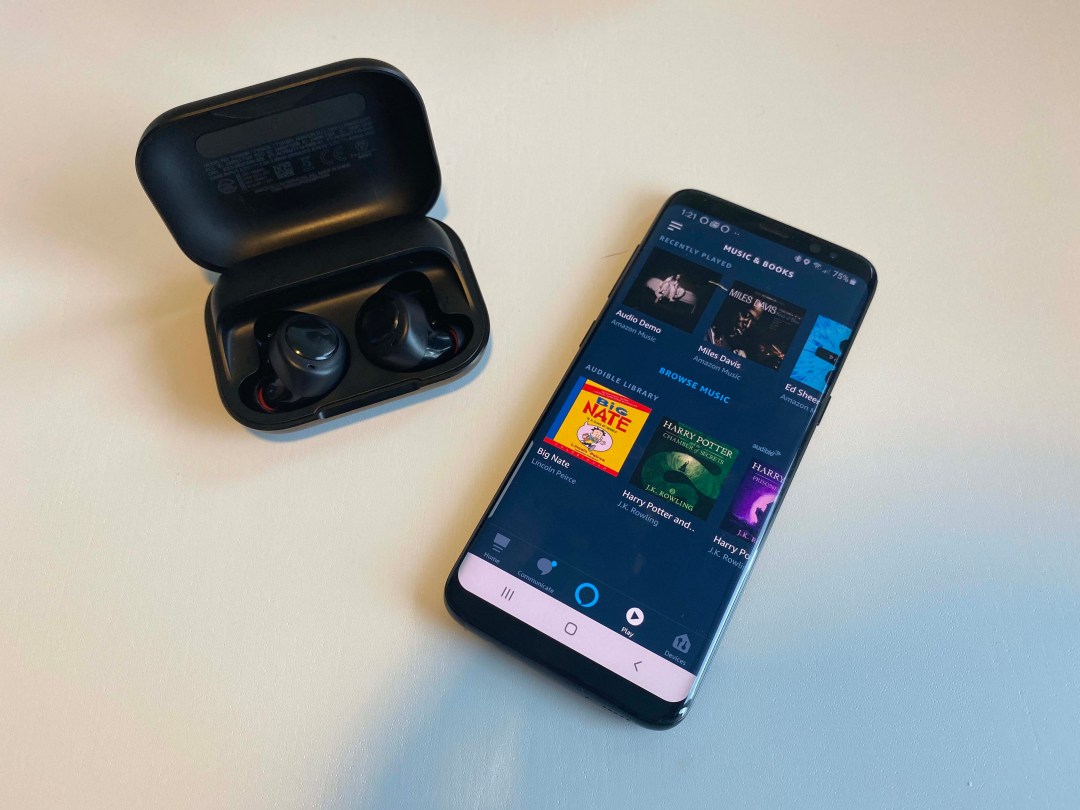 Amazon's Alexa voice assistant has been making herself at home in wireless headphones of various shapes and sizes for a while now, so it was only a matter of time before Amazon itself got involved.
And sure enough, amid the tornado of new Echo products at the company's Seattle event earlier this year, we were introduced to the Echo Buds, Amazon's first wearable, hands-free Alexa product.
They're true wireless earbuds packed with mics aplenty to accurately pick up your voice commands. You can summon Alexa to control your music, podcast or Audible audiobook playback, check the weather or depress yourself with the headlines, all without lifting a finger.
Amazon has also teamed up with the ambient noise-banishing wizards at Bose to ensure you can listen on public transport too. You are, then, getting a whole lot of functionality for the price, plus sonic ability that, while far from mindblowing, is more than good enough for the price. 
Design: bulbous buds
Amazon has opted for a minimalist, if not particularly stylish or premium design with the Echo Buds. They're plastic and all black, save for the blue or red ear tips, of which you get three sizes, and are much chunkier than AirPods, though not heavy in the ear. They're also notably awkward to remove from the case. I dropped my pair at least three times.
The Echo Buds also come with wing tips for a more secure should you desire it. You can test the best fit in the Alexa app. I found them to be comfortable and secure most of the time, but they did fall out of my ears on several occasions when I was leaning forward, something that never happens with Apple's (far pricier) AirPods Pro. As with any earphones, you'll want to try before you buy if possible.
There are no physical controls on the buds, but they are touch sensitive, which you can customise in the app (more on that in a bit). A volume rocker would have been nice, but hey ho.
The Echo Buds come with a strangely enormous charging case. It's not a patch on Apple's equivalent, and fiddlier to use. I'm not a fan, and annoyingly, you're stuck with Mini-USB for charging.
The Echo Buds are sweat resistant and IPX4 rated, so they'll take a splash and live to tell the tale. If you're crazy enough to run in torrential rain, though, they probably won't be so lucky.
Features: Let's ear it for Alexa
As with any Amazon-made product sporting the Echo name, you'll set up the Echo Buds by pairing them in the Alexa app on your phone. Just open the case, wait for the blue LED to pulse, and whack them in your ears. Then it's just a case of following the on-screen instructions.
Once you're all paired up you can use the app to check battery status, toggle the amount of ambient pass-through you want to allow when noise reduction is disabled, and customise the touch controls. The Echo Buds respond to double taps and long presses, so you can, for example, program the right bud to play/pause music and skip tracks, and the left to toggle ANR/pass-through and activate a voice assistant if you're not a fan of Alexa. The gestures work pretty well most of the time, and with little delay. It's just annoying that there's no way of adjusting volume. Like AirPods, the Echo Buds will auto-pause what you're listening to when you remove a bud.
The Echo Buds' headline feature is undoubtedly their hands-free Alexa capability. Each bud has two outer microphones and one inner mic that work in unison to reduce ambient noise and ensure Alexa can always hear you clearly.
While techically an optional feature – you can listen to your music just fine without bothering the AI – it's what sets these headphones apart, so it'd be a bit of a waste to ignore it.
Fortunately, the functionality has been implemented really well. You'll know the Earbuds are awaiting a command (unlike hands-free Siri on the AirPods, where there's no audio indicator) when you hear a sound. Alexa responds quickly and had no issue understanding my commands, although noisy areas naturally presented more challenges. Being able to ask for a quick news blast or weather forecast as you head out is genuinely useful and allows you to keep your phone in your pocket.
Amazon will of course advertise the Echo Buds with Amazon Prime Music, but voice commands work fine with Spotify and Apple Music too. If you're worried about Alexa listening to your conversations (a very reasonable concern) you can mute the mics.
The other significant feature is the Bose-provided active noise reduction tech built into the Echo Buds. While this isn't the same as proper noise cancellation that you'll get in Bose's over-ear cans, it's really quite impressive, successfully reducing the screeching of a London Underground tube train relatively faint hum. It's so effective in fact, that you'll regularly want to enable pass-through when you're out and about. Good thing hopping between mode each is seamless with the touch controls.
Sound quality and battery life: underwhelming
The Echo Buds have drivers in each earbud, with the design apparently inspired by in-ear monitors used by professional musicians. Amazon set out to make headphones with well-weighted bass, solid mids and crisp high frequencies.
Certainly they produce more detailed and impactful audio than the original AirPods, though that's not saying much. Bass is smoother and more weighty here than you'll find on rivals, and most of of the pop albums I listened to during testing were well handled, Similarly, the Echo Buds did Stormzy's scything vocal delivery on his new album justice. I'm not sure the Echo Buds cope with guitars as well, but the overall performance is richer than I was expecting.
One thing to note, though, is that there are strangely large jumps in quality depending on what your volume setting is. Listening to Wolf Alice's 'Space & Time' at half volume, the soundstage was muddied and all over the place. Closer to full volume everything opens up for a noticeably more pleasing listen. The contrast is jarring and obviously not ideal.
Battery life is a fairly unremarkable five hours on a full charge, with another 15 afforded by the charging case. Although you can definitely find better, Amazon's effort is passable. Call quality was also absolutely fine.
Amazon Echo Buds verdict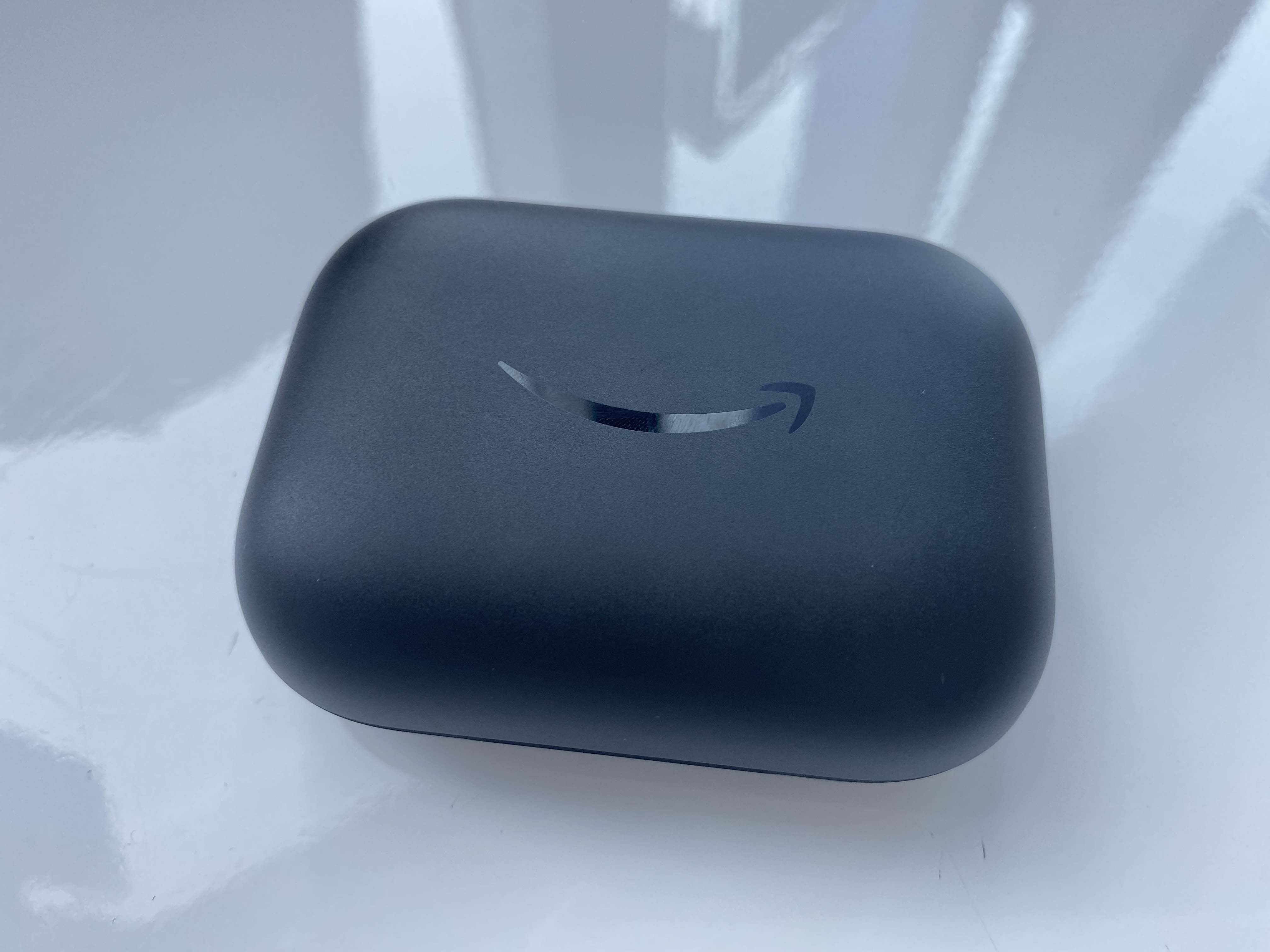 As they enter an increasingly overcrowded market dominated by some little white toothbrush heads, it's hard to know whether or not the Echo Buds will be a success. But when you marry their impressive feature set with the low price, they really deserve to be.
Even if you don't want to use the hands-free Alexa stuff, it's there if you decide you do and works really well. Chuck in Bose's clever noise reduction and the mostly adequate audio, and you have quite a package.
If you don't want to spend the big bucks on the AirPods Pro or Sony's WF-1000XM3, the Echo Buds are a solid and much cheaper alternative.
Stuff Says…
Not the best true wireless buds you can buy, but you won't match their feature set at this price
Good Stuff
Decent sound
Noise reduction is great
Hands-free Alexa
Gesture controls are fine, if slightly limited
Bad Stuff
Uninspiring design
Horrible case
Some audio inconsistencies
So-so battery life