Amazon Echo Show 8 review
Pre-Xmas smart home bargain
Amazon has become definitive in a bunch of different areas. It's the master of online shopping, the Tzar of ebooks, the king of tax dodging and the galactic emperor of the smart home.
Blinking Alexa eyes and ears live in millions of homes across the UK. And the formula is pretty basic: Amazon Echo gear is cheap and easy to use. The Echo Show 8 continues this simple but aggressive strategy.
It's an 8-inch smart screen with speakers good enough to act as a mini hifi, and at £120 costs no more than you might have spent on a Bluetooth speaker a while back. It sounds miles better than the Show 5, is loads cheaper than the 10-inch Echo Show, and therefore can't really fail.
Guess what? It doesn't. But there are some important things to note when stacking up the Echo Show 8 against an arch rival like the Google Nest Hub series.
Design
The Echo Show 8 looks like a blown-up Show 5. It's a wedge of plastic with a wrap of dark or light grey fabric that sits around the back and hides the speaker drivers.
For the most part you'll just see the screen, which has the chunky border of an old tablet or classic digital photo frame. It's a reminder Amazon's aim is to get these things into as many houses as possible, as quickly as possible, not to make them look like tech from the future. That is Alexa's job, not the box's.
The design also introduces the first of the Echo Show 8's little issues. Amazon has tried to make it as beefy-sounding as it can on a budget, but there's very little isolation of vibration. Put it on a budget desk and it'll vibrate the surface as if it's bullying the thing into dancing along to whatever track is playing.
More carefully designed wireless speakers try to reduce this kind of vibration transmission, as it can be bad for the sound, as well as annoying. It also justifies the mini stands for Show speakers you'll find on Amazon. Its own costs £24.99.
Screen
The other part Amazon could improve is the screen. All the tech is perfectly good. This is an 8-inch 1280 x 800 pixel LCD. The same resolution as the 10-inch version but smaller, this screen is sharper per inch than its big brother.
That's great, but the Echo Show 8 just doesn't have quite the same the "ambient" appearance as the Nest Hub Max.
Wondering what we're on about? When you leave the Hub Max to its own devices for a while, the screen dims and alters its character to the extent it almost looks as though images are printed on paper and stuck behind the display glass. It's a great effect that makes a smart display look less incongruous in a living room.
The Echo Show 8's screen always looks more like a tablet screen, which is distracting if it'll sit in your peripheral vision while you do something else. Particularly if that "something else" is working.
That aside, the Echo Show screen is great. It's big enough to make YouTube videos look good, weather reports clear, and it seems a completely different proposition to your phone's screen.
It is perfect for, say, the kitchen. Don't rule it out as a bedside alarm clock either. Its ambient light sensor lets it dim down almost completely at night, so it's not distracting 24/7.
Features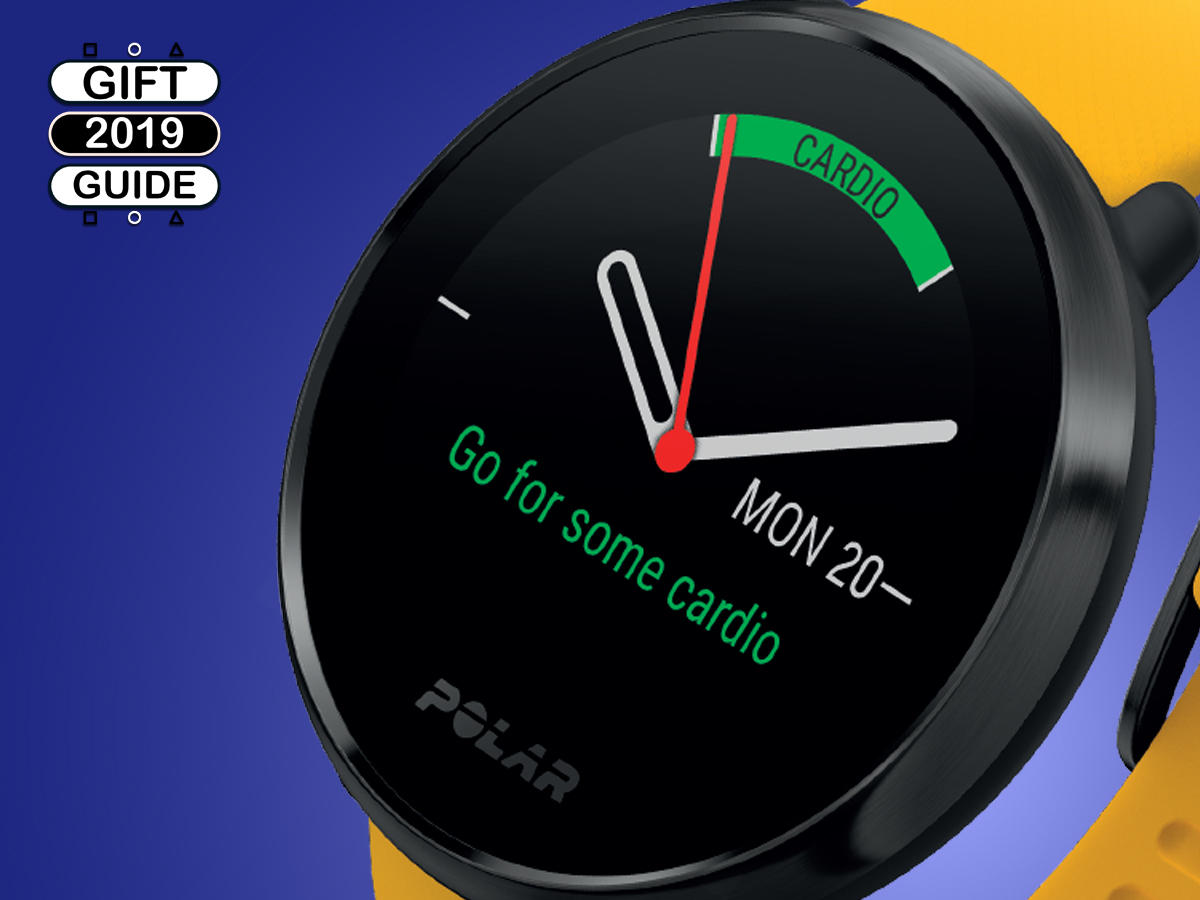 But what will you actually end up doing with the Echo Show 8? It's probably best to start with the parts Amazon's Echos make difficult.
They are not great for YouTube, which may well be one of your primary uses for such a screen if you want more than just the voice activated stuff and the weather. Google owns YouTube, and obviously wants to avoid making it a selling point here.
Amazon and Google: they ain't buddies.
You use the built-in browser to watch YouTube. It works, but feels a clumsy workaround in what is meant to be a next-generation way to interact with the tech in your home. Netflix is a no-go too, another major issue for some of you.
The Echo Show 8 works best with Amazon's stuff: Prime Video and Amazon Music. But you can use Spotify, which seems more fundamental than any of the missing video bits.
Alexa also allows things called routines, little pre-programmed commands that fire off multiple actions from a single voice prompt. Obvious uses for this are to switch off a bunch of smart stuff when you go to bed — lights and the like — use it as a shortcut to a specific music playlist or to set several things in place when you get home.
Routines aren't hard to make, but the simple effort required likely means most won't use them. Humans: lazy, aren't we?
They're worth exploring if you use both a smart thermostat and smart light bulbs, though.
Alexa also supports Skills. You can think of these as ways to increase the assistant's vocabulary, or as modules that let you Show 8 communicate with things like Sonos speakers, Hue lights or smart home cameras. It also helps simplify how Alexa operates.
We're not at the level of Blade Runner AI yet, and Skills let Alexa know what you're chatting about if you say, for example, "Alexa, turn on the TV". They provide context, reducing how clever Alexa actually needs to be when you first switch her on in your home.
Here's another area where Amazon and Google have slightly different approaches. Amazon patches up an in-development digital assistant with Routines and Skills. Google's Assistant speech interactions are better, and feel a bit more natural, but don't have quite the same kind of manual customisation as you get here.
The two approaches are valid. Amazon's is more pragmatic, Google's is more advanced in a techy sense.
Camera and Video Chat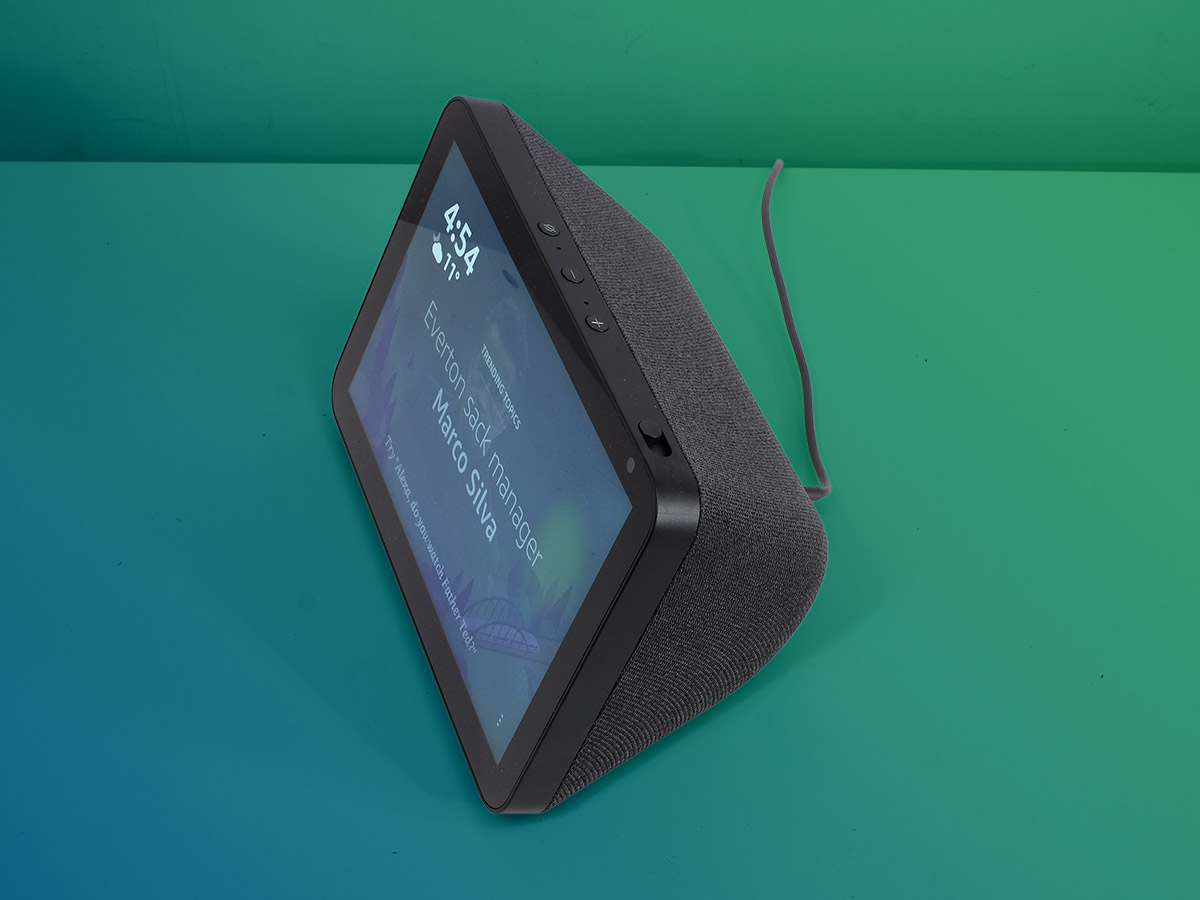 You see some of this in the Show's use of cameras too. The Show 8 has a 1-megapixel camera you can use a bit like a home intercom thanks to a feature called Drop-in.
Run the Alexa app on your phone and you can near-instantly start video chatting through the Show elsewhere in your house. Multiple Shows can act like video walkie-talkies. We know some people who use this as a way to tell the kids it's dinner time, without the traditional approach of screaming up the stairs in the vein hope it'll stop them playing Fortnite.
Video quality isn't terrific. A 1-megapixel camera isn't even close to the 13-megapixel one used in the FaceBook Portal, but the 720p video you get here does well enough in your average half-lit living room.
Just like the Show 5, the Show 8 also has a slider that blocks off the camera, should you want to avoid these drop-in calls. This isn't quite a full smart home camera experience. It's not as ambitious as Google's Nest. But it is a feature real Echo buyers seem to actually use, and you don't have to pay for it. We also had far fewer issues with Drop-in than the more involved Nest integration of the Nest Hub Max.
Sound Quality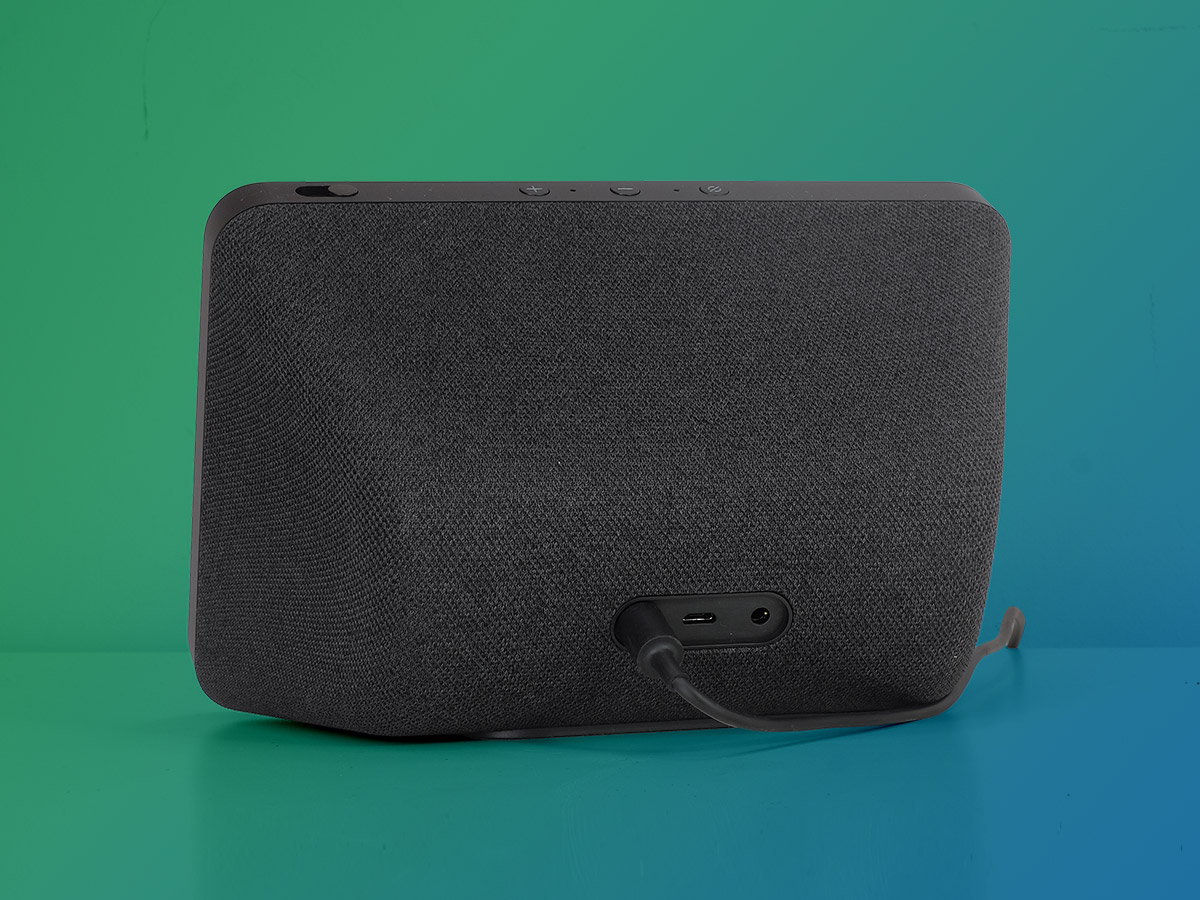 But how does the Show 8 sound? Pretty good. It has two 2-inch drivers and a passive radiator, an arrangement similar to those used in countless dedicated Bluetooth speakers.
This smart speaker also earns major bonus points as it can act as a Bluetooth speaker too. Just hook it up as you would a normal portable speaker and the Show 8 automatically flips between any audio from your phone and that played directly through Alexa.
Big and bassy is the sound profile here. The Show 8 can spit out tunes at greater volume than the Show 5, and sounds much more comfortable doing so. A pair of 2-inch drivers may not sound like much, but they can fill mid-size rooms easily, and the passive radiator fills out the bottom end so you don't get the sense you're listening to a box not really made for music.
Just don't buy an Echo Show 8 expecting performance at the same level as something like the Sonos One. Bass is perhaps the most obvious area in which this speaker doesn't quite stack up to the best. It's plenty deep and voluminous for what is still a relatively petite speaker, but the control isn't really there.
Often there's too much of the stuff, and it can pull focus away from vocals. This is also the impression after we got a bit "GCSE Design and Technology project" and made an isolation base for the Echo Show 8. A 2-inch thick rubber underlay and slab of marble stopped most of the phantom bass introduced when you put a vibration-happy speaker like this on some IKEA furniture. But minor residual boominess shows the bass radiator is tuned for impact rather than hifi fidelity.
Mid-range texture and definition aren't as good as the better £80-100 Bluetooth speakers either and thee treble is slightly clinical-sounding.
The only real point to take from this is you might not want to use the Amazon Echo Show 8 as a replacement for a half-decent hifi. It still sounds better than many might expect. And is borderline ridiculously accomplished at its time-of-writing price of £59.99 given you also get a screen, a camera and Alexa.
And like every other Echo, the sensitivity of the mics is excellent. There are four here rather than seven like some other smart speakers but they have no trouble hearing your voice from 3m away.
Amazon Echo Show 8 Verdict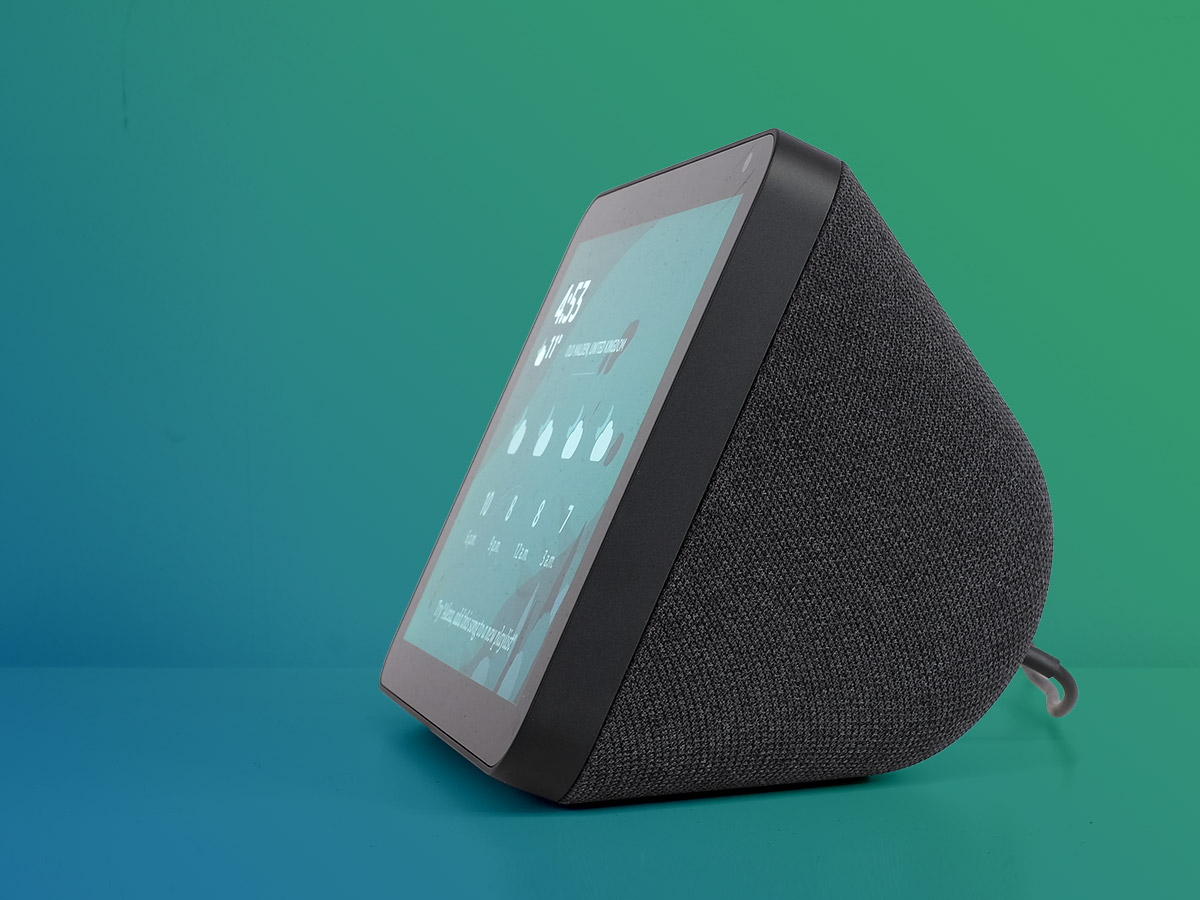 The Amazon Echo Show 8 is the smart display sweet spot for many people. It's big enough for comfortable video chatting, and to fit in drivers powerful enough to fill rooms with music.
Its display may not look as refined as the Google Nest Hub Max's, and the sound won't worry Sonos.
But it is easily good enough in every area to justify its price, either at £120 or the eye-opening £60 promo price Amazon treated us to before Christmas.
As ever, Amazon promo periods are the best time to tool yourself up with Echos. We just wish Amazon could find a way to iron out the politics that mean we don't get such important video staples as YouTube and Netflix.
Stuff Says…
The Amazon Alexa home invasion continues apace with another capable smart display hard to complain about at the price
Good Stuff
Good price
Big sound
Works as a Bluetooth speaker
Bad Stuff
Display style can be distracting
No Netflix, YouTube only via a workaround
A bit too vibration-happy