Amazon Fire HD 10 Kids Edition review
Despite being £50 more expensive than the standard Amazon Fire HD 10, the Kids Edition ends up being better value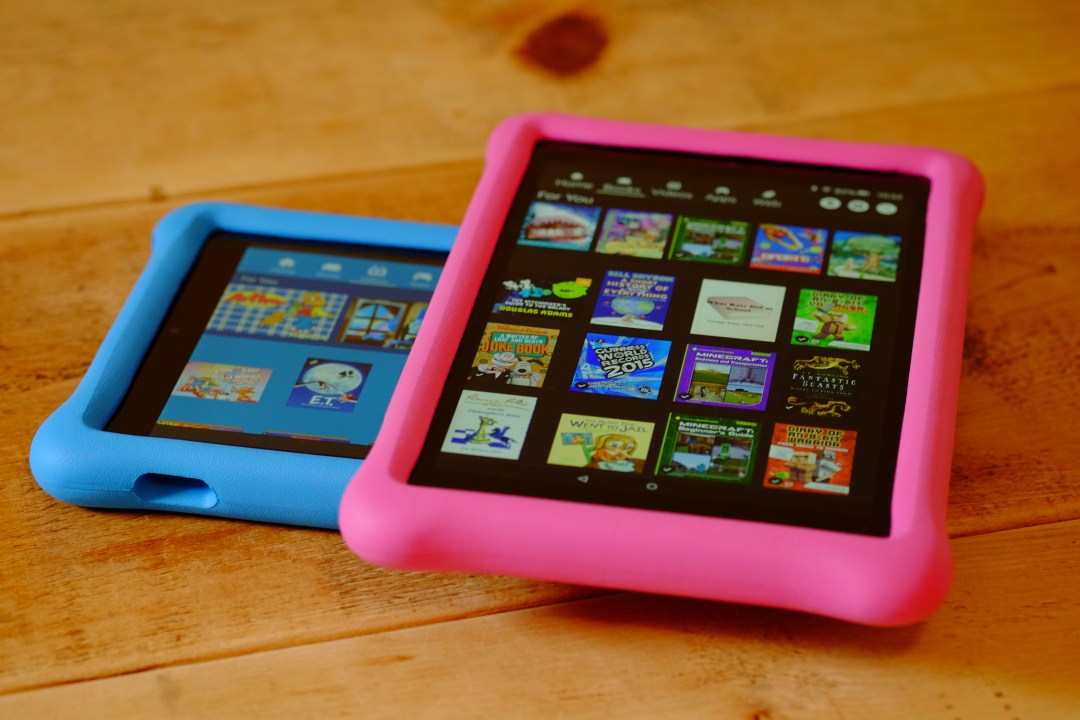 Kids are expensive things: toys cost a fortune, they're always growing out of their clothes and apparently you're even supposed to feed them.
A £200 child-focused tablet may seem like a bit of an extravagance in these Brexit-clouded times, then, but the new Amazon Fire HD 10 Kids Edition actually ends up being something of a bargain.
How? Well it's so packed with content that your children will be too busy to keep asking for new bikes and ice creams, it comes with a two-year no-questions-asked replacement should it get broken and it's just about good enough to double as a grown-up device once they've (finally) gone to bed.
Add in the fact that it comes with a year's free subscription to the excellent Kids Unlimited package and you could easily argue that every home should have one.
DESIGN AND BUILD: BETTER WITH THE BUMPER
Amazon's been making child-friendly tablets for a while, but the Fire HD 10 Kids Edition is the biggest, and most powerful, yet.
It's essentially the same tablet as the standard Fire HD 10 – same quad-core 1.8GHz processor, same 10.1in full HD screen – but with a colourful chunky bumper around it.
Remove it from the case and it's no looker. The design is functional rather than particularly stylish and though the matte black plastic body feels durable, there's no iPad-esque metal'n'curves effect to give it that wow factor.
What's more, the screen is set inside some relatively large bezels, and the tall-and-thin 16:10 aspect ratio makes it a bit harder to hold than the iPad, with its squarer 4:3 approach.
Fortunately, leaving the bumper on fixes a lot of those minor quibbles: it mostly covers up the design shortcomings and makes it easier for little paws to grip.
The case is really well built, with a textured finish and rubbery feel, and it envelopes the tablet like a particularly tight glove. It's not absolutely guaranteed to prevent breakages, but it will certainly prevent the majority of mishaps.
Colour-wise, you're stuck with either pink or blue. Amazon never makes the mistake of stating 'One for girls and one for boys', but it's a shame that these are the only available colours given that a depressingly large number of child-focused brands and stores still mark out their wares in this way. The young feminists in my house certainly picked up on it, and would have loved some other options.
At the top there's power and volume buttons, plus a mic, headphone socket and microUSB for charging. Two speakers sit on the left-hand side, with gaps in the case so they can be heard, and there's an SD card slot on the right, which you can use to add up to 256GB more of storage, in addition to the 32GB that's built-in.
The only other physical features are the cameras, of which there's one on the front and one on the back. These are both best forgotten, quality-wise, but are useful for some games.
SCREEN: GOOD ENOUGH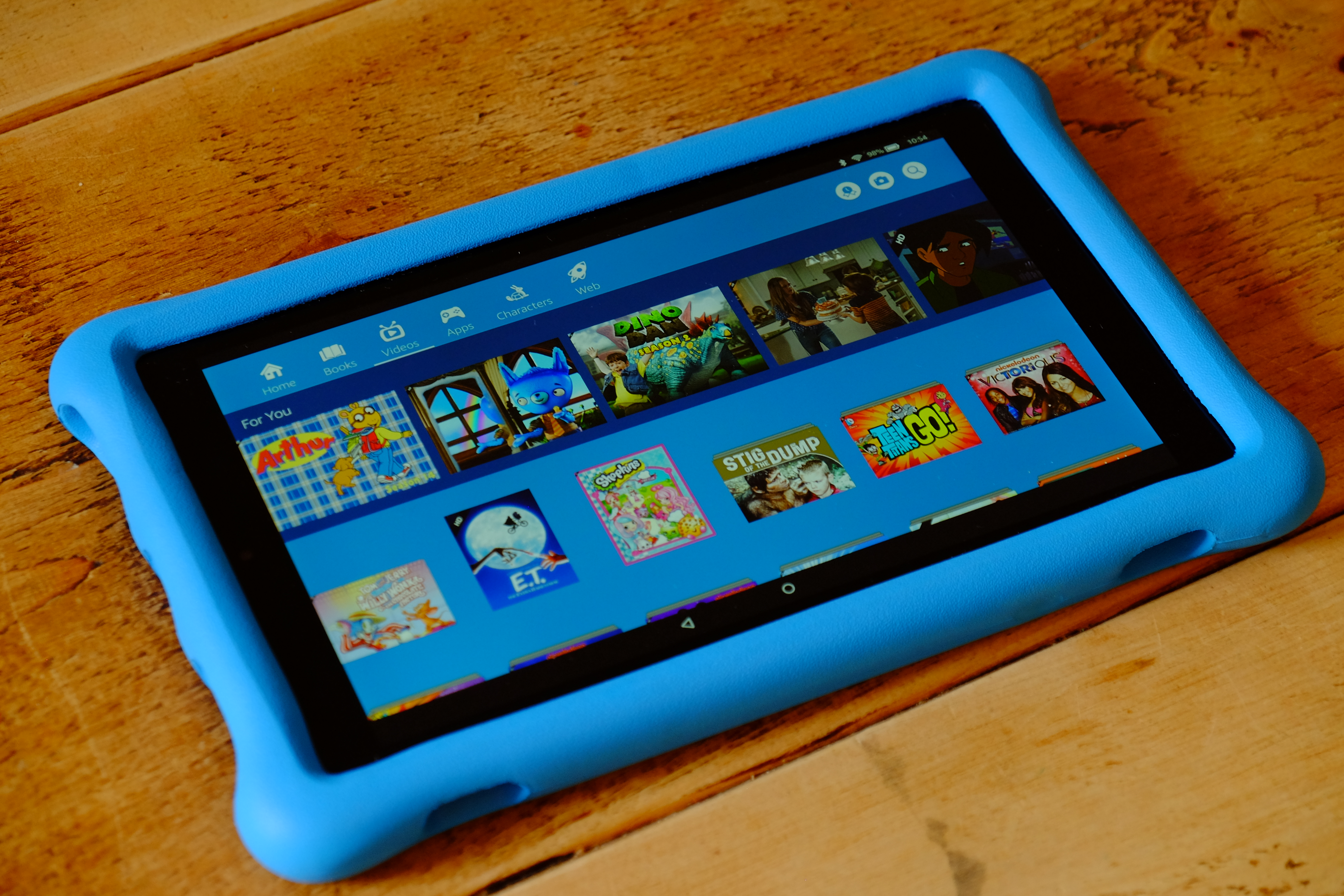 The Fire HD 10's 10.1in display has a 1920 x 1200 resolution, which equates to a decent 224ppi. It's nowhere near class-leading – every iPad is higher-res – but it's perfectly fine for kids.
Video and images are sharp and viewing angles are good, but note that it's only an IPS panel, not OLED, so you shouldn't expect smartphone-beating colour or contrast.
It goes pretty bright too – handy if you're taking it on holiday with you.
IN USE: FOR KIDS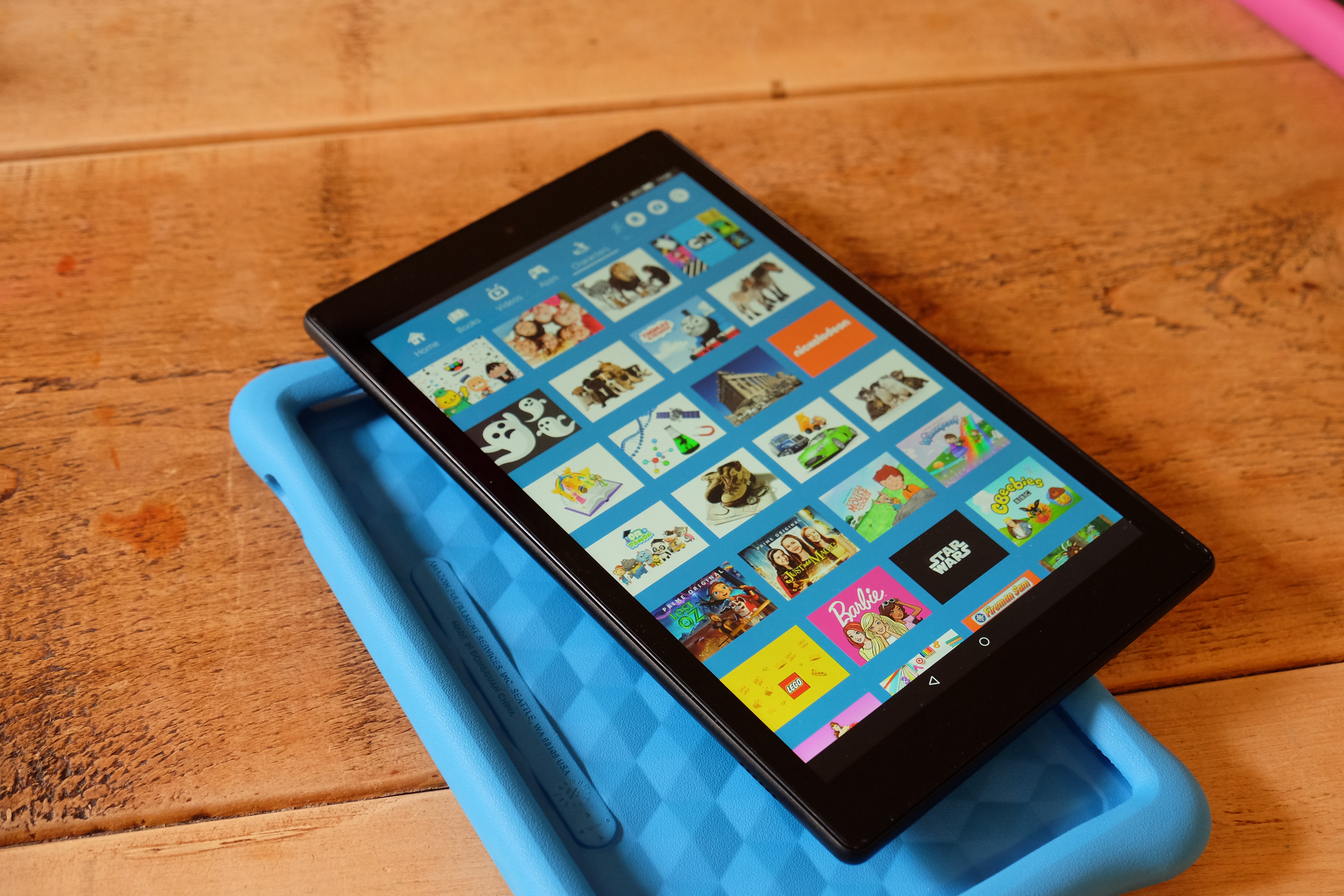 We're constantly given mixed messages about how much screentime our kids should be allowed, but the latest research indicates that quality is more important than quantity.
Team any of Amazon's various Fire tablets with a Kids Unlimited subscription and you'll be sorted on both fronts.
The Fire 10 HD comes with a year's free subscription to the service – it's £4.99 a month after that – and that gives you access to hundreds of apps, videos and books.
OK, so on the games front the scope is nowhere near what you get on iOS or Android. Many big names are missing, and while my kids enjoyed Minecraft clone World of Blocks, they'd far rather be playing the real thing.
But there's still plenty to keep them occupied, including the superb Toca apps, scores of books and comics and loads of family-friendly videos.
You can, of course, add extra grown-up content into the mix if you choose. Any books, videos or apps in your own Amazon libraries can be placed on their homescreen with a single click, meaning it's a cinch to gift them The Force Awakens or The Complete Works of Shakespeare. You'll probably find the former an easier sell than the latter, mind. Videos can also be downloaded for offline viewing via a simple long-press.
The homescreen is nicely thought out: it's divided into categories along the top, so kids can easily switch between apps, videos or books, and serves up suggestions based on previous use. There's also a 'Character' section, which groups content by – you guessed it – character.
The bottom line is that it's intuitive and easy to use, whatever your age.
Performance-wise, I didn't experience any issues. The processor is fast enough to cope with the fare on offer here, and the storage space should keep you going for a while so long as you don't download too much video. And if you do, you can always add more via SD card.
Battery life is really good: Amazon quotes 'Up to 10hrs' and that sounds accurate. In a week with it, mine never once ran out of juice and charging it every other night kept it topped up. Obviously real-world use will depend on how much video your kids watch, but then again they're unlikely to be using it for more than a few hours a day anyway.
IN USE: FOR PARENTS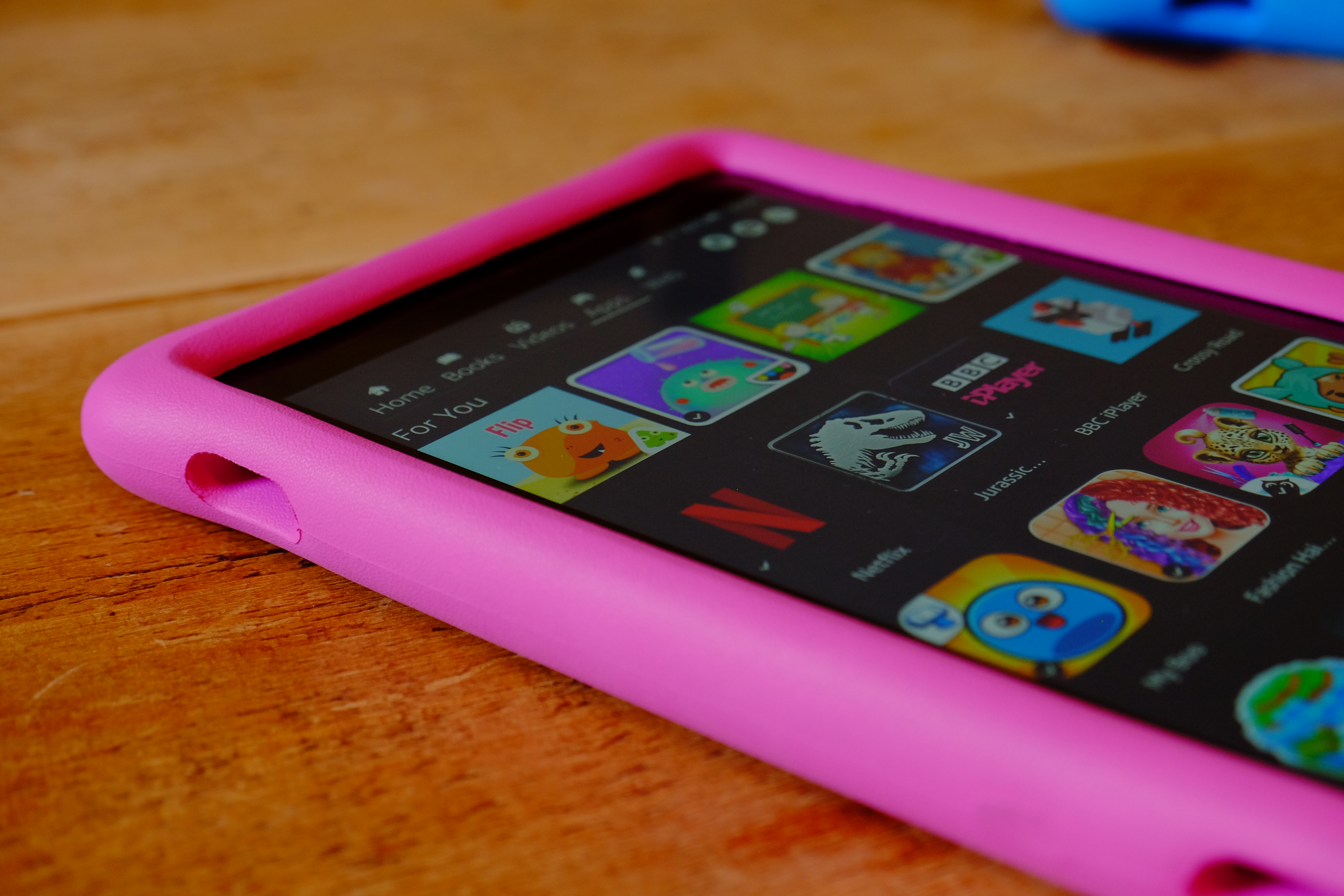 Kids Unlimited is equally well thought out for grown-ups, giving them a fair amount of control over what their younglings consume.
It's really easy to set an age range, for instance, and this will govern which apps they have access to.
So, if you set your eight-year-old's range as 6-8, they'll see different content from if you set it to 8-10: very handy, given that one child's definition of scary (Scooby Doo) will undoubtedly differ from another's (Jurassic World), even if they're the same age. This I know from experience.
Time restrictions are another good idea: you can choose not only how many hours a day they use it for in total, but also how much time they can spend on videos or games or whatever.
You can even set it so that they have to consume educational content before they go on to the more mindless fodder – although what counts as 'educational' is open to debate, and I didn't always agree with Amazon's categorisations.
Overall it's by far the most effective walled garden I've used. You can genuinely leave kids alone with the device without fear that they might stumble across something they shouldn't.
Nor is there a need to approve every app they want to download, as there is on iOS and Android. That can be a right pain when you're trying to have a lie-in but keep getting hassled to click OK every few minutes.
You can even see what your kids have been doing with the tablet via the Parents' Dashboard. This can help guide you as to which settings you might want to tweak; in my case, I soon discovered that my initial failure to set any time restrictions at all led to one child using her tablet for 20hrs in one week. Whoops!
Of course you can use the tablet yourself once you prise it out of your kids' grubby little hands, but don't expect to love it quite as much as they do.
It's perfectly fine for what it is, particularly if you have an Amazon Prime Video account or large Kindle library, but an iPad is definitely better, thanks to its higher-resolution screen and superior range of apps, among other advantages.
Then again, you're buying it for the kids anyway: if you get any use from it at all it's a bonus.
One new feature that is worth mentioning here concerns Alexa: yes, she's on the Fire HD 10 and she's now hands-free. Wake her up by saying her name and she can launch apps, give you the latest weather forecast and do anything she'd do from inside an Echo device.
It's not a major deal – you could do all that before by pressing the home key first – but it's an addition worth having.
WHAT THE KIDS SAY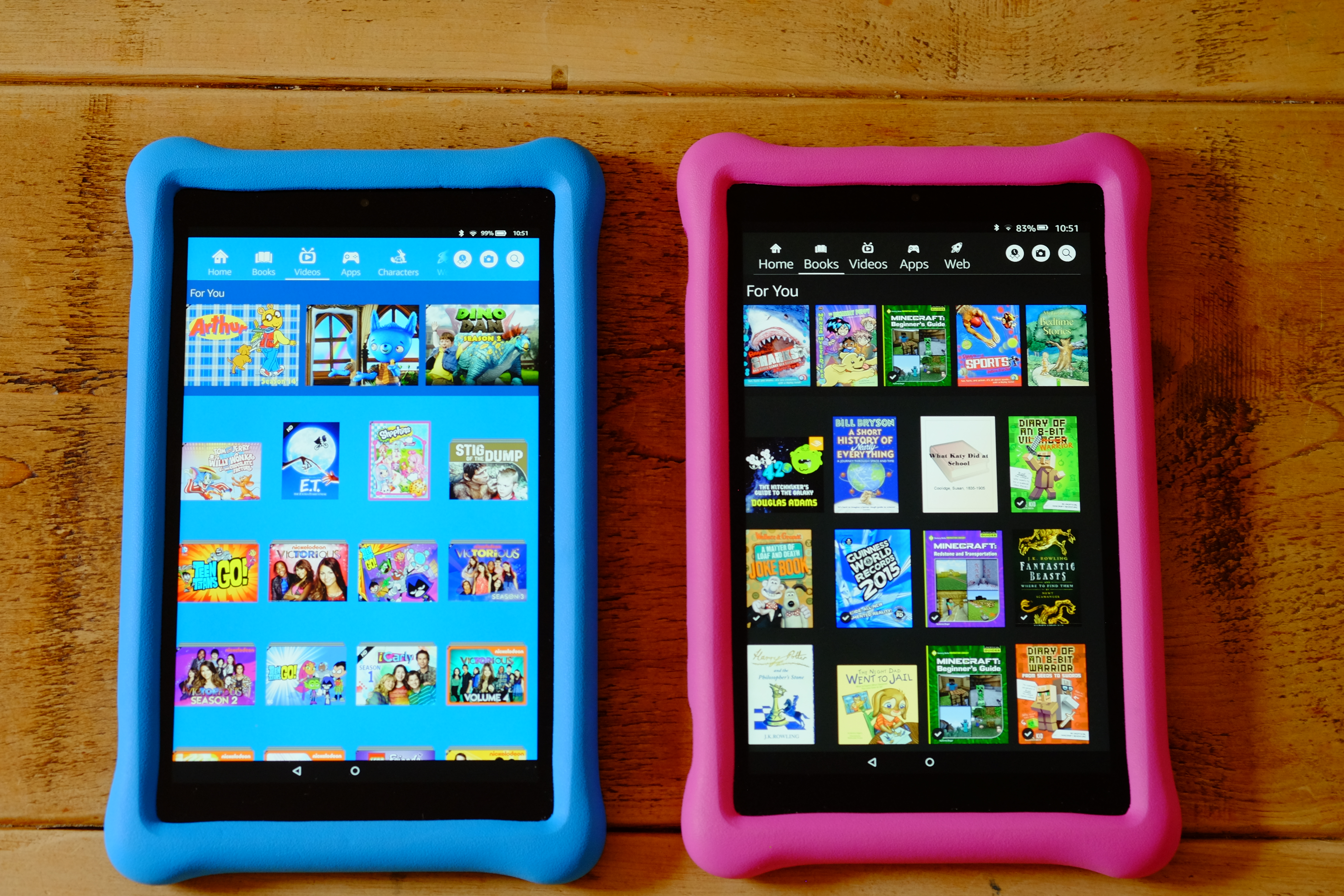 Lyra (8)
"It is a bit big but not too heavy and it feels nice to hold. I like the blue one best – it looks pretty. I don't feel like I'm missing any games and it keeps me entertained for a long time. There's nothing I don't like about it and I'd rather have one than an iPad!"
Tess (8)
"In terms of colours I don't like them and I think there should be more choice since different people like different things. There's a wide range of games and apps and some good educational ones such as 'Teach your Monster to Read'. I'd prefer one over an iPad because you don't need to pay for everything." [NB: she's clearly forgetting that daddy is paying for it instead.]
AMAZON FIRE HD 10 KIDS EDITION VERDICT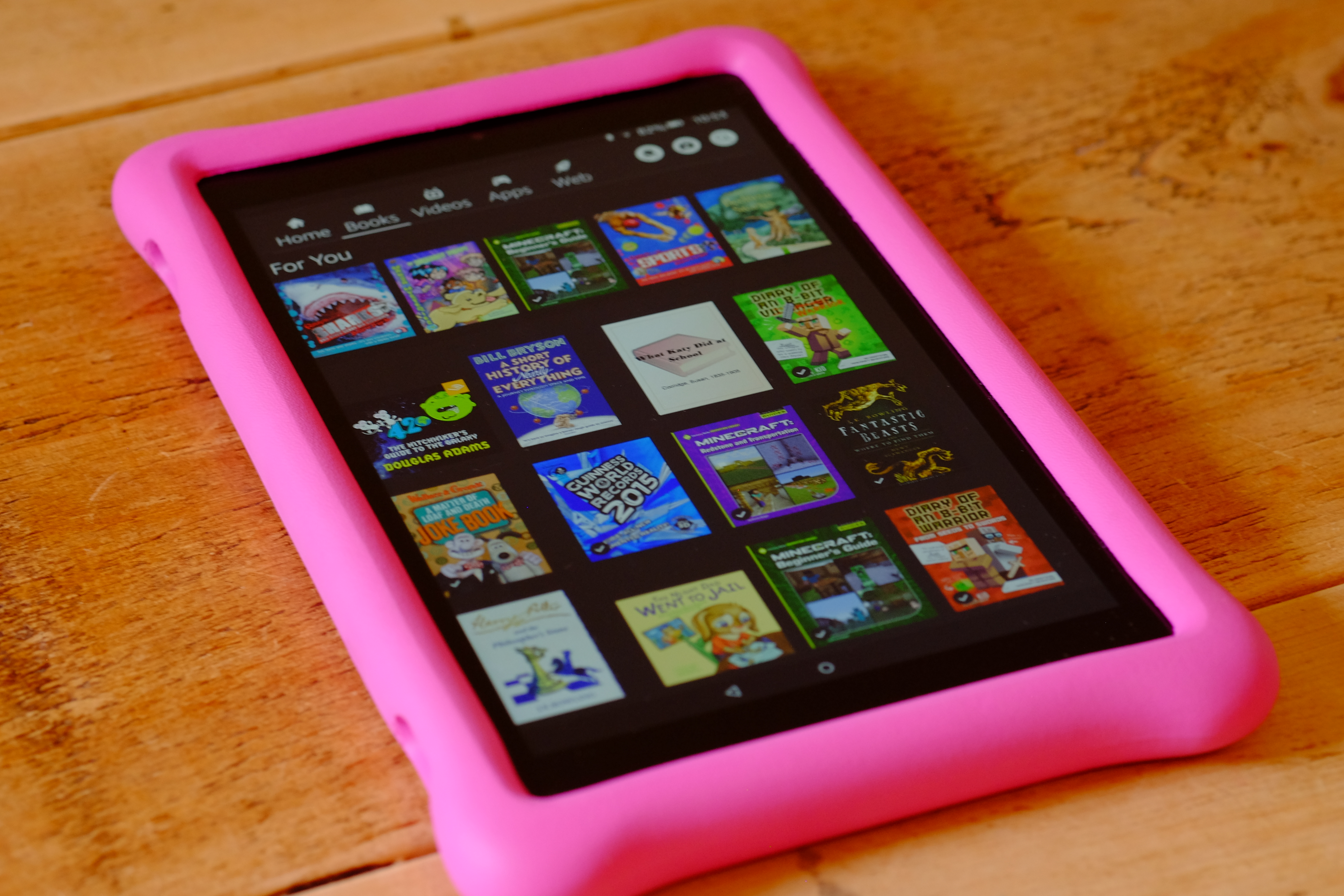 Despite being £50 more expensive than the standard Amazon Fire HD 10, the Kids Edition ends up being better value.
That £50 buys you a lot: the chunky bumper helps protect it and hides some of the design's shortcomings, and the two-year replacement offer gives you peace of mind. But mostly, you're paying for the Kids Unlimited software, and this is excellent.
With plenty of content on offer for the kids, plus impressive control for the parents, it becomes a tablet you can truly trust. There's no danger of youngsters seeing ads or unsuitable videos and so long as you set it up accordingly, no risk of them spending 10hrs going slowly square-eyed.
The price is on the high side, but it's the best kids tablet we've used and is therefore highly recommended.
Stuff Says…
The best kids tablet yet gives the young ones plenty to do and the old ones peace of mind
Good Stuff
Great parental controls
Easy to handle and use
Free year of Amazon Fire for Kids unlimited
Bad Stuff
Screen could be better for price
Camera isn't great