Apple iPad (2019) review
King still the king?
Apple's entry-level iPad is a bit like a custard cream.
That's not meant as an insult. You know what you're getting with the trusty custard cream; it tastes nice, and you won't find a better all-round biscuit in its very wallet-friendly price bracket.
It's just quite hard to get excited about a custard cream.
But as the most popular version of the most popular tablet in the world, it's our responsibility to review every iPad we get through door.
And it's not like there's nothing to talk about with 2019's refresh. The Retina display is a smidge larger than last year's model, there's now support for the full-size Smart Keyboard, and it runs on iPadOS, Apple's new tablet-specific software that's designed to make the slab a more credible laptop alternative.
But is all this enough to keep the basic iPad cheapo champion?
Design and display: marginal gains
It doesn't feel that long ago that all iPads came in one size. Those days are long gone.
At the top of the pile sits the 12.9 and 11in Pro models, with the iPad Air underneath at 10.5in. This year Apple has decided to be more generous with the entry-level tab's screen real estate, but not so much that it draws level with the midrange Air. And so we have the 10.2 iPad.
It's not a huge jump up from the traditional 9.7, but as all iPads are now far more capable productivity machines, any extra space counts for something – especially when working in split-screen. Same goes for reading magazines and bashing through your latest Netflix binge. You'll be happy for the extra half an inch, but don't go in thinking it makes the side bezels any less chunky.
The 2,160 x 1,620 (a teensy resolution increase on last year's model) LCD display has the same pixel density of 264ppi as its predecessor, and it's a perfectly good display. Colours pop viewing angles are good, app icons are sharp, and it goes plenty bright. I've used it for playing Apple Arcade games, reading comics and losing myself down YouTube rabbit holes, all without finding myself pining for a better screen.
If you have an iPhone 8 or anything more recent, you're probably going to miss True Tone. The dynamically adapting colour temperature feature is absent here.
Just as noticeable is that the screen still isn't laminated. This gives the impression that there's a bigger space between the glass you're tapping and the panel itself, which just doesn't feel as good – especially if you're using the Pencil.
While technically exactly the same width and height as this year's iPad Air, the 2019 iPad definitely feels hefty if you're swapping from one of the more premium variants – I regularly still use a 9.7in Pro and it feels featherlight in comparison – but it's still as well-made as you'd expect from Apple. The aluminum back is smooth to the touch and looks great in either colour.
The other significant addition this year is a Smart Connector, Apple's proprietary three dots that allow you to snap on one of its full-size Smart Keyboards. Still lacking a backlit option, the fabric keyboard could really do with an upgrade, but I used it to write a large chunk of this review and had no major problems. You'll want to familiarise yourself with the available shortcuts before you start tapping.
The now slightly prehistoric Touch ID remains the only way of getting into the iPad, but a move to Face ID a la the iPad Pro would no doubt hike the price up considerably. And as long as you don't have a crummy thumb Touch ID works fine. The iPad charges with Lightning rather than USB-C like the Pros. Sigh and move on.
There's an 8GB snapper on the back because we know that somewhere out there people take photos with tablets. They walk among us.
The new basic iPad is the first in its family to be made from 100% recyclable aluminum, which you'd hope sets the standard for all future iPads.
Performance and battery life: old news
Somewhat disappointingly, the new iPad is rocking a decidedly old processor. The A10 Fusion made its debut in the three-year-old iPhone 7, so it's not unreasonable to hope that Apple might be putting something more modern into its best-selling tablet in 2019.
Whether this becomes an issue for you all depends on what you're going to use the iPad for. If it's just a casual media machine, it should be able to handle anything you throw at it with ease. I was playing WHAT THE GOLF? while hopping between various social media apps in Slide Over and the iPad didn't show obvious signs of being overwhelmed.
That it benchmarked better than 2018's model probably owes to the fact that RAM has been bumped from 2GB to 3GB. That's according to various online teardowns of course, as Apple likes to stay tight-lipped about this stuff.
The new iPad is a capable multitasking machine that utilises the many benefits of iPadOS, but if you want to run graphically intensive games and edit a lot of video, it's going to start spluttering. In that case, you should probably think about the iPad Pro. Bear in mind, too, that the base iPad only has 32GB of storage, which doesn't allow you to do much of the above anyway. 128GB is going to be better for most people, even if you use a lot of cloud storage.
Like last year, Apple rates battery life at a perfectly acceptable 10 hours. With pretty standard daily use, I got about half a week out of it. It's just a shame that the included 12W charger now seems slow next to the fast-charging iPhone 11 Pros we've been testing recently. You can always buy one separately if you need juice in a hurry.
Software: going it alone
The 2019 iPad might not be particularly interesting from a hardware perspective, but it's significant for being the first new iPad to ship with iPadOS out of the box.
Apple's tablet has become a lot more than a supersized iPhone, but it's always been hard to take it seriously as a productivity machine while running the same software as its little brother. With a new Home screen, improved multitasking features and a redesigned Files app, iPadOS aims to change that.
And it works well. Slide Over now lets you have multiple apps running in a window overlaying your main screen. You can swipe up to see which apps you have running, and flick them to the top of the screen to dismiss. Slide Over apps can be pushed off the side of the screen when not in use.
Even better is Split View, which finally lets you work with two versions of the same app running side by side. The iPad doesn't handle all these transitions as smoothly as the Pro, but it didn't feel overworked.
The Home screen now lets you pin your most-used Today View widgets to the left-hand side of the front page, so you no longer have to swipe to a different screen. And if you've used apps like Duet Display before you'll probably be quite excited about Sidecar, which turns your iPad into a second screen for your Mac running macOS Catalina. For that feature alone, the cheapest iPad might prove to be a tempting option.
There's plenty more to dig into, like full-page markup on any screenshot you take, new text editing gestures, a shrinkable floating keyboard and more places to use Apple Pencil. iPadOS's debut outing also benefits from some of iOS 13's standout new features, such as Dark Mode and QuickPath swipe-typing.
iPad (2019) verdict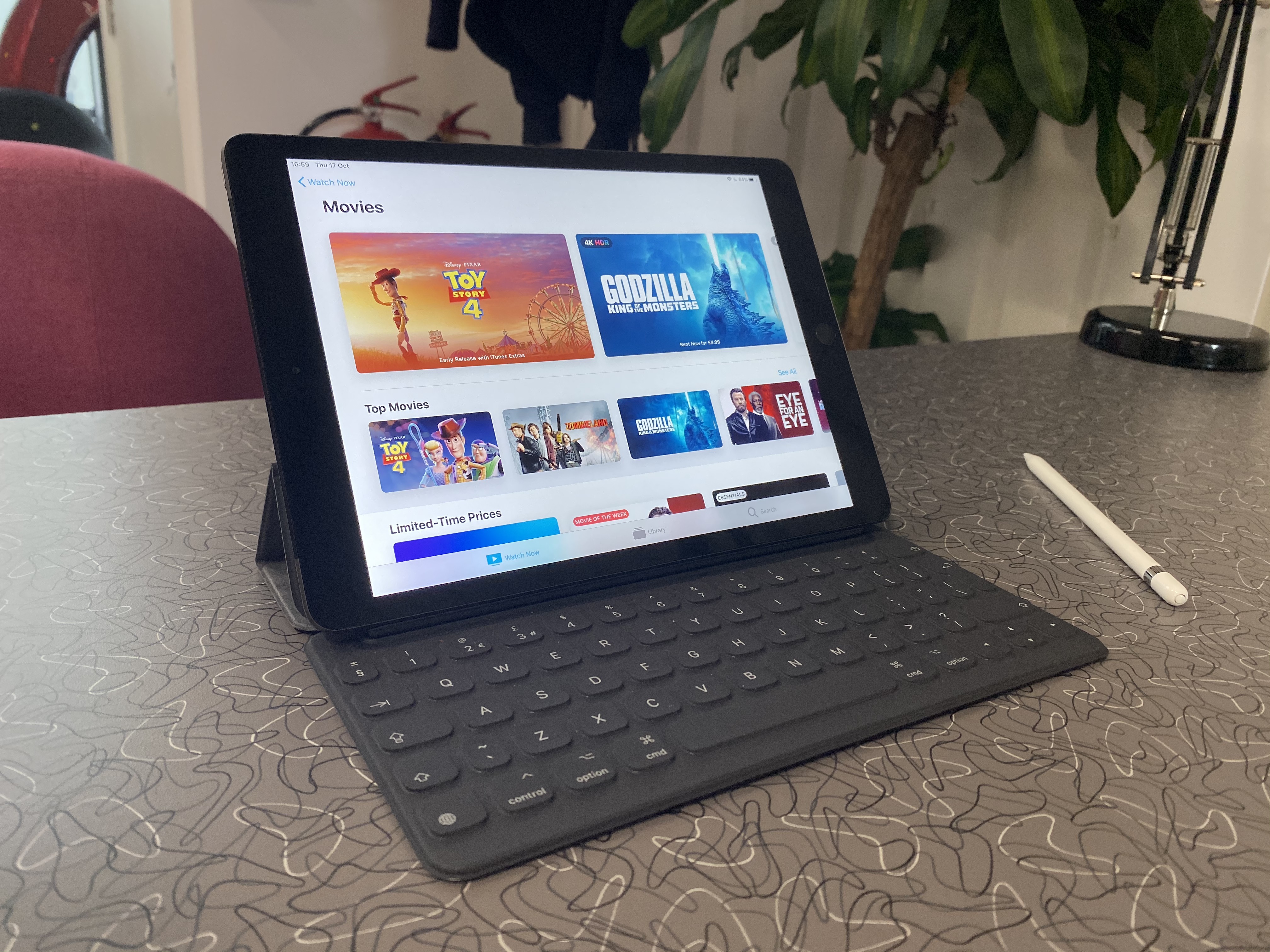 The iPad is obviously an inferior device to the Air and Pro models, but if all you want a tablet for is media consumption and typing up the occasional word document, Apple's cheapest slate is still the best option.
The £130 extra you can pay for a base configuration iPad Air buys you a faster processor, a lighter frame and a better screen, but for most people, none of these things are must-haves, especially as the iPad remains an attractive and well-performing tablet despite its aging hardware. And the slightly bigger display and Smart Connector bring it even closer to the mid-tier tablet.
iPadOS's arrival also makes it an ideal time to invest in a new tablet if you haven't done so in a while – and if you want to give your laptop the afternoon off, the iPad is a just-about capable stand-in.
It's like we always say: a milk chocolate Viennese might be the ultimate biscuit, but you can't go wrong with a custard cream.
Tech specs
| | |
| --- | --- |
| Screen | 10.2in LED-backlit Multi-Touch display with 2160×1620 resolution |
| Brightness | 500 nits |
| CPU | A10 Fusion chip |
| Storage | 32GB, 128GB |
| Camera | 8MP ƒ/2.4 rear, 1.2MP ƒ/2.2 front |
| Dimensions | 250.6mm x 174.1mm x 7.5mm |
| Weight | 483 grams (Wi-Fi) 493 grams (Wi-Fi + Cellular) |
Stuff Says…
A very minor update on last year's model, but the 2019 iPad is still the best entry-level tablet
Good Stuff
Great price
Can now be used with Apple's Smart Keyboard
Bigger screen, which matters no matter how small the increase
It's an iPad – they're good
Bad Stuff
Nothing to entice those who bought an iPad last year
Non-laminated screen isn't as good for drawing
A new processor would have been nice