Apple iPhone 8 Plus review
Small upgrades go a long way, as the iPhone 8 Plus steps forward as the leader of the 8 family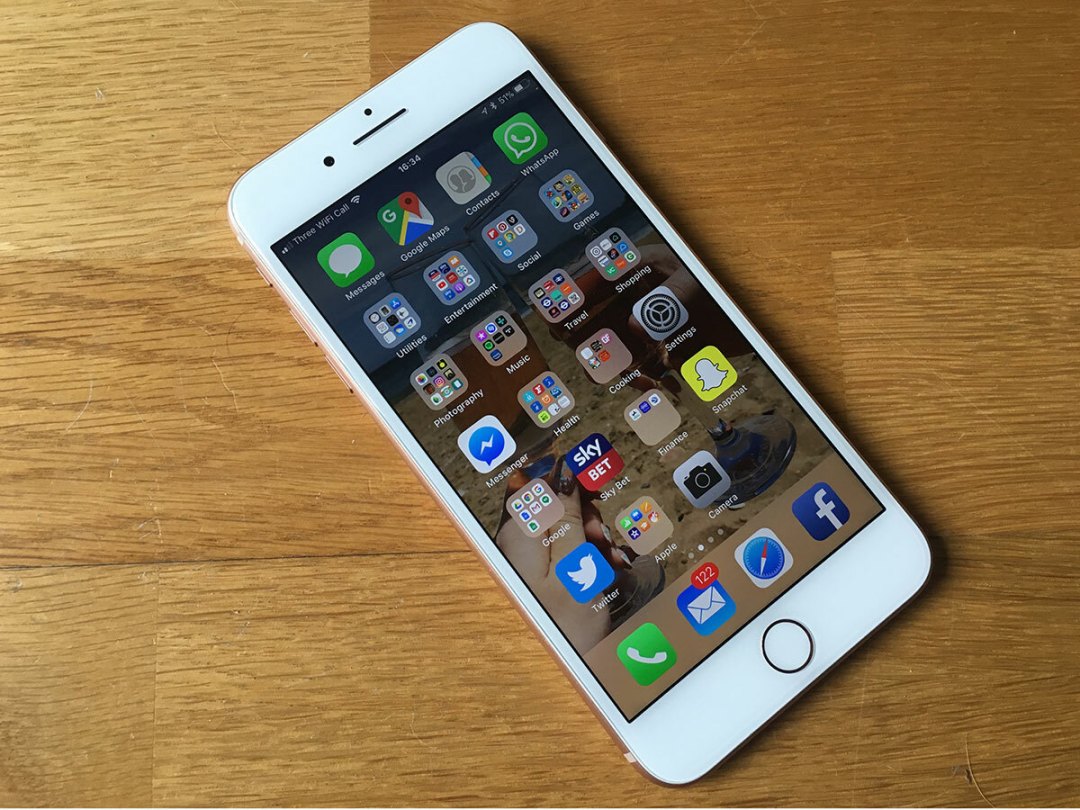 The whooping fanfare and block-long queues that usually accompany a new Apple phone were noticeably absent when the iPhone 8 family arrived in stores last week.
Two words explain why – iPhone X.
It's understandable that people might want to scope out Apple's flashiest ever handset before committing. Especially when, from the outside, the 8 Plus might look like a handful of small upgrades with wireless charging chucked in.
But as ever with Apple, there's much more to this phone than its spec sheet. It's only once you start prodding your way around it that you realise just how much these small changes add up to a much better overall experience.
Even with the iPhone X looming large, the 8 Plus could well be the iPhone to buy this year. 
Design: same old, same old
From the front, not a lot seems to have changed on the iPhone 8 Plus. It's still almost unforgivably big, considering the shapeshifting Android phones we've seen over the last 12 months. And that's not all down to screen ratio trickery either – the Google Pixel has an equally large 5.5in, 16:9 screen and is a good couple of centimetres narrower and shorter than the 8 Plus.
This does mean using the phone one handed can be a little precarious, as you're often changing your grip in order to cover all areas of the screen. You can, as ever, softly double tap the home button to shrink the top icons down, but that doesn't help you get to your most used emoji on the far left.
It's also a little heavier (14g more) than the 7 Plus too. That's probably not enough for previous Plus owners to worry about too much, but going up from the smaller iPhone 7, I definitely noticed the extra heft. If you balance your phone on your little finger like I do, it can be a bit uncomfortable.
The home button remains present and correct on the 8 Plus, with the same haptic feedback sensation that launched last year. This means it's not actually a button, but it feels like it is when you click it. This continues to double up as Apple's Touch ID fingerprint scanner for unlocking your phone and paying via Apple Pay – a tried-and-tested formula that works as smoothly as it always has.
Flip the phone around and that's when you'll notice where the design shake up begins. The aluminium back has been replaced by glass, so wireless charging can join the party. Aluminium still runs around the edge of the phone, which creates a slight ridge where glass and metal meet. No biggie, but it's not quite as smooth in your hand as the aluminium finish of before.
Apple promises the glass – front and back – is the strongest ever used in a smartphone. No, we're not going to drop it to put this to the test, but yes, you might feel more inclined to get a case for this if you've previously gone without.
With the new design comes a new take on the rose gold colour colourway introduced in the iPhone 6s. It's now simply labelled up as gold, and joins silver and space grey in the line-up. While the other two are uniform in their colour, the gold opts for a creamy, ever-so-slightly-pink finish on the back, with a subtler rose gold colour for the logo and around its edges. It's a bit retro-looking, but we like it.
Elsewhere, it's business as usual, with all the buttons and switches as they were in previous phones, and pretty well placed for easy access from your holding position.
Waterproofing returns too, at an IP67 rating. That's enough for a dunk of up to one metre for 30 minutes – not quite as good as the waterproofing on Samsung phones at IP68, but enough for most mishaps.
Of course, there's iOS 11 installed out of the box. We've done a more in depth piece on iOS 11's best features but suffice to say it looks great. It's bolder and smarter, and just as enjoyable to navigate around, with an improved and customisable control centre that puts the switches you need just a swipe away.
As for the headphone jack? Yeah, that's still gone. The stereo speakers get a 25% volume boost though, and now go pretty loud indeed.