Apple Mac Studio review: supremely powerful (but surprisingly noisy)
Mac Mini to the Max or Mac Pro Mini? Both, actually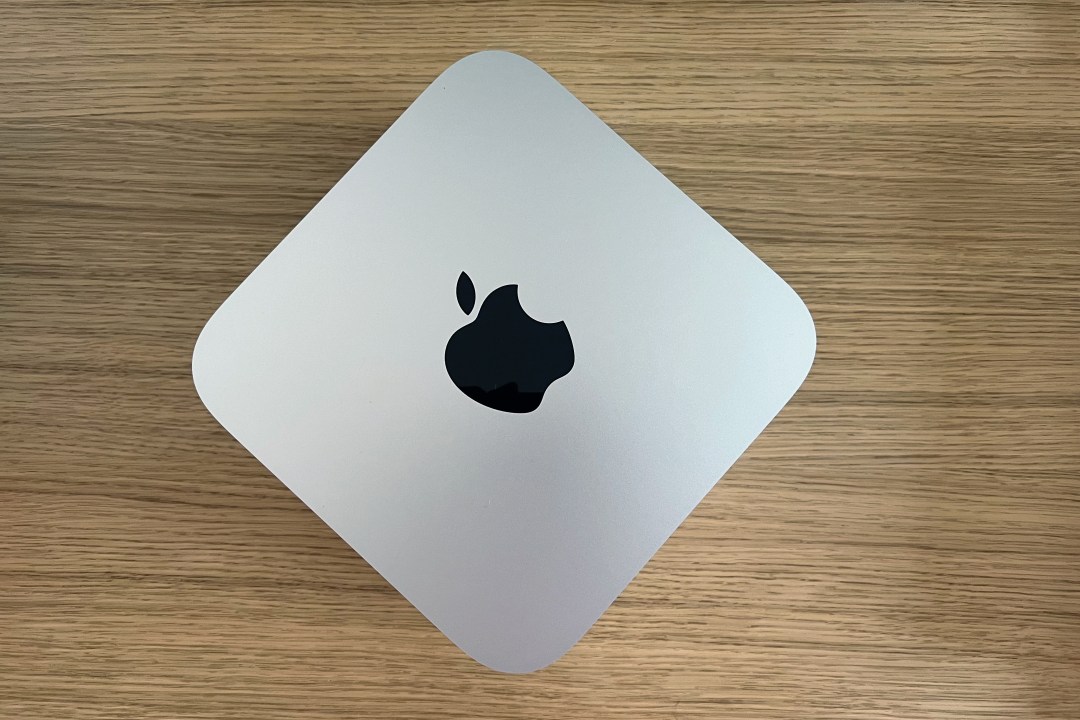 We've had PowerMacs and iMacs, and the Mac Mini and the Mac Pro. Now there's a new entry in Apple's desktop line: the Mac Studio. Aimed at creative types – or anyone who feels hemmed in by the Mac Mini – it starts off powerful and can have its specs ramped up to a ludicrous (and ludicrously expensive) degree.
But is this one Mac too many or the Mac pros have spent years crying out for? Let's find out with our Apple Mac Studio review of the M1 Max version.
Design: Box clever
We weren't convinced when we saw the first photos, but this Mac looks a lot better in person. It's an extruded Mac Mini and comes across as clean, refined and compact – at least for a pro machine. And this is also a Mac that feels like it means business: there's heft when you pick the thing up, and it's peppered with I/O, including some – mercifully – at the front. (Less mercifully, the power light is a minor annoyance and unnecessarily bright.)
It's worth noting that the Studio is a sealed unit, and so although you can go mad on the Apple Store and make your bank account forever hate you, what you buy is what you get. Well, unless clever folks figure out how to upgrade this Mac's innards without blowing it up.
One other snag is this Mac isn't silent, which is quite a surprise after everything else from Apple that we've tested over the past couple of years. Comparable pro-grade computers are noisier, but the thermal system's fan in the Studio never stops unless the machine sleeps. We found this irritating and so be mindful of this if you've got used to insanely quiet Macs, and are sensitive to noise.
Power: To the Max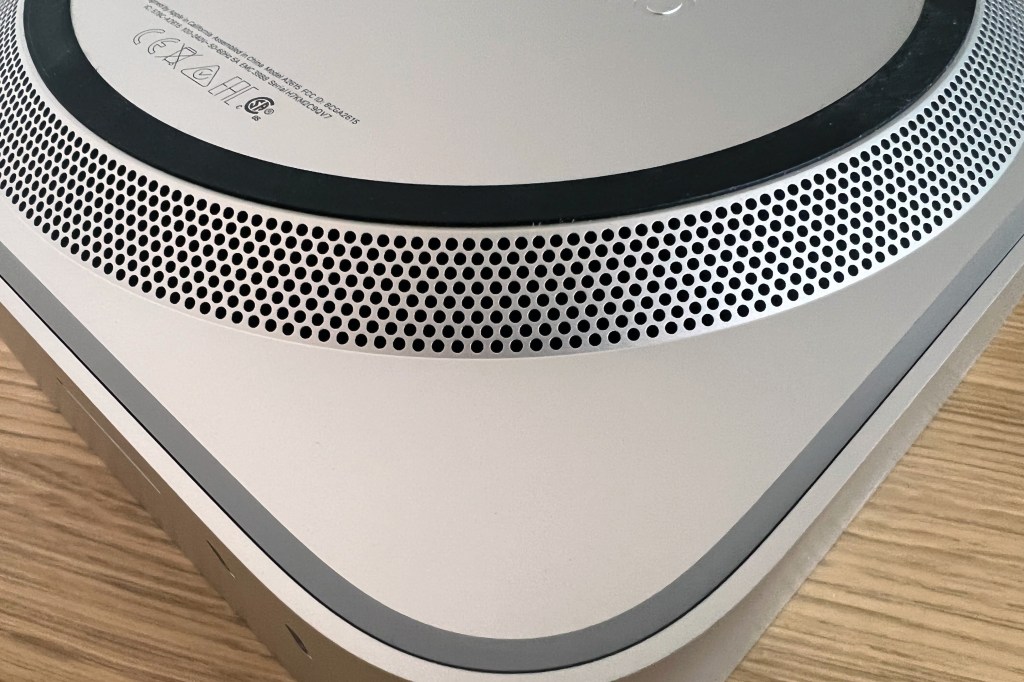 The flip side of the fan thing is that during testing, it never got louder either. We pushed the review unit – Apple's baseline M1 Max model, but with 64GB of RAM over the 32GB default – and the fan never spun up further under load. That said, when we tested equivalent Mac laptops over the past year and change, we could barely get their fans to spin up at all.
Speaking of which, this Mac largely aligns with the 2021 16in MacBook Pro when it comes to raw power. For most people, that will be overkill. For content creators, the extra graphics and multicore performance over an M1 or M1 Pro is where value resides. And like the 16in MacBook Pro, the Studio chewed through image edits and music production work, and blazed through video encoding.
Here's another Mac, then, that betters the current – and far more expensive – Mac Pro with Afterburner for such tasks. But, again, if you lack workflows to take advantage of all that raw power, it's like owning a Bugatti Chiron and only ever tootling along at 30mph.
Connectivity: Plug and play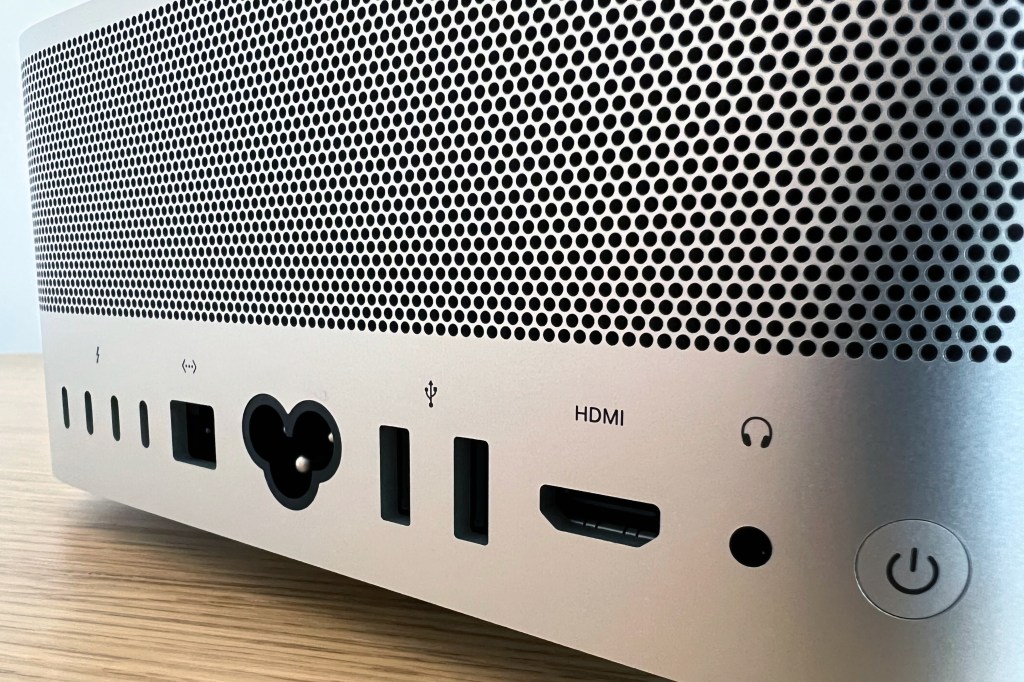 Having for years doled out ports as if they were gold dust, the Mac Studio comes across like they're going out of fashion. Around back, you get four Thunderbolt, two USB-A, 10Gb Ethernet, HDMI and a headphone port. The unit can drive up to five displays, including four Pro Display XDRs and one 4K display over HDMI.
And if you exist in that kind of sci-fi world, surrounded by screens, and fill up the Studio's rear ports, there are two USB-C ones around front (Thunderbolt on the pricier M1 Ultra model) to plug things into, along with an SDXC card slot. Props to Apple for overcoming its minimalism obsession here in the name of user-friendliness. We certainly appreciated not having to spin the Mac around or resort to a hub to sporadically plug in accessories or get data off of an SD card.
Random observations
In the box, you get the Mac Studio and a power cable, so factor in needing to buy a keyboard and pointing device
Apple has issued black-surface versions of the Magic Mouse and Magic Trackpad, along with a black-key extended keyboard, all designed to match Studio kit. Inexplicably, every accessory of this type costs 20 quid more than the standard edition.
There's no external power brick, and so it's good that the power cable is about 1.8m long, giving you flexibility when it comes to plonking down your Studio.
In terms of specs, this Mac should be a belter for gaming. But the Mac's gaming ecosystem – especially on Apple silicon – remains duff. If you want to play PC games, buy a PC.
Verdict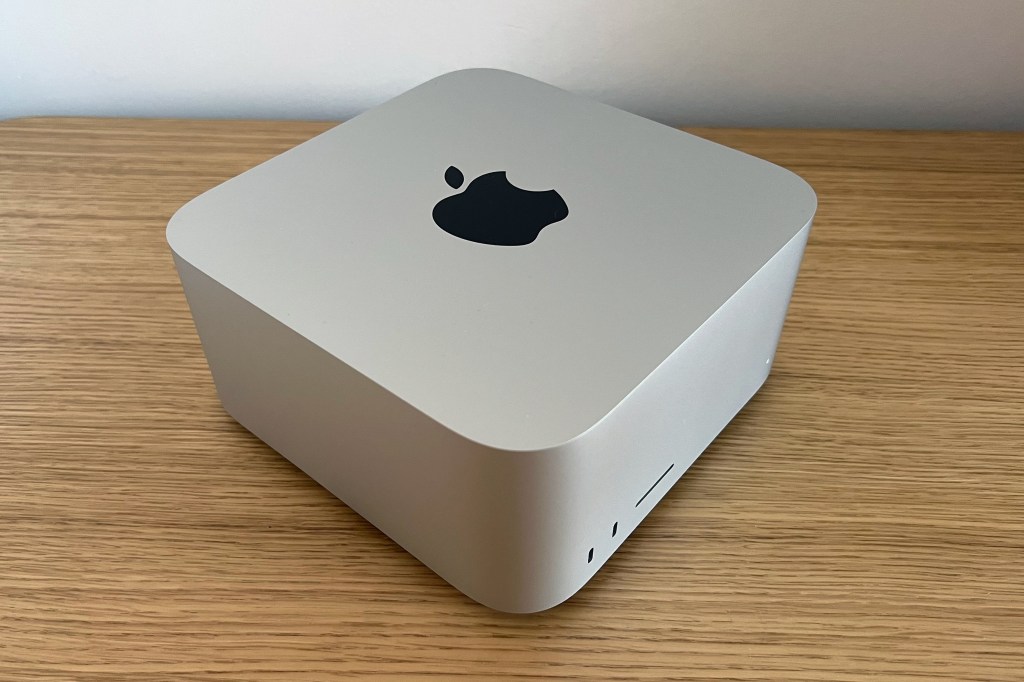 Apple usually gives people what Apple thinks they need, rather than what they want. With Mac Studio, you feel these two things have aligned. For years, pro users – video editors, programmers, artists, musicians – have practically begged Apple for a powerful yet compact Mac, and now they have one.
Is it a success? For the most part, yes. The M1 Max scythes through any task even most creative types will need to do – and if they feel it limits them, there's always the Ultra. For everyone else, well, it's probably overkill.
And there's also the noise. It's deeply strange sitting there with a Mac that makes its presence known at every available moment, unless drowned out by music or other environmental factors. Still, that's the only black mark for a device that otherwise deftly answers the call from a niche market – and one that has historically been deeply important to Apple.
Stuff Says…
Noise annoys, but other than that this is an excellent desktop for the most demanding Mac users.
Good Stuff
Powerful and reliable
Loads of ports – and even some around front
Looks surprisingly good
Bad Stuff
The fan never shuts up
No post-purchase upgrade potential
Pricey
Tech specs
| | |
| --- | --- |
| Processor | Apple M1 Max or M1 Ultra |
| RAM | 32GB/64GB (Ultra 64GB/128GB) |
| Storage | 512GB–8TB SSD (Ultra 1TB–8TB) |
| OS | macOS Monterey |
| Connectivity | 802.11ax Wi‑Fi 6; Bluetooth 5.0; 3.5mm headphone; 4x Thunderbolt 4; 2x USB-C; 2x USB-A; HDMI; SDXC; 10Gb Ethernet (Ultra swaps USB-C for Thunderbolt) |
| Dimensions | 19.7×19.7×9.5cm; 2.7kg (Max) or 3.6kg (Ultra) |