Asus ROG Phone review
Every ROG has its day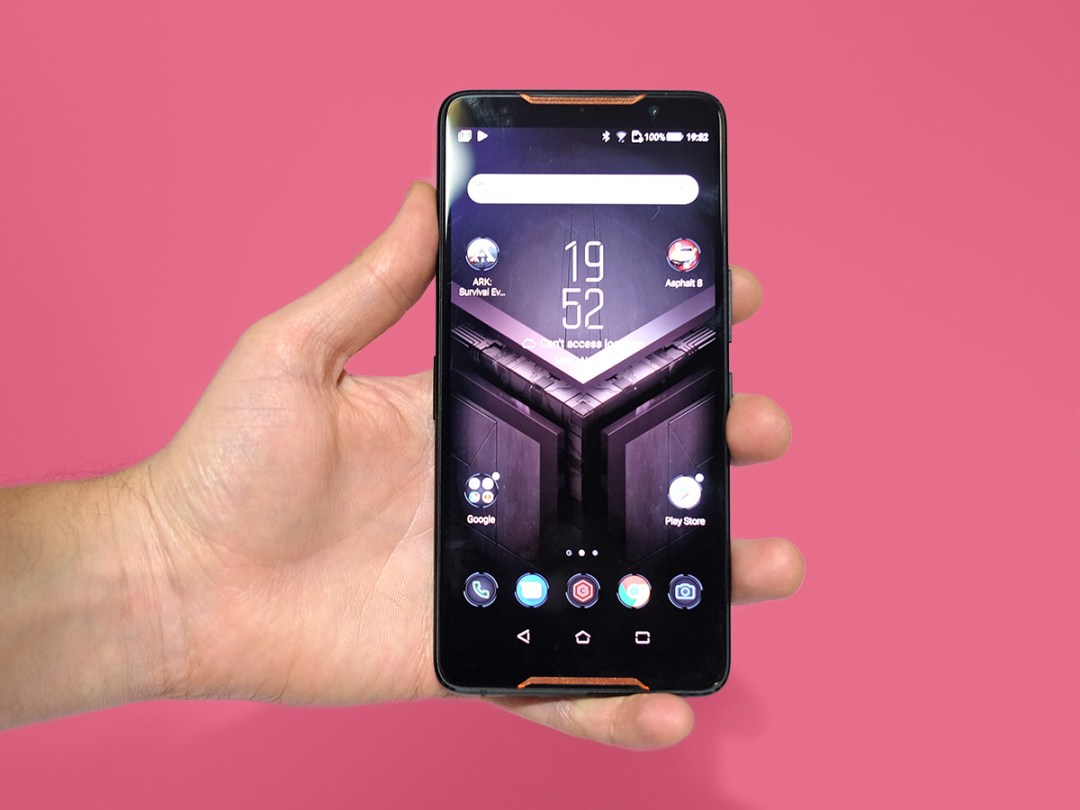 The answer to the question "what makes a good gaming laptop" is pretty easy. You need a powerful graphics card that'll flatten a PS4, a good screen and enough cooling to make sure the casing doesn't melt after playing the latest AAA game for four hours on the trot.
What makes a good gaming phone? That's a bit trickier. These things still have to be kept in our pockets so 15in screens are out. And there aren't any dedicated GPUs to make high-end games fly even better.
Asus's answer is the ROG Phone. It's based on the designs of Asus's most aggressive-looking laptops, has a 90Hz screen and even a fan accessory that stops it getting too warm.
However, in truth the £799 ROG Phone is not dramatically better at the gaming fundamentals than any other top phone, so you'd better be into the "I came for the LAN party" look.
Design: decidedly Marmite
Asus has made hyper-aggressive ROG laptops for years. They have sharp cuts out that make parts look inspired by some kind of weapon, big heating vents and as many LED lights as an energy saving light bulb showroom.
The Asus ROG Phone has all these elements, including a multi colour light-up logo on the back, but the build is quite different to the average gaming laptop. Most of those are made predominantly of tough plastic rather than metal, in part because heat conducts through metal so quickly.
This phone is made, in a superficial way, much like the Android competition. The front is, obviously, glass, and so is most of the back. Aluminium is used in the sides and black rear cut-out that holds the heat vents. There's no plastic here, which is a good thing considering the ROG Phone costs a packet.
And the look? That's going to be an audience divider.
The Asus ROG makes the Razer 2 look like a low-key wallflower. We'd call it over the top if it didn't seem the perfect complement to a ROG laptop. Orange front speakers, orange vents, dramatic lines and circuit board-style patterns under the rear glass will both shrink this phone's potential fanbase, but make those who remain all the keener on picking one up.
Features: ROG Star Games
The features it packs in and the ones it leaves out are interesting too. There's a 3.5mm headphone jack, which we consider a big win for some gamers.
Dual front speakers provide a good stereo image while you play too, particularly as this isn't an array where one speaker is a puny backup singer. These units are very loud, if not quite Razer Phone loud.
They don't have the bass response of the best either, though. Listen to an iPhone XS Max or Galaxy Note 9 and you'll hear meatier low-end, the most important part for making games sound good.
You can get the Asus ROG Phone with either 128GB or 512GB of storage. Ours has 512GB, double the amount you'd get as standard from a gaming laptop SSD. Mad.
AirTrigger controls are the real unusual part. These are ultrasonic pressure sensitive panels that sit where shoulder buttons are on a gamepad, when you hold the ROG phone on its side.
Asus hasn't tried to make developers customise their games for these custom controls, though. Instead, you run the ROG phone's Game Center when you play a new game, and set these virtual buttons to emulate taps on certain parts of the screen.
Is there a virtual "fire" button on-screen? They can handle that. A nitro button? Sure.
It feels a bit odd, but these buttons do work well with, for example, SNES emulators where the controls are always a bit of an awkward kludge anyway.
There's also a big rubber bung on the side that the fan accessory, bundled in the box, plugs into. Initially this seems a bit silly, but there's a real reason for it.
The ROG phone has a slightly overclocked version of the Snapdragon 845 CPU, so will in theory make more heat than other Snapdragon 845 phones.
In practice, the phone does just fine on its own. However, if you like to play a full 45 minutes on the way to work and don't mind a few odd looks, the fan is kinda useful.
The cleverest bit: the fan has its own USB-C power socket and headphone jack, so the cables don't get in the way. Genius.
There is a problem, though. The rubber bung is a nightmare to remove, and will be the easiest-to-lose thing you ever own. Potentially for all of five minutes if you're as butter-fingered as us.
Asus will also make a physical controller for the ROG Phone, a dock to let you plug it into a TV and a few other bits. But we'll have to see how easy they are to get hold of in the UK. It's more proof: this one's for gamers.
It's no surprise, then, that games run great. Much better than a normal Snapdragon 845 phone? Not really. The first 845 phones also arrived nine months before the ROG. Asus ROG laptops tend to arrive as soon as a new GPU does. Ideally, so should a gaming phone like this.
The ROG Phone shows that while Asus is trying as hard as it can, it still struggles to keep up in the phone game. Its screen is another case in point.
Screen: OLED it be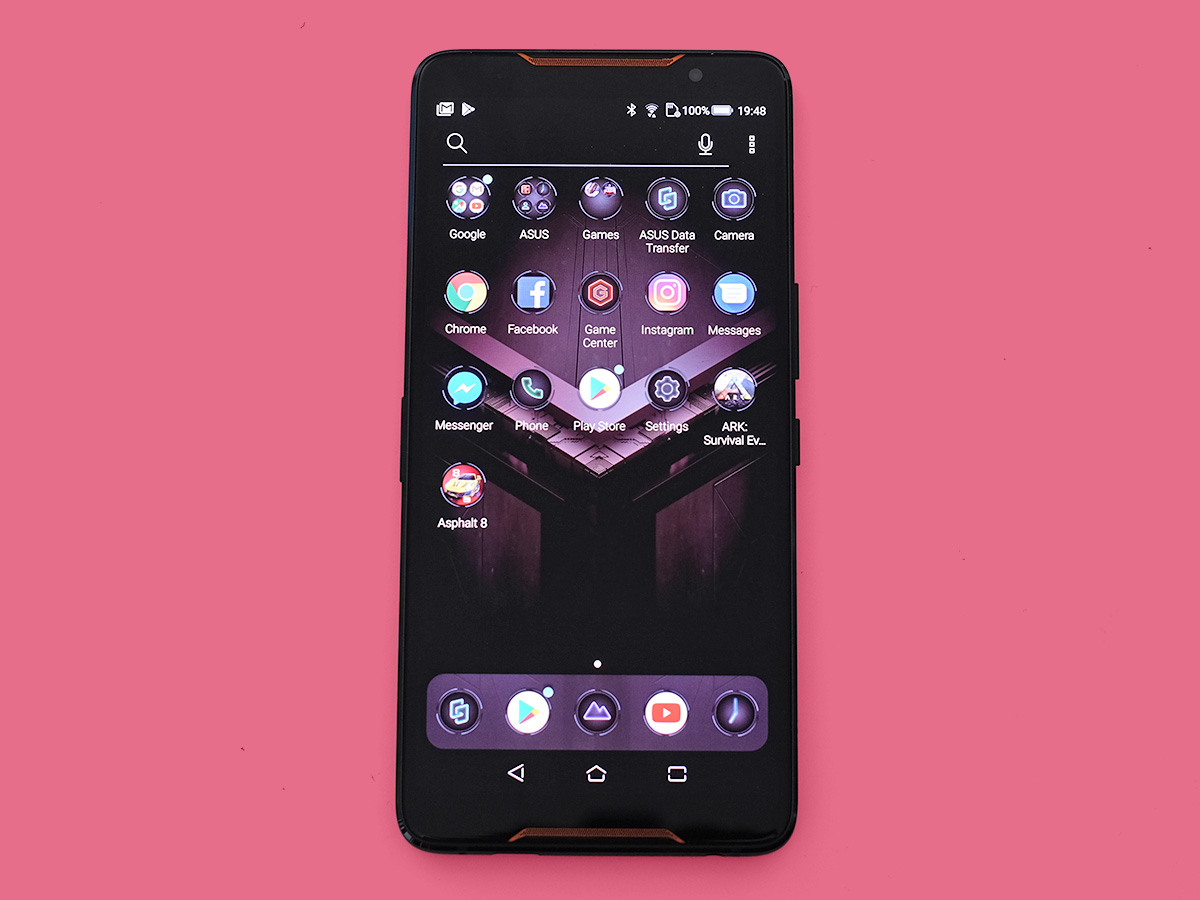 This phone has a 6-inch OLED notch-free 18:9 display. In terms of spec, there's no argument. It's good.
However, it's also basic in some respects. You can make it look totally natural, undersaturated to some eyes, or let it use the full whack of its panel colour, which makes the ROG Phone look super saturated.
There are no pro style calibration modes seen in many phones at the price. And all your photos look completely different to how they would on a laptop, or after being uploaded to Facebook, when you fire up the gallery. This isn't the most subtle screen.
It does have a special move, though. Almost all phones have a 60Hz refresh rate, meaning the image is refreshed 60 times a second. The ROG Phone's can go up to 90Hz, which makes some parts look smoother.
You can really notice this when flicking around the interface. Homescreens sail by that bit more cleanly. But does it alter the gaming experience? Not so much.
High refresh rate screens in a gaming PC are useful when you have monster hardware that can run games at frame rates higher than 60fps, but the ROG Phone has a Snapdragon 845, not an Nvidia RTX 2080 Ti.
The ROG Phone is also beaten by the Razer Phone in this respect. It has a nuts 120Hz screen. Again, it didn't single-handedly make the Razer the best gaming phone in the universe, but if you must play spec Top Trumps, the Razer wins.
Razer's phone is sharper, technically, too. The ROG Phone "only" has 2180 x 1080 pixels, less than the standard at the price. You can see a tiny bit of AMOLED fizz if you look close. But you do have to try to notice.
Camera: It's not all fun and games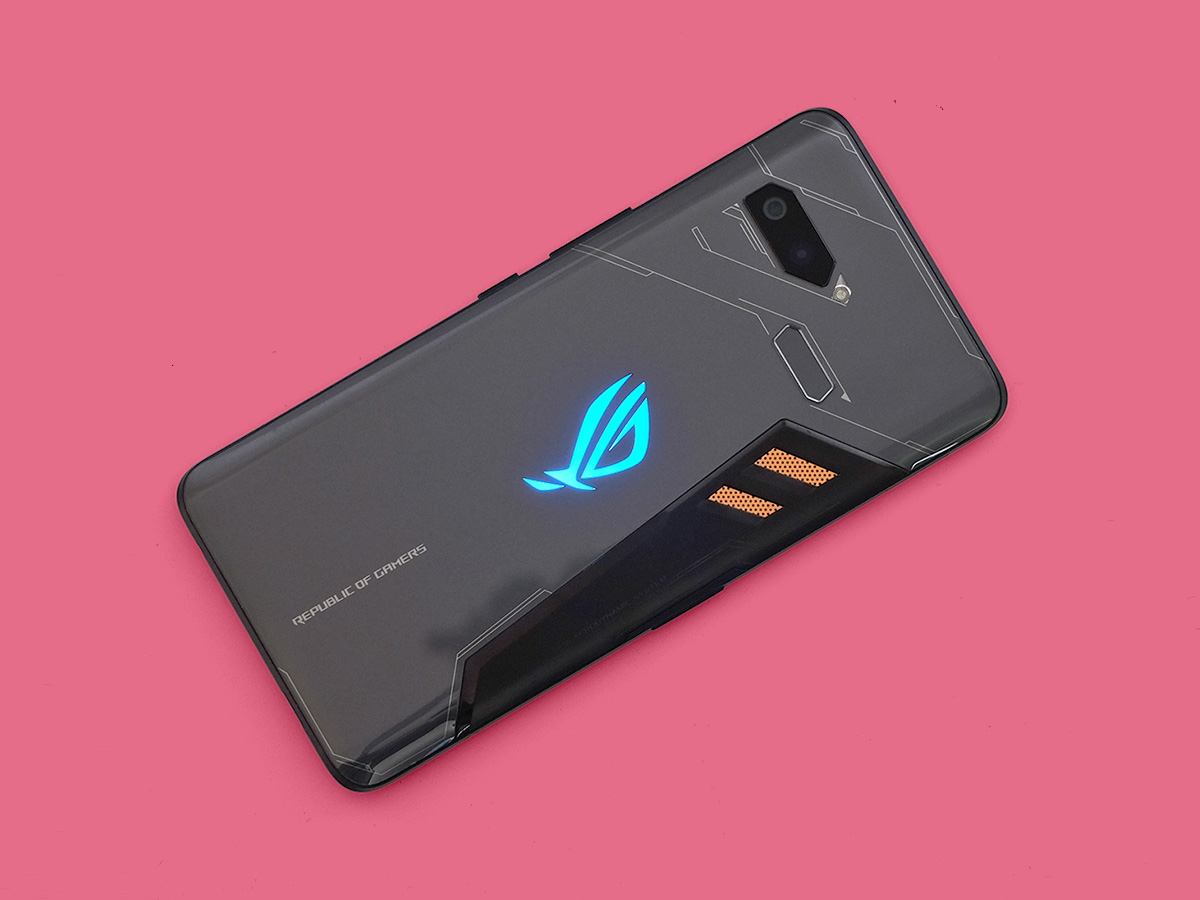 How about the camera? On the back there are two sensors, a very high-quality 12-megapixel one and a secondary 8-megapixel wide-angle camera.
You can tell the main camera uses top-tier hardware. It holds up well at night, and your day photos look sharp and detailed. However, the behind-the-scenes software isn't quite up there with the best.
Colour isn't perfect and the big names from Samsung, Google and Huawei get you better dynamic range tweaking. But for a gaming phone? Not bad at all, Asus.
Having the wide-angle camera is a neat extra too, particularly for those dramatic landscape images. It's like having an instant panorama if you use the default cropped widescreen view.
Battery: Outperformed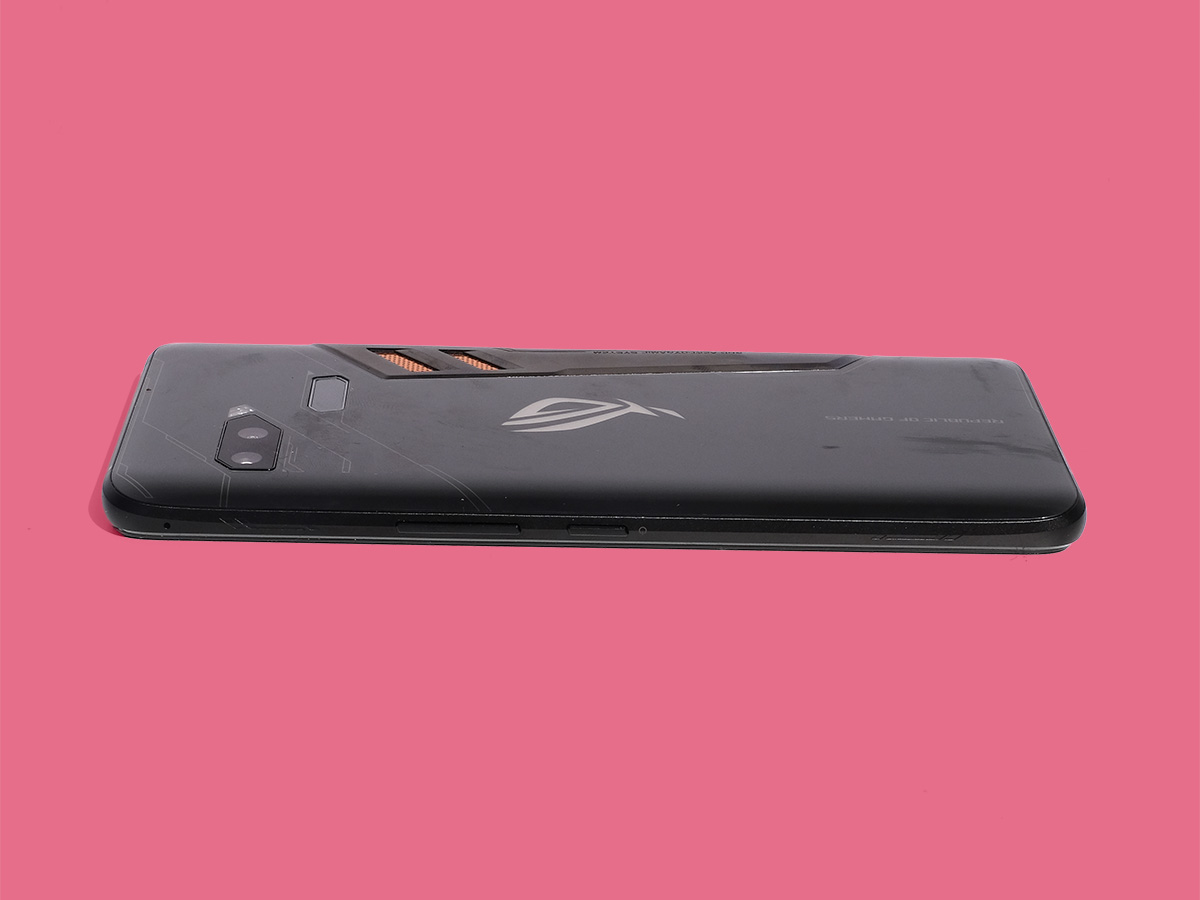 In areas outside the pure gaming stuff, the Asus ROG Phone has a lot of very tough competition. This phone also doesn't last quite as long as hoped considering it has a 4000mAh battery, which sounds pretty large.
Stamina is worse than the Galaxy Note 9 or Huawei Mate 20 Pro. The ROG Phone will last a full day if you play for just a short stint. But you don't get that extra 30-40 per cent left in the tank at the end of the day for those times you need an extra half hour of gaming to get you through 'til bedtime.
Our guess is Asus focused on getting the software primed for performance, not squeezing out every last drop of stamina. There's also no wireless charging, which is common at the price.
Software: By gamers, for gamers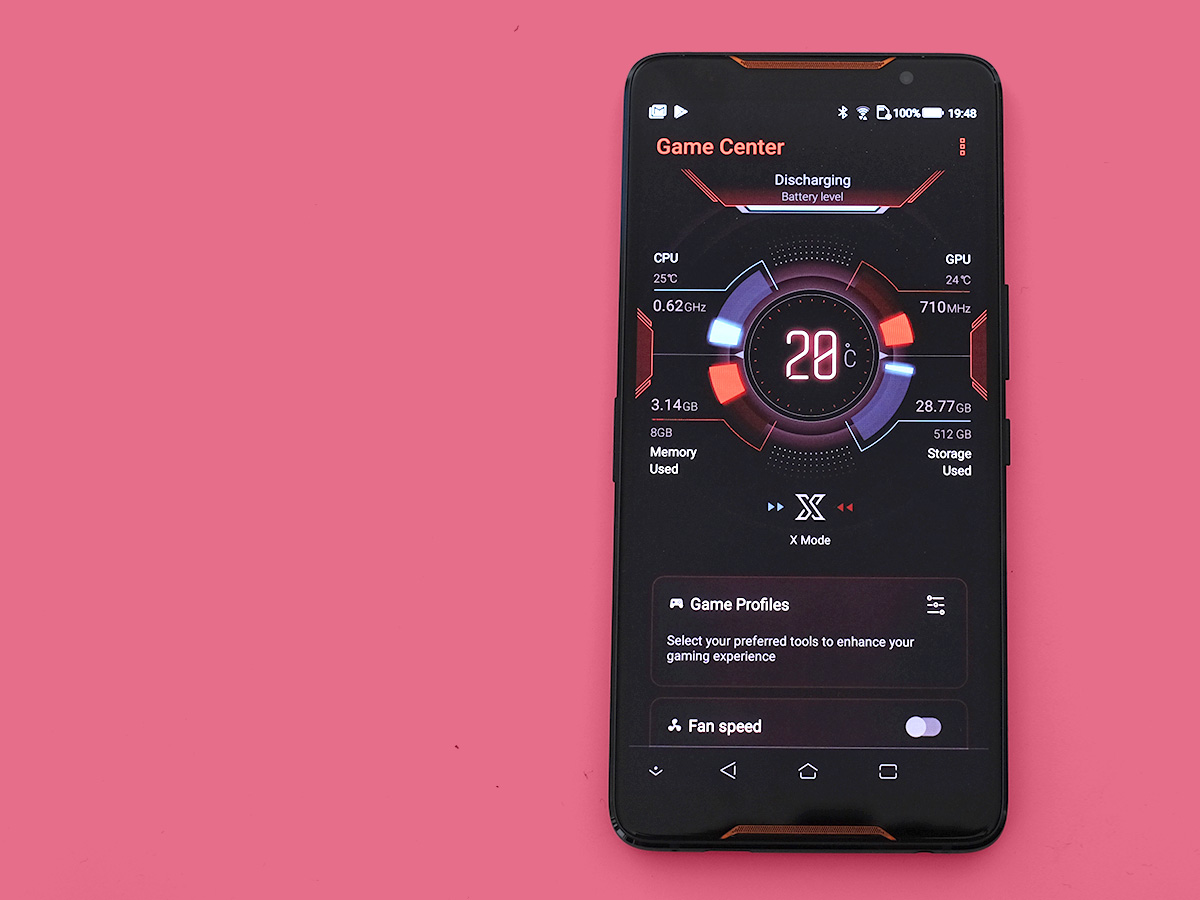 The software doesn't go for half measures on style either. Just like the bodywork, the interface look is made for gamers and waves a middle finger at everyone else. Icons, fonts and wallpapers have the same look as the shell.
And if you switch on "X Mode", is gets even brighter-looking. This mode chops down background processes to make sure your games run as well as possible.
You're not stuck with the ROG Phone's look, thankfully. It supports ZenUI themes, and there's a dedicated Themes app. Track down the free section if you don't fancy spending a quid or two on a wallpaper and some icon designs.
You can tweak, but the phone also runs the outdated 8.1 version of Android. Other new flagships get you Android 9.0, complete with features that let you keep an eye on how long you play games.
Asus ROG Phone verdict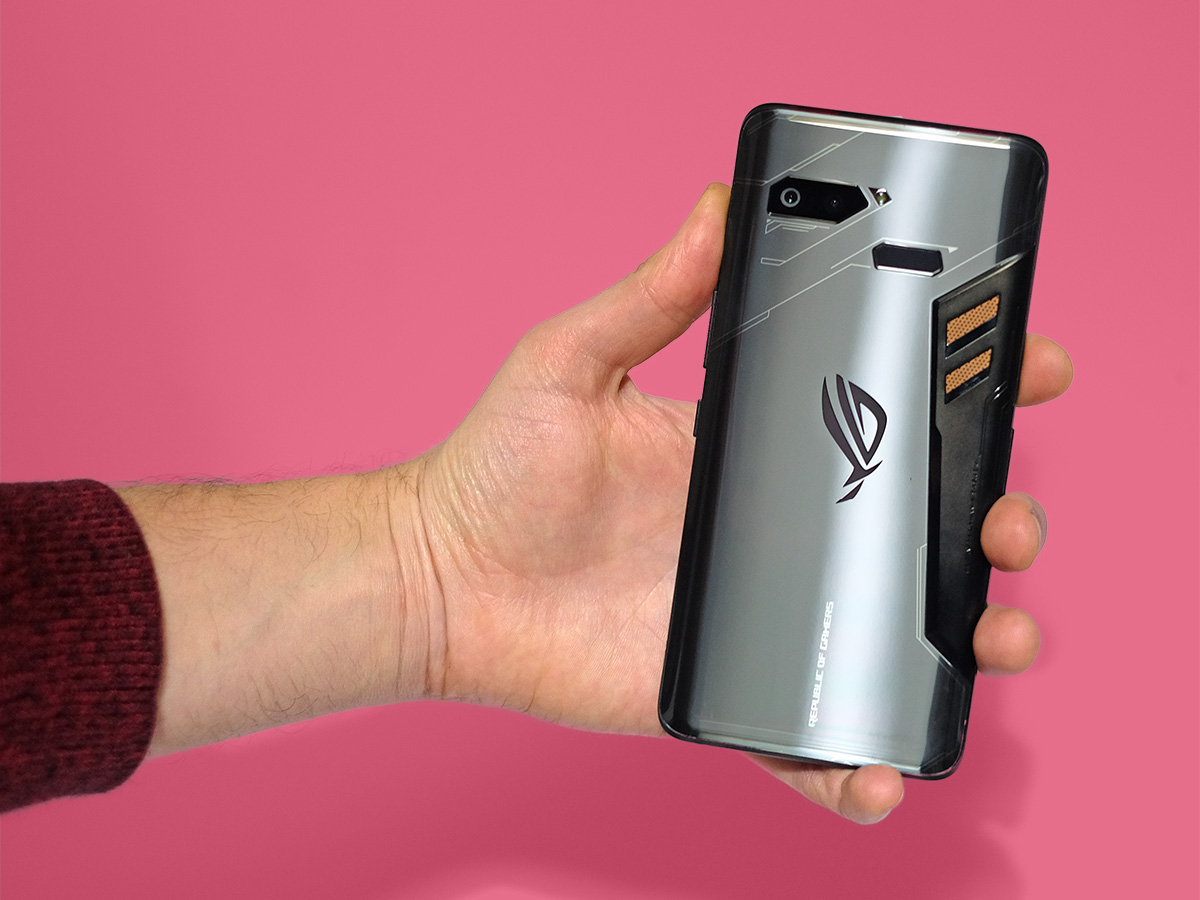 Is the ROG Phone a great gaming device? Yes. Whether it's that much better than the competition is a tougher call, though.
Take away the fluffy extras and games seem just as they do on any phone with a Snapdragon 845. And you'd ideally want a phone like this to appear along with a new processor, not just as the follow-up is about to appear.
The kinda weird bits are what actually set the ROG Phone apart, like the odd invisible shoulder buttons. And the fan that's actually most useful as a way to make attaching a power cable and pair of headphones while gaming less annoying.
Stuff Says…
It's the weird bits that make the ROG a notable phone, but the last thing we needed was another "normal" Android
Good Stuff
It's gamer and proud for life
Delightfully odd extra bits
Bad Stuff
The most polarising phone design… anywhere
Unsubtle screen calibration
Battery life isn't great