Asus ZenBook Pro 16X OLED review: colourful creator
A world-beating screen, huge processing power – and a high price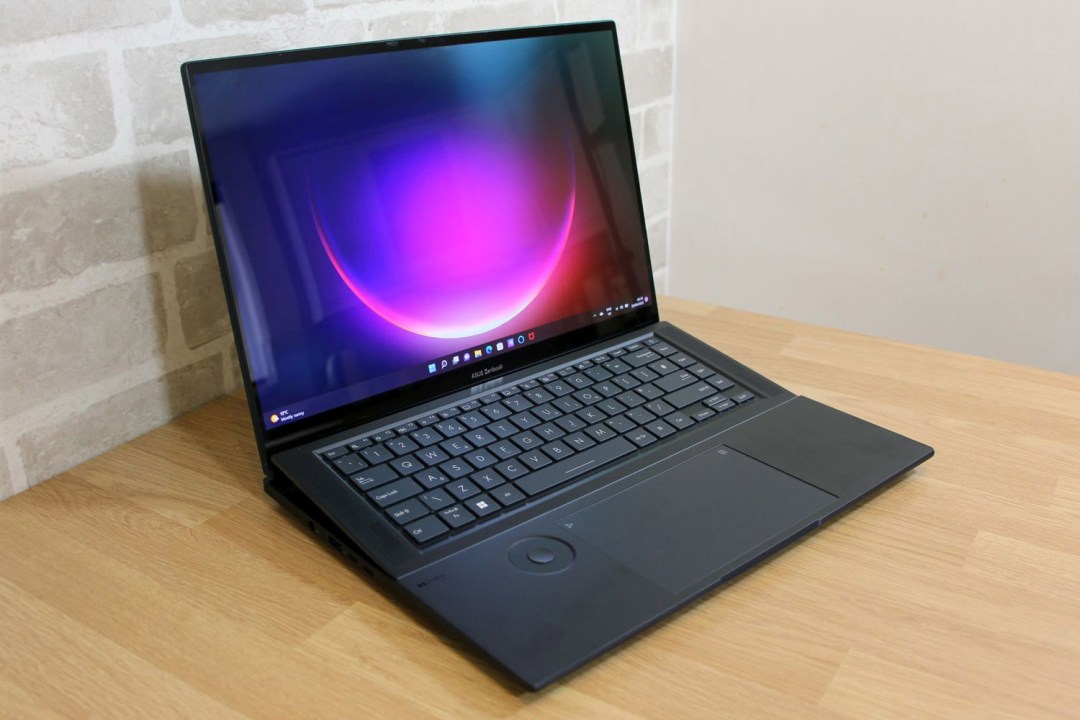 OLED is one of the big buzzwords in screen tech, and it's easy to be sceptical of any innovation until it's proven to get the job done. Happily, hands-on time with the Asus Zenbook Pro 16X OLED was enough to immediately dispel our fears.
Beyond an incredible display panel, this high-end creative laptop deploys powerful components and innovative control methods – so it could be the perfect companion for artists, designers and photographers.
New tech always carries a premium, though, and you'll have to shell out just shy of three grand if you want to turbo-charge your creativity. When you can buy a MacBook Pro 16 for £2399, does that make the Asus too much of a tough sell?
Screen: OLED-ing the way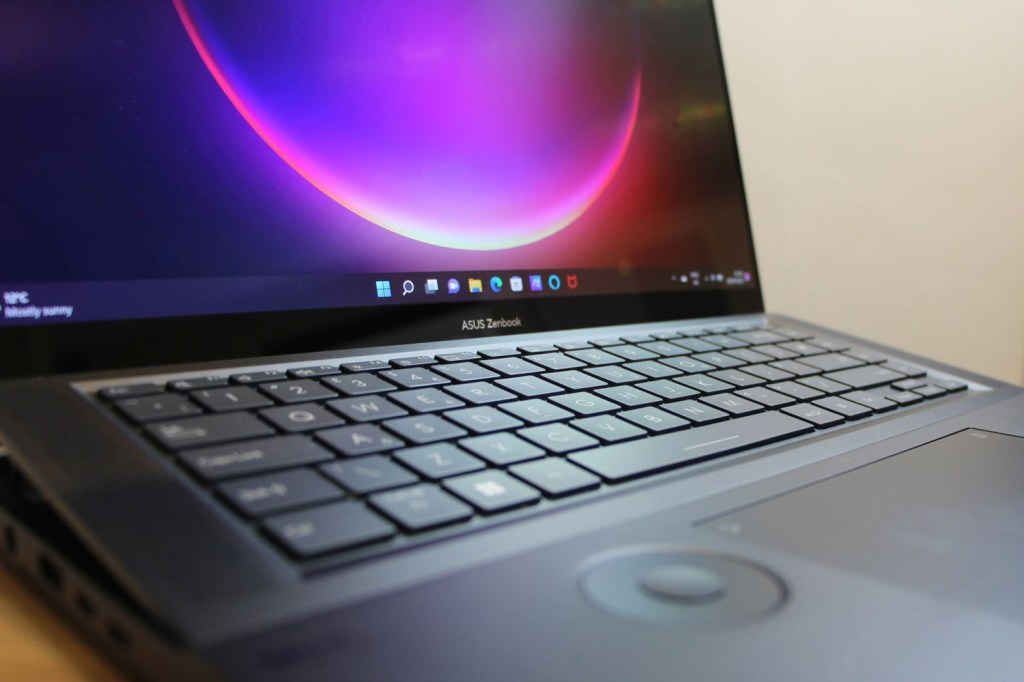 Regardless of price, there's no denying the Zenbook's display is a stunner. OLED screens use individual, self-lit pixels to provide both colour and illumination, supplying perfect black levels and contrast in a way conventional LCD backlighting can't hope to match. In real-world terms, that means the OLED display delivers more punch, depth and nuance than any IPS screen – and it improves on the Mini LED tech used in the MacBook Pro, too. 
Unsurprisingly, the Zenbook's display nails the sRGB, Adobe RGB and DCI-P3 colour gamuts with a sub-1.0 Delta E, which supplies top-notch colours in any creative situation. It's Pantone-validated, too, for guaranteed accuracy. For photo and video editing and design work this is one of the best displays around – you'll only find improved quality on proper desktop monitors.
The Zenbook's screen impresses beyond its OLED hardware, too. A 3840×2400 resolution means pin-sharp imagery (even sharper than the MacBook, in fact) and the 16:10 aspect ratio delivers extra vertical space. 
The only slight negative is the peak brightness level of 366 nits. That's fine for indoor use but not high enough for good outdoor performance, and the MacBook Pro is better here. It's a glossy panel, too, so can struggle with light reflections. 
Build: a heavyweight contender
A high-quality display isn't the only area where the Asus ZenBook Pro 16X OLED impresses. The CNC-milled aluminium chassis looks mature, with a brushed design alongside clean edges and tiny bezels. There's no noticeable give in the panels, so this rig will easily survive commutes, and branding is minimal. 
Connectivity is good, too. There are two Thunderbolt 4 sockets alongside one full-size USB connector, and the Zenbook has an HDMI 2.1 output and an SD Express 7.0 card reader. Apple's machine adds an extra Thunderbolt connector but removes the full-size USB port, so your workflow will determine your preference.
On the inside there's Wi-Fi 6E and Bluetooth 5.2, although there's no wired internet. And you're in luck if you want biometrics: the 1080p webcam supports Windows Hello (but can be disabled for privacy), and there's a fingerprint reader.
You even get good audio: the Zenbook has six speakers that supply loud, detailed and bassy sound – they're the match of the MacBook here and good enough for creative work and background music.
The only design misstep comes from the Zenbook's dimensions. This notebook is 27mm thick once you've factored in its rubber feet, and it sits at 2.4kg on the scales. It's far bulkier than the MacBook Pro – those dimensions are more commonly associated with gaming laptops.
Performance: peerless processing prowess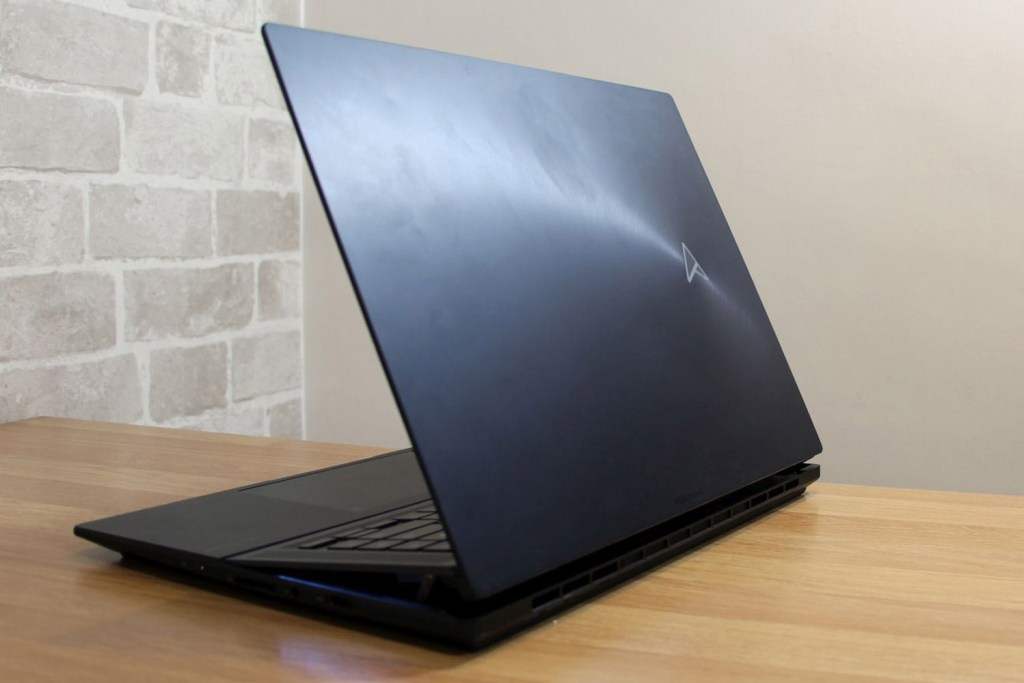 Intel is the current king when it comes to high-end laptop processors, so it's no surprise that the Zenbook includes a Core i9-12900H CPU. It's tremendous, with six Hyper-Threaded high-performance cores that peak at 5GHz – and in this laptop they're bolstered by 32GB of DDR5 memory and a 2TB Samsung SSD with stonking read and write speeds of 6,566MB/s and 5,094MB/s.
Further evidence comes from Geekbench, where the Zenbook returned scores of 1,712 and 12,318 in the single- and multi-core tests. The latter result outpaces the Apple M1 Pro chip you'll find in affordable MacBook Pro rigs, and it matches the M1 Max CPU inside pricier Apple notebooks. You'll only get more creative power if you wait for refreshed MacBook Pro 16 with the M2 CPU – or if you buy an even beefier Windows laptop or a proper desktop workstation.
The Zenbook will handle tough photo-editing and design assignments, and it'll edit 4K video. There's not much that this rig won't do in terms of creative work and multi-tasking.
You might even manage half a day of working out of the Zenbook's 96Wh battery, too: in an everyday application benchmark it lasted for nearly five and a half hours, and it played video for seven hours. In trickier creative workloads, though, the Zenbook ran out of juice after three hours. This is one area where the MacBook Pro is far better: expect ten hours of longevity if you push that machine and five more if you run less-challenging software. 
An Nvidia GeForce RTX 3060 takes charge of the graphics. While the chip is fine for creative workloads – and its Nvidia Studio drivers means software optimisation – it's only mid-range when it comes to gaming. At 1080p it played Assassin's Creed Valhalla at 54fps and was marginally faster in Red Dead Redemption 2, but it can't handle games at the machine's native resolution and the screen's 60Hz refresh rate prevents it from succeeding in esports.
At least we've got no thermal concerns. If you push the hardware you'll certainly hear fan noise, but it won't distract you from important work tasks – it's not as loud as most high-end gaming laptops. It's not very hot, either, which is impressive given the hardware inside.
Keyboard & Touchpad: dial it up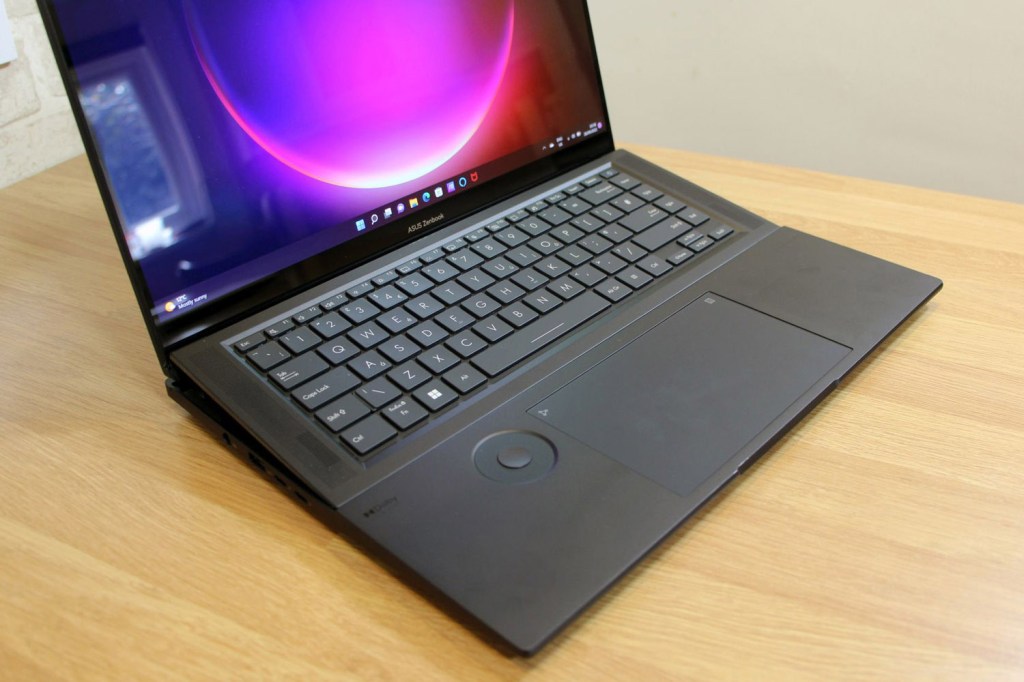 The Zenbook's most interesting ergonomic addition isn't the keyboard or mouse – it's the large, rotating Asus Dial which sits to the left of the touchpad. It can smoothly tune settings and options in Adobe software like Photoshop, Lightroom, After Effects and Premiere Pro, and away from Adobe it can alter basic laptop settings like brightness and volume levels. It's a welcome addition to your creative armoury, although it's a little disappointing that it only works with Adobe apps.
There's more innovation on the keyboard. Opening the laptop tits the keyboard towards the user at a seven-degree angle – so you get a comfortable typing position and the internals get better cooling. It's very comfortable. to type on, with large keys that are precise, snappy and fast, and they've got a robust base. This is a great keyboard for all-day use. 
They've got RGB LEDs, too, and you can alter their colour and even opt to have the keyboard flash in different shades based on your laptop's behaviour – you'll get email alerts or low battery warnings, for example.
The keyboard's only big issue is the lack of a numberpad. Asus allows users to overlay a software numberpad onto the touchpad, but it's an awkward and fiddly solution.
The touchpad is better in conventional areas. It's made from glass, it has full gesture support, and it has impressive accuracy across its huge, smooth surface. It's got haptic feedback, too, which ensures superb clicking at any point on the pad.
Asus Zenbook Pro 16X OLED verdict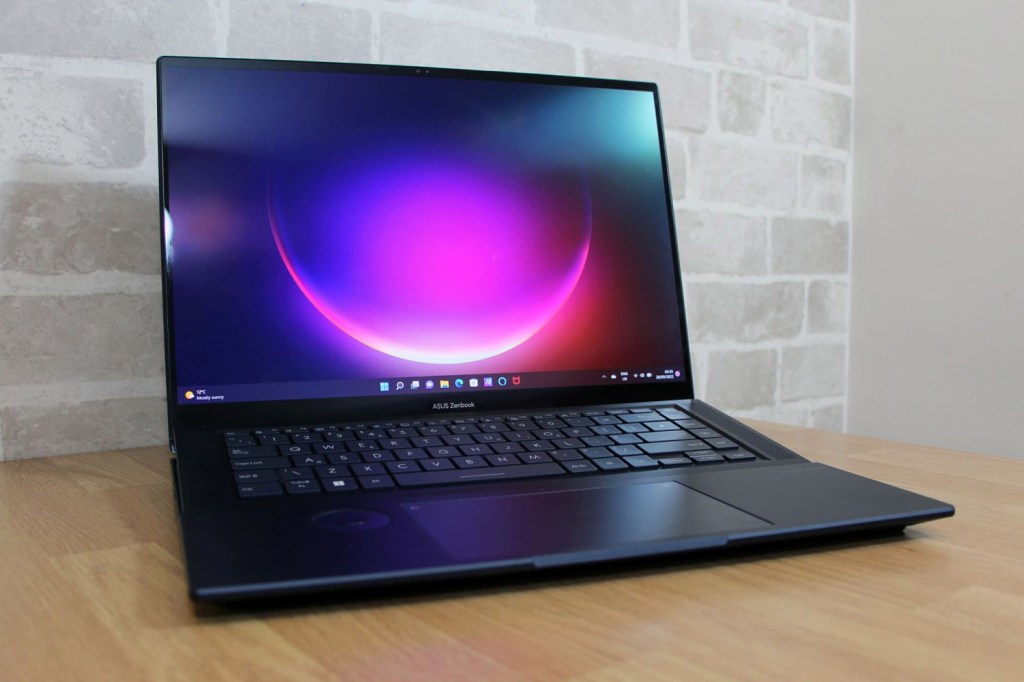 Asus' laptop division has never been afraid to experiment, and its innovations generally work well on this machine. The OLED display is one of the best ever seen on a notebook, its tilted keyboard is excellent, and the Asus Dial is a welcome addition if you're an Adobe user.
Elsewhere, the Zenbook deploys huge processing power, great speakers, solid connectivity and impressive cooling, but it does suffer with a heavy, thick chassis and mediocre battery life.
It's got plenty of competition; too: the MacBook Pro 16 is far cheaper if you settle for the slower M1 Pro chip, and the £3299 price of the M1 Max model isn't too far beyond the Zenbook. Stick with Windows, ditch the OLED display, and you'll find i9-12900H laptops with faster GPUs for hundreds of pounds less.
For creative quality, though, the OLED display is untouchable. The Zenbook then bolsters its screen with great performance and a sleek chassis. It's a powerhouse that any serious creative should consider.
Stuff Says…
The Asus' OLED display, Core i9 processor and great ergonomics mean it's a top choice for demanding creatives, even if it could be thinner, lighter and longer-lasting.
Good Stuff
Incredible high-res OLED display
Lashings of Core i9 processing power
A clever, comfortable keyboard
Great build quality and connectivity
Bad Stuff
Not exactly thin and light
Screen could be brighter
Less useful if you don't use Adobe software
Average battery life
Asus ZenBook Pro 16X OLED technical specifications
| | |
| --- | --- |
| Screen | 16in, 3840×2400 OLED |
| CPU | Intel Core i9-12900H hexa-core |
| Memory | 32GB |
| Graphics | Nvidia GeForce RTX 3060 6GB |
| Storage | 2TB |
| Operating system | Windows 11 Home |
| Connectivity | 2x USB-C/Thunderbolt, 1x USB 3.2, HDMI 2.1, SD card reader, 3.5mm headphone port, 802.11ax Wi-Fi, Bluetooth 5.2 |
| Battery | Up to 7 hours |
| Dimensions | 355x251x27mm, 2.4kg |