Asus ZenBook UX305 review
Everything the MacBook Air 13 should be
Asus knows what it's doing. It knows that the Apple MacBook Air laptops are old news, deliberately left to tread water to make way for the all-singing, (mostly) all-dancing 12in MacBook.
Asus thinks there's life left for a 13in 'ultrabook' still. The Asus ZenBook UX305 is pretty much everything the 13in MacBook Air should be at this point, but isn't.
What do I mean? Well, it's pretty affordable at £650 and has a really rather good screen, while still looking and feeling fantastic. Of course, as it runs Windows 8.1 rather than Mac OS X it's not going to convert many Apple obsessives. But if you're on the cusp of being swayed, let the Asus ZenBook UX305 sway you.
Little purple corvette
Asus has made scores of laptops over the years, swaying pendulum-like between the slightly ridiculous and the slightly boring. Rarely does it hit slap-bang in the middle where we want it to. The ZenBook UX305 might be such a hit.
Fair enough, it looks an awful lot like a purpley-black MacBook Air 13in, but has a few Asus design quirks to give it a hint of personality and make you stand out from the Apple users in Starbucks. First, there's that colour.
A purple laptop doesn't instantly strike you as the best idea since peanut butter ice cream, but somehow it works for the Asus ZenBook UX305. It's a subtle shade that's basically off-black. Even men whose sense of masculinity is fragile enough to be shattered with a whip of a wet noodle should be able to live with the thing. There are also true black and white versions if you'd prefer 'em.
The lid has the same concentric circles design as the other ZenBooks too, and thankfully this time it's not shiny enough to blind people when light hits it at the wrong angle. Whoever designed this thing: pat on the back for you.
Metal on metal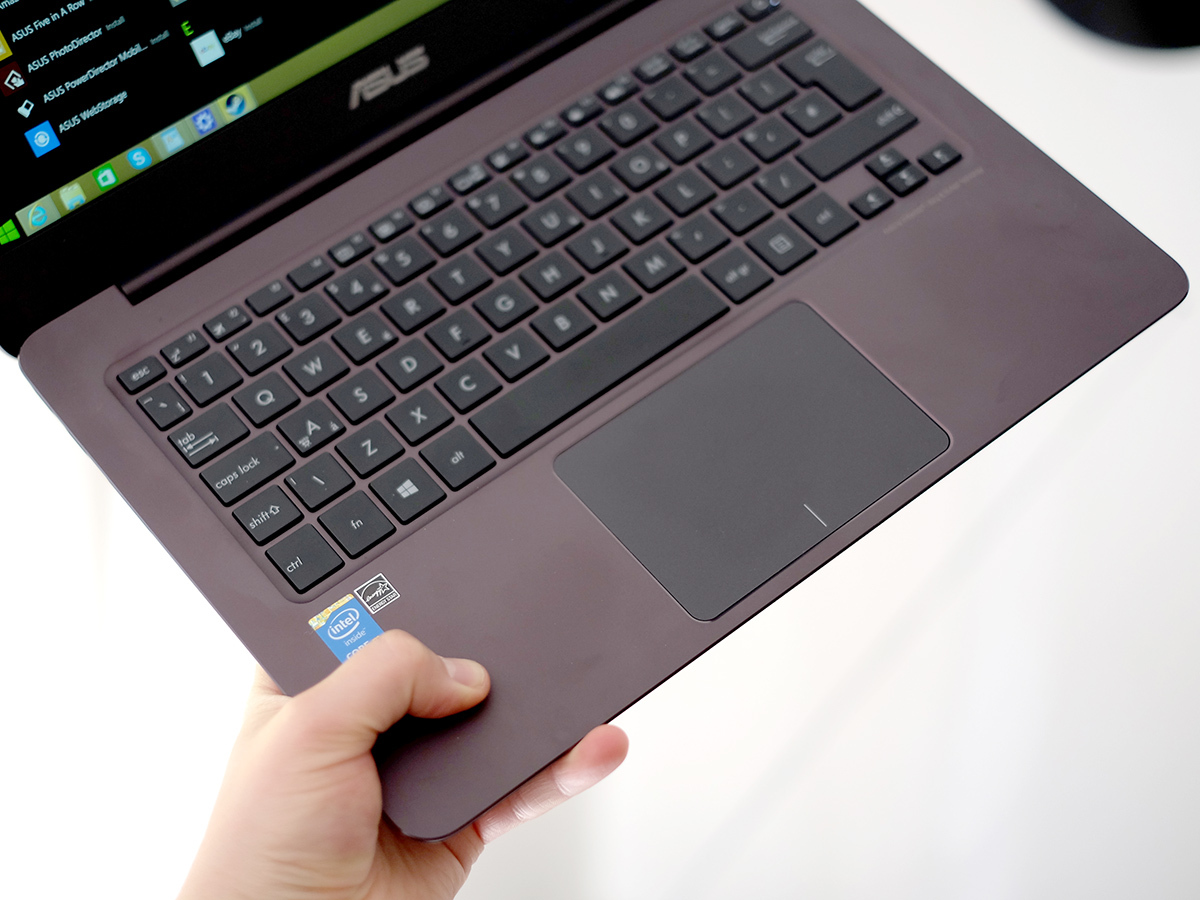 Despite being a decidedly sub-ultrabook £650, it's almost all-metal too. The top, the bottom, the inside, even the screen surround – all are aluminium.
The ZenBook UX305 feels good as well as looking good, and even has nice little touches like bevelled edges to avoid the sides feeling too sharp. I did notice a few little quirky annoyances like the screen switching off a bit too early when closing the lid, but if you can't get used to that, just give up and buy Apple.
The design is simply fantastic in practical terms too. It weighs 1.2kg and is just 12mm thick, making it supremely portable.
Connections aren't traded-in as a result either: the ZenBook UX305 has a respectable three USB 3.0 ports, a full-size SD card slot and a micro HDMI socket. It's easy to turn it into a 'full' computer merely by plugging in a monitor, keyboard and mouse.
Having said that, you'll be pretty happy working away on the Asus ZenBook UX305 just as it is. The 13.3-inch screen frame makes it large enough to type away comfortably on without feeling cramped. And, yes, I wrote this review using the thing.
Hero of the small screen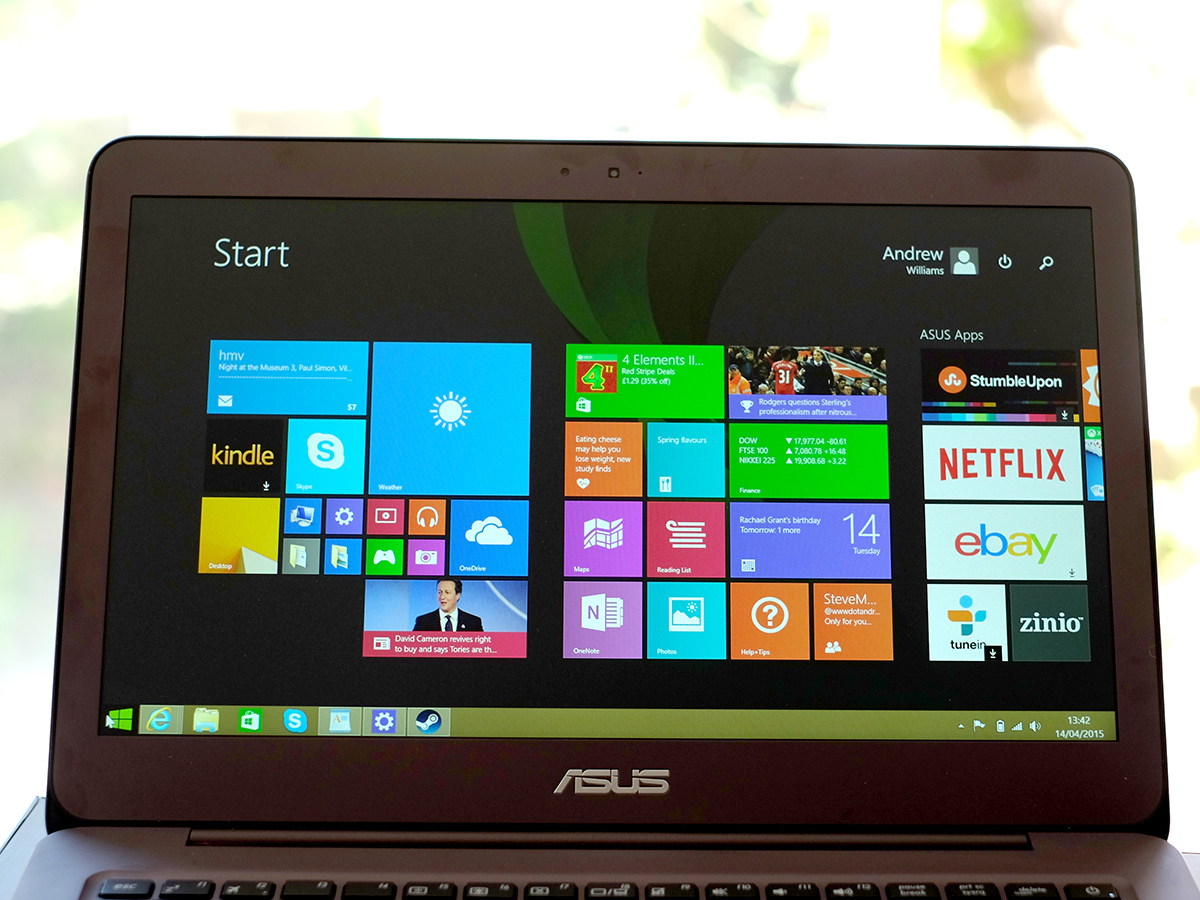 What really makes the ZenBook UX305 a bit special, though, is the screen. It's here that Apple really dropped the ball with the 2015 MacBooks, letting Asus scoop up a win.
The Asus ZenBook UX305 has a 13.3in 1080p IPS screen where the Apple MacBook Air 13 has a 1440×900 TN screen. Without the tech jargon: the ZenBook screen looks much, much better.
It's sharper, has better colour reproduction and massively superior viewing angles. For a £650 laptop, it's just brilliant. Dell's closest equivalent XPS 13 costs £1000.
Asus has also ditched the glossy display finish of most Ultrabooks in favour of a matte style. The benefit off a matte screen is that there are no reflections, making the Asus ZenBook UX305 a pleasure to use outdoors on those sunny moments when you blag a day working from home.
Matte screens' colours can look a little dull next to those of glossy rivals, but they look pretty good here regardless. They look accurate and vivid enough to my eyes, even if they don't quite 'pop' like the best glossy laptops.
This is Asus showing how an affordable Ultrabook screen should be done. The one sour note is that my review model had some backlight bleed. Hopefully the one you get from the shops will be clear of this, but if not it still won't overshadow the screen's many strong points.
Oh, and this isn't a touchscreen, but to my mind a keyboard and trackpad combo is a better option for a laptop anyway.
9 stone weakling?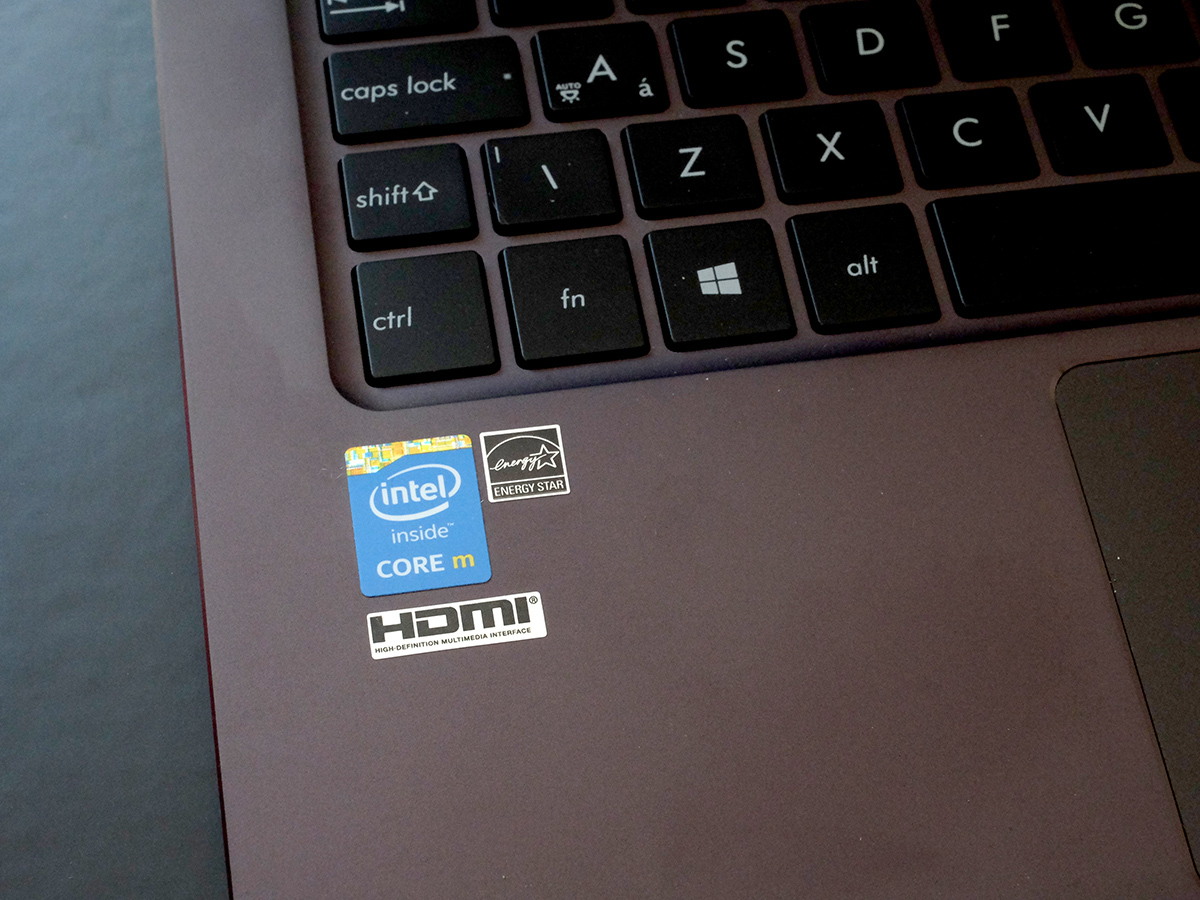 It also uses tech we're starting to see take over in the world of super-skinny computers. The Asus ZenBook UX305 has an Intel Core M-5Y10C, a 1GHz CPU that's just a mite slower than the CPU of the £1050 'new' MacBook.
These Core M chips aren't about pec-pumping 'check my guns' power. They're all about maximum efficiency, meaning less heat and much better battery life. Plus the things are tiny, much smaller than regular Intel Core CPUs.
So how weedy is the Asus ZenBook UX305? If you're doing normal tasks you'll barely notice the difference between this and any £1500 laptop. It feels fast and compromise-free, and thanks to its 8GB of RAM you can even open up plenty of browser Windows without steam pouring out of its heat vents.
It can handle basic photo manipulation and the like with ease, and it trots through Full HD video like it's the 2x multiplication table. In short: chill out, it's not a total wimp at all. Just don't buy it if you want to do serious number-crunching work like video editing. It's just not powerful enough for it.
Intel M vs games
To really heat things up I tried a few games. Showing all the faith of a Richard Dawkins, I started with the ancient Grand Theft Auto: Vice City. 1080p resolution, max draw distance? Check. Full speed? Check.
Stepping things up a bit I booted-up S.T.A.L.K.E.R.: Clear Skies. With all the bells and whistles turned on and the resolution set to 1080p, the Asus ZenBook UX305 struggles. It's a bit too slow to be playable. However, turn down the visual quality and get rid of fancy object shadows and it runs more-or-less fine.
The slightly more optimised BioShock is actually fairly playable at 1080p with most of the fancy graphics settings turned on. It all slows down a bit when there's too much action, though, so you'll probably want to turn a few of the flashier bits off.
It's no gaming monster, but it's as good as 2014's top Ultrabooks.
Cool Runnings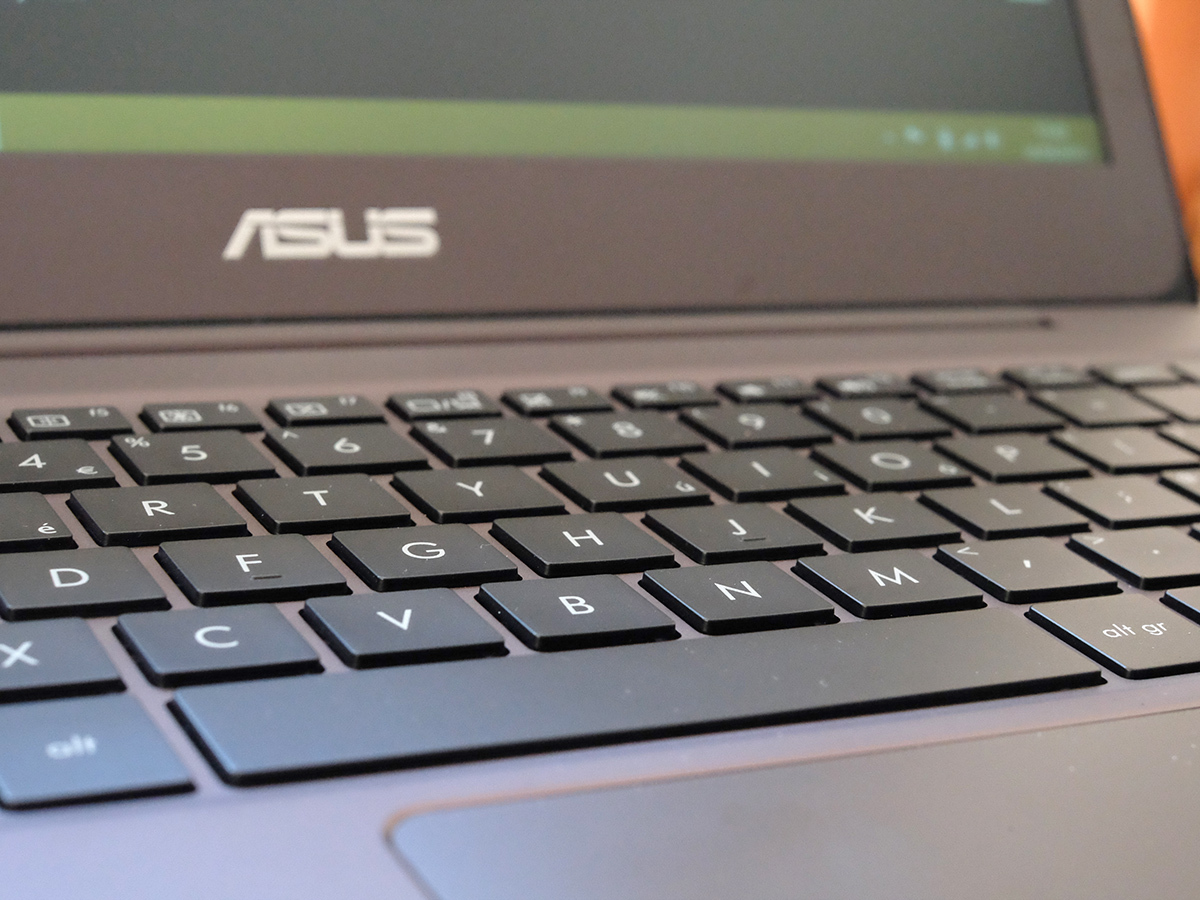 Using a Core M CPU also ensures that the Asus ZenBook UX305 remains cool under pressure. It doesn't use a fan, so is always virtually silent, and even after playing S.T.A.L.K.E.R. for 30 mins it wasn't all that hot. It just got a bit warm.
Battery life is great for a Windows machine too. Asus claims 10 hours and we got more than seven with the brightness up fairly high and the ZenBook UX305 downloading files half the time. It's impressive stuff. You should be able to get a full day's work squeezed out of a charge.
With all these positive points the ZenBook UX305 sounds unbeatable, and among the lower-cost, high-grade PC crowd, it is at present. Even the keyboard and mousepad feel good, mimicking the large-pad, shallow-but-crisp style of Apple's laptops (although the trackpad is less smooth than a MacBook's).
However, it doesn't have everything. In the UK there's only a 128GB edition available, which isn't a lot if you want to store movies or games. The internal speaker is pretty weak too, sounding a bit too small and boxy to do justice to music, games and films. And there's no keyboard backlight. Typing in the dark may require some de-typo-ification.
That last point is a shame, and shows that despite looking and feeling like it could cost £1000, the Asus ZenBook UX305 doesn't quite make the grade in every respect. Still, it's more than a bit of a revelation and a sign that maybe someone other than Apple has a chance in the fancy-looking laptop game after all.
Asus ZenBook UX305 verdict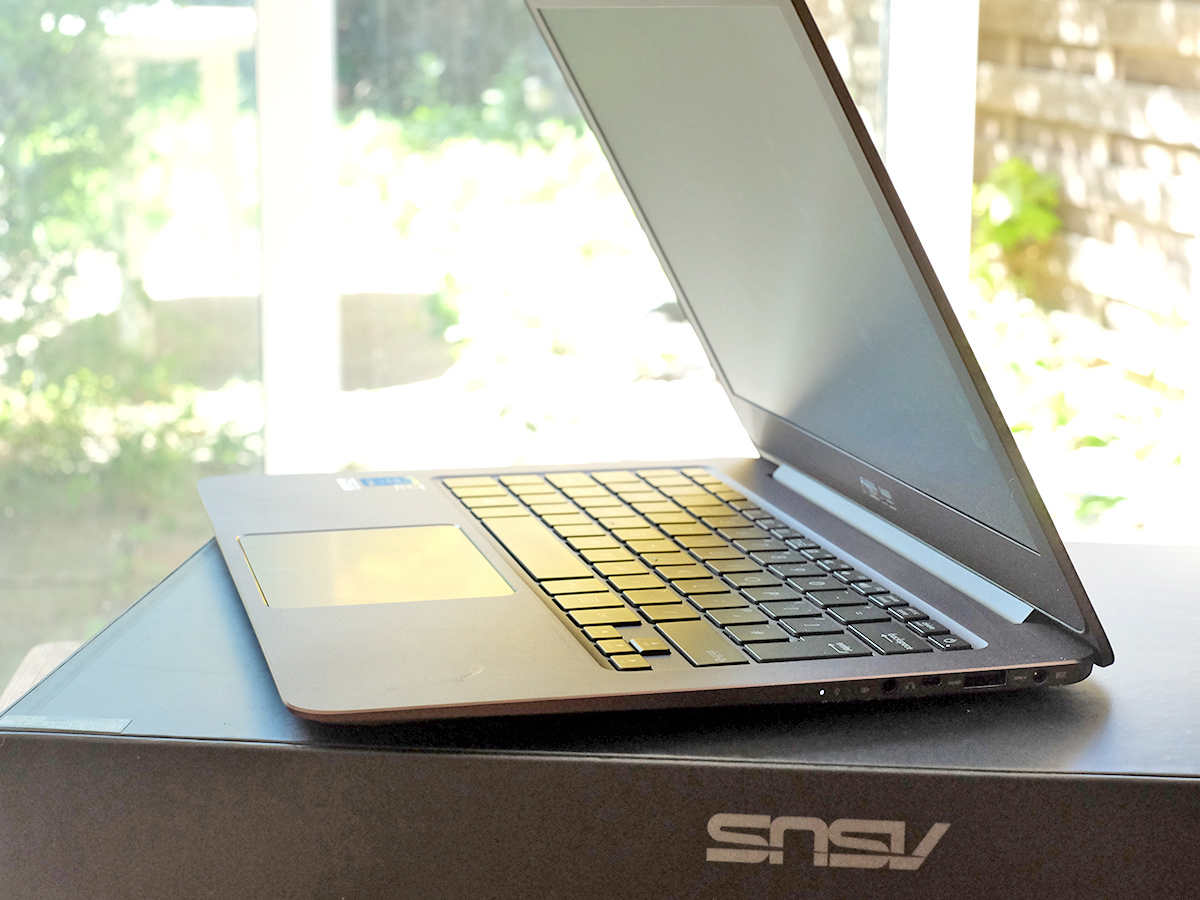 Asus has hit it out of the park with the ZenBook UX305. It's as slim and good-looking as a 13in Apple MacBook Air, possesses as good a display as any £1000 laptop and even sports a good array of connections.
Somehow Asus has produced a laptop that feels like it could sell for almost a grand while charging just £650 for the privilege. It's not a heatsink-melting powerhouse, and it doesn't have a keyboard backlight. But as it aces virtually every other aspect of its design, it's sure to be remembered as one of 2015's best laptops.
Tech specs
| | |
| --- | --- |
| Operating System | Windows 8.1 |
| Screen | 13.3in IPS LCD with 1920×1080 resolution |
| CPU | Intel Core M 1GHz M-5Y71 |
| GPU | Intel HD 5300 |
| RAM | 8GB |
| Storage | 128GB SSD |
| Optical drive | None |
| Connectivity | Wi-Fi 802.11ac, USB 3.0 (x3), mini HDMI, 3.5mm |
| Dimensions | 324 x 226 x 12.3mm |
| Weight | 1.2kg |
Stuff Says…
Apple has left the door open for a MacBook Air beater, and Asus has swept right in there without even taking its shoes off
Good Stuff
Great screen
Top value
Good battery life
Fetching design
Bad Stuff
Weak speakers
No keyboard backlight
Not terribly powerful