Audio Pro G10 review
Nuthin' but a 'G' Thang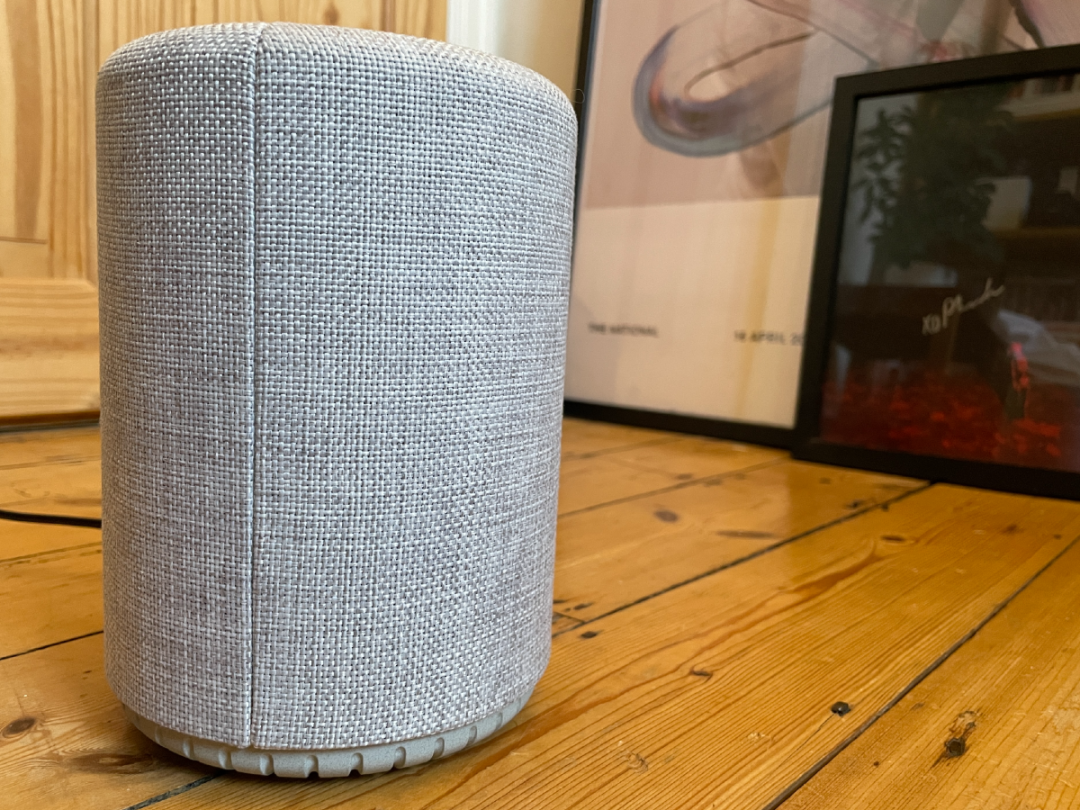 There's a good chance you've never heard of Audio Pro – but if a company with a name like that doesn't fill you with confidence, what will?
The G10 is the Swedish brand's first speaker to come with Google Assistant onboard, which pits it squarely against the likes of the Sonos One and those with more hi-fi chops than Amazon's Echo or Google's Nest Audio.
So is it worth forking out the extra for a smart speaker that takes its music a bit more seriously? We spent a week chatting to one to find out.
Design: Power and Control
In its light grey fabric coat (it also comes in a darker charcoal colour) the G10 doesn't look totally unlike an enlarged version of the third-generation Echo.
It's bigger though, about the size of a loaf of bread, and attractive in a very Scandi way, so won't go stale anywhere near as quickly as sliced Hovis. In fact, it looks almost incomplete without some sort of cold-brew coffee apparatus and an old copy of Highsnobiety next to it, but it'll also blend in nicely among your Wayfair furniture and the latest issue of a certain gadget magazine.
There's a full suite of small, shiny metal buttons on the brushed aluminium top, so you can skip and pause tracks, adjust the volume, switch sources, mute the mic and summon Google Assistant using your hands instead of your voice, which is actually much more convenient if you're standing right next to it.
There's also a power button, and it will go into standby if you leave it silent for a while, so you'll have to remember to turn it on before issuing any commands – it's not always listening like an Echo or HomePod would be, which means it doesn't fit into your day-to-day life quite as seamlessly. Connecting a device using Chromecast will wake it up as well, although this doesn't seem to work with AirPlay.
Above the buttons you get four lights that show how loud the volume is set and pulse when the G10 is thinking, while three underneath indicate which source is connected. Round the back you'll find the 3.5mm port, next to the power socket and just below a thread that allows you to wall mount the speaker.
Features: Power in numbers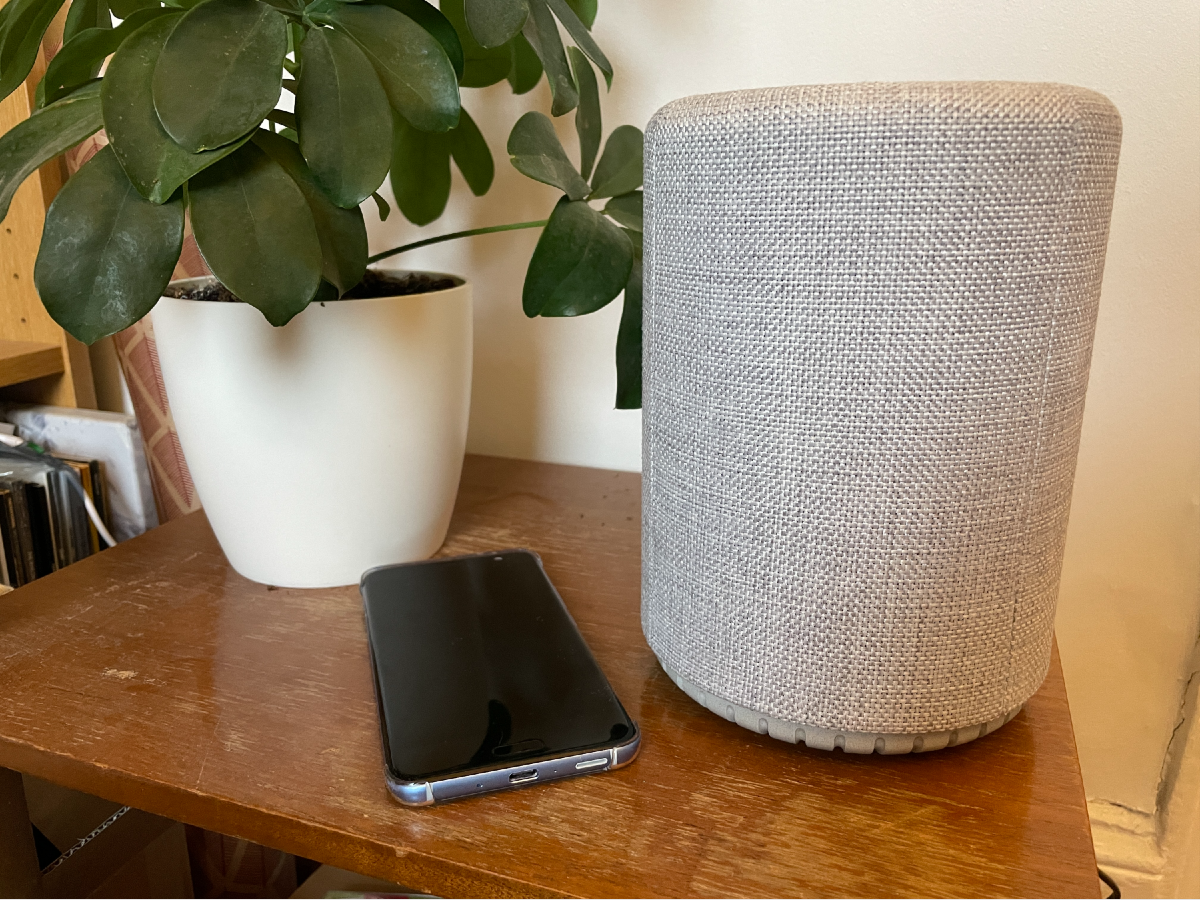 There's still a distinction to be made between smart speakers and wireless speakers with voice control, and while the gap is getting smaller, the G10 is very much the latter.
With a 3in long-throw woofer, 1.25in Balanced Mode Radiator tweeter, dual 4.5in passive radiators, and a 52-watt Class D amp to put them all through their paces, it's got hi-fi pedigree, while support for Chromecast, Spotify Connect, AirPlay 2 and Bluetooth, plus the 3.5mm port, mean you can play music from pretty much anything.
Having Google Assistant on board means it can do everything a less hi-fi-centric smart speaker can though, whether that's controlling your heating, making a shopping list, or teaching you how to say 'mongoose' in Swedish. Alexa still has the upper hand when it comes to smart home support, but Google Assistant probably just edges it in terms of general knowledge, so it really depends what you're planning to use the G10 for.
Where Google's presence undoubtedly helps is in setup. It's handled entirely by the Google Home app, which means you can be ready to go in a couple of minutes, less if you don't add a payment method for Google Shopping or activate Voice Match, which allows it to tell who's talking and offer personalised info.
Audio Pro has its own app and multiroom system, although the G10 isn't compatible with it, so you won't be able to add it to an existing network of Audio Pro speakers. If you've got others that work with Chromecast or AirPlay 2, though, it's easy for the G10 to join the party, which means you don't need all your speakers to be the same brand. Handy.
Performance: Music is Power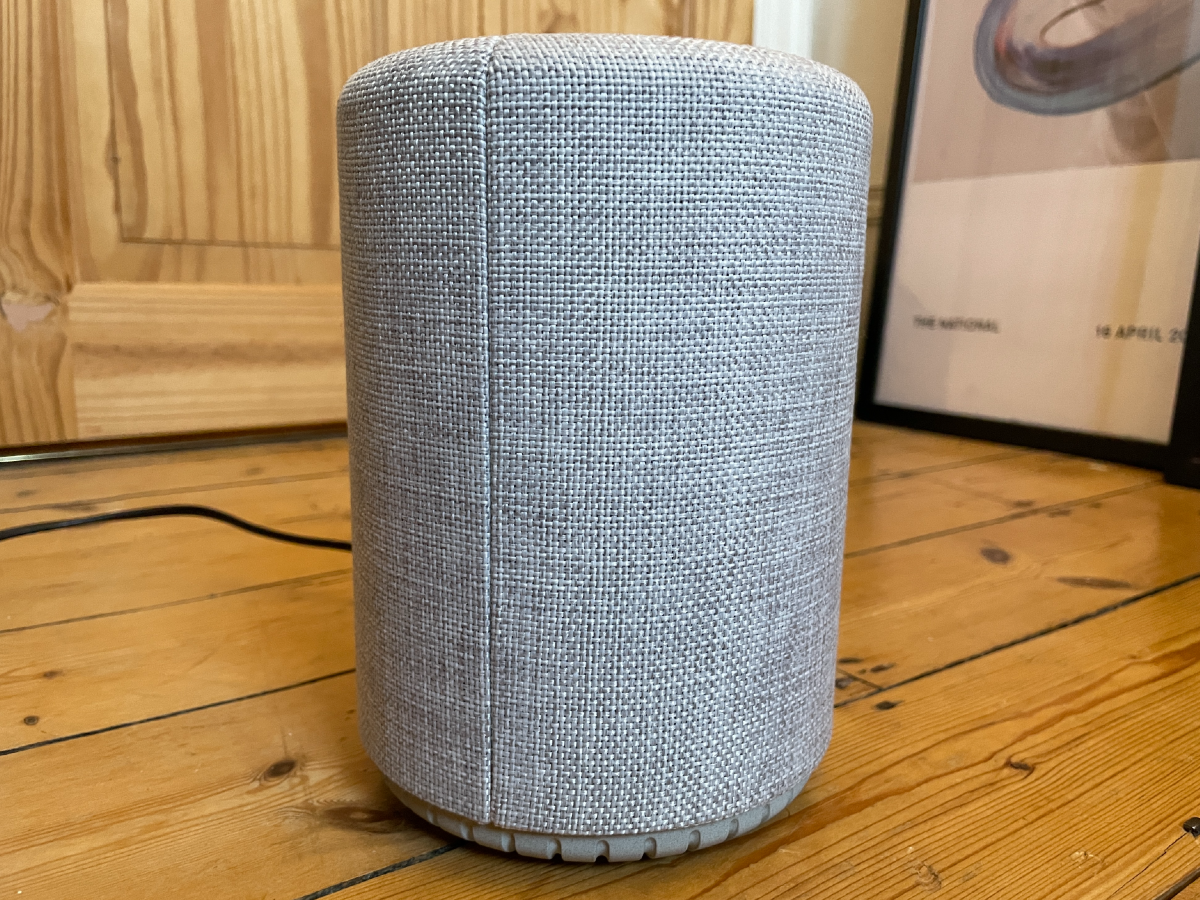 While it's a little too large to squeeze in absolutely anywhere, the G10 sounds good no matter where you manage to find a home for it. The barrel shape means it disperses the sound in almost every direction, so unless you're standing directly behind it performance is pretty much identical.
No matter what you give it to play everything feels in proportion. There's a lot going on in Radiohead's 'Bodysnatchers' but Thom Yorke's vocals sound clear and natural, the top-end is incisive and nothing gets muddled. If you were being picky you could say the mid-range sometimes lacks a little meat and the power of the bass is limited due to the G10's physical dimensions, but as an all-rounder there's nothing major to complain about.
Pump up the volume and it maintains its composure admirably, although the responsiveness of the voice control suffers when you go too far above normal speaking volume, which is hardly surprising or unique to the G10. When it does respond, the way it lowers the volume to hear your commands is a little abrupt, especially compared to Apple's HomePod, which adjusts the audio to sound like you're listening in from outside, but that's purely aural window dressing.
Very occasionally we had issues with the sound dropping out when playing from Spotify or Apple Music over Chromecast or AirPlay 2, but these were easily fixed just by skipping the track. We've experienced similar things with other speakers in the past too, so it's likely the issue is with the apps, not the G10 itself.
Audio Pro G10 verdict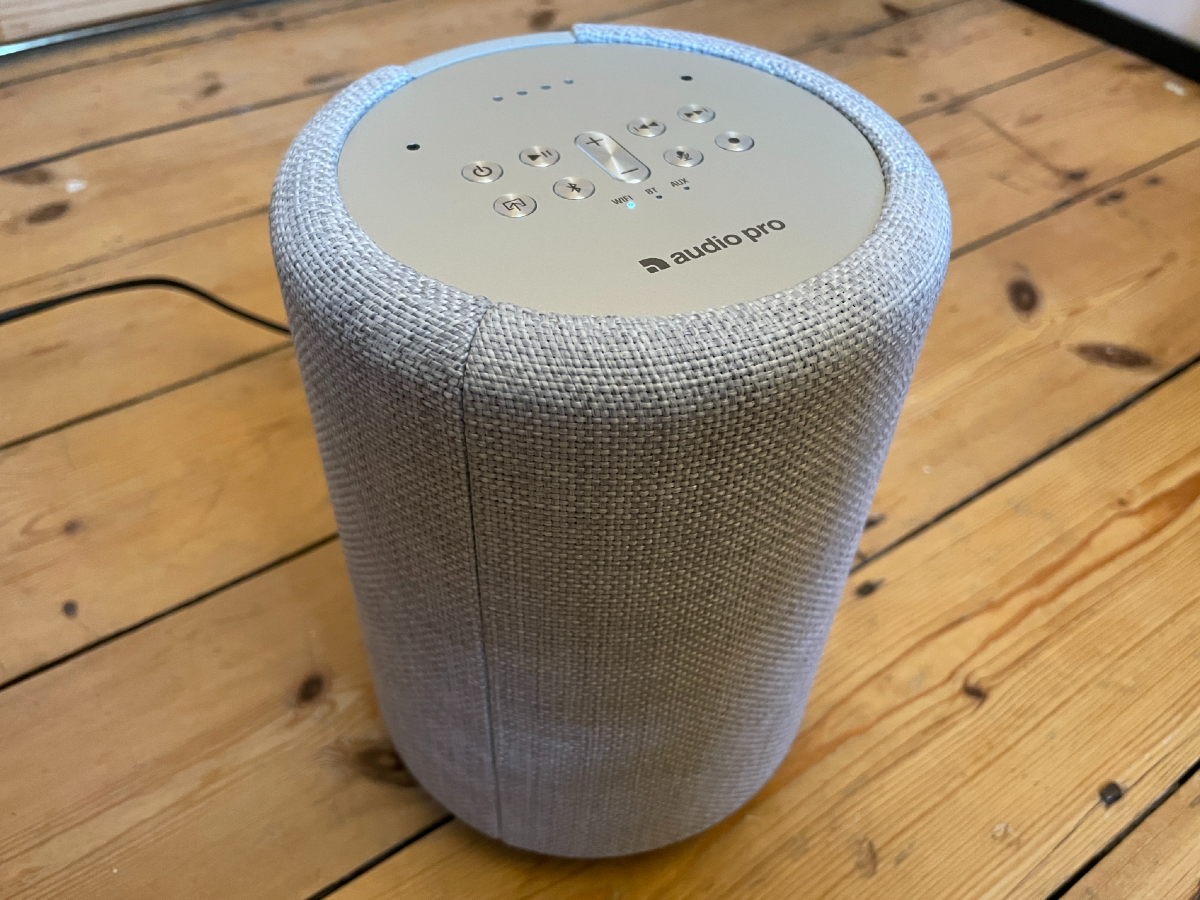 As a lesser-known player in the hi-fi game, Audio Pro has its work cut out to convince you to buy a G10 over a Sonos One, Amazon Echo, or even Apple's tiny HomePod Mini. But perhaps its biggest rival can be found closer to home.
Audio Pro's own A10 has an almost identical spec sheet to the G10, but can be found for £100 less. Without putting them side-by-side to compare it's impossible to say whether there are any sonic differences, but it does seem that you're paying all that extra just for voice control and more flexible multiroom capabilities.
If those things are crucial to you then you'll be very happy with the G10, but if not, you can probably save yourself a few quid by opting for the older model.
Stuff Says…
An impressive all-rounder, but do you really need the voice control?
Good Stuff
Sounds great
Easy multiroom setup
Can be wall-mounted
Bad Stuff
A bit pricey considering