BlackBerry Key2 review
A king of smartphone productivity, but just misses the mark when it comes to entertainment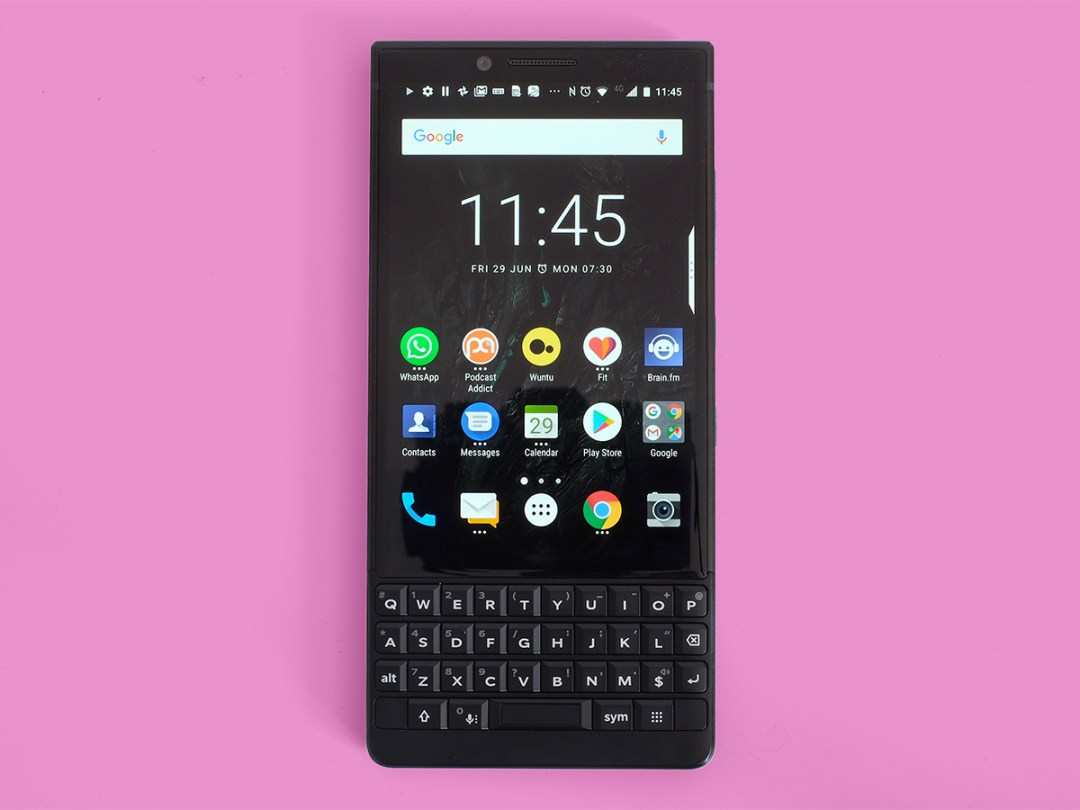 Thought BlackBerry was dead? Not even close. 
The BlackBerry mobile brand may have been passed around like a 90s popstar whose comeback concerts only sell a few hundred tickets, but it has been making new phones every year since the Good Old Days. You might just not have heard of them.
In the last year or so, things have started to turn around though. The BlackBerry KeyOne was a surprise hit – if not in terms of sales, in terms of interest and reviews. The BlackBerry Key2 jazzes it up with a tweaked keyboard, newer insides and a prettier design. 
People may make fun of the keyboard. And, sure, maybe many of you don't want one. However, bobbing along in a sea of familiar metal and glass rectangles, the BlackBerry Key2 is something truly different. It's worth celebrating. 
READ MORE: BlackBerry KeyOne review
Keyboard: take a shortcut
If you owned BlackBerry in the past, there's a good chance it was 10 years ago. Back in those days when we all got excited about new BlackBerry Bolds.
The BlackBerry Key2's keyboard is a lot like those of old BlackBerrys. Its keys have sloped edges so you can feel the spaces between them. And they use just about every millimetre of free space to make sure they are as comfy and as wide as possible.
In fact, they're 20% larger than the keys on the KeyOne, and that extra allowance for improving the typing experience is noticeable.
That said, if you're a die-hard fan who has clung onto BlackBerry phones by your fingernails over the years, switching back from a touchscreen feels real odd at the start. The keys seem small and fiddly. The muscle memory I once had after using keyboard phones has long since evaporated.
Most phone quirks take hours to get used to. This keyboard will take longer.
However, you'll gradually start top realise it's kinda neat. A gesture-based predictive text system lets you make up for typing wobbles. Suggested words appear above the keyboard. Swipe up in a line on the keys below and the Key2 will plug in that word.
The BlackBerry Key2 also enables more shortcuts than just about any other phone on the planet. Each key on the keyboard can be used to set off two gestures: one for a short press, another for a long press. That might be loading an app, calling a contact or even loading up the "recent podcasts" page in Podcast Addict.
In last year's BlackBerry KeyOne you could only use these shortcuts from the homescreen. With the Key2, you get a new action key at the bottom-right of the keyboard, to let you tap into your shortcuts from anywhere, and make multi-tasking much easier.
If a whole keyboard of shortcuts seems like overkill, you'll appreciate the Convenience key on the side. It can launch an app instantly on a press, or bring up a menu of up to three favourite actions you pick. It's now more easily distinguishable from the now-textured power button too, which makes it easier to use.
All these customisation options makes the BlackBerry Key2 feels like a true "pro" phone.
That means you will have to spend some time setting it all up, not to mention memorise all those shortcuts, to make best use of it. But the BlackBerry Key2 is a phone for nerds, the kind who actually learn all the possible shortcuts in Windows and MacOS, and actually use them. And who are we to turn our noses up at a bit of nerdery?
Features: Productivity warrior
You don't have to be an uber-nerd to appreciate other parts, though. The BlackBerry Key2 has an unusual fingerprint scanner built into the spacebar. It's not the fastest in town, but does work well.
The keyboard can be used as a trackpad too, letting you scroll up and down menus and articles with a light brush across the top of the keys, going a little way to make up for the screen you lose for having the keyboard.
Ask the average person who BlackBerry phones are (or were) for, though, and they'll tell you it's business folk. And sure enough, if you fancy making emailing your boss one of the keyboard shortcuts, you can go right ahead.
However, it's the BlackBerry Hub software that'll probably prove most useful here. Flick from the side of the screen and a neat display of tabs for your calendar, emails and daily tasks appears.
It's the organisational equivalent of the brain of an annoyingly successful CEO-type who gets up at 5am and posts motivational one-liners on Facebook. However, like the keyboard, the more you use it, the more useful it seems.
There's also the long-standing full Hub app at your service too, which gathers all your messages and accounts into one space: Gmail, SMS, WhatsApp, Facebook and others. Just like the KeyOne, the Key2 is a good fit if you want a phone that will help you be organised and get stuff done.
Almost everything it tries can be replicated with third-party apps, of course, but here it's all part of a neat, clean-looking BlackBerry UI.
There are impressive security features too, above and beyond those that other Androids have. Locker is the main one, which allows you to place personal files, photos and apps in a secure location that will not be shared with the cloud, and which will need a password to be viewed. Firefox Focus is also found here, which offers incognito browsing as standard.
Privacy Shade is perhaps the most unusual feature. It lets you block out your screen, other than a small, scrollable slither. That'll make it harder for those nosey people on the train looking over your shoulder as you read a personal email. Well, hopefully anyway.
Elsewhere, look past the BlackBerry stuff and the software looks fairly similar to standard Android 8.1.0.
Design: spot the difference
New and improved keyboard aside, there's no doubt the design of the Key2 looks to be very similar to the KeyOne. But there's been more done here than you might think.
For a start, the Blackberry Key2 is significantly thinner and lighter than the KeyOne, at 168g and 8.5mm thick. It feels normal in the hand, while the KeyOne seemed tubby. Its black version looks ultra-smart too, and makes the KeyOne seem dated by comparison.
This still isn't a phone to make iPhone X and Samsung Galaxy S9 owners jealous, mind. The sides are Series 7000 aluminium, but the back is a diamond-bevelled soft touch plastic. It's very "BlackBerry", but not the most luxurious surface around.
The BlackBerry Key2 is also very clearly out of step with most design trends. The screen surrounds aren't ultra-slim, it has separate light-up soft keys and, obviously, relatively little of the front is taken up by the display (although it has been shunted upwards, to make space for the now larger keyboard).
Otherwise it's the same display we got in the KeyOne, in that it's a 4.5-inch 3:2 aspect IPS LCD. At 1080 x 1620 pixels, it's plenty sharp and colours are vivid.
However, it's a bad fit for just about everything £579 phones are usually great at. High-end games feel strange to play. The "lopsided gamepad" effect is bad enough, but you'll often accidentally boot yourself out of the action by grazing one of the soft keys.
Video isn't much better. Play back a 16:9 movie and you'll see black bars above and below the image, making the small screen even smaller. This is a phone very much focused on productivity rather than playtime.
That said, the BlackBerry Key2 is still perfectly happy to dish out the odd YouTube video, and casual games played in portrait aspect play just fine.
Every game runs fine too. The Key2 has a Qualcomm Snapdragon 660 CPU, which is a mid-range processor that gets surprisingly close to last year's flagship Snapdragon 835. Sure, most phones at the price are more powerful, but what's it for if the phone isn't meant as a gamer's device?
The Blackberry Key2 is a bit better for audio now too. Its built-in speaker is solid: just about loud and thick-sounding enough, and not harsh at max volume. Plus there's a headphone jack, with improved bundled headphones included in the box to boot.
Camera: seeing double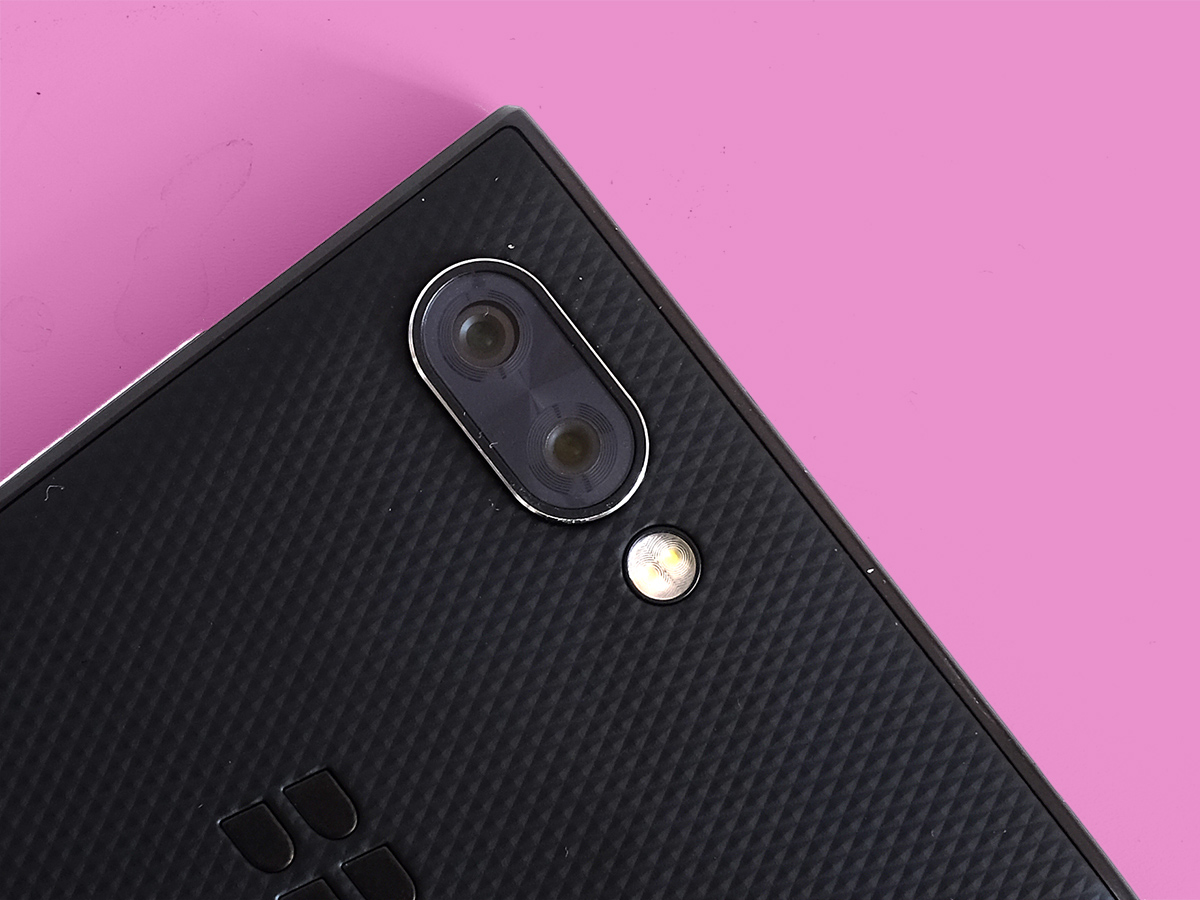 BlackBerry has never been a camera king, and that's still true today. Here, you get "good enough" quality in the cameras, with two 12-megapixel sensors, one a standard, the other a zoom.
Image quality of the zoom camera is a lot worse than its sidekick. They may have the same resolution, but the sensors and lenses are totally different. However, that you have the option of 2x zoom without using blurred digital stuff is still welcome.
In good lighting the Key2 can take some great shots. However, images do seem a bit more variable than those of, say, the OnePlus 6.
This phone doesn't have the clever dynamic range tweaking of the best, which often leaves you with some blown highlights or very shadowy-looking darker areas. Night shots are poor too, because there's no ultra-clever processing or optical stabillisation. Give the phone a nice simple scene to capture, though, and it'll do the job well.
You also miss out on some of the video features of the top performers. The BlackBerry Key2 can shoot at up to 4K, 30fps, but then you trade away stabilisation, which you only get at up to 1080p 30fps. These are mid-range chops at best.
Selfies are no more than acceptable too. They are much softer, less detailed, than those of other higher-quality 8MP front cameras.
This isn't a phone for photography or video streaming obsessives, then. But the 2x zoom is fun to play around with all the same.
Battery life: Long lasting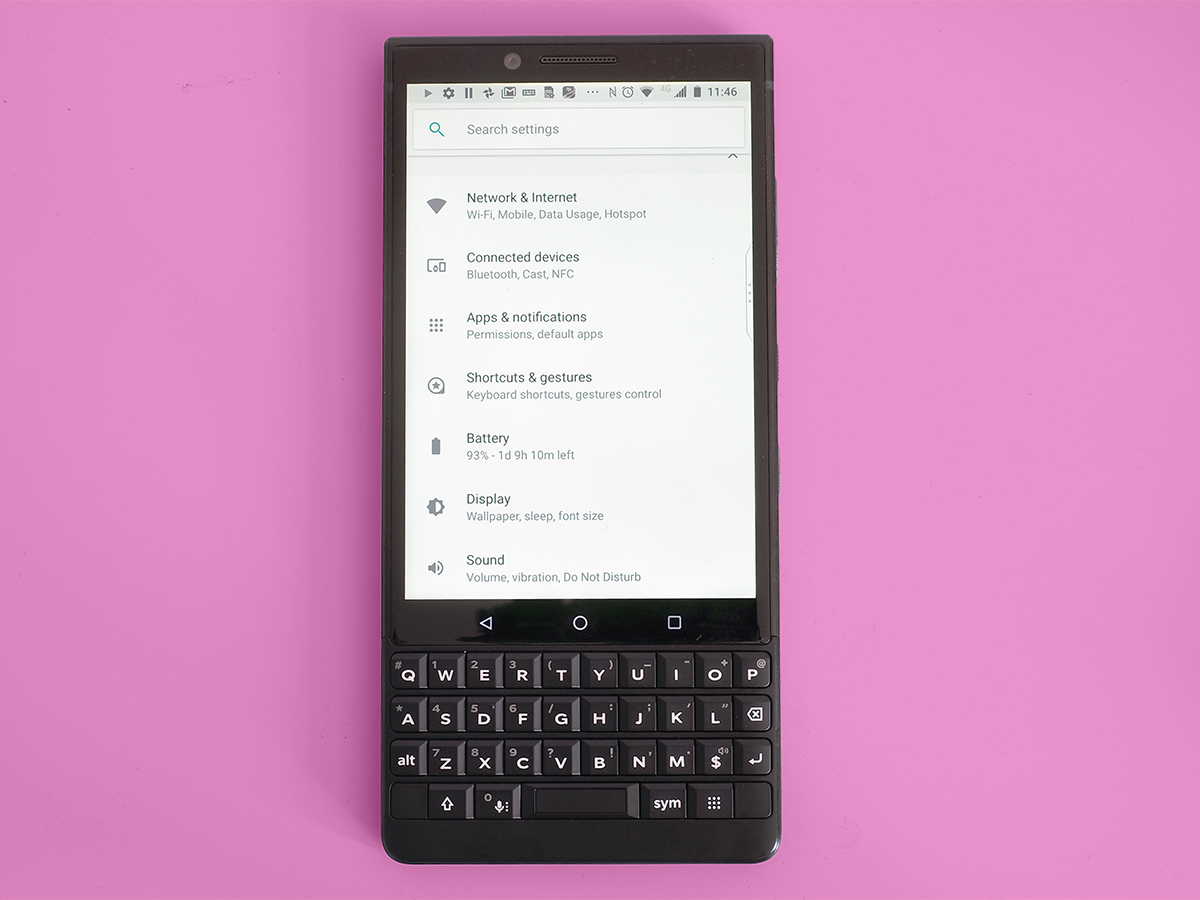 The BlackBerry Key2 continues the trend for long-lasting BlackBerry phones. It has a 3500mAh battery, just 5mAh less than the old KeyOne.
This may not be a mind-glowingly large unit, but it's big for a phone with a 4.5-inch screen. And stamina is in, say, the top 25% of phones at the price.
On one day when we didn't abuse the BlackBerry Key2 too much, it had 47% charge left by bed time. It doesn't always end quite that well, but even on heavier days you should end up with around 20% left. You don't have to worry about this phone conking out by the time you finish work.
It'll last two days if you don't stream video, too much audio or have to take hours of phone calls like an old-school BlackBerry-fondling CEO.
The BlackBerry Key2 supports fast charging, like every higher-end phone these days. It's QuickCharge 3.0 rather than the newer 4.0 standard, but will still get you charged-up in under two hours. There's no wireless charging, mind.
BlackBerry Key2 verdict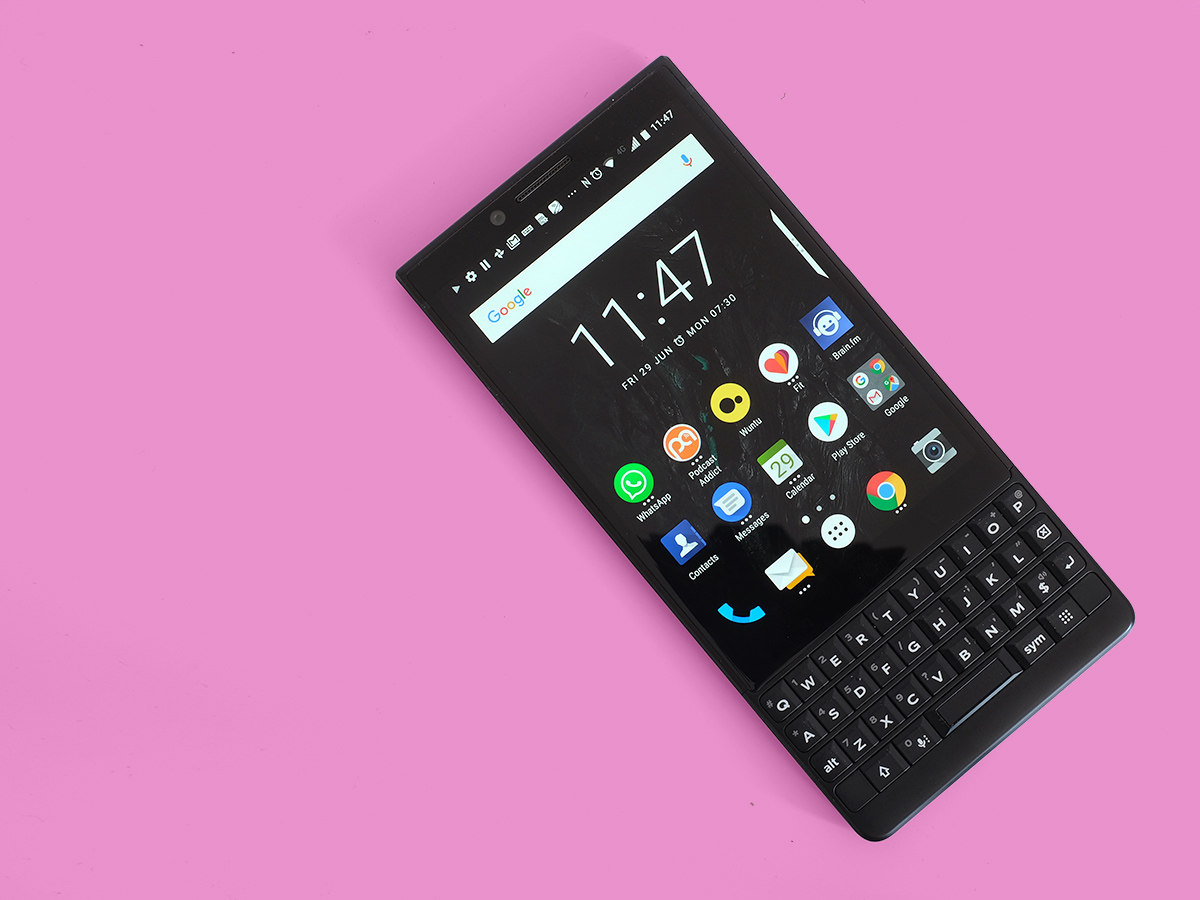 Do you miss BlackBerry keyboards? You'll probably like the BlackBerry Key2. Think they belong in 2008 like The Ting Tings and financial crashes? This one is probably not for you.
BlackBerry has tried to squeeze every bit of use out of the keyboard, though, meaning it can be a control centre for the whole phone if you like. Just be prepared to give it at least a week to bed in – on day one it'll feel strange even if you used a BlackBerry back in the day.
Is this the phone we'd buy for £579? Probably not. We'd punt for something more multimedia friendly. But it does add more to the mobile scene than just another Android phone with a gimmick or two to set it apart. Even if you don't love the keyboard, it's not a gimmick.
It will clearly divide opinion though, and if your phone experience is usually reserved for gaming, movies and social media, it's probably not going to impress.
Need a workhorse to that puts productivity and security high on its priority list? Then the BlackBerry Key2 is one of the best you can get.
Stuff Says…
Phone keyboards aren't the future, but the Key2 is more interesting and worthwhile than "just another" Android
Good Stuff
Good battery life
Improved design & better keyboard
Lots of customisation options
Bad Stuff
Fairly expensive
Screen isn't great for video streamers or gamers
Cameras are just ok