Bose SoundSport Free review
Bose's truly wireless in-ears fall just short of sporting greatness...
Proper wireless in-ear headphones are all the rage right now. Since the emergence of the opinion-splitting Apple AirPods we've seen a steady flow of rivals from the likes of B&O, Jabra, Samsung and Sony hit the market.
And now you can add the Bose Soundsport Frees to that list. In fact, we'd slot them in near the top of your list. The Frees manage to combine excellent sound quality, an impressive set of useful features and a fine fit in a sporty package. So "why only four stars?" we hear you cry. All will be revealed shortly…
Design: Rugged but chunky
Built with sporty types in mind, the Bose SoundSport Frees are both sweat and water resistant and have a suitably ruggedised feel to them. They're also, quite, well, chunky.
Their relative bulk means the Boses protrude from your ears more than some rivals – in the words of Yoda, discreet they are not.
Still, the contrasting Midnight Blue/Citron finish of our review pair is attractive enough. You've also got a shoutier Bright Orange/Midnight Blue colourway or a more sedate Triple Black option.
The headphones are secured by Bose's StayHear tips. The 'wings' come in small, medium and large sizes and they rest against the inside edge of your ear for extra stability. We found comfort levels decent although this can obviously vary from person to person. If in doubt, try for yourself.
Features: fully stocked
Despite their obviously sporty undertones, the SoundSport Frees still have more than enough in their locker to appeal to both gym-bunnies and casual commuters.
Why? Well, they boast five hours of battery life which should be enough to get you to work and back and still leave enough in the tank for a HIIT session.
Then you've got the solid plastic carry case which doubles as a charger and blesses you with an extra ten hours of power.
Drop the headphones into their relevant moulded slots and they'll charge using the contact patches which run along the bottom of each earpiece. Don't worry about the headphones moving around in the case and not charging – they're held in place magnetically.
On the front of the case you'll see a row of five LED lights. Give the button/release catch on the front a quick press and they'll light up to show you how much juice is left.
You can't physically switch the headphones off. Placing them in their case automatically cuts power or you can set a timer using the Bose Connect app so they can still switch off if you don't have the case to hand.
On the right earpiece there's a full array of controls for playing music from your smartphone. Some rivals only offer basic track skipping and play/pause. The Soundsport Frees offer all these plus the ability to change volume.
The buttons are built into the top edge. Press the raised bumps at either end to move the volume either up or down. Press the flat surface between them once to play, pause or answer a call.
Functionally it all works fine, although the rubber used for the volume buttons is quite tough and hard – we couldn't really say they're pleasant to use.
To start the pairing process you'll first need to download the Bose Connect app for Android and iOS devices.
The app holds your hand from the start, offering you the opportunity to rename the headphones and check out the user manual.
The Boses also offer a feature called Find My Buds. Similar to to Apple's Find My iPhone, which works with the AirPods, if you happen to misplace either earbud, the app can show you its location on a map. You can even get them to ping a distress signal when you're in the vicinity.
Sound quality: bold and balanced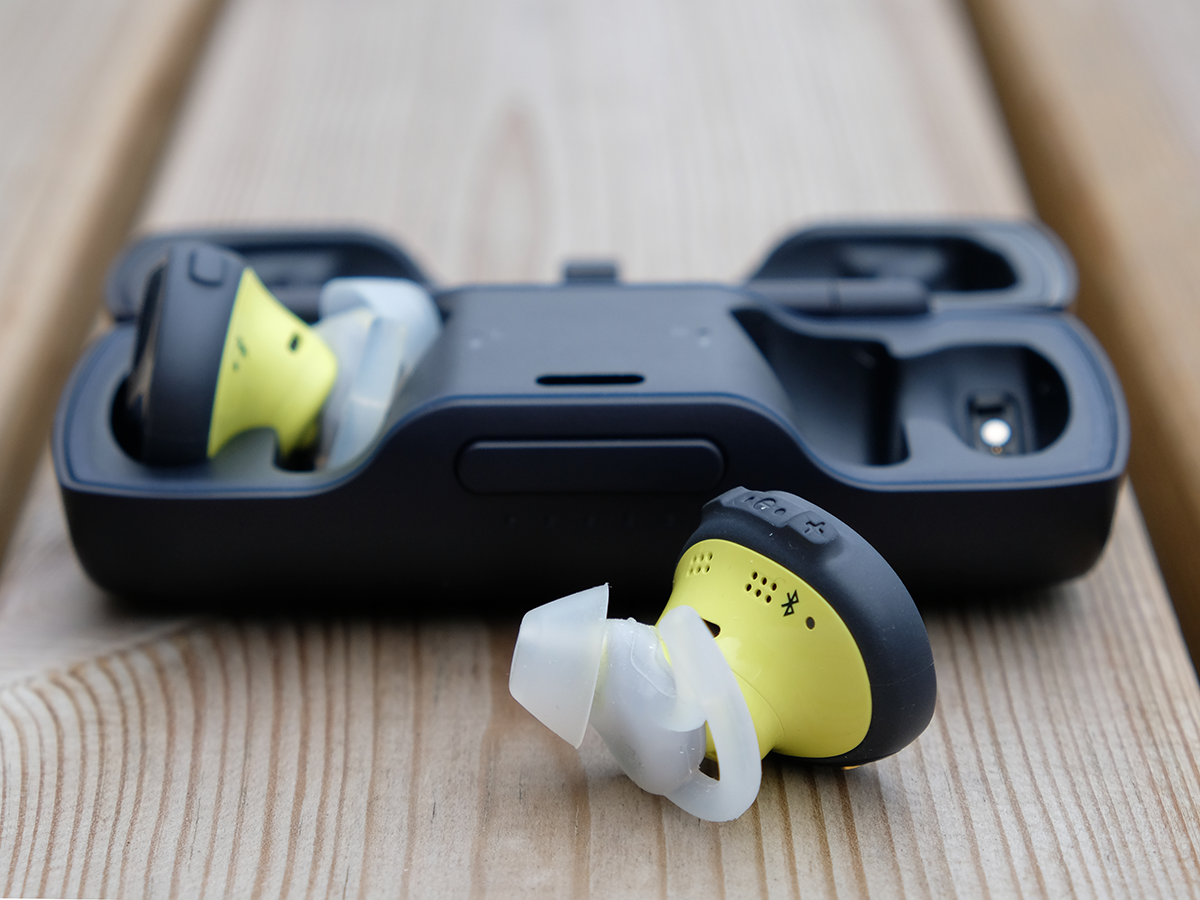 While some in-ears burrow into your ear canal for extra isolation, the Bose SoundSport Frees manage to create a good seal without feeling too invasive.
Unlike the Sony WF-1000Xs, the Frees aren't noise-cancelling, so they will let sirens, bells and car engines register in your ears. Whether this is a good or bad thing depends on your requirements, but it doesn't distract from the quality of sound being fed into your ears.
The Bose SoundSport Frees deliver a flavour much in keeping with other Bose wireless in-ears such as the SoundSport Wireless. We're talking a bold but balanced sound with rich and weighty bass.
They deliver a solid and unwavering presentation which works well across a wide range of music genres. Highs aren't wrapped in cotton wool, nor do they sound excitable or bright.
Play The Weeknd's The Hills and you couldn't accuse the SoundSport Frees of lacking low end authority. The tune's deep and forboding bassline hits with serious force and drives the song along with a real sense of purpose. It's tight and well-defined – the shifts in weight and depth easy to differentiate.
Highs sound intentionally splashy and crisp but there's no harshness messing with the sound. The SoundSport Frees also synced audio and video without any major issues – we used a handful of YouTube streams on a MacBook Pro and Netflix on an iPhone 8 Plus and everything seemed present and correct.
Reliability: missed connections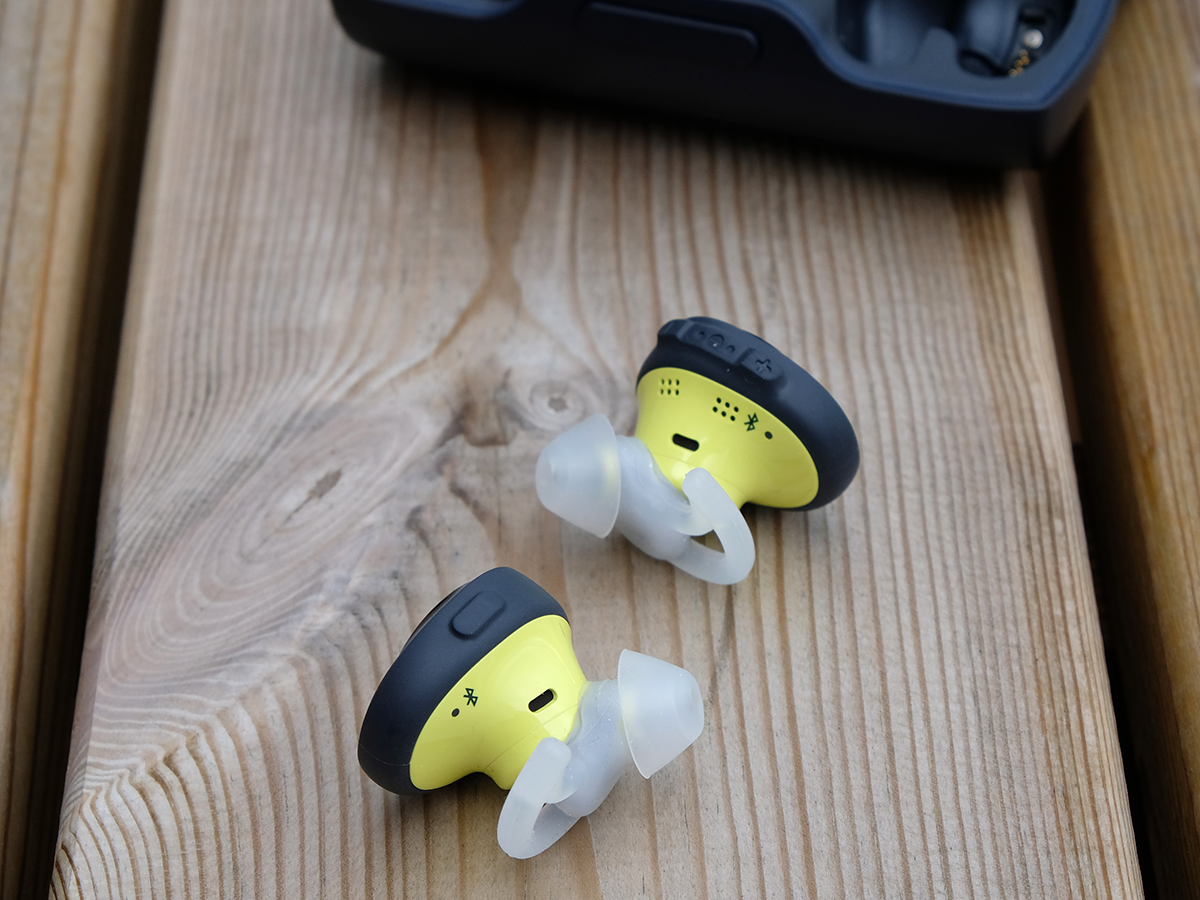 So far, so great, right? Unfortunately, the Bose SoundSport Frees have a sizeable chink in their armour. In our time with them, the left and right earpieces lost their connection to each other on multiple occasions.
During one particularly unmemorable stroll through town, the number of disconnects hit double figures. The connection jumped back in other almost instantly, but it was far from ideal. We even asked Bose for a second pair to see if it was an isolated incident.
While the replacements fared better, the issue didn't disappear entirely. If you spend a lot of your time surrounded by wireless products or in built-up areas that might interfere with the connection, you might want to give the Frees a go and see how they fare.
The Frees aren't the only wireless in-ears we've tested to suffer from dropout, but we can't use this as an excuse.
With Apple's AirPods, although sound quality is lacking, you're still guaranteed a virtually rock solid connection.
Bose SoundSport Free verdict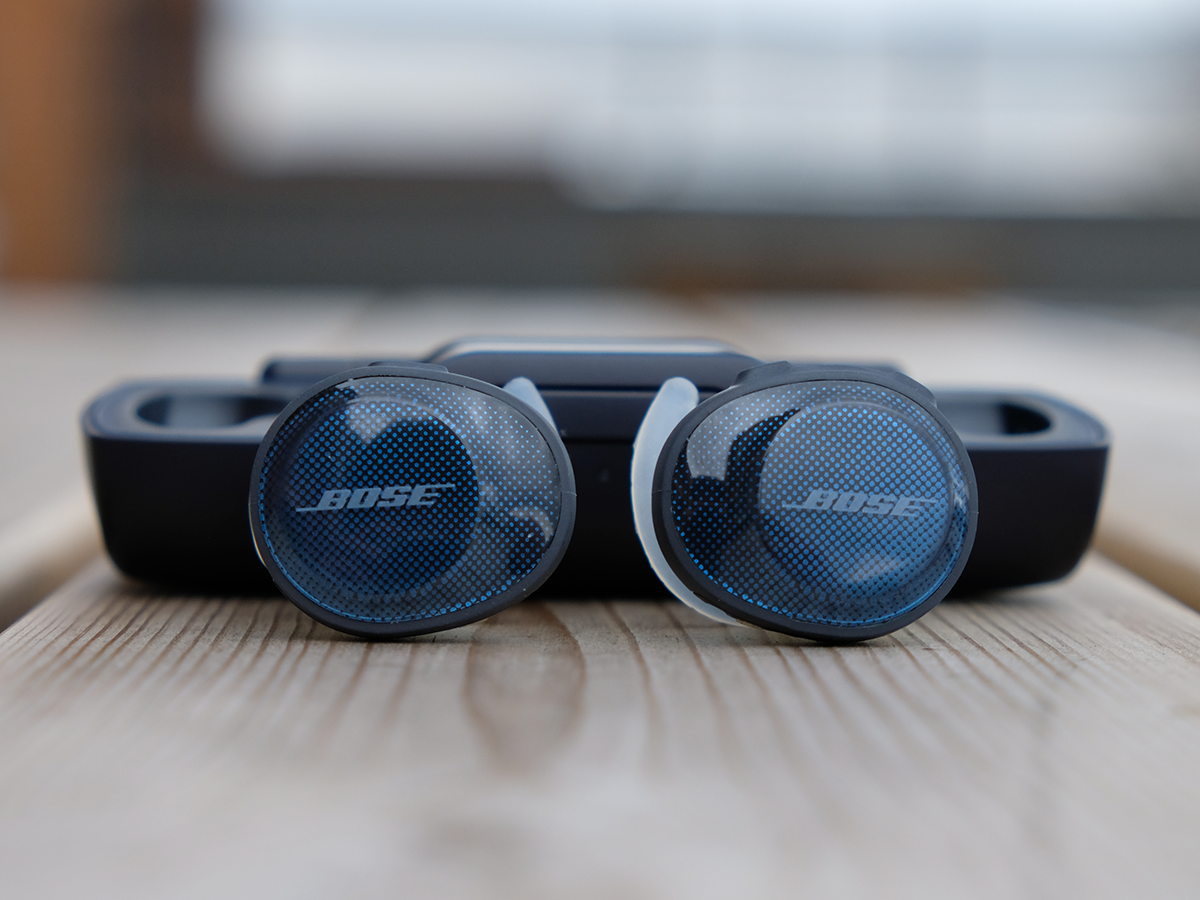 So, the good news is that the Bose SoundSport Frees can give the very best wireless buds a serious run for their money.
They sound the business and their feature-set puts some rivals to shame. But. And it's a big but. The fact they have a tendancy to drop-out puts a dampener on your listening experience and we've no option but to hold back that fifth and final star.
Stuff Says…
They'll wow you with their sound quality and features, but it's hard to ignore the Frees' sometimes flaky connection
Good Stuff
Deep, powerful bass
Nicely balanced and rounded sound
Impressive battery life
Find My Buds feature
Bad Stuff
Wireless connection between earbuds can be flaky