Canon EOS R review
Canon have taken a seat at the full-frame mirrorless table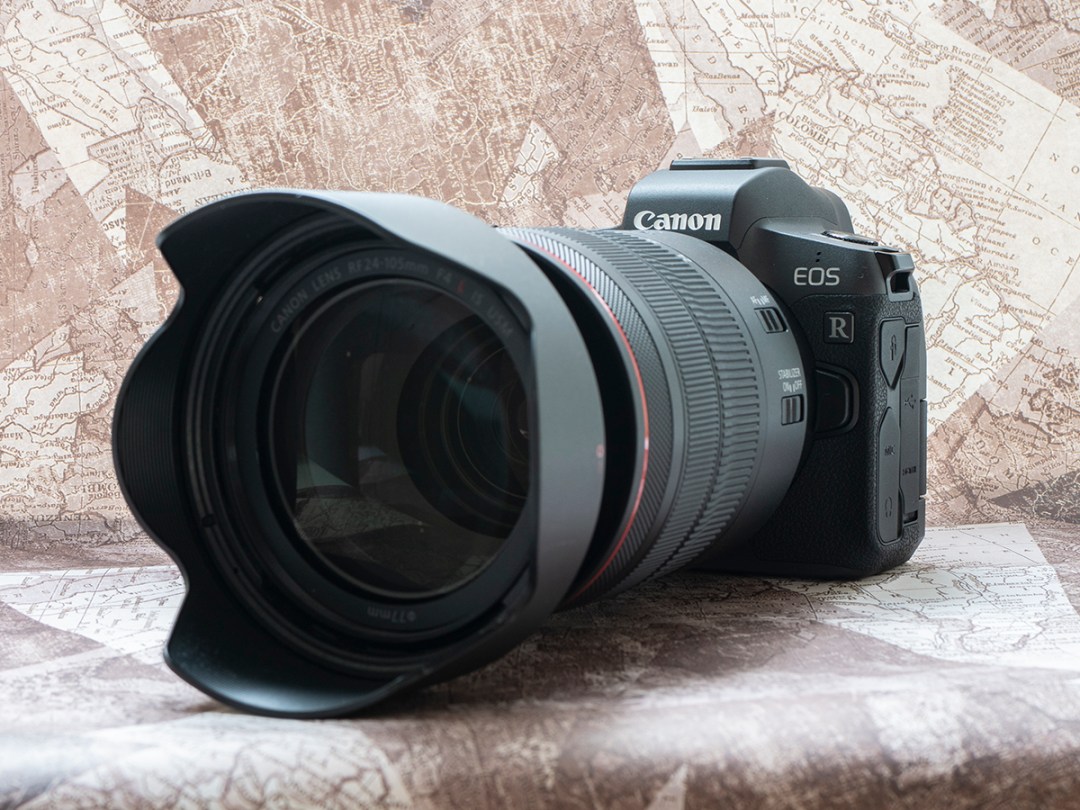 It came as no surprise whatsoever that Canon debuted its mirrorless full-framer just a couple of weeks after Nikon unleashed the Z 7. After all, with Photokina in the calendar for September, companies tend to come out with all guns blazing.
If you're a Canon DSLR owner, you might feel as though you've been waiting for this for some time – in fact, it's been almost 5 years since Sony first entered the fray with its full-frame mirrorless A7 cameras.
Since then, Canon has gone mirrorless with the M series, but for most pros, that never really felt like enough – especially given the use of the smaller APS-C sized sensor. Step forward the EOS R – but has it got it right, or is it a case of "what else have you got?".
Joining the 30.3 megapixel sensor is a range of features which sound appealing on paper – an ISO range of 100-40000, a silent shutter, 8fps continuous shooting, 4K video recording and the ability to focus in very dark conditions.
Design: Honey I shrunk the DSLR
The Canon EOS R looks and feels like one of Canon's DSLRs – no surprises there, as Canon was probably never going to stray too far off the beaten path. The main difference being the reduction in size, especially when compared to one of Canon's full-frame DSLRs, such as the popular 5D series.
Instead, the body design feels a bit like one of Canon's mid or entry-level DSLRs, such as the 80D. Retaining a fairly chunky grip is a good idea, and makes the EOS R feel balanced when using it with larger lenses. Making the decision to place the on/off dial (we say dial because it's round, but it only has two positions, so it's more like a switch) on the left hand side of the camera body is a bit of an odd choice for quickly turning the camera and on off.
That's especially true for a mirrorless camera where battery conservation is key. Otherwise, the dials and buttons are smattered across the body, with the vast majority being on the right hand side. There's a couple of customisable buttons, while the Q button gets you quick access to all of your oft-used settings.
A new feature for the EOS R is the touch-sensitive M-Fn Bar. It's a great idea in theory, giving you the option to control various settings, but again there's a placement issue. For me, it falls extremely close to where my thumb rests – having it control ISO means that on several occasions I inadvertently altered the ISO when I didn't want to. To get around this, you can set a lock which requires a long press of the left hand side of the bar first to get it going.
A joystick may have been a better use of this space, perhaps. Speaking of touch-sensitivity, the EOS R's screen is very capable. You can even use it when shooting through the viewfinder to set your AF point, which is very handy. It works best if you set the "Touch and Drag" active touch area to not cover the whole screen – otherwise your nose is prone to accidentally change the point, not something you want when photographing a fast moving subject.
The screen is also fully articulated, making it useful for videographers, as well as composing images from awkward angles. Other cameras in this category use a tilting screen, which is arguably quicker for some shots – but precludes awkward portrait format shooting, so it's very much swings and roundabouts.
If there's one thing we'll take away from this year's launches – it's just how passionate people are about having a second memory card slot. Just like the Nikon Z 7, Canon has controversially plumped for just one here – and what's potentially worse (in terms of speed and robustness), it's an SD card slot.
Still, if you've got stacks of SD cards lying around, at least that's no additional cost – and it's cheap to pick up extras, too.
Features: Low light focusing a go go
Electronic viewfinders still have a bit of a bad rep, but these days that's mostly undeserved.
The device found here on the EOS R is an example of a superb electronic viewfinder, and many are starting to appreciate the benefits that going electronic brings. Namely, being able to preview how your images will turn out, see a playback of your shots for quick checking and being able to magnify your view of the scene. Just like Nikon with the Z system, Canon has debuted a new mount for its all-new mirrorless full-frame model.
So, we've used the adapter with some EF lens and had almost no issues – for the most part they seem to work exactly as it should.
The one exception being when trying to shoot at f/1.4 with my 50mm f/1.4 EF lens when using silent mode. When I attempt to take a picture, the camera completely freezes up and will only work once the battery is removed.
The problem doesn't present itself when not using silent shutter, or indeed when using the lens at narrower apertures – so it may well be an isolated incident. As for native R lenses, the range is a little limited for now – but is sure to grow exponentially as the system matures.
The 24-105mm f/4 is a good option as a "kit" lens, giving you a good range of focal lengths to suit lots of different situations. Silent mode is something which is facilitated by the lack of mirror.
For anyone that's been using the plethora of other mirrorless cameras that have been on the market for the past 10 years, it won't be anything new or exciting, but if you're coming to this from a Canon DSLR you may appreciate a new way to shoot discreet situations, such as weddings or quiet sports moments. Focusing is quick and accurate.
The EOS R has the ability to shoot in very dark conditions, and indeed it locks onto the target with very little "hunting". Focusing is quicker with an red AF beam enabled, but even with that switched off (for discreetness), focusing is impressively swift.
As is usual for modern cameras, 4K video recording is included with the EOS R – but like the 5D Mark IV, it comes with a 1.7x crop, which feels like a missed opportunity for most serious video shooters.
Battery life is rated at 370 shots – in real-life shooting scenarios, you're likely to get far more than that, depending on how you're shooting, but it doesn't come close to matching what a DSLR can offer – in other words, if you're using the EOS R as a pro camera, you're going to want to invest in additional battery.
Everyone else will probably find that it lasts a full day in most ordinary situations, but those who like to shoot particularly intensely would be wise to also invest.
Image Quality: Sharp, vibrant and every-inch a classic Canon
If there's one thing that wasn't going to be in any doubt, it's the quality of images produced by the Canon EOS R.
It's hard to find problems with what the sensor is capable of creating – images are vibrant, with pleasing colours that are typical of Canon sensors, and plenty of detail. The all-purpose metering gives precedence to the light source under the active AF point, which can lead to some skewed exposures when shooting in very high-contrast situations, but otherwise exposures are generally well-balanced.
Dynamic range is excellent, with wonderful skin tones. Working with the images you'll be hard pushed to know whether you're dealing with files from this or the 5D Mark IV, which is reassuring for DSLR users.
The fastest the Canon can shoot at is 1/8000, even with silent shutter mode enabled. We'd really like to see the ability to shoot at faster speeds, for shooting at wide apertures in bright light – it's one of the advantages mirrorless cameras can bring (see Sony's output), so it's a shame not to see it utilised here.
If you find yourself shooting portraits in very bright light (a rarity in the UK, granted), an ND filter, or shooting at wider apertures will be necessary to get balanced exposures. Low light image quality is also great – with usable images right up to the top of the native ISO range (40000).
While it's not likely you'd want to make large A3 prints from very high ISO shots, if you're using them online or printing small, they'll see you right. Keeping to below ISO 12800 is recommended for best quality, if you can.
We've not yet had chance try the other new native RF lenses, but the 24-105mm f/4 puts in a great performance, producing images which are lovely and sharp across the frame. It makes sense as a "starter" lens if you want to have at least one which you can use without the need for an adapter.
There's no image stabilisation system inside the body of the Canon EOS R – we haven't found image shake to be too much of an issue when you're using stabilised lenses, but it's something to watch out for when shooting handheld in low light – and a shame to see it missing compared to others in the mirrorless full-frame sector.
Canon EOS R verdict
Perhaps it's something to do with the fact that we've been waiting what feels like a heck of a long time for Canon to come up with the goods and produce a full-frame mirrorless, but we can't help but be just a little underwhelmed by the Canon EOS R.
While it produces excellent images, some aspects of the handling leave a little to be desired, and there's nothing here that will really blow you away.
Making the decision to go for a single, SD card slot is going to disappoint quite a few, while cropped 4K video is likely to put off videographers.
Overall, the EOS R feels a little bit like proof that Canon is listening and working to produce mirrorless models. It seems likely that a more advanced model is in the works for professionals, while perhaps something cheaper and more basic will also be released along the line too – for now the EOS R occupies a sort of no-mans-land.
It'll be interesting to see how many Canon users jump ship to this, and whether it can claw any back from those who may have already bailed and gone to Sony – watch this space.
Stuff Says…
A good first attempt, but it doesn't blow us away – Canon will need to up its game for the next iteration of the R series
Good Stuff
Great image quality
Fully articulating screen
Custom controls
Bad Stuff
Single SD card slot
High price
No in-body IS