Citroën C3 Flair S&S BlueHDI 100 (2017) review
Can a built-in dash cam and plenty of tech add-ons make Citroën's urban hatchback update a hit?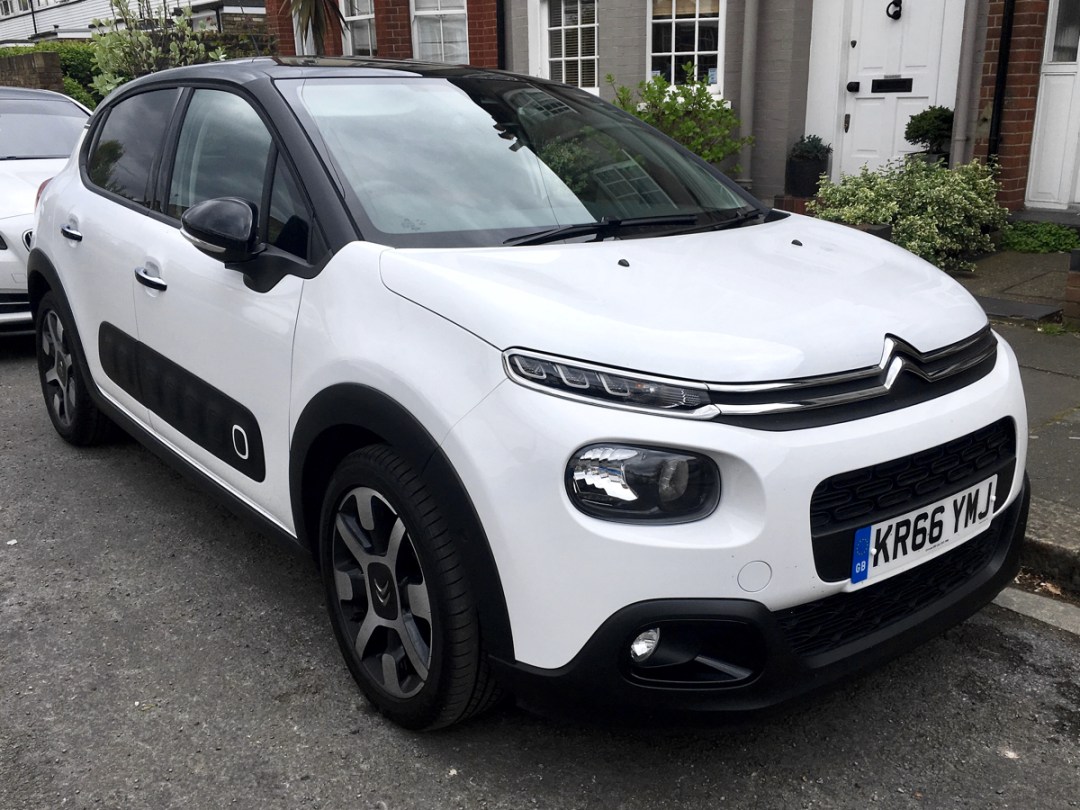 So, you want a small but spacious hatchback that's stylish, comfortable and reasonably speedy – but you don't want a Ford Fiesta. What do you buy?
After a week with the 2017 update of Citroën's C3 – a compact urban runaround styled like a shrunken SUV – the answer's clearer than you might think.
See, while the French marque's latest supermini doesn't do speed or aggression in quite the same way as a Fiesta – or, indeed, a Vauxhall Corsa – it more than delivers on comfort, style and cruising pace.
Throw in a clutch of driver aids – not to mention a stellar infotainment system and that all-new ConnectedCAM dash camera – and you've a hatchback to be proud of.
Want to know why? Read on for our full review of the Citroën C3 Flair S&S BlueHDI 100.
Big city wheels
Catch sight of the C3 and, from a distance, you'd be hard pushed to think it was a city hatchback. This thing is styled like a hunkered-down SUV, with a chunky front, thick pillars and a sturdy stance.
Sit inside the new C3 and you'll initially feel a little lost, what with the high, relatively flat bonnet feeling fat in front of you and A pillars that can seem quite obstructive around right-hand bends. The steering weight doesn't help, either, with inputs feeling much too light and airy at low speed. At higher speed it's much weightier, and that low-speed lightness is welcome in car parks – but through traffic it can be pretty disconcerting.
Handling can be a little spongy, too, with a little body roll through corners and around roundabouts – but that all goes to the raison d'etre of the C3: comfort. This is a car that you'll be happy to spend hours in.
Upholstery is finely finished, while the suspension is excellent at absorbing B-road bumps and general roughness. It's a fantastic car to cruise in, with firm yet absorbing seats, a spring setup that's smooth but just responsive enough to be enjoyable – and more than a splash of style to be found throughout the interior.
Throw in a spacious boot and handy touches throughout (though the glovebox is next to useless) and you're left with a car that'll happily take four up to Yorkshire without too much discomfort.
Working for motion
That's not to say, mind, that the C3 – in it's BlueHDi 100 iteration – doesn't know how to get moving. While it'll cruise happily and quietly for hours, with a forgiving combined fuel economy of 76.3mpg (we averaged closer to 68mpg), it'll also get racey if you ask it to.
Its 1.5l diesel engine provides plenty of low-end torque, with good grunt through the mid-gears that'll see you happily out-dragging unsuspecting hatchbacks off roundabouts – and you'll rarely feel underpowered coming up the slip road.
You will be working hard at lower speeds, mind, as we found the low-end gearing to be pretty short, with the threshold between first and second a constant source of frustration when queuing on the North Circular.
Similarly, hovering around 25mph will see you regularly shifting between second and third gear – which is only more annoying given the slight clunkiness and narrowness of the gearstick gates themselves.
All the same, the C3's gearbox just about achieves an enjoyable blend of low-speed raciness with capable top-end cruising, aided by a turbo that, despite slight lag in third, gave it a nice punch through the 40s.
Here to help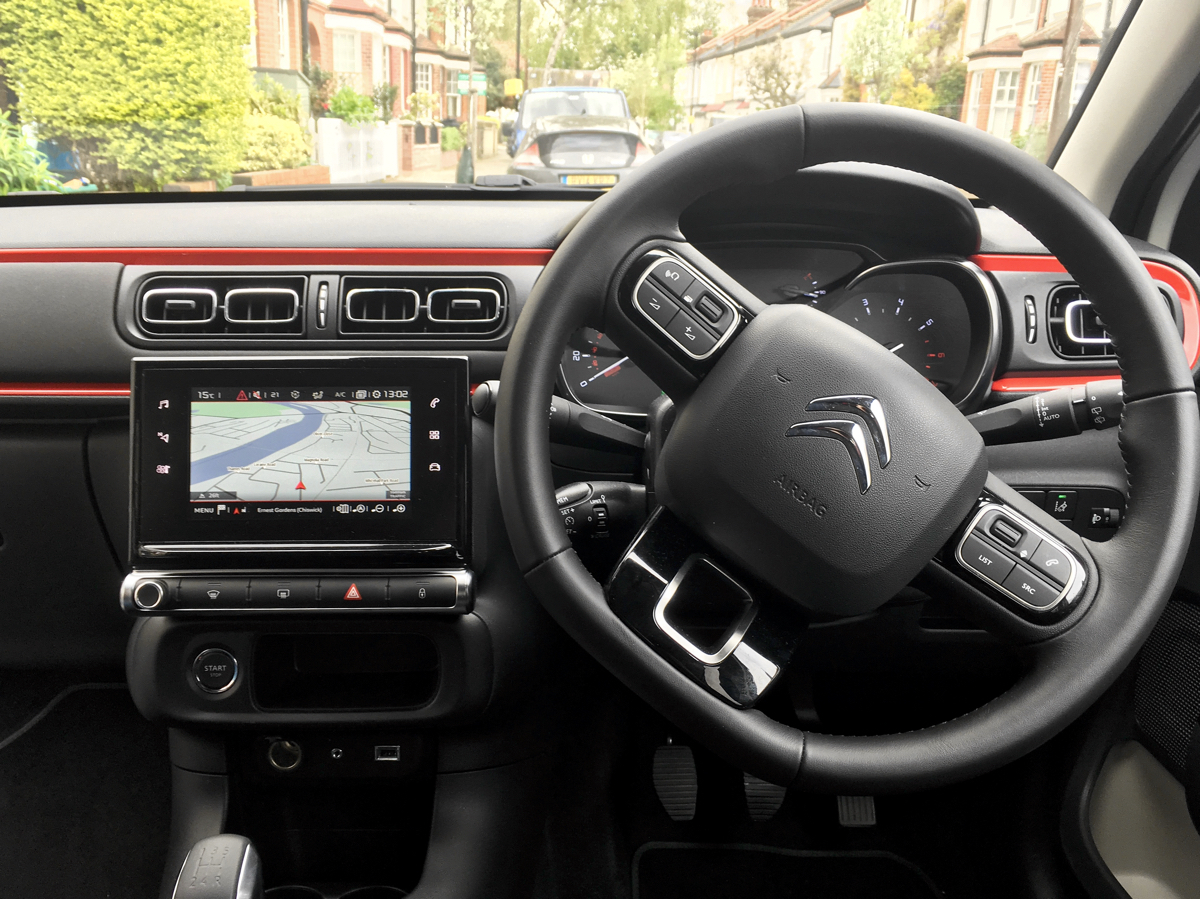 When you're not working the gears, you'll definitely feel like the C3 is on your side, what with its collection of useful driver aids. If pared-back and connected is how you like your motors, the C3 isn't one for you. For new drivers, though, and those who like a comfort blanket while they roll, the C3 offers plenty.
The reversing camera, for example, paired with the optional 7-inch touchscreen, proved a treat to use and made easy work of tight multi-storey bays – while the likes of automatic wipers and headlights take several tasks away from the driver.
Similarly, the optional blind-spot monitors – which appear as little orange lights in your wing mirrors when someone is overtaking – were a small but welcome addition, particularly given the sense of chunkiness which sometimes belied the C3's relatively compact proportions.
There's also a useful hill-start assist function, which holds the brakes for a couple of seconds after you release the clutch, and a lane departure warning system, together with stop-start tech with brake energy recovery.
Yes, at times it can feel as if there's a lot going on in the cabin, what with various beepers, lights and modes to set up – but, if you're buying the C3 for comfort with a dash of speed, you'll likely welcome their presence.
A dash of smarts
Speaking of which, there's no escaping that 7-inch touchscreen in the centre of the C3's dashboard. It dominates surroundings, and plays home to the infotainment system, many of the driver and vehicle settings, as well as environmental controls and the satnav.
All of which means you'll be using the screen. A lot. Once you're used to where everything lives (aided by the shortcuts along either side) you'll find it a relative cinch to navigate – but its position isn't ideal for full concentration while driving, and it's almost entirely out of your line of sight as a satnav.
That said, the dimensions of the screen mean you'll have little trouble scrolling through various options. Taps on the display need to be firm, but it's responsive enough not to distract you when you're at the road – though for certain functions (namely adjusting the temperature) we occasionally hankered for a traditional button setup.
It's Apple CarPlay enabled, too, so you can hook your iPhone up to the display for media and calls (with handsfree and audio quality generally proving excellent). For non-iPhone users there's DAB radio built-in, but no Android Auto (yet).
While playback controls sit on one of the (several) steering wheel control stalks, the one real gripe we had was that, if you're using the satnav, you'll need to switch back to the CarPlay screen to see what track is playing, as this doesn't overlay on other screens.
Generally, the system is enjoyable to interact with. Lag can be a problem if you're streaming music over Bluetooth and using the satnav, while the navigation itself isn't the prettiest – but the C3's digital interface remains accessible and easy to use.
Eyes on the road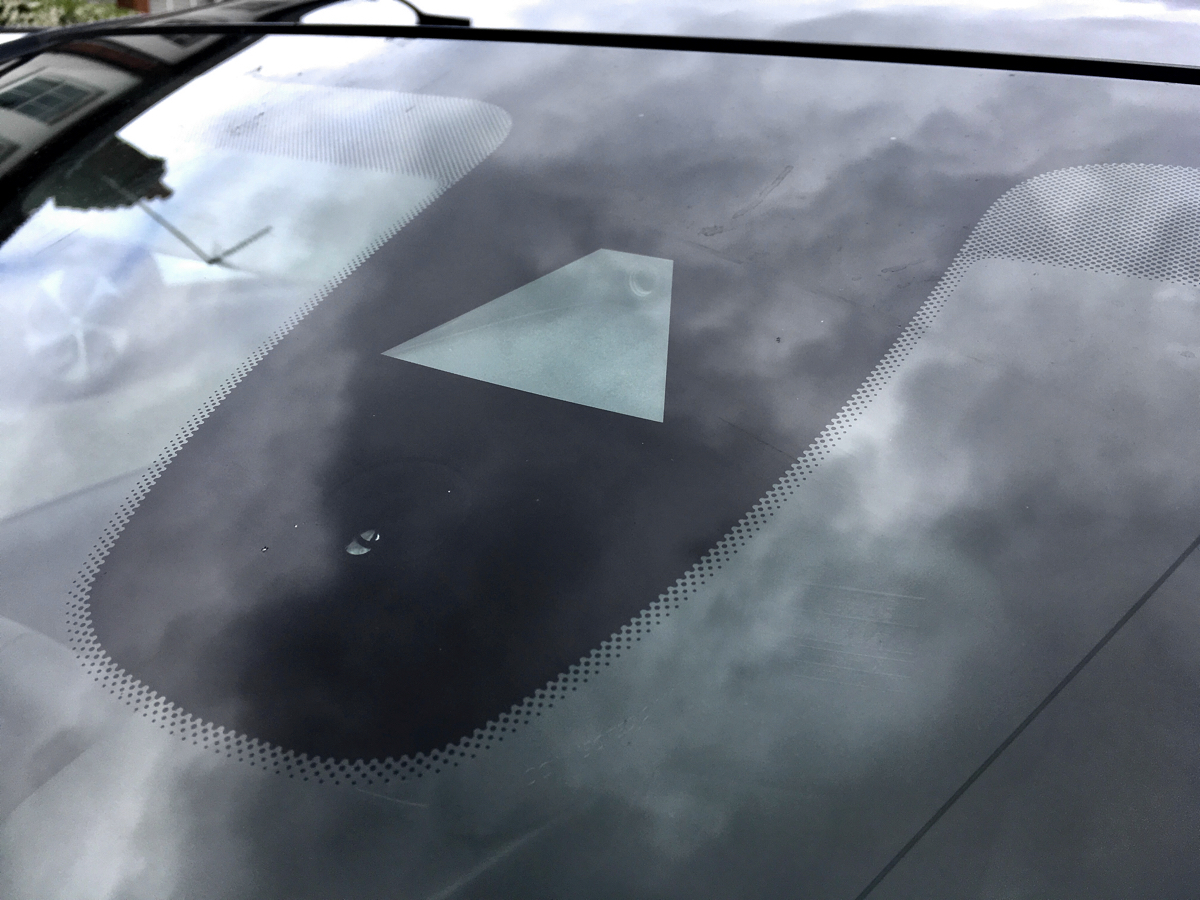 Once you've mastered the touchscreen, it's probably time to fire up the integrated dash camera – the ConnectedCAM.
This 120-degree wide-angle camera sits just below the rear-view mirror. Turned on, it'll record in full HD and, if you have a shunt, it detects the impact, records and saves footage from 30 seconds before and 60 seconds after the accident.
Thankfully, we didn't get chance to test that functionality. We did, though, use the ConnectedCAM's second capability, namely snapping pictures and videos, before sharing them to social media.
Finding the actual button to activate the camera requires a bit of fumbling, as it sits lower than you'd expected beneath the mirror. Once you've located it, a simple single press will take a photo, while a long press will capture footage for around 20 seconds.
Sharing the footage means connecting your smartphone to the ConnectedCAM's local Wi-Fi network. We had no problems doing this and, once you've paired the first time, your phone should automatically connect again in the future. You can set things up to share automatically or to download media manually; both worked seamlessly in our experience, and footage was bright, sharp and smooth – and superior to many a third-party dash cam.
How much day-to-day use you'd get out of the ConnectedCAM depends on how much you like to share – but we found it nifty for grabbing shots of fleeting moments (such as passing by Wembley Stadium), especially when driving alone.
Citroën C3 Flair S&S BlueHDI 100 (2017) verdict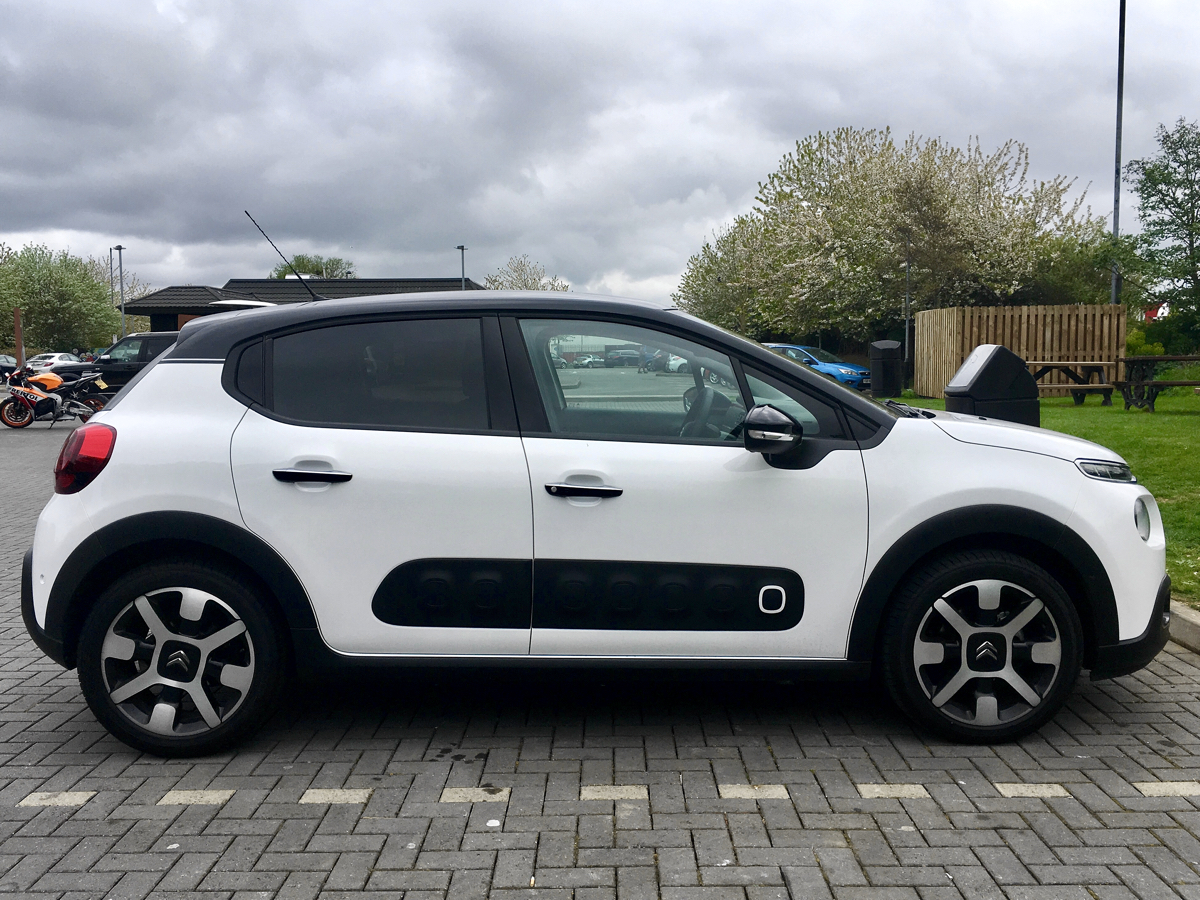 Citroën's new C3 in its Flair guise, then, is quite the package.
Equipped with a full suite of technology and driver aids, together with a comfortable interior and a suitably speedy engine, it's a consummate urban runaround for those who want a hatchback that puts comfort before ragged pace.
A turbocharger and good in-gear torque means you won't find the diesel C3 lacking in town or on motorway hauls, either, even if the lightness of the steering and the chunkiness of the build delivers a driving experience that's not the most connected.
Is it the sportiest supermini on the market? Not by a long way – but it's one of the most reassuring and comfortable to drive day-to-day, and it doesn't leave you feeling short-changed in any respect.
Tech specs
| | |
| --- | --- |
| Engine | 1.5l |
| Transmission | 5-speed manual |
| Power | 100bhp |
| Torque | 254Nm |
| 0-62MPH | 10.6sec |
| Top speed | 115mph |
| Economy | 76.3mpg (combined) |
| CO2 | 95g/km |
Stuff Says…
A chunky runaround with a full suite of smarts, mid-gear grunt and a clutch of comforts make this a clever and capable hatchback
Good Stuff
Feels nippy – especially when the turbo kicks in
Lots of useful driver aids, including blind spot warning
ConnectedCAM works – and is useful
Bad Stuff
Quick to run through low gears
Steering feels light at low speed
SUV styling and A pillars will be too chunky for some