DJI Smart Controller review
A superb but expensive add-on for the Mavic 2 drone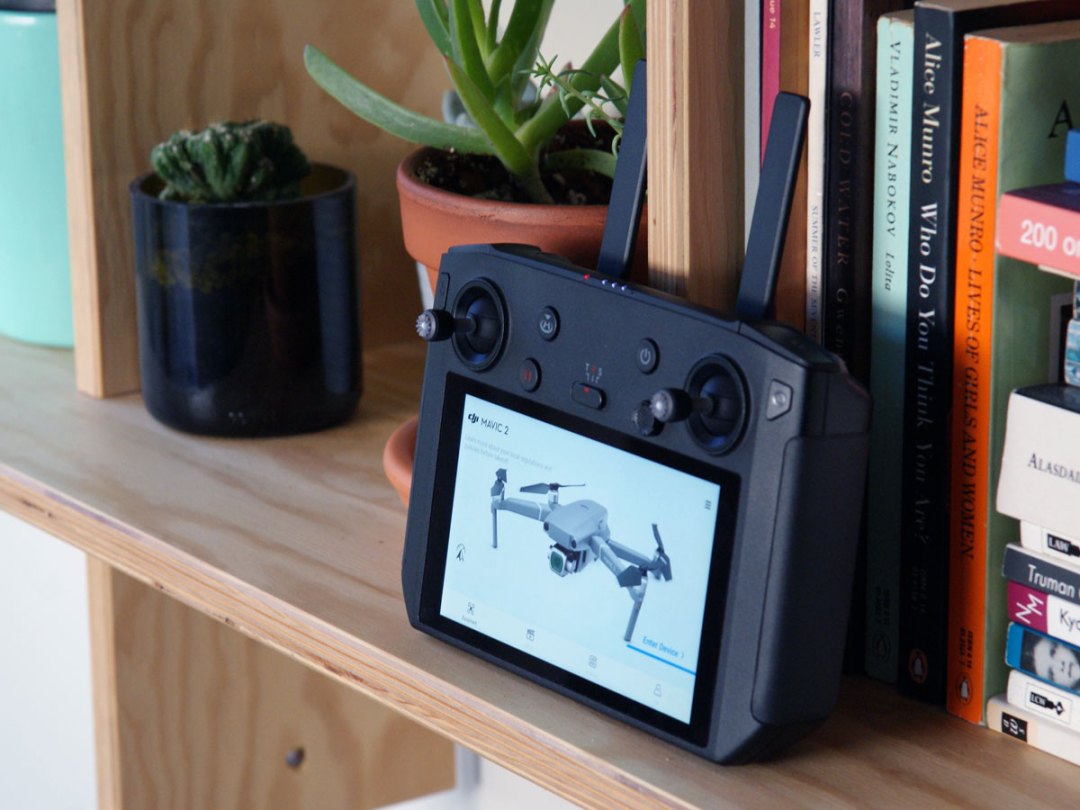 If you buy one of DJI's Mavic 2 drones – the superb Mavic 2 Zoom or the even better Mavic 2 Pro – you can pilot it using the bundled controller attached to a smartphone or tablet running the DJI Go app. But now there's another way to fly: the DJI Smart Controller.
Priced at a whopping £579 (or the equivalent of £430 if bought alongside either Mavic 2 model), the Smart Controller is a quality-of-life accessory that replaces the standard mobile-device-and-controller setup with something a little more professional, a little more ergonomic and a little more hard-wearing.
Is it worth all that extra cash, though? After a few days with the Smart Controller in our mitts, we're ready to tell you.
Design and build quality: so solid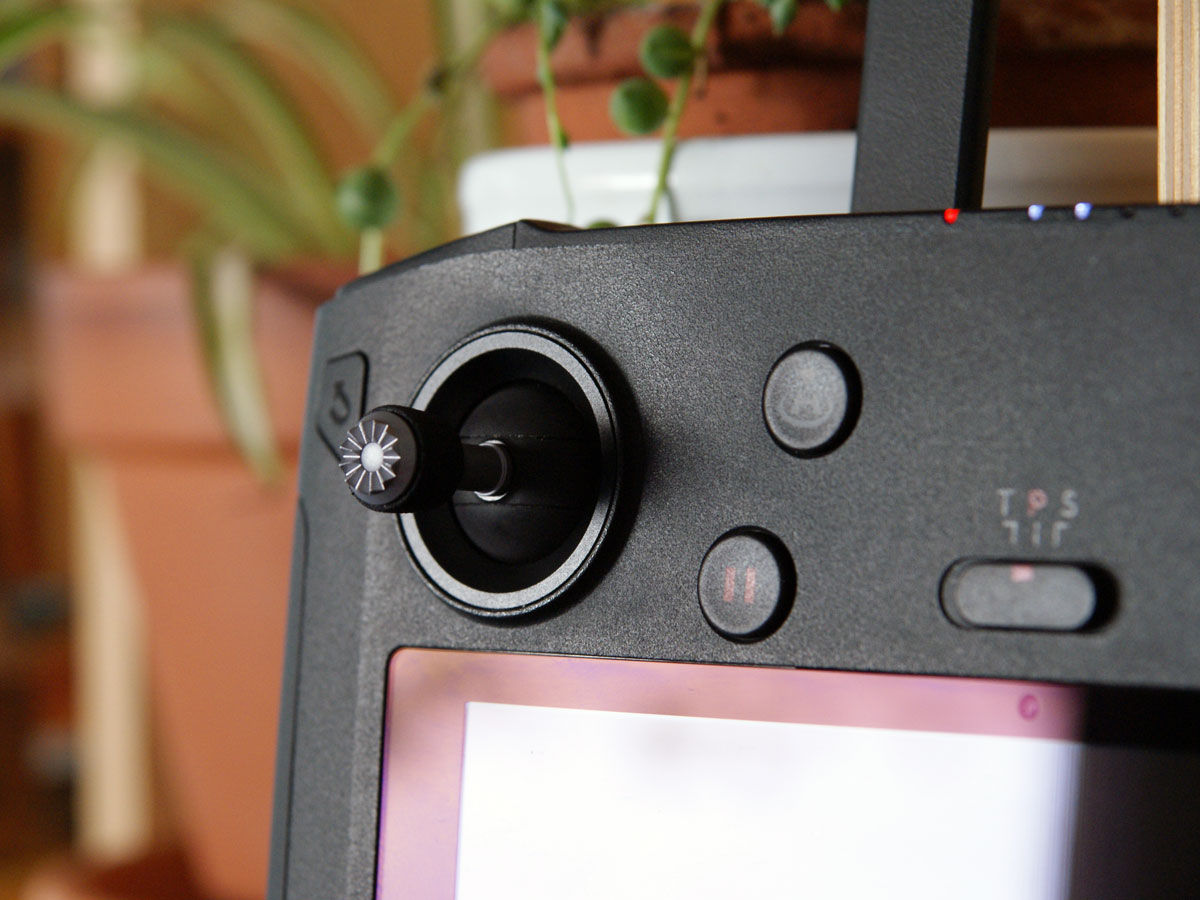 Made mostly of tough, non-flexing plastic, the Smart Controller feels like a premium piece of kit – in line with a high-end DSLR or tablet. It's utilitarian rather than stylish, but given its pro-centric pitch, that's to be expected – this is a workhorse for drone photographers and videographers, not a device for gadget peacocks to parade down the pub.
To that end, it'll work in extreme temperatures – everything ranging from -20ºC to +40ºC. It's a fairly large device but feels a lot better in your hands than the standard smartphone-and-controller setup. The buttons are spaced much more generously, which makes control less fiddly, and there's some pleasingly grippy textured material around the back to keep it securely in your grip.
There are a couple of a screw holes at the bottom, which we believe are there to accommodate future add-ons like neck and wrist straps. The controller feels weighty in a good way, but DJI has kept it fairly slim: unscrew the two metal thumb sticks (they can be stored behind the fold-down antennas) and it's just 40mm thick, with no protruding parts to get snapped off. In terms of the buttons and dials on offer, you don't get much more than you would on the standard bundled controller.
There are two new buttons that mostly relate to the UI, but aside from that the selection is exactly the same: two sticks for controlling flight; wheels for controlling camera zoom and tilt; photo and video triggers; a sliding control that toggles between three flight modes; buttons to make the drone return to home and stop immediately in flight; two customisable buttons on the back; and a joystick-like nib for moving cursors around on-screen.
Screen: the future's bright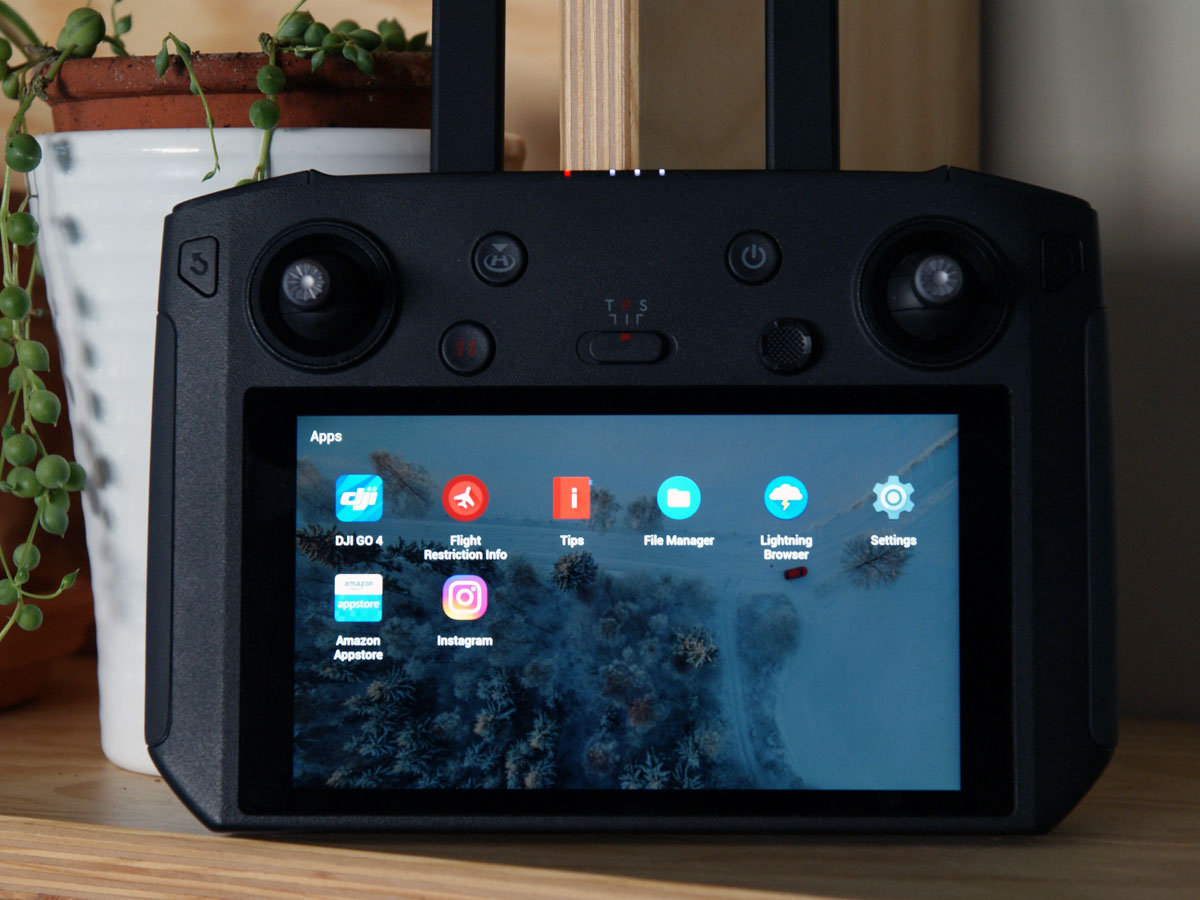 Central to the Smart Controller's appeal is its 5.5in 1080p touchscreen which, at 1000 nits, is around twice as bright as a smartphone's display.
This means the Smart Controller fares a lot better in sunny outdoor conditions than a standard phone or tablet. We've personally experienced how a bright, sunny day can make drone photography sessions tough work, with glare rendering details hard to see, and the Smart Controller's screen deals a lot better with these kind of conditions than the devices we're used to using.
There are cheaper alternatives, of course: DJI itself offers a monitor hood that shades your phone or tablet screen while you're using the basic controller, and it costs just £20; there are more affordable third-party options; or you can just find yourself a shady spot to sit in. The screen works better than all these – but it does come on a controller that costs almost £600…
Features: thin air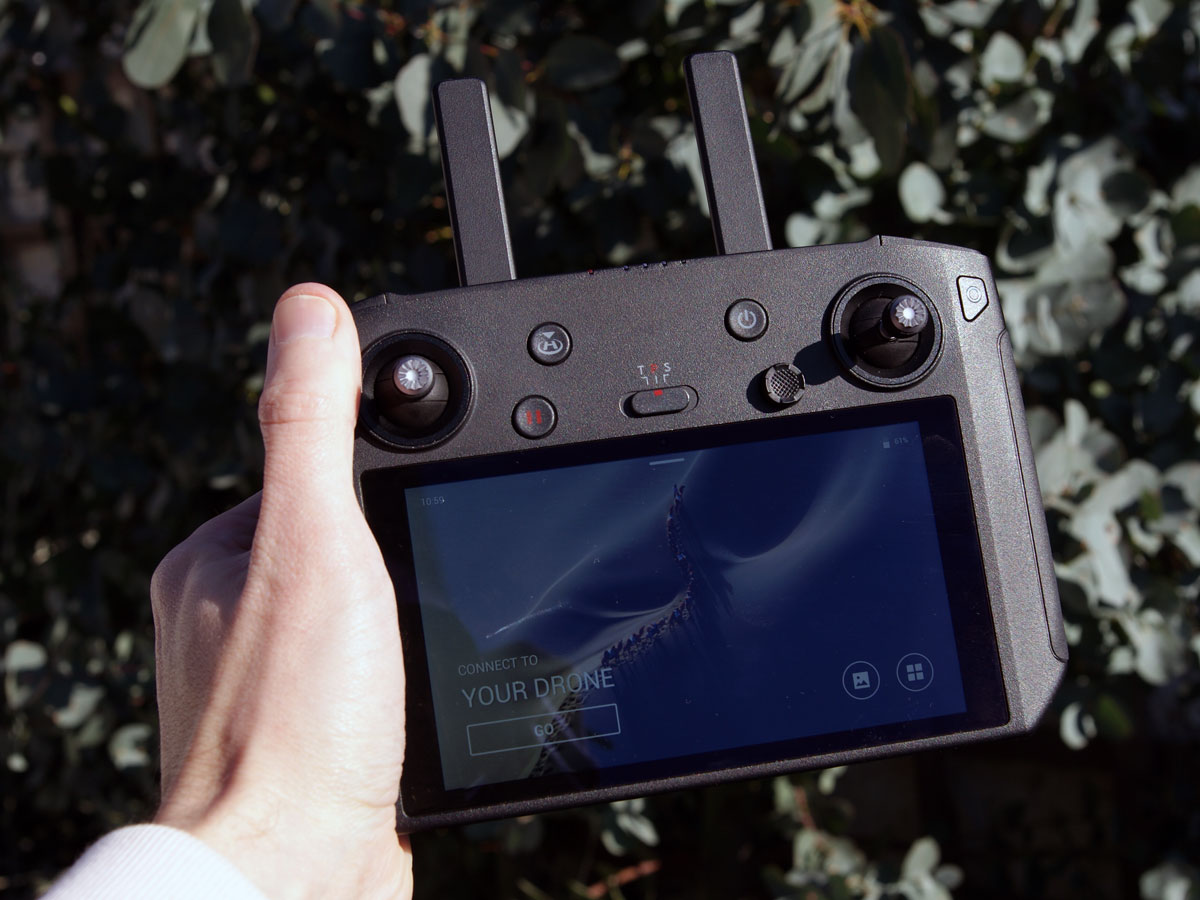 Given its price, you might be forgiven for thinking the Smart Controller adds a boatload (droneload?) of fresh functionality to DJI's drones – but you'd be wrong.
It uses the same OcuSync 2.0 transmission technology as the controller packaged with the Mavic 2, so the control range remains the same (up to 8km in theory). In terms of new features, there's only one to speak of: Go Share, a built-in app that lets you quickly wirelessly transfer videos and photos to a smartphone or tablet, or live-stream video from your drone to social media platforms (via a tethered companion smartphone, as the Smart Controller has no SIM of its own). It's handy, we suppose, but not exactly essential stuff.
You do get a lot of battery life courtesy of a 5000mAh power plant that can last for up to 2.5 hours per charge. With a Mavic 2's battery lasting about 30 minutes, that's some serious time – realistically, you can rely on a fully-charged Smart Controller to handle a day of drone flight. The battery supports quick-charge tech too, so topping it up with the bundled adapter doesn't take very long.
The controller runs on a re-skinned Android 7.1.2, and while everything you need is installed from the get-go, you can also download and use third-party apps like Snapseed and Facebook to share and edit photos and videos you capture with your drone. With no Play Store app on board, however, getting those apps onto the controller requires a bit of lateral thinking – it's really not ideal having to mess around with potentially dodgy .apk files just to get Instagram running, so hopefully DJI will add the Play Store as an option in future updates. There's 16GB of on-board space plus a microSD slot allowing you to add up to 128GB of additional storage. That's probably a must if you plan on transferring full-size 4K videos onto the controller for editing, as these files tend to be huge.
Connectivity-wise, there's a USB-C port for battery charging, as well as an HDMI port for outputting 4K video to a TV or monitor – both for a live feed of whatever your drone is filming, or playing back content it's already recorded. There's no backwards compatibility here. The Smart Controller works only with models that use OcuSync 2.0, so DJI drone owners with anything older than a current Mavic 2 model won't be able to use it at all. That even applies to fairly new (and very popular) DJI models like the first Mavic Pro, the Mavic Air and the Phantom 4 Pro. DJI has suggested that the Smart Controller will be compatible with all the drones it releases in the future, however – even those that use later versions of OcuSync
DJI Smart Controller verdict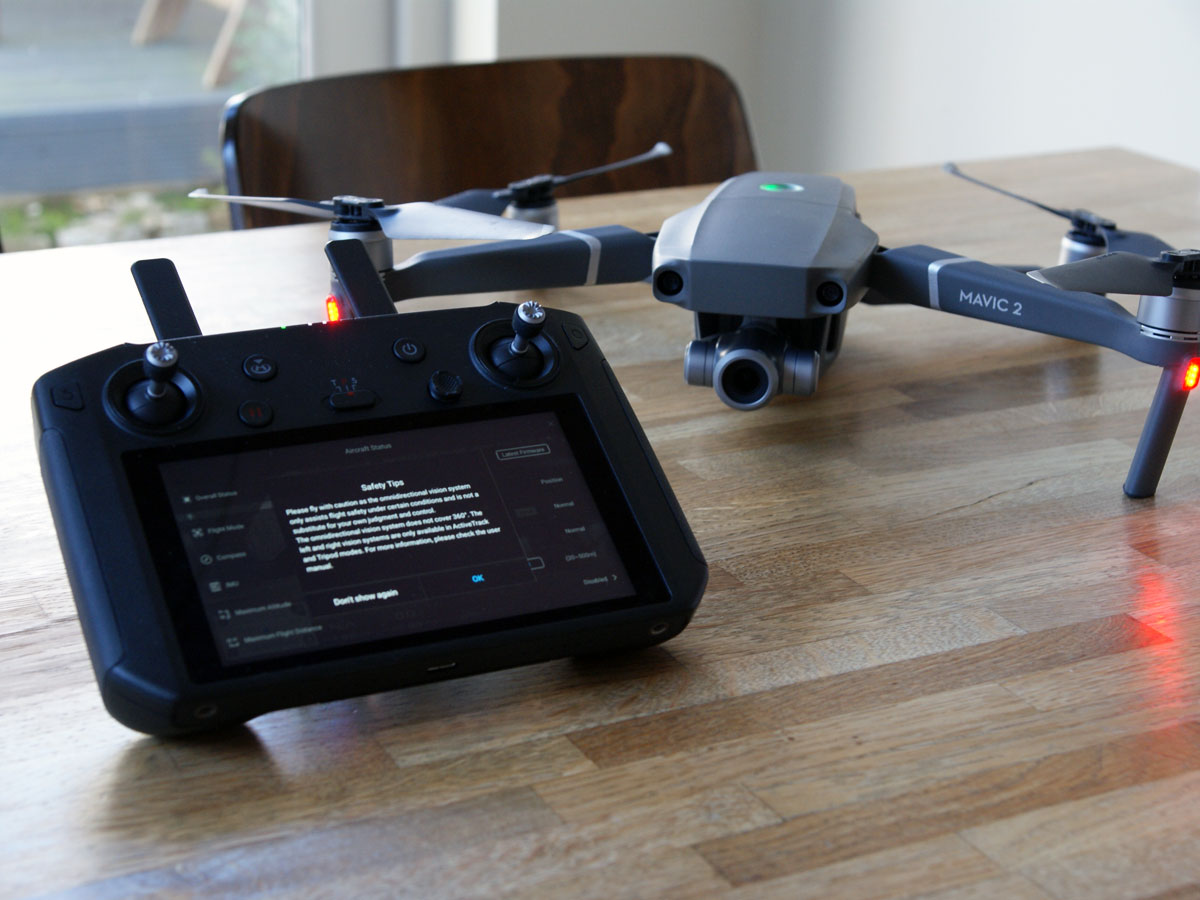 There's no doubt that the Smart Controller is a superbly made add-on for Mavic 2 drones. It's tough, easy to use and comes with a screen that works fantastically well in all weather conditions. With all that in mind, it's hard to escape the fact that it doesn't really add anything new to the experience of flying a Mavic 2 – it just makes it less of a hassle than with the standard smartphone-and-controller setup.
If the Smart Controller was £100, it'd be easy to recommend it as a great quality-of-life accessory, but it's £579 – almost half the price of another Mavic 2 drone. If you're a professional video maker, this outlay is perhaps justifiable. For the average customer, it simply doesn't represent value for money – you'd be much better off spending your cash on extra batteries or a travel case. None of this stops the Smart Controller from being impressive and desirable – just hard to justify shelling out for.
Stuff Says…
Simply too pricey for the average drone pilot to consider, but deep-pocketed professionals should snap it up
Good Stuff
Brilliantly bright display
Long battery life
More ergonomic than phone/controller combo
Bad Stuff
Very expensive
Not backwards compatible
Doesn't add many features