Earin M-2 review
True wireless earphones with unusual smarts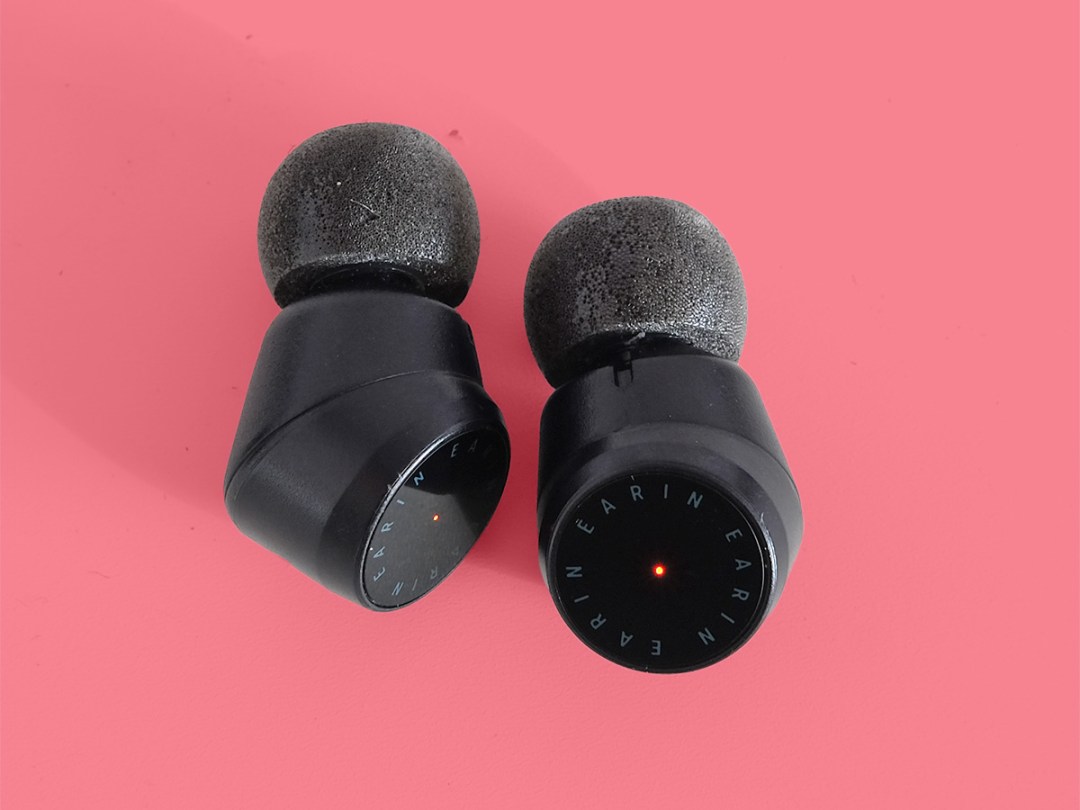 Technology is a funny old game. What's new one day is a dusty old relic the next.
Take these tiny Earin M-2 earphones. They have more processing power than the computer that sent NASA astronauts to the moon in 1969.
OK, so we made that up, but the smarts built into these £219 earphones is flat-out unusual.
They can tell not just when they're in your ears, but which side. They can assess the noise outside and block out everything at a certain distance. And they sound pretty good too.
On paper the Earin-M2 are just about the best true wireless earphones around. However, fairly short battery life and that you end up babysitting techy "convenience" features that are actually fiddly and unreliable make these earphones a high-maintenance partner.
Design: Stylishly sleek
The Earn M-2 are some of the smartest-looking true wireless earphones in existence, particularly the charging case. It's a metal cylinder, the shape of an oversized designer-y lipstick or a particularly good-looking piece of vaper hardware.
It opens with a satisfying click to reveal the two Earin M-2 buds, which sit in their little charge beds like pampered wedding bands. The earpieces themselves are a lot smaller than some too.
This is all a deliberate part of their appeal. True wireless earphones like these can often look a little odd, because of the amount of tech they need to fit in each earpiece: a battery, audio circuitry and a receiver for the wireless signal. There's no convenient remote housing to cram it all in here, so they often end up huge.
It would be easy to overstate the style factor here, mind. All a passer-by with see of the Earin M-2 when worn is the sheet of glass over the back of each bud, and perhaps the little LED right in the centre that flashes as they are used. It's easy to mistake the glass for plastic, but these earphones are certainly smarter-looking than a pair of EarPods.
Comfort is great too. The Earin M-2 feel like normal IEM earphones, the kind with tips on the end, but even better as there's no cable to weigh them down. Running with them in is a great experience. Well, for the most part.
The Earin M-2's battery life is not great, and not even close to Earin's claim of four hours. Running them from full to flat, with no breaks, they last just 2 hours 46 minutes.
And unless you check in the app the only notification you get is a single set of bleats through the earphones a few minutes before they bow out. They gave up five minutes into a run one day. You'll have to accept that this sort of thing will happen every now and then with this true wireless pair.
The Jabra Elite 65T last a good while longer between charges, no doubt because they're also about twice the size.
Features: Mixed bag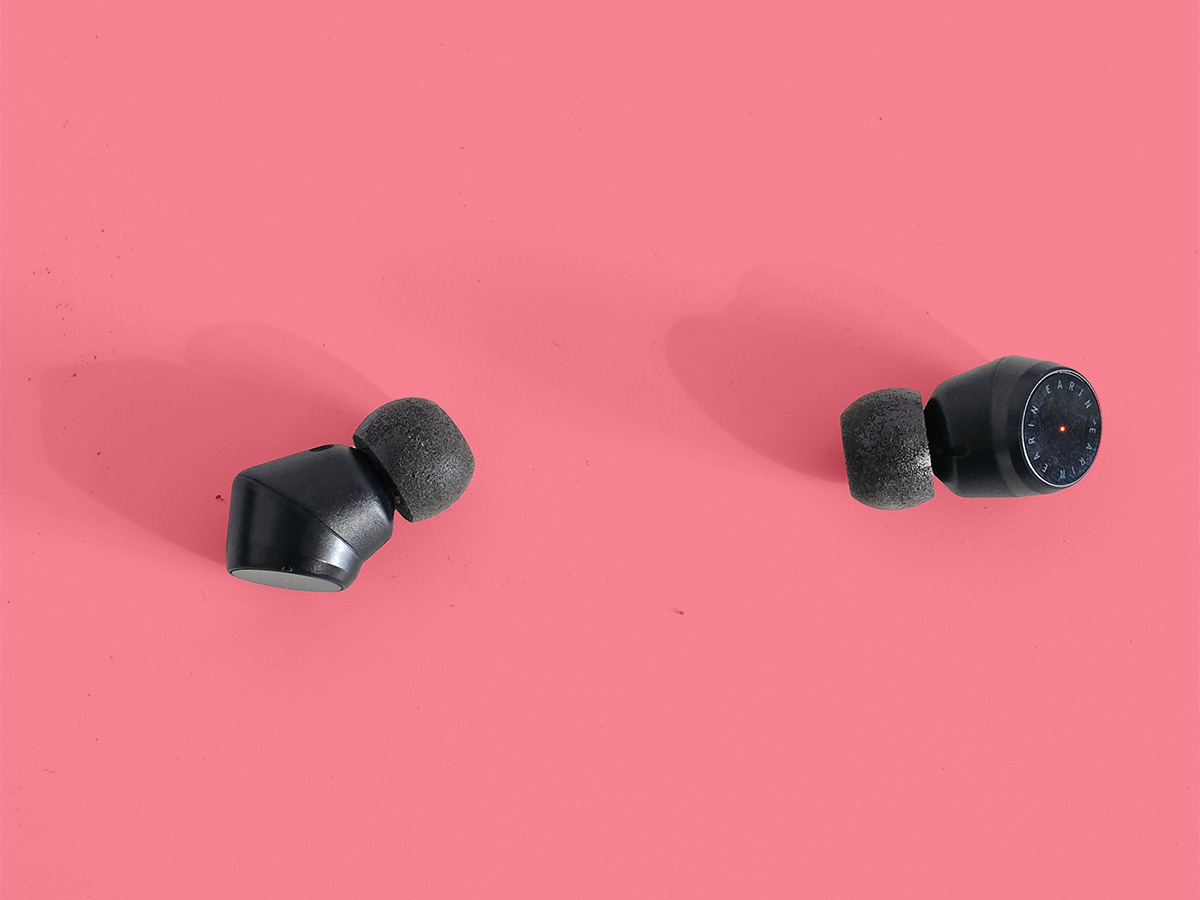 Fancy tech is one of the other draws of the Earin M-2, other than small size. They have their own active noise cancellation, powered by four microphones, and use a NFMI MiGLO chips. They let these earphones judge which ear their put in, and alter the stereo feed to suit.
There's a transparency mode too. This pipes through a certain amount of ambient audio so you can hear what's going on. Nothing too special there. However, in the Earin app you can also choose the distance of the audio to let in. Want to silence your clacking keyboard at work, but still be able to hear someone talking to you? No problem.
Like any ambient mode, the Earin M-2's doesn't sound 100% natural. It's sound picked up with mics, and played through speaker drivers. Every middle man degrades the sound a bit, but it's a nice-to-have feature if you want to use this pair at work or for urban runs.
There's more too. The Earin M-2 are designed to sense when they're in your ears, and when they aren't. Take one out and the music pauses. Put the bud back in and the music starts up again.
Having lived with the Earin-M2 for a few weeks now, though, they try a little too hard to be clever. And like most M. Night Shyamalan movies, these earphones aren't quite as smart as they think they are.
How would you feel about a pair of earphones that made you spend two full days just trying to get audio out of both earpieces rather than one? And every time you got the other earbud to work, the original went dead, an eternal game of tech whack-a-mole.
Or how about a firmware update process that takes a full half-hour, and so start only decides to flash one earpiece? And don't forget the two weeks before that firmware update, where the sound balance was skewed towards one side.
The Earin M-2 are desperate to be the smartest true wireless headphones around. And sure, they have a lot of tech packed into a small earpiece. However, right now they seem like the school kid who thinks they're special because they got the latest gadget X before anyone else.
You're not smart, Graham, you just have a lot of games consoles. Half the time the app doesn't seem to recognise the Earin M-2, even when they're connected. There's still some work to do here, but they are genuinely ambitious little things.
The back of each earpiece also works as a multi-function pad. You can play/pause, skip tracks, and bring up Siri or Google Assistant with a long press. There's also very little latency to the audio. You can watch movies or YouTube videos without major lag.
And following the firmware update the Earin M-2's basic wireless stability is good. There's an occasional blip between the earpieces, which sounds like one of them half cutting out for a fraction of a second.
But like most new true wireless pairs, there are no annoying spurts and stops like older models. It's getting to the point where they connected and streaming that can prove tricky.
The Earin M-2 are a bit of a mixed lot so far. Thankfully the sound, when behaving, is pretty good.
Sound Quality: Silky smooth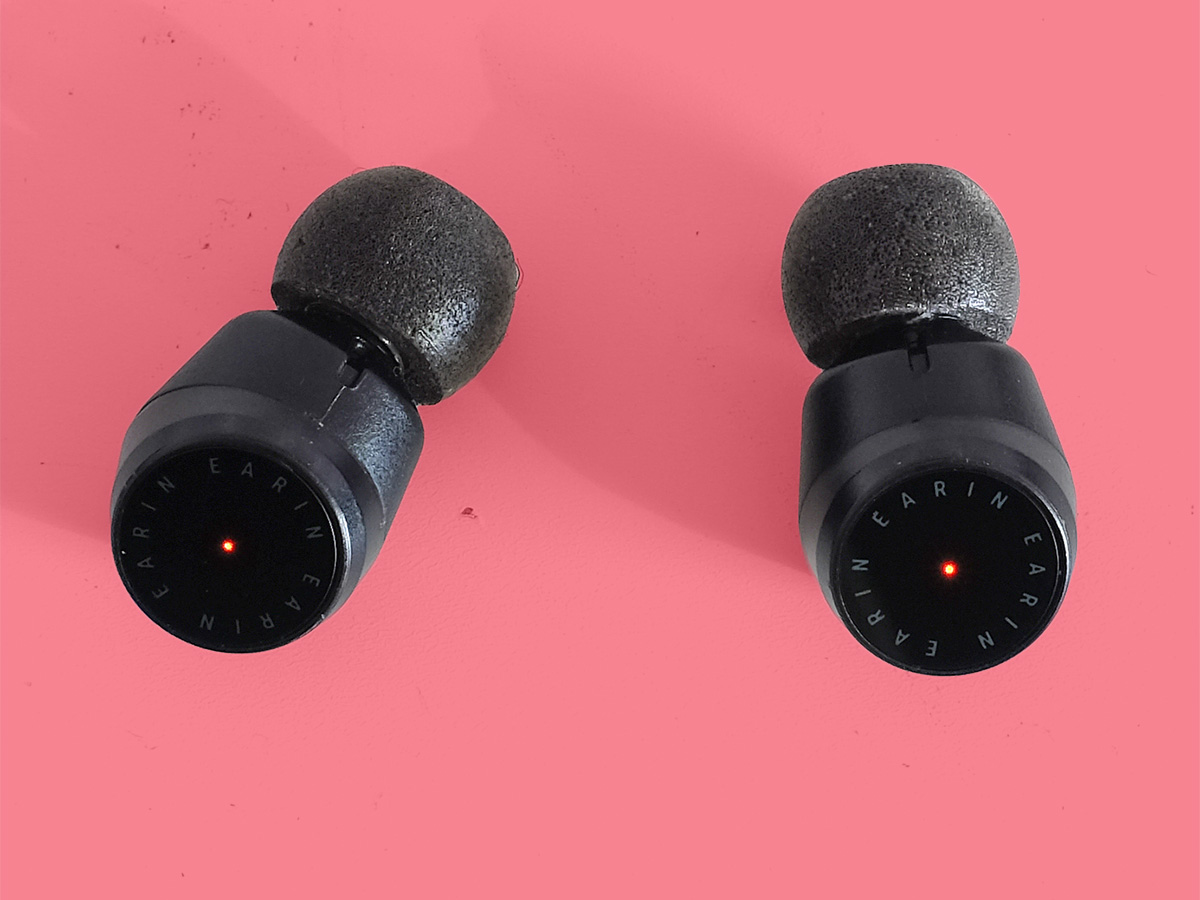 We get pretty tasteful audio here. The bass is deep and assured, but not the kind of juvenile stuff you might expect from a brand like Beats. This is, in part, because the Earin M-2 used balanced armature drivers.
These are the sommelier's choice of driver in the earphone world, renowned for their low distortion and accuracy. Almost all earphones, bar expensive pairs have dynamic rather than balanced drivers. It's yet another sign of Earin's ambition.
Balanced earphones made for ultimate accuracy can sound a bit cold and clinical, but the Earin M-2 are smoothed-edged and refined-sounding. Some of this truffley smoothness is provided by an extra squirt of mid-bass.
It acts like a thickening agent. Too much of this is a no-no in audio snob circles. But it does give vocals more of a velvet finish than true wireless the Jabra Elite Sport.
The Jabras are a little less flattering to music, less smooth. However, they do have a clearer, wider soundstage with better separation.
These Earins also lack the top tier of Bluetooth codecs: there's aptX, but no aptX HD or LDAC. However, the sound signature does seem to hide any differences you might otherwise notice.
Earin M-2 Verdict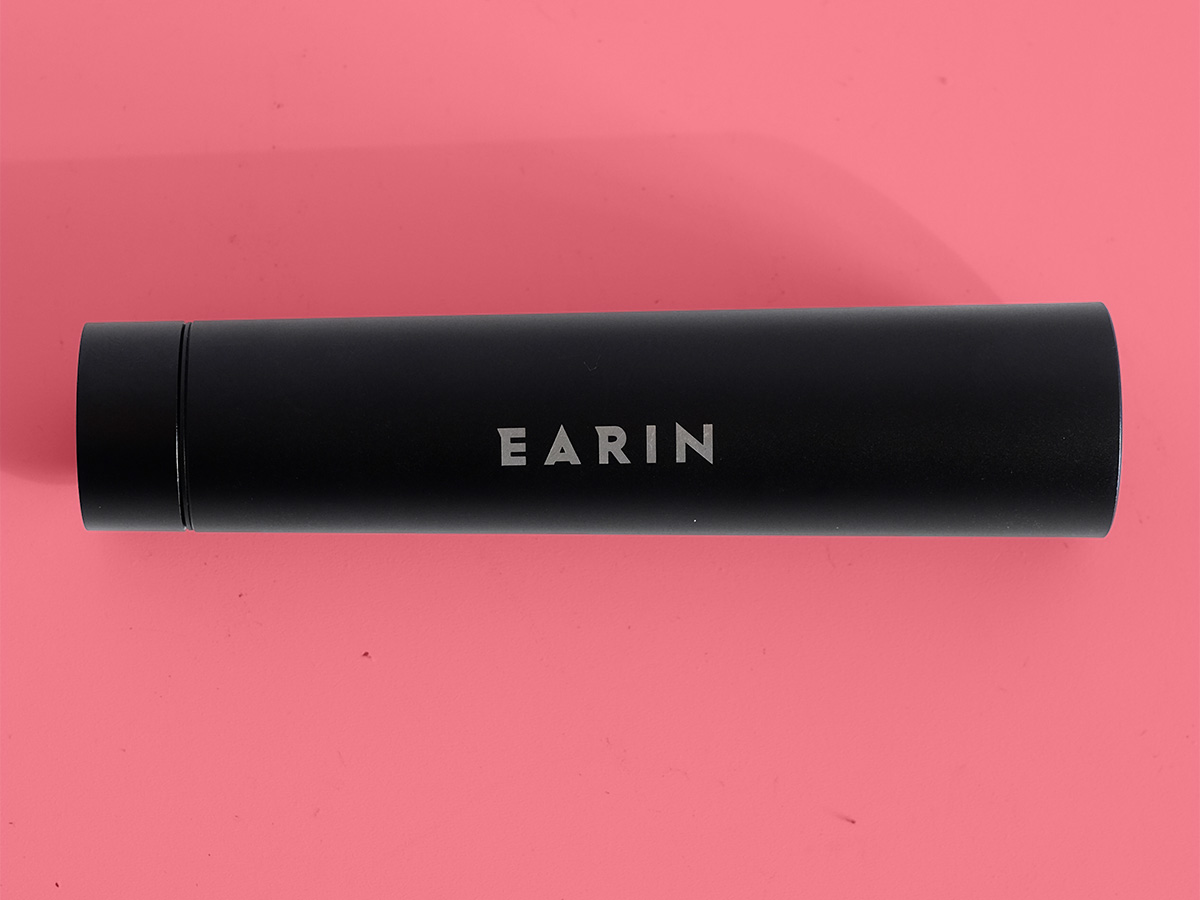 The Earin M-2 are some of the better-sounding true wireless earphones you can buy. They are also among the best-looking, most comfortable and tech-packed.
However, all that tech leaves too many ways for these earphones to trip up. Which they do, quit often. Basic wireless signal may be solid, but there are just too many opportunities for the auto-pausing and inter-earpiece communication to get on your nerves.
Stuff Says…
These true wireless headphones look and sound great, but there's too much opportunity for the tech inside to backfire
Good Stuff
Rich, smoothly textured sound
Smart looking, and small
Comfy and easy to fit
Handy audio transparency feature
Bad Stuff
Far too many connection issues and glitches
Bad battery life