EE Hawk review
Delivers premium looks for not much loot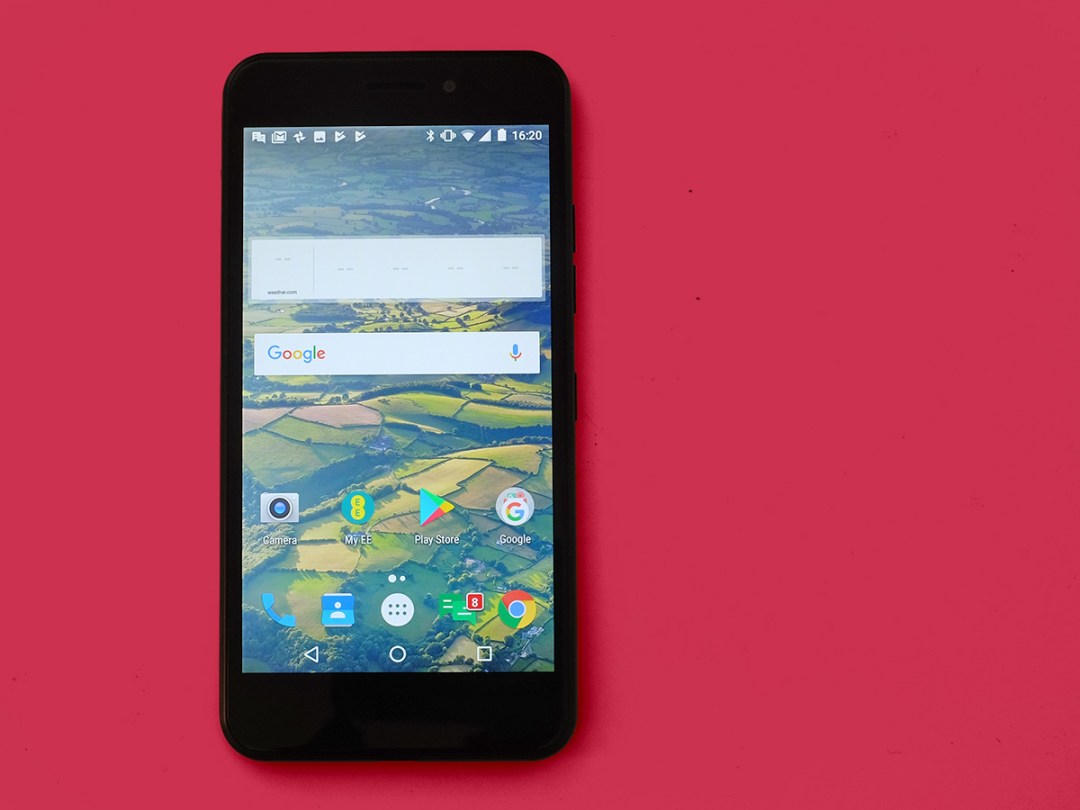 Buy a network-branded phone and you might expect something cheap – but not all that exciting.
The EE Hawk costs £150, so isn't exactly pocket money stuff, but also has the build of a phone that would cost twice the price from Samsung. So that should a bit of a value hit. Right?
Turns out a decent design isn't the be-all and end-all, but the Hawk can still impress in other ways. Especially if you're on a budget.
Design: ART OF GLASS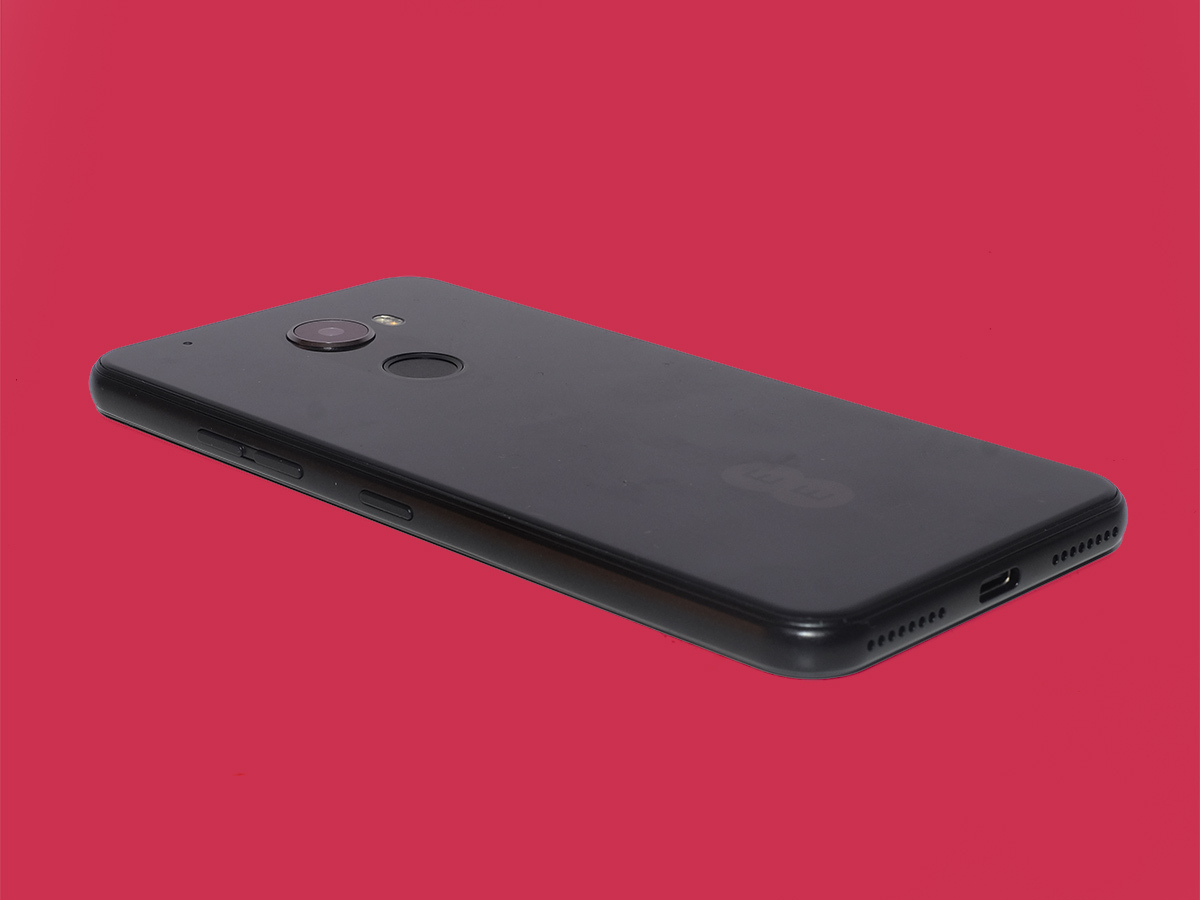 These days it's easy to find an entry-level phone with a bit of design flash. The Vodafone Smart N8, Moto G5 and Honor 6X are all affordable, without being plain slabs of plastic.
The usual strategy is to cram in some aluminium, though. The EE Hawk takes a different route, with plates of Gorilla Glass on the back and front, like the iPhone 8. It gives this phone a great look and feel, particularly for £150.
The curved sides in-between these glassy parts are plastic rather than aluminium, but it is tough stuff. And, in theory at least, should help avoid shattering the back if you drop it. In theory. anyway.
On the back you also get a solid, recessed fingerprint scanner. It's just a pad, not a button, so you just place a fingertip over it in standby to wake the Hawk. Fairly fast and reliable, this is another part you don't always get at the price.
The scanner can be used to navigate the Hawk to an extent too. Swipe down and the notification bar scrolls out. Left and right swipes take you between home screens. You can even use it to scroll up and down in the Chrome browser.
Thanks to a 5in screen and slim 7.9mm thickness, the EE Hawk feels good in your hand or pocket. This isn't a seam-stretcher.
SCREEN: MISSED DETAIL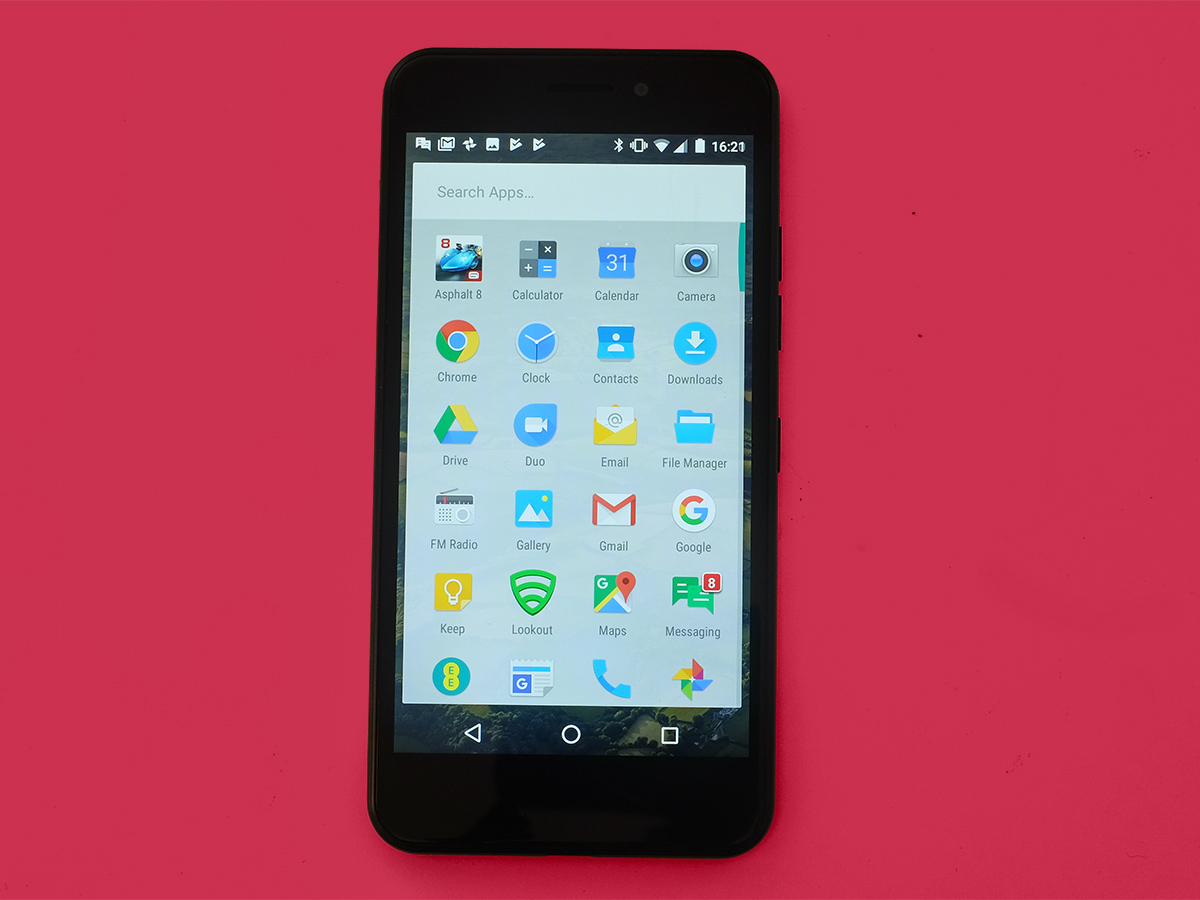 Its physical size is good if you're not constantly watching Netflix, or playing games on your phone. However, the Hawk's screen isn't as high-spec as some of its rivals.
Resolution is the issue, y'see. Where the Vodafone Smart V8 and Moto G5 have 1080p screens, the Hawk is only 720p. It doesn't look bad, but you don't get the supreme sharpness of Full HD. Small fonts look a little soft and if you go looking for pixels, you can find them.
Let's not be too harsh, though. The iPhone 8 isn't actually that much more pixel-rich, and is almost five times the price.
Colour isn't quite as good as on an iPhone 8, of course, but after fiddling with the display tweaking you can do in settings, you can make the Hawk look decent enough – even if it isn't quite up to the Moto G5's standard.
SOFTWAE & OS: LOOKS VANILLA. ISN'T.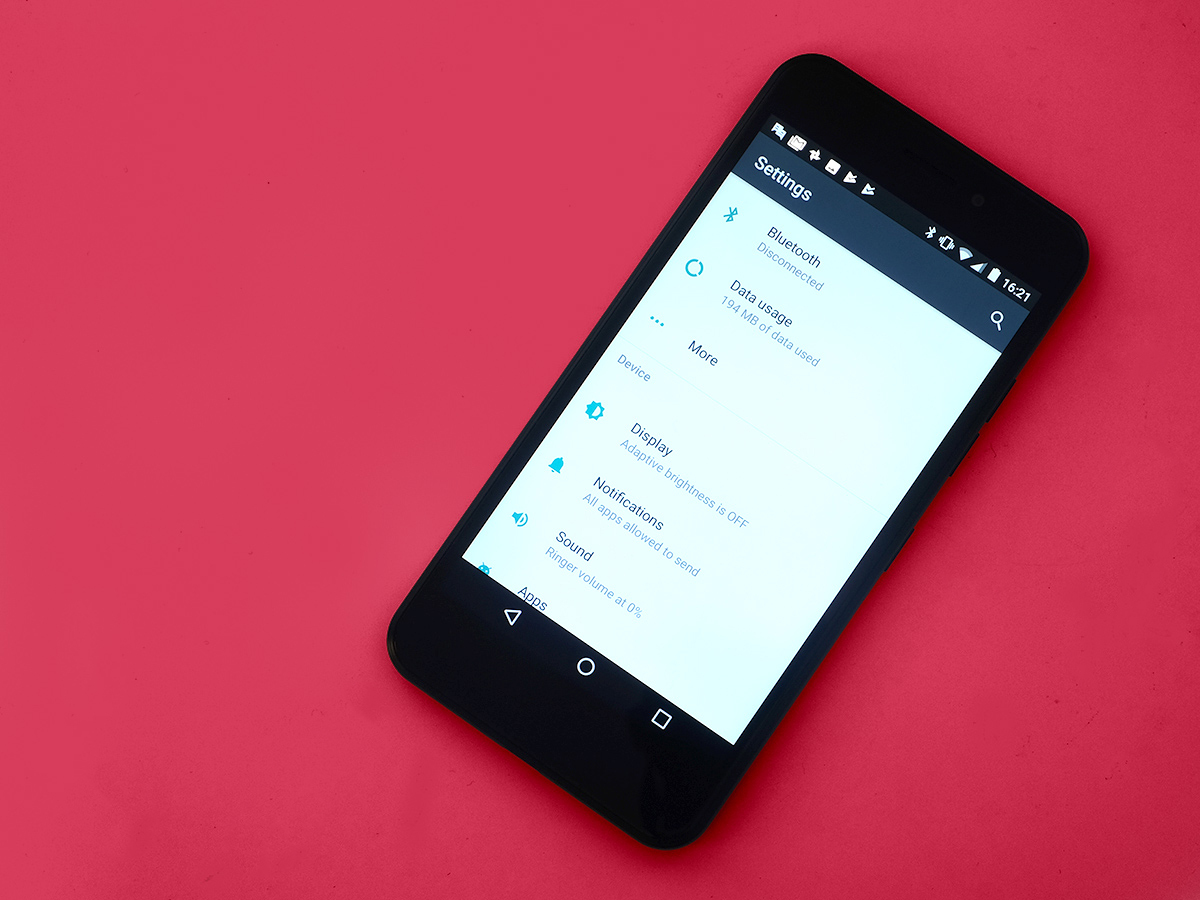 It might look a lot like standard Android, but that's not quite what you get.
The Hawk uses a custom interface called launcher3, with Android 7.0 underneath. There's no real messing with the basic structure; it's just the apps menu that looks a little different. You also miss out on a couple of little Android features, like shortcuts when you long-press an app icon, but it's a feature a lot of people ignore anyway.
EE has reined itself in by not jamming the Hawk full of unnecessary apps. This used to be a real problem with network-branded phones like this. You do get an EE app that lets you check up on your top-up or data/minutes allowance, and a Lookout security app. But you're otherwise left to do with the Hawk as you will.
The phone has 16GB storage, leaving you with a bit over half that to actually install apps and store photos. Thankfully you can also bung in a microSD card if that won't do the job.
Performance & battery life: TEK IT OUT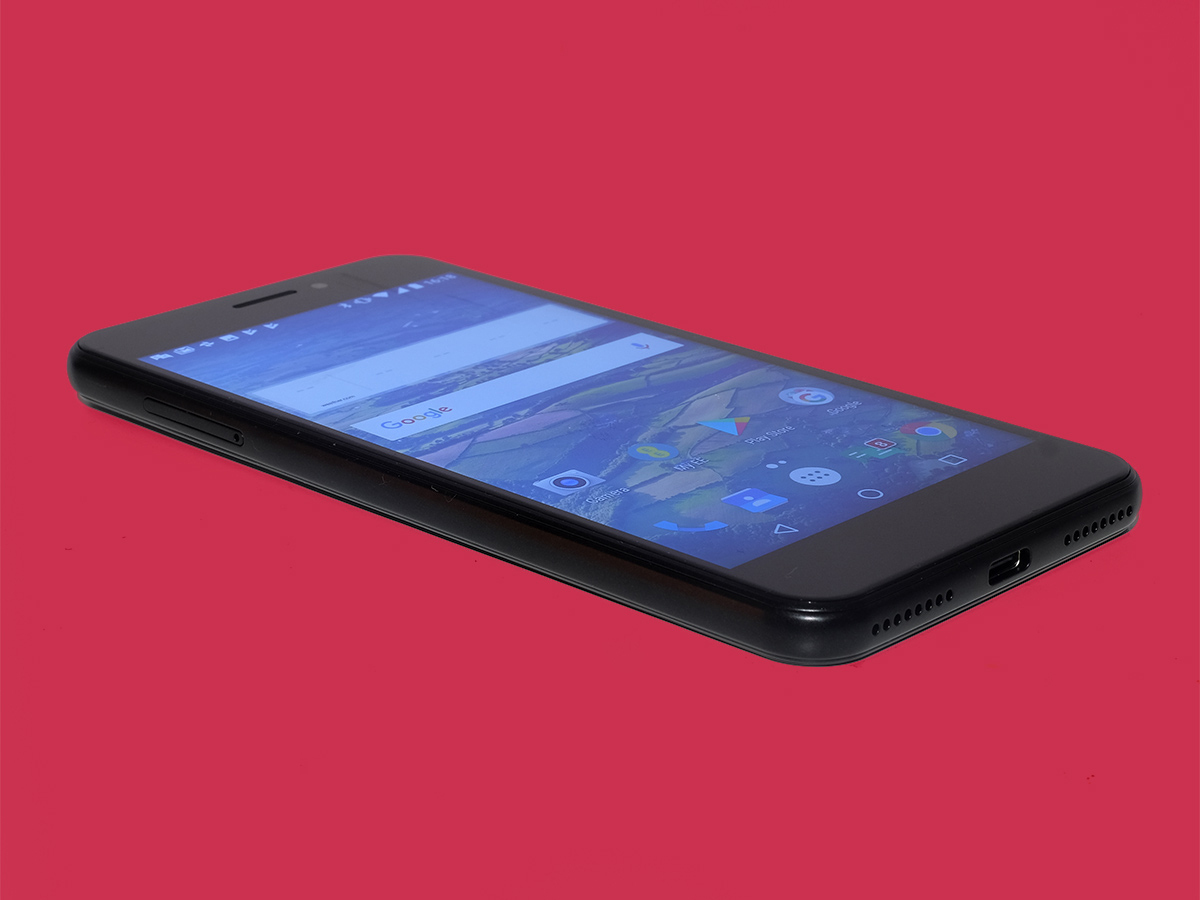 At £150 you deserve to expect solid performance. And you do get it. There's none of the consistent, annoying lag of some sub-£100 phones. This isn't the fastest phone in the universe, though. There does seem to be a few more pauses every now and then than with a Moto G5.
Performance is no big issue once the Hawk has loaded the important bits from your favourite apps into its 2GB of RAM, at least.
There's a MediaTek MT6750 CPU here, rather than the Qualcomm chips you'll see elsewhere. In the past, low-end MediaTeks caused some frame rate issues with high-end games. However, that's when paired with Full HD phones. As this one is just 720p, games seem to work pretty well. There's no need to downgrade the graphics in Asphalt 8 or Dead Trigger 2 just to make them enjoyable.
The Hawk has a 2500mAh battery, which doesn't sound like a lot when so many rival phones have 3000mAh or more. The 5in, 720p screen helps the battery hold up reasonably well, though. Two days between charges? No chance, although its battery should get you through to bedtime unless you hammer it. In this sense it's similar to the Moto G.
Unlike Moto's latest, the Hawk also uses a USB-C charge port rather than the older microUSB type. This doesn't guarantee you ultra-fast charging, but does mean you don't have to fiddle about to get the charge plug the right way around at 11:30pm when you're half-asleep.
EE has made more noise about the Hawk's 4G connection than the battery, though. The key feature is "CAT 6" LTE, meaning it has a modem capable of making use of the fastest 4G connections EE has to offer right now. It has been revved up to 238mbps by Wembley stadium, where EE has turbo-charged its 4G.
Out in the real world, the results are a bit more conventional. Taking the Hawk on a tour of south London, download speeds were consistently bang on 30Mbps in good signal areas, with uploads varying between 2Mbps and 15Mbps depending on location. It's 4G, but don't come expecting optical broadband-flattening performance from the Hawk unless you live outside Wembley stadium. Or in Cardiff, which also benefits from ultra-fast EE 4G.
Anything else? The EE Hawk has NFC for wireless payments and there's a single speaker on the bottom edge. It has no bass power, but does sound clear and avoids breaking up at max volume.
Camera: STANDARD SNAPPER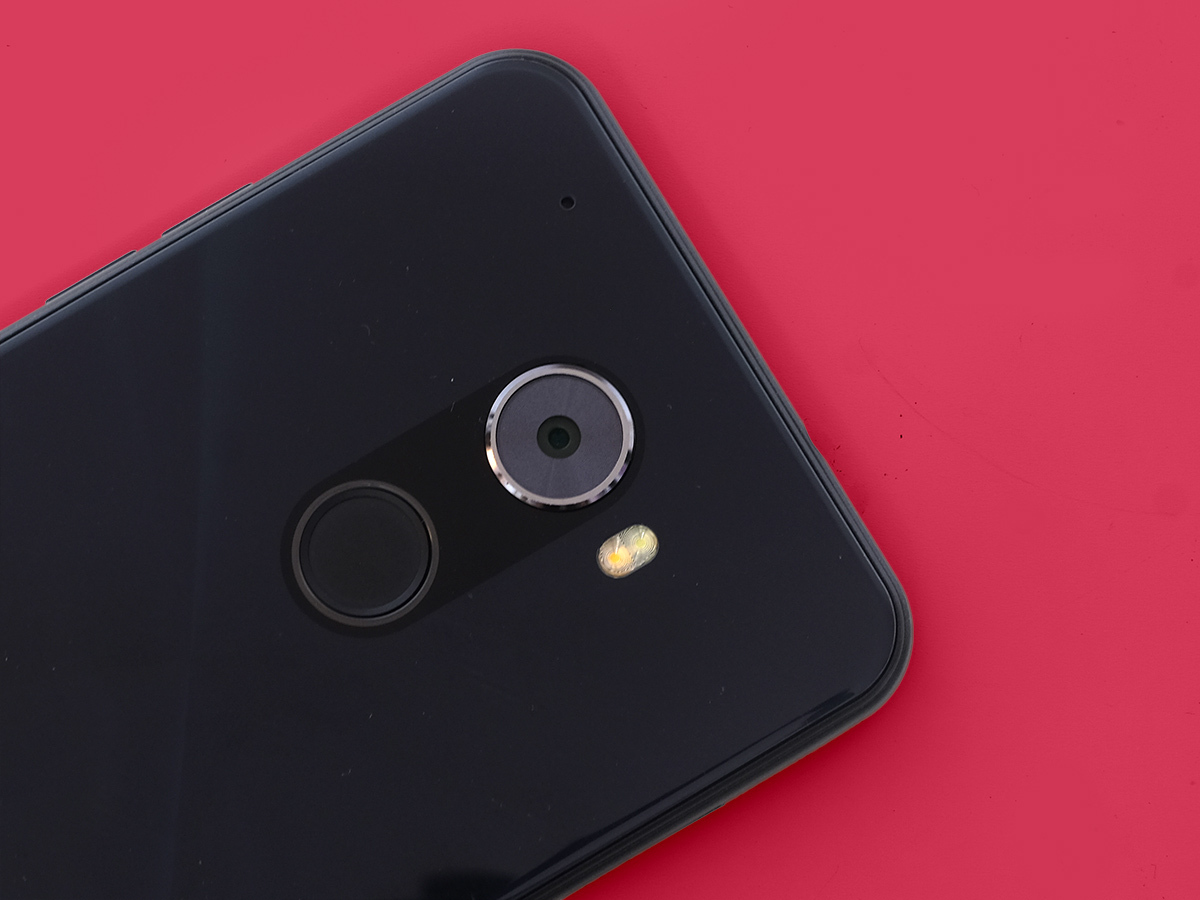 EE has tried to make sure the Hawk doesn't fall behind the competition in too many obvious ways. It's predictable, then, that it has a 13MP camera on the back and an 8MP one up front. This has become the standard for good entry-level phones.
Image quality is fair, but the whole camera experience is hardly best-in-class. The camera app takes a while to load, HDR capture is sluggish, and there's no Auto HDR mode, which is often the best mode to use if it's available (and not too slow).
Take a shot on a bright, sunny day and you can get some detailed, punchy-looking pics. However, some images can look a bit fizzy up close, even with good lighting, and dynamic range is not as good as the best budget 13-megapixel cameras.
Night image quality also takes a dive, ending up looking noisy and soft. This is typical of a cheaper phone, with such models almost always lacking a true high-quality sensor or optical image stabilisation. It's the lack of HDR capture speed that gets us down rather than any image quality complaints, though. A bit more speed is what the Hawk is begging for.
The front camera also underperforms compared with some that have the same specs. Selfies often end up looking cold and drained of colour: not a flattering look if you're after Instagram-worthy pics. That said, you do get a chunk more detail than you'd see from a budget 5-megapixel selfie camera.
More of a video fan? The EE Hawk shoots at 1080p, and there's electronic image stabilisation to take some of the shake out of your footage.
EE HAWK VERDICT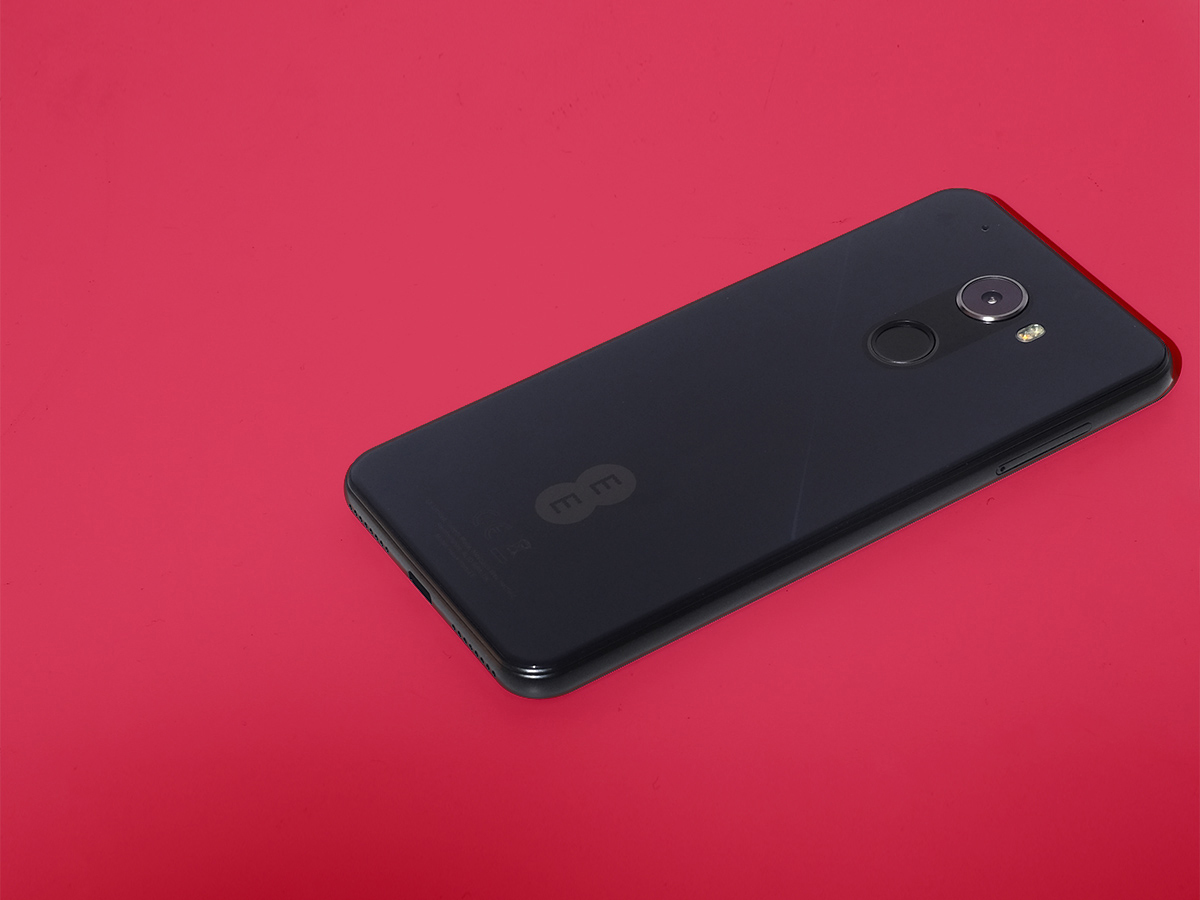 The EE Hawk is a solid budget phone, with a particularly slick, iPhone-like design. A toughened glass back isn't something you see at the price too often.
If you're not entranced by the design, the Moto G5 and Vodafone Smart V8 buy you better insides, either for a similar price or just a smidge more cash. That Vodafone's £79 Smart N8 actually matches the Hawk on several fronts shows EE still isn't the best around in terms of pure phone per pound.
Those teetering between the EE Hawk and Samsung Galaxy J3 are right to be tempted, though. This phone has better hardware and smarter build.
Tech specs
| | |
| --- | --- |
| SCREEN | 5in, 1280×720 LCD |
| CPU | MediaTek MT6750 octa-core 1.5GHz |
| MEMORY | 2GB RAM |
| CAMERA | 13MP rear w/ autofocus, LED flash. 8MP front |
| STORAGE | 16GB on-board, microSD expansion |
| BATTERY | 2500mAh non-removable |
| OPERATING SYSTEM | Android 7.0 Nougat w/ Launcher3 |
| DIMENSIONS | 144x72x7.9mm |
Stuff Says…
It may not be a spec monster but you rarely get a glass phone this cheap
Good Stuff
Smart glass-back design
Affordable
Bad Stuff
Locked to EE
Low screen resolution
Beaten on value by Moto and Vodafone