Fitbit Versa 2 review
Witness the fitness – is this the best casual smartwatch with health-tracking smarts?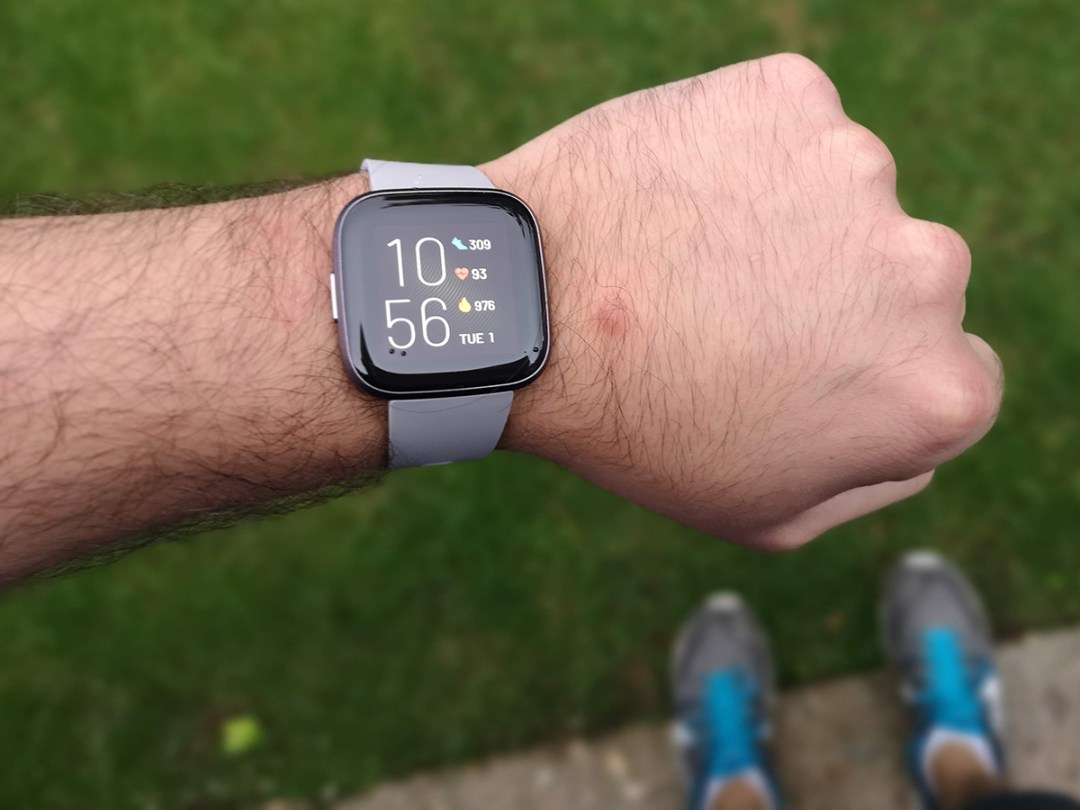 Historians never categorically determined whether Goldilocks wore a smartwatch, and we're certainly not in a position to weigh in with a verdict ourselves. If the porridge-sampling intruder were to slip on some wrist-based tech however, then it probably wouldn't be too far off from the original Fitbit Versa.
Not too big, not too small, not too clever, and not too dumb, the first Versa was a solid middle ground for those looking for a fitness tracker with a bit of everything – namely, a sprinkling of smartwatch smarts and fitness functionality, while keeping things simple in the process.
We've had the pleasure of putting the Versa's successor (the aptly named Versa 2) through its paces, and while we can't speak for Goldilocks, we can definitely say that the Versa 2 gets – almost everything – just right.
Design and comfort: easy on the eyes (and wrists)
Like its predecessor, the Versa 2 is a bit of a grey man, blending into the background like the house band on Strictly. That's not a bad thing, mind. We've fondled plenty of hideous wrist-huggers in our time, and the Versa 2's design is pleasant, albeit in a rather unassuming way.
Foregoing the circular face of traditional watches and squishing away from the rectangular façade of the Apple Watch, the Versa 2 is a smooth, rounded, almost pebble-like square, with cleverly tapered edges which minimise the impact of its 12mm-thick aluminium case. It's water resistant for up to 50 metres too, and shrugged off daily showers and torrential British rain without any trouble.
If you find the standard strap design a bit lacklustre, Fitbit offers a multitude of different straps in two different sizes, ranging from the perforated rubber sports band (whose holes may or may not make you run faster), all the way to the £50 Horween suede wrap bracelet – handy for counting your waltz steps at the ambassador's ball.
Fitbit has decided to ditch all but one of the three physical buttons of the Versa, with the Versa 2 sporting a single button on the left hand side, which can be configured to launch Alexa or payments with a long press (more on that later), or press once to wake the device or go back to previous screens.
This single button setup works well for the most part, although we occasionally found it annoying having to press it multiple times just to return to the main screen after a trip through the various menus and apps.
Design and solid build aside, we're happy to report that the Versa 2 is one of the most comfortable pieces of wristwear we've ever taken for a spin. Our test model had two sizes of the no-frills classic silicon band included in the box, and we can honestly say that we forgot we were wearing it within minutes.
Those of you who may recoil at the thought of sleeping with a watch on your wrist need not fret either – the Versa 2 is so insanely comfortable and light, that we never gave it a second thought while it tracked our sleep in the land of nod.
Display: Back in black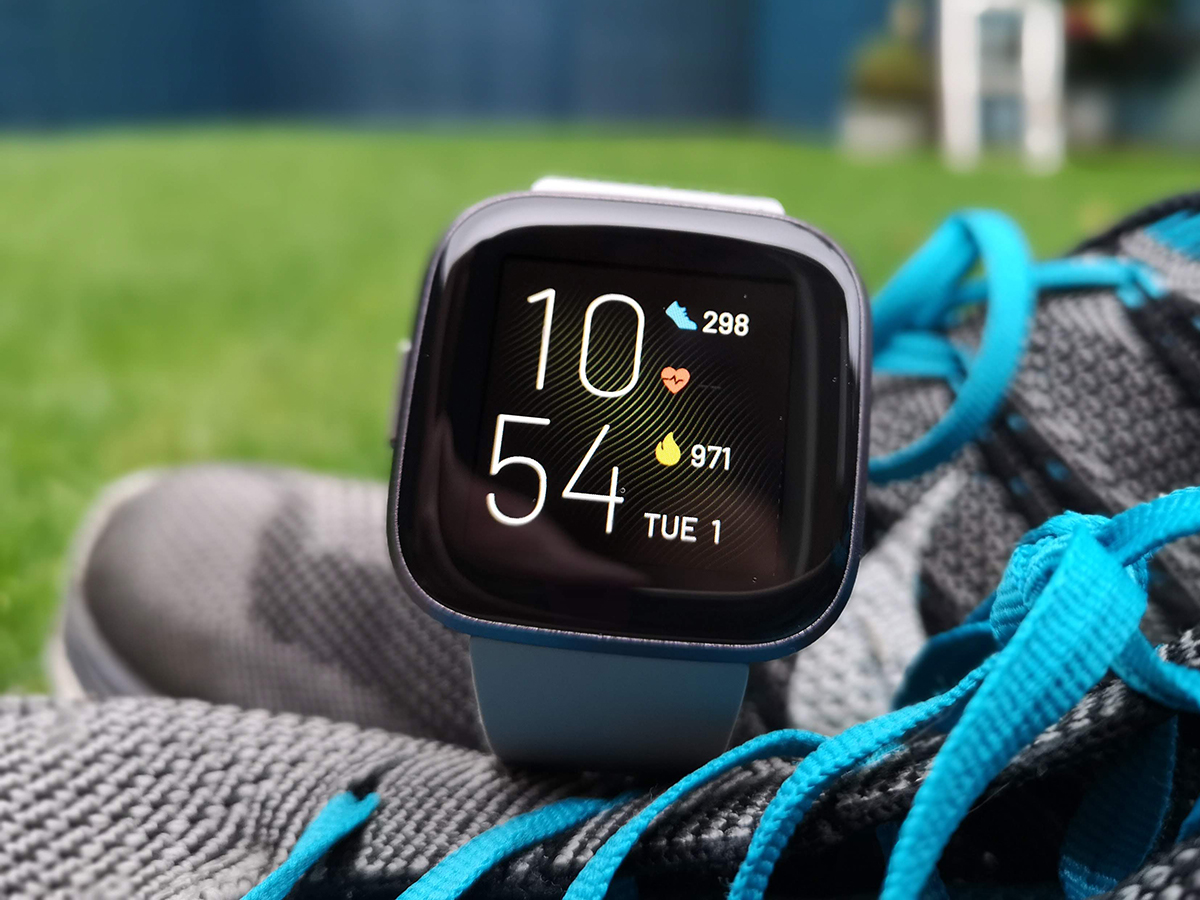 We're suckers for OLED screens. Once you've used a display where black pixels are completely turned off, you'll never want to go back.
It's no surprise then, that the Versa 2's 1.4in 300 x 300 resolution OLED display is a considerable improvement over the original model's LCD affair. It's sharp, and the colours are punchy and vibrant, while the truly black pixels mean that the rather large and unsightly bezels surrounding the screen are nigh-on invisible – assuming you use a watch face with a black background, that is.
The screen also does a great job outside, even at medium brightness, which was more than bright enough for us. It maxes out at 1,000 nits, which, for the non-nit-pickers out there, is a little under the max brightness of the swanky new iPhone 11 Pro's display.
You're not going to have trouble seeing anything on this screen. Beyond the blacks, brightness and punchy colours, the OLED screen also introduces a new feature in the form of an always-on display option, which permanently displays the time in a variety of battery-sipping black and white clock faces, negating the need for you to move your wrist to auto-wake the display.
Fitbit reckons that opting for the always-on display will reduce battery life by around a day, and beyond testing it out for a little while, we chose not to use it, as we love to squeeze out every drop of power we can (not to mention that the Versa 2 does a solid job of automatically firing up the screen when you flick your wrist up to check the time).
Performance and usability: Blazing fast, but watch out for speed bumps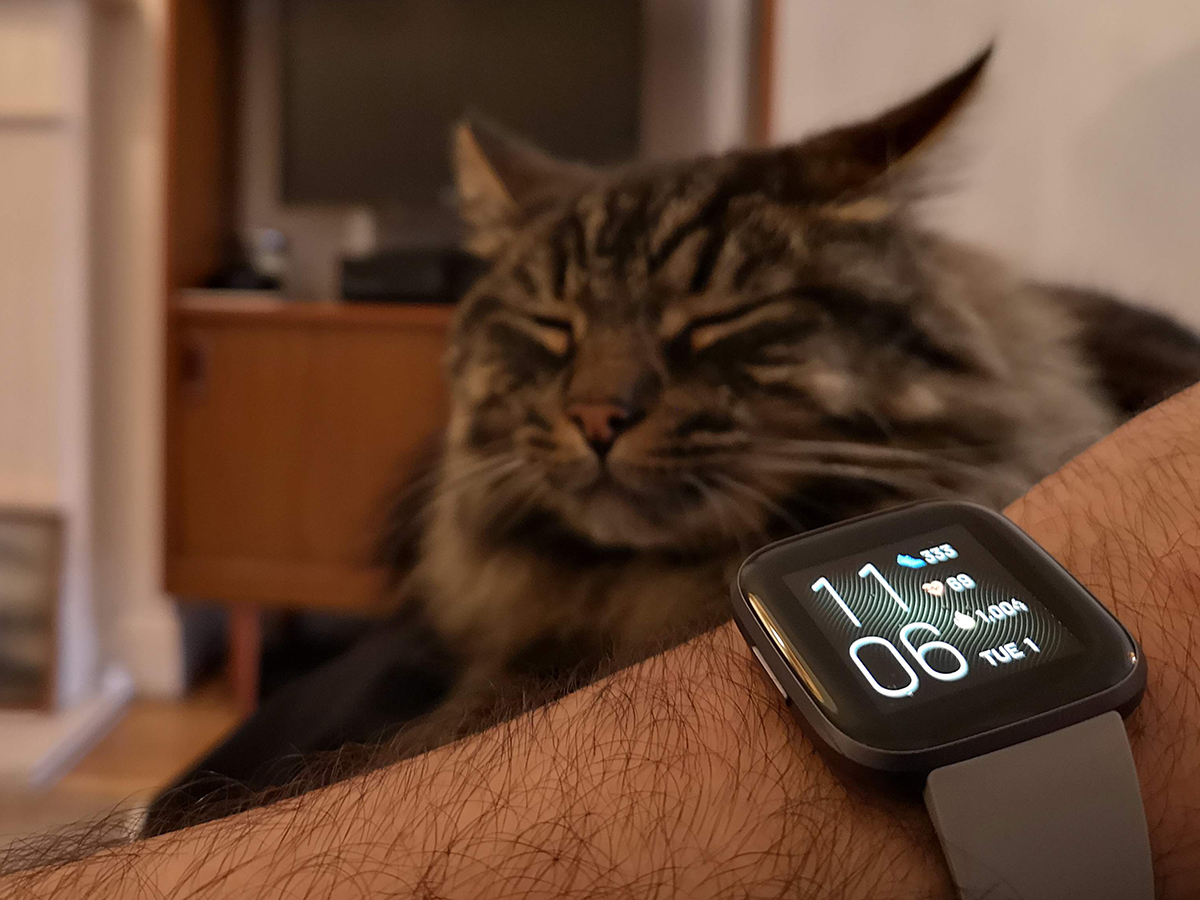 We haven't got a single complaint about the performance of the Versa 2 itself. It's zippy, nimble, and smoother than a greasy marble, which is a noticeable improvement over the original Versa, which was let down at times by laggy performance when navigating menus and opening apps.
What lets the Versa 2 down, however, are those occasions where you want to configure it or make changes. Take changing the watch face for example. We normally change smartwatch faces on a weekly, if not daily basis, thanks to our fickle desire to keep things feeling fresh.
Most smartwatches let you do this directly from the device itself in an instant, but the Versa offers no such feature. To carry out something as simple as changing the watch face involves firing up the Fitbit app, selecting the watch face, then waiting for what feels like aeons for it to sync over to the Versa itself. One minute and 16 seconds might not seem that long on paper, but when you can't even leave the Fitbit app to scroll through the r/catswhoyell subreddit (you need to stay on the sync screen for it to work), then the process becomes maddening.
Maybe there's something to be said about the attention span and patience of modern society, but that dissertation is beyond the scope of this review.
On a more positive note, we found that the Versa 2 synched consistently with our phone with hardly any snags. Those few occasions where we lost the sync were likely due to our phone being on battery saver mode, which tends to make it a little hostile towards apps running in the background.
Fitness and health smarts
You'd expect a product with 'fit' in its name to meet your #bodygoal #nopainnogain needs, and the Versa 2 handles everything that most people will require from a fitness tracker.
It has seven exercise tracking modes; running, cycling, swimming, treadmill, weights, interval timer and a generic workout tracking mode. We put it through a mixture of running, walking, weights, bodyweight exercises and even a pilates session, and were met with no problems.
All the stats you'd want to see are present and accounted for, from distance travelled and your pace, to calories burned and your average beats per minute. The Versa 2 also lets you know how long your heart was working hard enough to be in the fat burning zone, and you can also track your route on the app's built-in Google Maps screen, just in case you need to re-tread your route to find your dropped house keys (which has, incidentally, actually happened to us). It's all very impressive, but the Versa 2 is sadly let down by its lack of built-in GPS, which means you'll need to drag your tethered smartphone out with you when you're pounding the pavements, if you want to track your route and workout accurately.
There's no denying the benefit of leaving your unwieldy glass-slathered smartphone at home without worrying about smashed screens and renegade seagulls, but if you want to stay in Fitbit land, you'll need to spring around £100 more for the GPS-sporting Fitbit Ionic.
Beyond burning calories and making mad gains on the squat rack, the Versa 2 also tracks the quality of your sleep. Apart the overall duration, it serves up stats on how long you were in REM sleep, and what your heart rate was throughout the night, to give you an overall score on the quality of your restfulness. At first, we thought the Versa 2's sleep tracker was on the fritz, as we were being given poorer sleep scores for six hours of sleep versus nights where we had eight hours.
Diving into the stats however, showed that during the eight-hour night, our resting heart rate was well above average overall, leading to a very restless night's sleep. Funnily enough, that particular night was filled with rather strange and vivid dreams, which probably lead to an elevated heart rate and a terrible night's sleep.
It's fascinating being able to track your sleep in this much detail, but you do have to fork out a monthly membership for Fitbit Premium (£7.99 a month) to access these extra stats, which we feel should be included as part of the base app.
Extra Skills: Alexa here
In addition to beaming basic smartphone notifications to your wrist, the Versa 2 comes equipped with smarter skills than the original, thanks to the built-in Amazon Alexa smart assistant.
You can setup the Versa 2's hardware button to bring up Alexa after holding it down for a few seconds, and ask her to set alarms, timers, reminders, The Rock's age, or anything else that takes your fancy.
We mostly used Alexa to check the weather and set timers in between sets at the gym, but it's worth noting the few seconds it takes Alexa to answer your question. It might be quicker to just use the assistant on your phone – though it's definitely handy if it's not within arm's reach.
You can also set up the button shortcut to initiate Fitbit Pay, which we found to be very useful when buying our lunches, paying for drinks or travelling around London without having to pull out our wallet or phone. You'll have to manually add your cards in the Fitbit app itself, as it doesn't pull in existing cards from, in our case, Google Pay, but once it's set up once, you're good to go.
The Versa 2 now supports Spotify Premium too, allowing you to control your tunes through your wrist with a few swipes and taps, though it's essentially a glorified controller for the Spotify app on your connected phone.
You need to manually transfer over songs to the Versa 2's onboard memory if you want to have tetherless music, which is a handy feature if you want to leave your phone at home.
If you're a Google Play Music subscriber like this reviewer, then you're sadly out of luck, but that annoyance can be directed at Google, for still not releasing their API for third-party apps to take advantage of their service.
Thankfully you can still use generic playback controls on the Versa 2 to skip through tracks and change the volume, although this wasn't very intuitive to set up.
Battery life: on and on and on and on…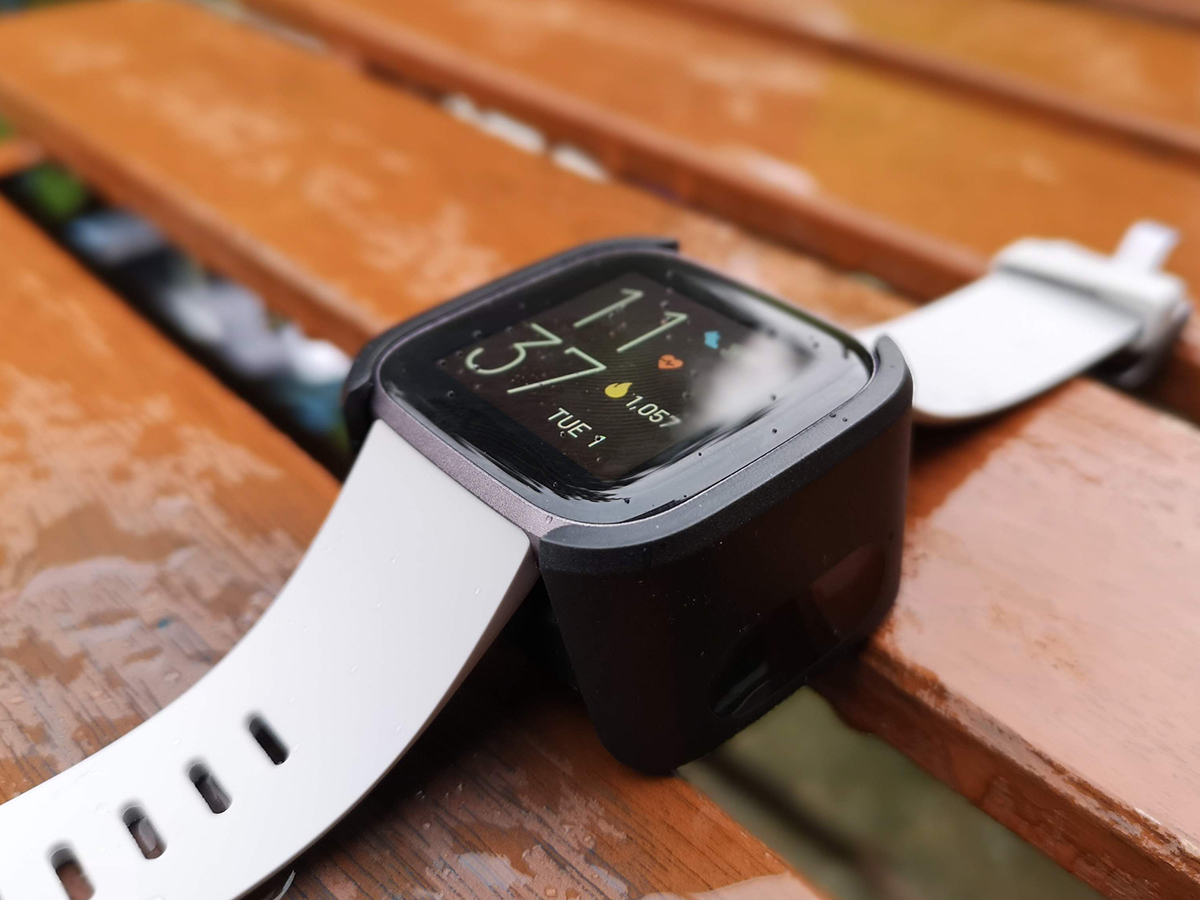 The Versa 2 blew us away with its battery life and, to be honest, it was almost annoyingly stubborn. We did our very best to drain it until it embraced the sweet blackness of the gadget abyss, but after putting it through its paces from full charge on a Wednesday morning, it still had eight percent left in the tank come 11:30 pm on the following Monday.
That's a remarkable six full days of constant heart, step and sleep tracking, not to mention keeping tabs on various fitness activities throughout the week, while also being used as an NFC payment device.
We never opted for the always-on display, which would have knocked around a whole day off, but we'd much rather have more time spent between charges, and didn't feel like we were missing out.
Six days won't sound like much to those of you rocking actual watches of course, but trust us – if you're used to the likes of an Apple Watch or other top-end smartwatch which requires daily charging, the Versa 2's longevity is an absolute godsend.
Sure it's accompanying vice-like clip charger is a bulky, ugly beast, but you're only going to see the thing around 5 days a month, which is a remarkable achievement. This is where the lack of battery-sucking GPS makes a lot of sense.
Fitbit Versa 2 verdict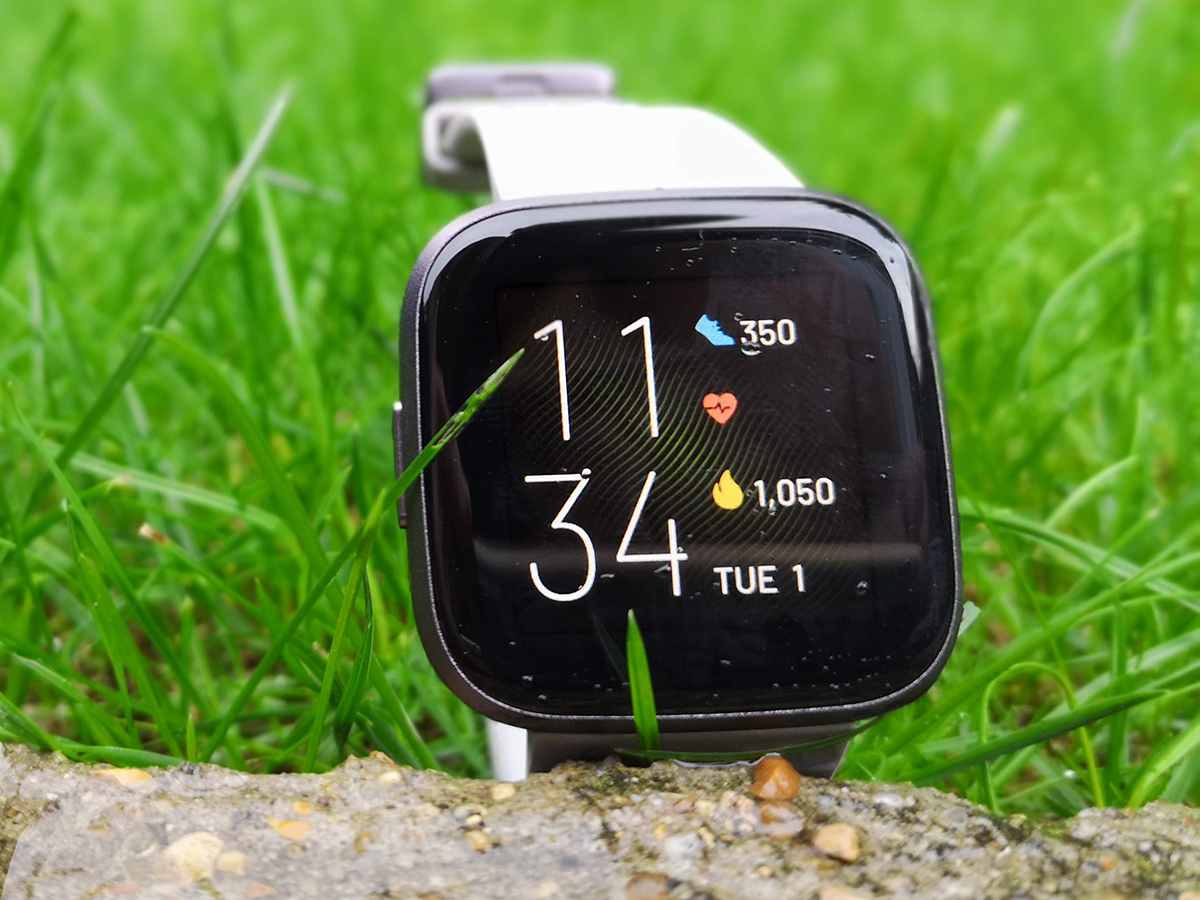 Are there sexier things you could put on your wrist than the Versa 2? Sure. One glance at an Apple Watch with a glittering Milanese loop strap could verify that.
Are there smarter devices you could strap on to yourself which let you dictate message replies to your mates? Absolutely.
Are there more complete fitness packages with built-in GPS to save yourself the hassle of lugging out your giant, expensive phone? Yep.
Despite all that however, the Versa 2 keeps things simple and uncluttered, bar a few niggly issues like changing the watch faces, setting up music controls and having some app features locked behind monthly payments.
The lack of GPS will of course be a deal breaker for some, and we won't argue with you, especially when you can nab the GPS-toting Garmin Vivoactive 3 Music or Polar Ignite – both of which are cheaper than the Versa 2. They arguably don't look as nice however, with the former having a comparatively lacklustre screen and no on-board music playback, and the latter also missing music as well as NFC payments.
If GPS is a must though, then the Ignite is the better choice, given its cheaper price tag and matching six days of battery life (if no GPS is used at all). If you're not fussed about taking your phone out while you chase that runner's high however, then the Versa 2 provides enough smartwatch and fitness tracking smarts for most people, in a well built, durable, and comfortable package, that simply refuses to die.
Stuff Says…
A solid all-rounder with enough smartwatch and fitness capabilities for most people, with a killer battery life to boot
Good Stuff
Great screen
Superb battery life
Solid fitness/sleep tracking
Extremely comfortable
NFC payments
Alexa smart assistant
Bad Stuff
No GPS
Changing certain settings via the app can be tedious