Ford Mustang Mach-E review: sporty, fun and top range, too
It's not really a Mustang. Or is it? The GT edition is getting there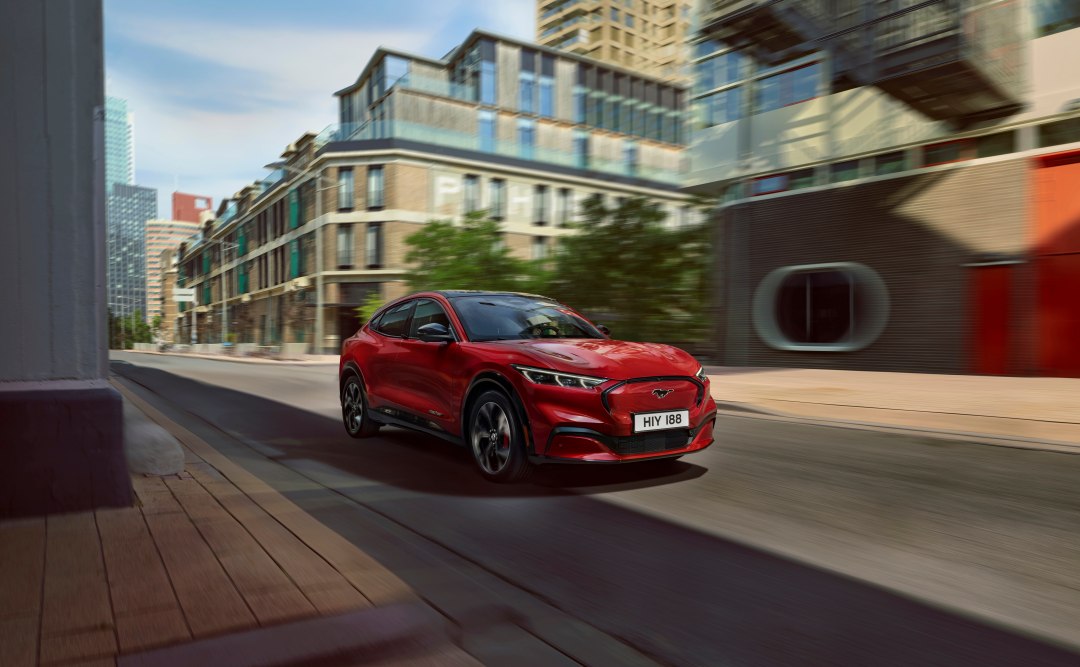 Ford raised some eyebrows when it first unveiled plans for the Mustang Mach-E. Some thought it was sacrilege to attach this iconic name to an SUV.
Worse still, the thing was going to be all-electric. Not quite what most purists would expect from one of the best-selling sports car brands ever. But, as time and sales figures have gone on to prove, people have taken to the Mustang Mach-E. In fact, folks seem to love it. Here's our Mustang Mach-E review.
If you're not convinced then it is possible to console yourself with a traditional Ford Mustang. Indeed, the petrol-engined range is still available and, yes, you can have a big, brash 'n' ballsy 5.0 litre V8 if you don't want to give up on fossil-fuelled fun just yet. The latest Ford Mustang is also the best ever in terms of handling and overall drool appeal.
But, if you want an EV and sportiness and SUV dynamics along with a Mustang badge then the Mach-E is the car to go for. Buy one of each and, well, you'll have yourself the ideal two-car garage. If you want even more thrills added into the mix, Ford also has the Mustang Mach-E GT to get stuck into. Prices start at just over £40k, so it's a lot of car for the cash.
Styling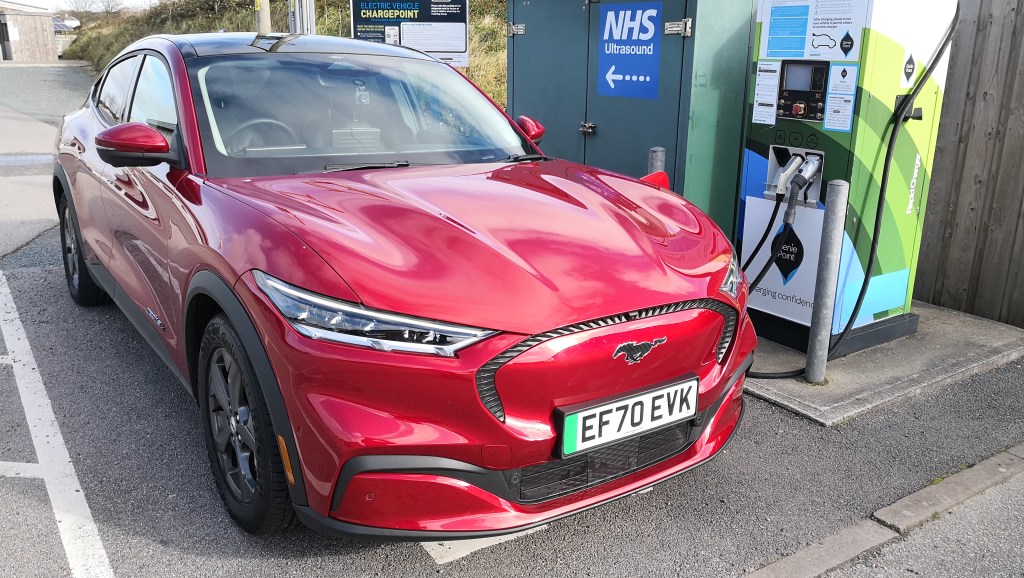 The Ford Mustang Mach-E in its original incarnation has plenty to remind you of its heritage. Thankfully, Ford didn't try and emulate the original shape and shoehorn all of the EV gubbins around that. Nope, instead Ford's smart designers created the SUV from scratch by building it on a dedicated platform, all while sprinkling the design with plenty of cool Mustang flourishes.
As a result, the car is instantly recognisable but undeniably different. There are nods to the original styling, like bonnet bulges, very familiar taillights and, naturally, the Mustang badge itself. It all works to great effect too, so rather than looking like a badly bloated impression of the original Mustang, this is a car that takes the best bits, puts them in a blender and produces an SUV that works in most departments.
Being an SUV you do get some bulk though, but that's not necessarily a bad thing. The Mustang Mach-E is designed to carry people, and things, in comfort. It does this by offering big doors, beefy seats and plenty of space inside. There's a voluminous boot that can take cases, pushchairs and even the odd bike if you can wrangle it Mustang-like in. Plus, there's a teensy frunk for some extra pairs of smalls if you've forgotten to pack them.
The drive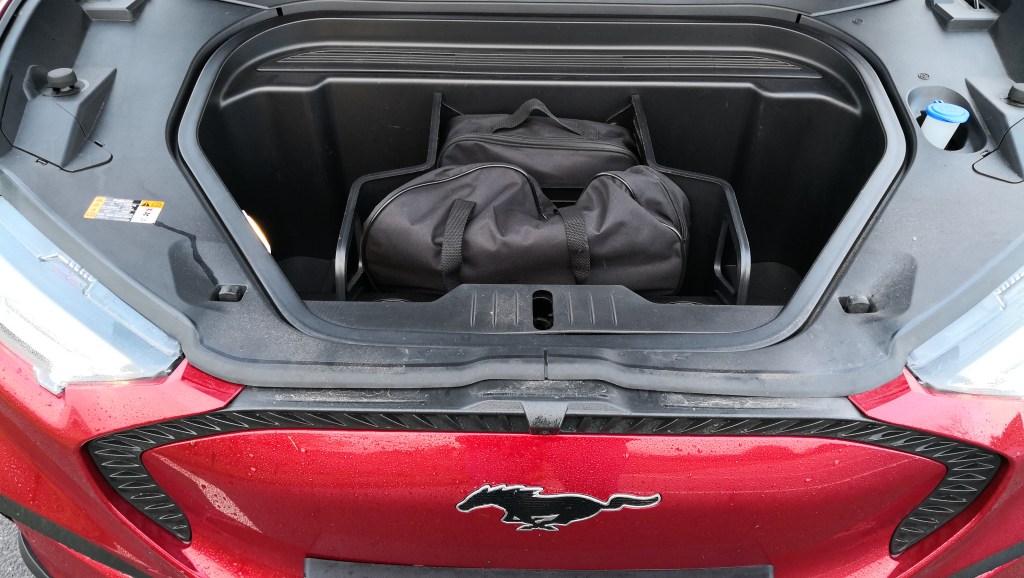 As is always the case, you'll really need to spend more to enjoy the additional benefits of the Ford Mustang Mach-E. Shell out for the basic, 68kWh rear-wheel drive edition and you'll be alright. It offers 265bhp, 0-62 mph in under 7 seconds and a top speed of 111mph. However, plump for the all-wheel drive Standard Range model and you'll get the benefit of more power and lots more torque – 580Nm compared to 430Nm.
Crucially though, with drive to all four wheels the handling is less skittish while performance is zinged up somewhat with a 0-62 mph time of 6.2 seconds. That's more than enough for most of the customers Ford had in mind for this thing, no doubt. Being an SUV though, and with carrying families around being one of the prime reasons for owning one, the Extended Range RWD Mustang Mach-E is perhaps the most sensible choice being able to cover up to 379 miles on a full charge.
This comes with an 88kWh battery or, for those interested in range and lots of grip, the Extended Range AWD edition delivers performance with a 0-60 mph time of 5.8 seconds and up to 335 miles of range. Extended Range models also get you the benefit of 150kW charging capability, which is a bonus if you have kids in the back with a very low attention span. Assuming you can find one of those super-fast chargers that is.
If you're not sensible then the 480bhp Ford Mustang Mach-E GT is going to be your prime target. It'll propel you from 0-62 mph in just 3.7 seconds, much to the consternation of other family members in the car with you. Seize the chance to jump in and go for a drive on your own in this one though and you'll see why there is more than the odd whiff of the original pony car lurking beneath that hulking exterior. Amazingly, Ford reckons you can still get around 310 miles on a full battery from this baby. Unsurprisingly though, lead-footed types might see much less than that.
Drive any of the Mustang Mach-E range and you should find plenty of fun on offer. The ride is dynamic and, for quite a large SUV it'll take on the best of your preferred back roads with aplomb. Ford has a proven track record on producing cars that are exciting to drive and, while there's no audible grunt coming from the engine bay (save for a fake and actually fun computer-generated burble) the Mustang Mach-E is no different.
There is the occasional skittishness on offer, which we hinted at earlier, but it's not alarming enough to make you take your foot off the accelerator. If anything, it adds a touch of zing to the driving experience, which isn't something you get from rivals like the VW ID.4 or Skoda Enyaq. Jaguar's I-Pace is a close match though.
If you're driving the all-wheel drive models the grip is more impressive and the supply of torque across the range instant, especially in the case of the GT. Plus, being up high you get the confidence to take on tight country lanes with a little more optimism knowing you can see exactly what's coming the other way. It's such a great all-round experience that you'll probably set the sat-nav to take the longer, scenic route as a result.
The technology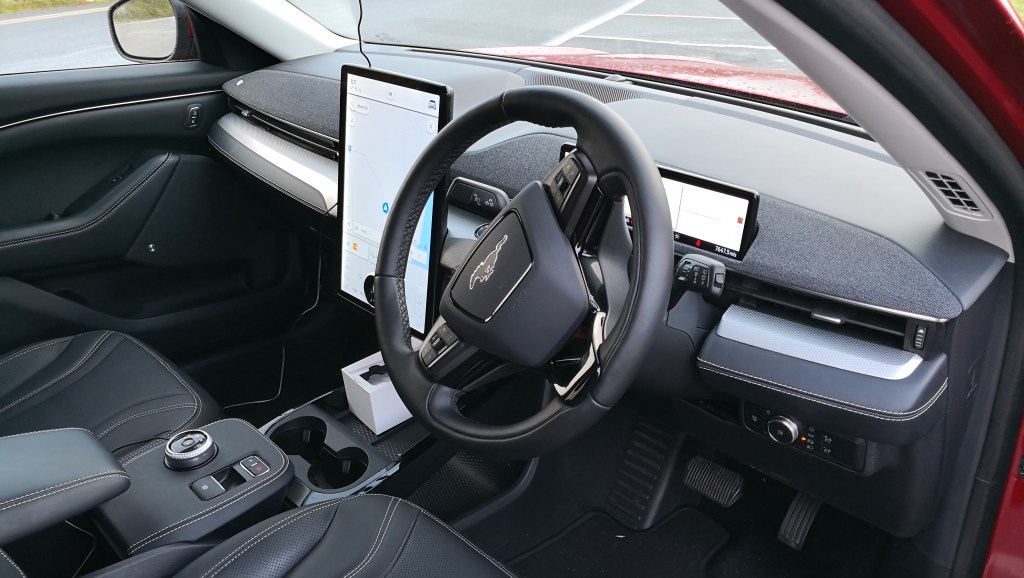 Modern Fords come with plenty of practical features that make everyday driving that little more bearable. The Quickclear heated screen is a firm favourite, for example, which is present in the Mach-E along with heated seats and steering wheel. In fact, the SUV offers everything needed to pass long (and short) journeys in comfort. USB ports to keep the kids plugged into their phones and tablets while up front there's a whopping great portrait-oriented 15.5 inch touchscreen. This is augmented by a 10.2-inch digital instrument display and the two work in perfect harmony together.
Cheaper editions of the Mach-E offer similar levels of infotainment though premium models add the benefit of smarter electrically adjustable seats and a truly bangin' Bang & Olufsen sound system, complete with ten perfectly positioned speakers. Ideal for soothing small children or, alternatively, letting rip when you've got the chance to drive the Mach-E on your lonesome.
There's the latest incarnation of Ford's Sync too, which has been nicely engineered and works to great effect via the central touchscreen. The app is a nice compliment too. There are enough physical controls on offer to make a sensible balance, but the resolution of the touchscreen makes you want to use it, even if you've yet to be convinced of such things. Apple CarPlay and Android Auto can be called into service if you prefer to do your own thing though.
Ford also makes the driving experience idiot proof with a circular dial that lets you set one of three drive modes including the default Active, alongside an eco-minded Whisper or rather livelier Untamed option, which is self-explanatory.
However, if you're completely new to the Ford Mustang Mach-E then you might feel like a bit of an idiot when it comes to getting in and out. This is actually easier than it first appears thanks to small circular buttons on the door pillar that need to be pressed and a fingertip handle that gets you in. There's a neat numerical keypad on the driver's door too, which can be configured with a PIN in order to bypass the need for a key. Ideal if you're parked up and want to go for a run, say. It's not a new thing per se but works brilliantly here.
Verdict
Driving the Ford Mustang Mach-E turns out to be a much more interesting experience than you might be expecting from a big and bulky SUV. Alongside a surprisingly dynamic behind the wheel experience there's plenty of added value here too, with lots of space, comfort and tech to keep most owners happy.
Those who want to get long family drives over and done with as soon as is realistically possible have the option to go for extended range models. A sensible bet if your nerves start to fray with a carload of impatient toddlers on-board.
However, this EV is a lot of fun too. While most of the genuine laugh-out-loud silliness is reserved for the GT edition, you'll get enough from even the basic rear-wheel-drive model to enjoy the odd chuckle too. It's not really a Mustang then, but the fun levels are certainly along the same lines.
Stuff Says…
It's not a sports car if you love a traditional V8, but it is sporty
Good Stuff
0-62 in as little as 3.7 seconds
Up to 335 miles range
Excellent B and O sound system
Bad Stuff
Big for a Mustang
Opening the doors harder than it needs to be