Google Nest Hub Max review
There's a camera in the kitchen, what am I gonna do?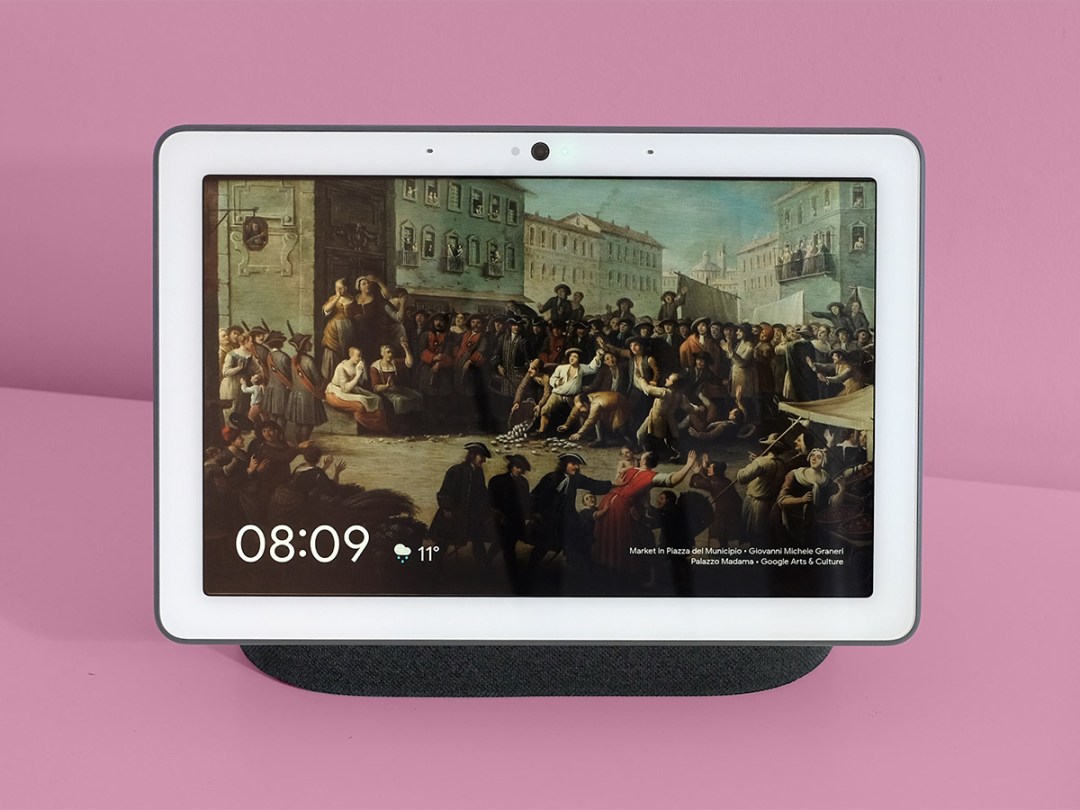 The future sci-fi movies promised us is here. No, you don't get a hoverboard, a holodeck or a teleportation pad for your utility room. But a disembodied voice will remind you to buy toilet paper.
This, and turning off your bedroom light while you're under the covers, is a big part of the reality of digital assistants for many of us. And it's also why the Google Nest Hub Max is a bit special, as it does more.
You see, it's a great home for Google Assistant, but jacks-up the experience with sound good enough to make this the only speaker you need 95% of the time. And a big screen that'll make waiting for pasta to cook a lot more enjoyable.
Design: Beef strog-on-and-off
The beefier sound and larger screen are the most obvious upgrades over the original Home Hub, which has a wee 7in screen. Followers of tech will also notice the name change.
This is now called a "Nest" hub because you can use the Google Nest Hub Max as a smart home camera. So it's a mini surveillance machine, a tiny TV, a diddy hifi, as well as a way to talk to Google Assistant.
So, yeah, that's pretty good value for the space it takes up. The Google Nest Hub Max is an upright unit. There's no hidden backside bulge to pinch all your free kitchen worktop space. Front to back it measures just 10cm, so you can push it right up to a wall pretty happily.
It looks smart too, dressed up in Google's now-signature look of grey fabric and white.
There are a few holes to pick, of course. Today's top tablets have super-slim borders, and they'd probably be even thinner if we didn't need some space for our thumbs to hold onto.
A device like the Google Nest Hub Max? It only needs borders big enough to hold the camera, but has massive ones because this is not truly cutting-edge hardware. Its job is to appeal to as wide an array of us plebs as possible, and at £219 — or a quarter of an iPhone 11 Pro — it has a decent chance of achieving that.
So should you let Google Assistant into your house, listening to your conversations so your advertising profile knows you better than your spouse? The Max makes a pretty compelling case.
The Google Nest Hub Max only has two microphones, not seven like the HomePod and Echo Dot, but seems to be able to hear you just as well. It'll understand your commands over music and background noise, and Google Assistant is still ahead of Siri and Alexa in terms of how natural your interactions feel.
It also still talks a bit like a robot butler, but with a Next Hub Max you'll get to experience Google Assistant as it develops, not as it is today.
Video: what you looking at?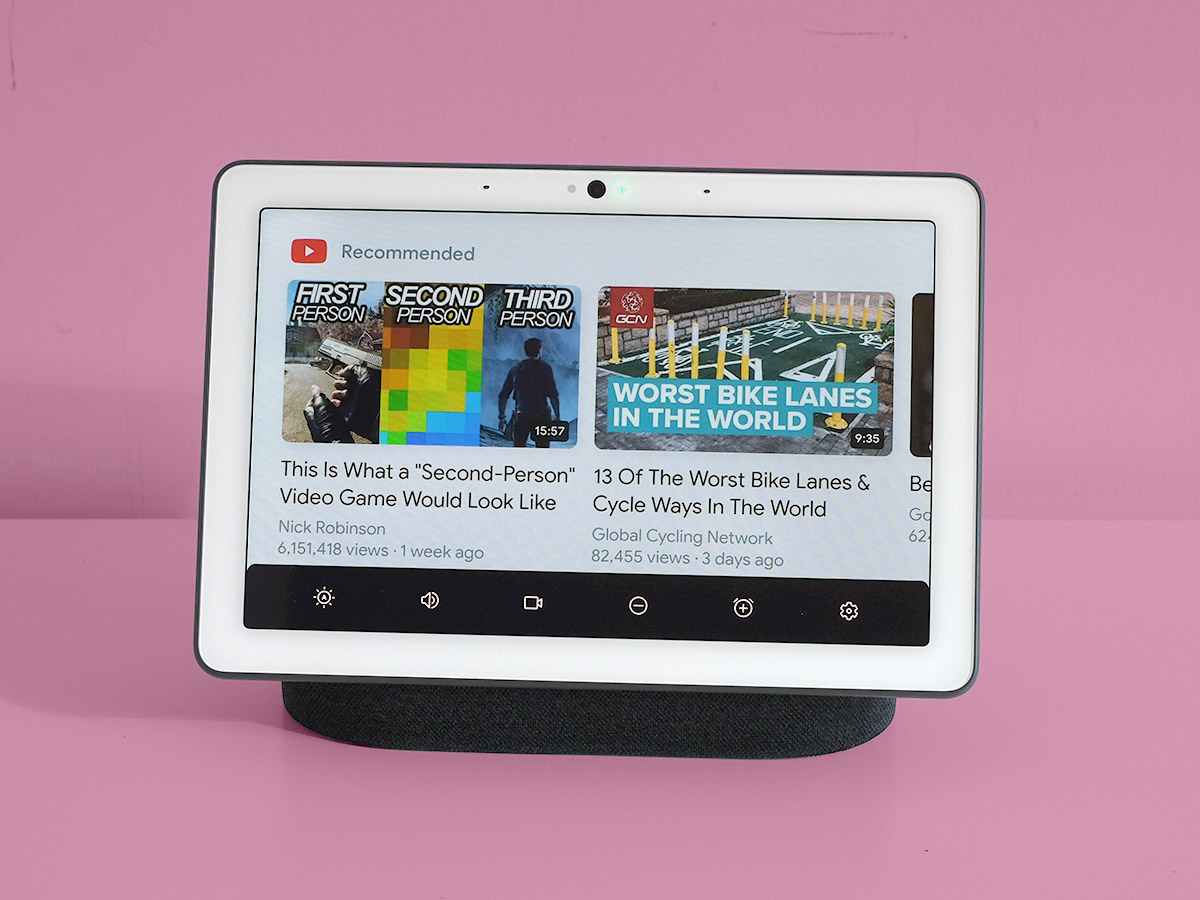 There's some other development still to be done too. The Google Nest Hub Max lets you watch YouTube but not Netflix, which feels like a hole in its chest. Sure, we probably wouldn't watch a whole movie on it, but an episode of The Good Place or some stand-up comedy while cooking? Yes, we want that, thanks.
It's just about perfect for the job of playing YouTube videos already, as long as you don't want to select them as you would on your phone. This thing may have a touchscreen, but it prefers to be talked to rather than touched. You just get a smattering of recommended YouTube vids on the screen, so get used to the idea of talking to the Max.
The screen itself wouldn't impress anyone if this were a standard tablet either. It's a big 10-inch panel but the 1280 x 800 pixel resolution doesn't look all that sharp up close.
But are you actually going to peer at the Google Next Hub Max from a tablet-like distance all that often? We'd bet not. Next time we want at least 1080p, but for now we're happy.
It has other highlights of its own. The Max is a pro at being an "ambient" display. It can match a room's lighting so it doesn't stick out too much, while keeping what's on-screen clear. The effect is like a really good photo frame, where the picture almost seems printed on the surface.
Google has nailed this aspect far better than the Amazon Echo Show 5, which tends to look like a regular old LCD screen no matter the room you put it in.
Nest camera: not so snappy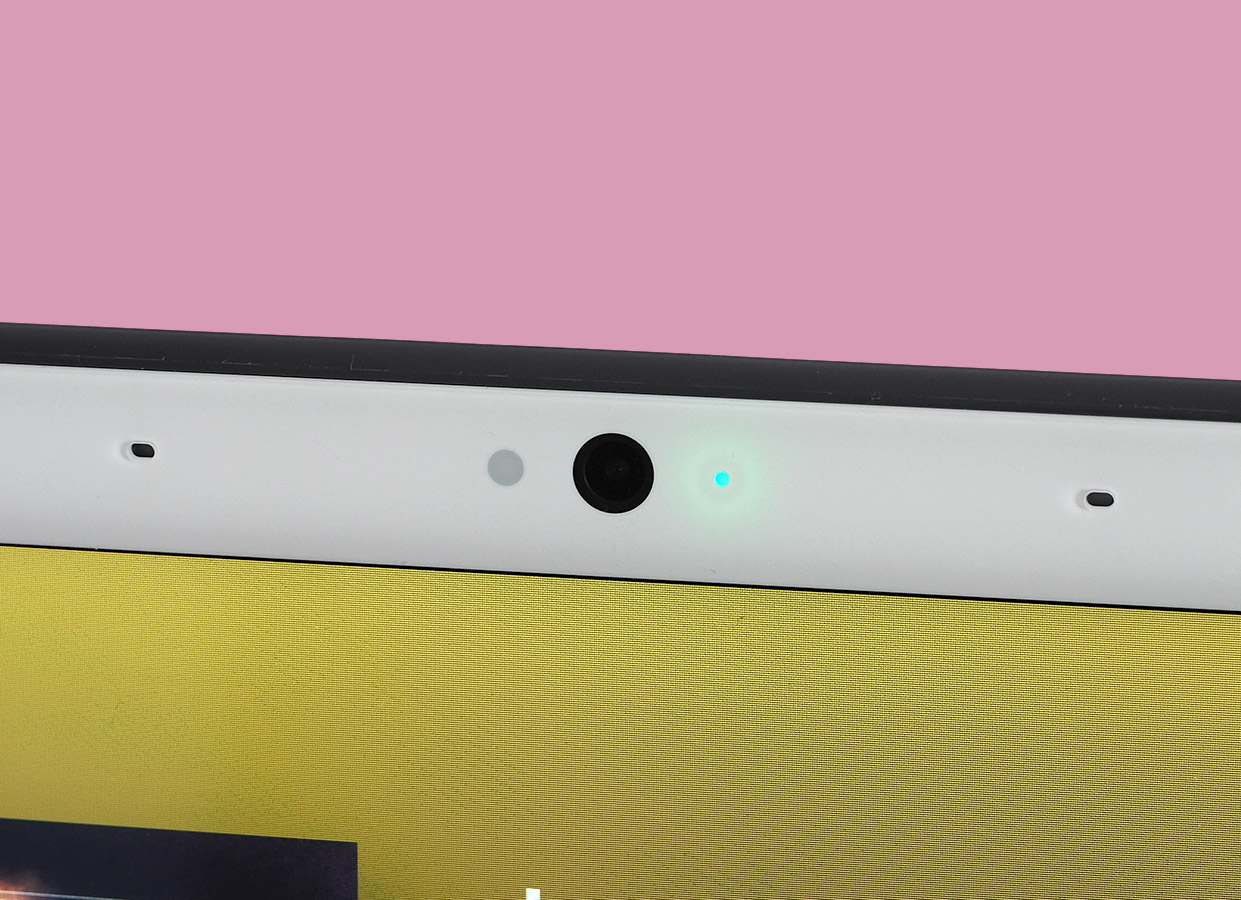 The camera side, however, needs a bit of work. When functioning perfectly the idea is you can use it like a video intercom, chatting with your Google contacts for free over your home Wi-Fi.
Set it up using the Google Home app and you can hook it up with the Google-owned Nest app. Get a Nest Aware subscription (from £4 a month) and it'll store clips of any motion it notices. You can use your phone to let it tell when you are at home or not too, so it doesn't constantly think there's an intruder dancing half-naked around your bedroom.
In theory this is great, but we've had some problems. Our Google Nest Hub Max keeps thinking its camera is "offline", even though it seems to be happy to record those motion-sensed clips. Getting started with a Nest Camera is pretty pain-free, but the Max doesn't quite seem there yet.
Once perfected, you'll be able to check in with your Max's camera wherever you are, using the Nest app, and chat with your lonely dog when you are at work. There's no night vision mode, so those genuinely worried about home security will want a dedicated cam.
You may have better luck than us in general, though, because the "offline" status we keep on seeing should only really appear when you shut off the Google Nest Hub Max's microphone and camera. There's a mechanical switch on the back that does so, to give punters some confidence that Google doesn't run some giant surveillance operation, a room full of thousands of screens where 20-somethings listen to you sing along to Barry Manilow.
Bad news: while Google Assistant does have a sing along karaoke mode, it's currently restricted to kids' tunes.
Sound Quality: best of its bunch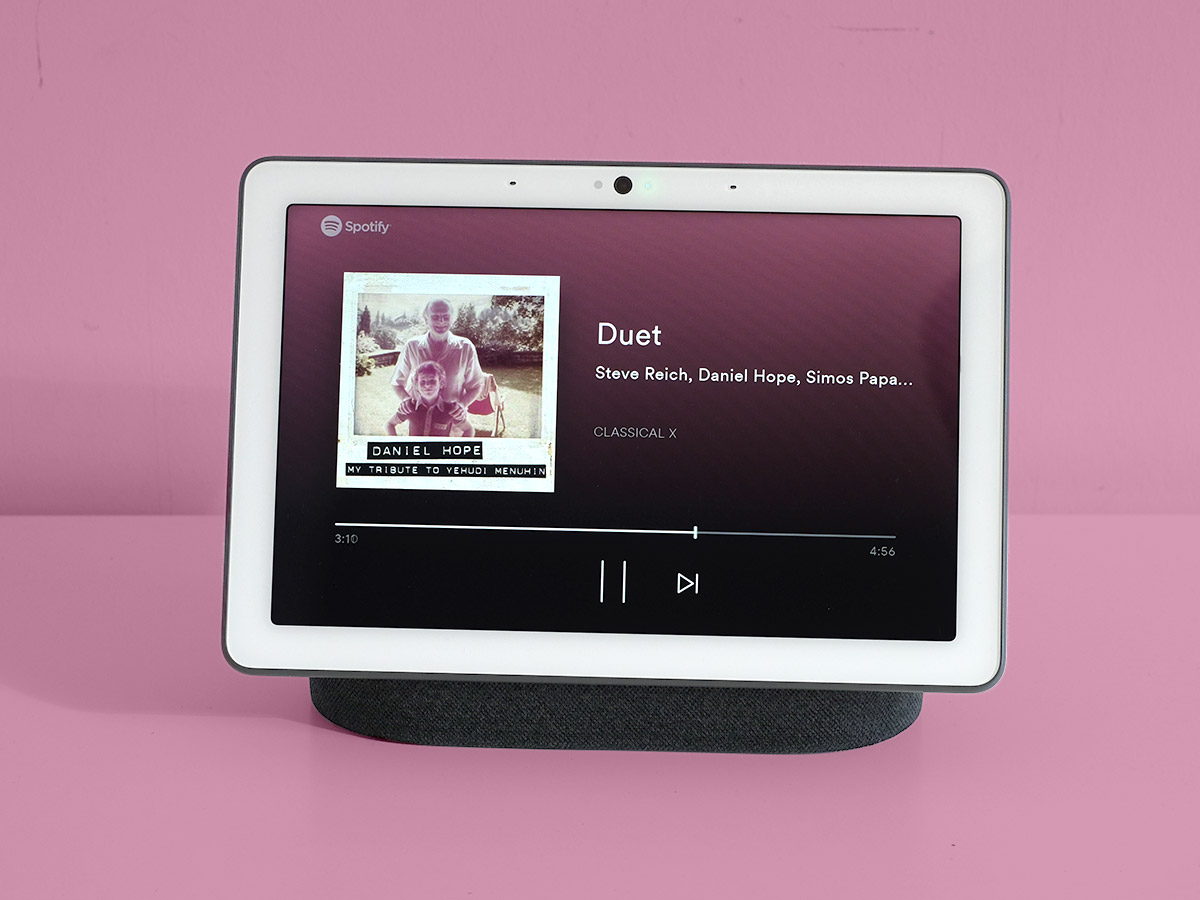 The Google Nest Hub Max does sound great for a smart display, though. It has a 75mm bass woofer and two 18mm tweeters for the higher frequencies.
This is a beefy-sounding speaker with real bass that gives power and punch to your music. The audio side of the Google Nest Hub Max is no afterthought.
But how does it compare to the Sonos One? Sonos' small speaker may not have a screen but it is still the gold standard for small smart speaker sound.
The Nest Hub Max isn't completely embarrassed by the Sonos, but it isn't quite up there either. Bass heft is comparable, but the One has brighter and more detailed treble and its mids are far better projected. Lead vocals are pushed out of the mix in a way they simply aren't by the Google Nest Hub Max. They have superior texture too. You end up with a flatter, less dynamic presentation here.
However, we could say the same about just about any sub-£200 smart speaker when up against the Sonos One. And when you consider the Max is only about £35 more, but has a camera and screen, the trade-off seems fair if you want to do more than just listen to music and control your smart lights. Even basics like the weather forecast work much better with a screen to look at.
And the 10in Echo Show? It has bigger bass thanks to its dual 50mm drivers and bass-boosting passive radiator. It has more volume on tap too, but those after a relaxed and balanced listen may prefer the Nest Hub Max.
Google Nest Hub Max verdict
The smart display is one of the newer areas in tech, and they are going through a bit of an awkward stage. Google and Amazon are wrestling for power over your living room, and that leads to a few annoying gaps.
You can't play Amazon Prime Video or Netflix on the Google Nest Hub Max. The second may come in time, the first probably won't. Google's haste to add Nest support has also led to a security cam feature that's a bit wobbly too.
However, buy-in knowing this is a bit of a work-in-progress and you'll be happy. It also does plenty to keep you entertained already, from letting you know just how wet your shoes will get on the way to work, to playing tunes with the same panache as some wireless speakers around the same price.
Stuff Says…
This is a model smart display, even if a few parts still need a tweak or two.
Good Stuff
Sound quality is good enough for day-long music listening
Smart small-footprint design
Screen adjusts to ambient light brilliantly
Responsive voice recognition
Bad Stuff
Nest cam support needs some work
Screen could be sharper
No Netflix support (yet)