Google Pixelbook Go review
No better time to get your head in the cloud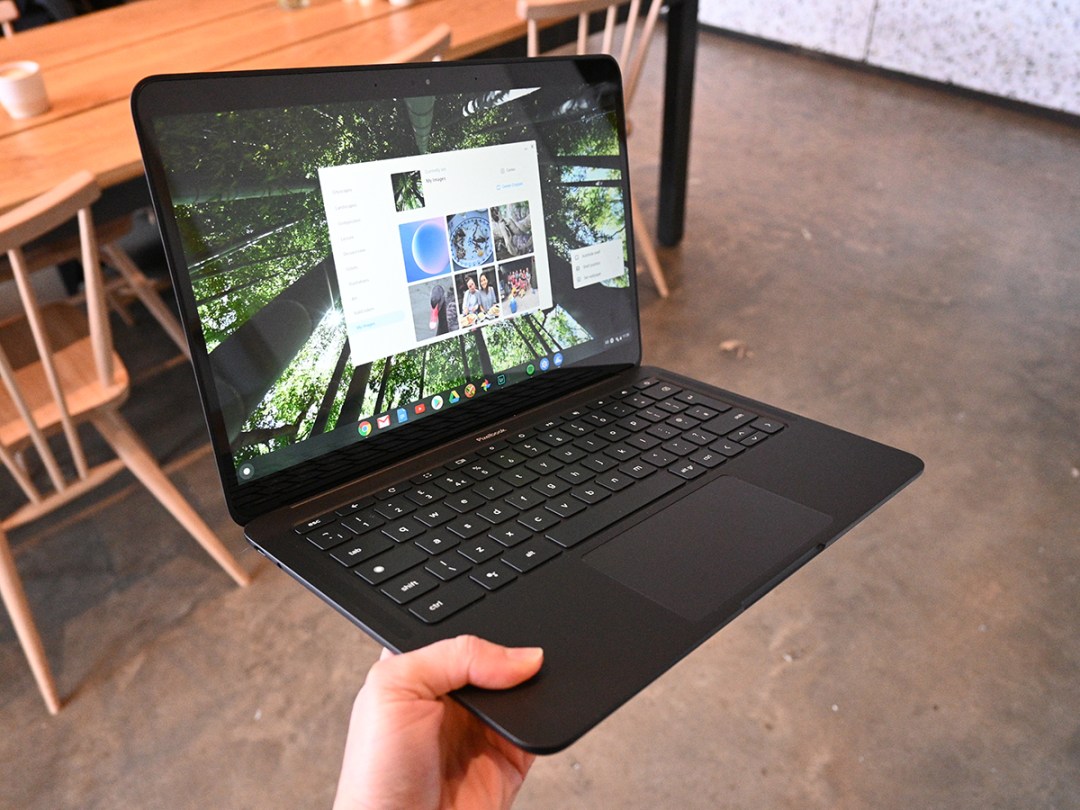 There is beauty in simplicity, especially when it comes to tech.
Google's latest PixelBook Go is an ode to minimalism and the company's best attempt at convincing many doubters of ChromeOS hardware.
The ostensibly limited operating system and lack of professional multimedia software will mean this laptop is not suitable for some: 3D animators, or videographers for instance, however, editing Android apps such as Adobe Lightroom and Photoshop express should satisfy lightweights.
Since Google has knocked down the price somewhat from the eye-wateringly expensive original Pixelbook, the case for swerving a Chromebook has become null and voice since the software has come such a long way and is constantly being improved.
We were given the next one up from the entry-level model – an 8GB RAM, 128GB SSD 8th Gen Intel i5 processor, which is probably the one we'd recommend. It's a happy medium between the entry level which only has 64GB storage and an inferior processor and the top of the range model, which costs over £1,000, but comes with a 4K screen, 256GB storage and 8th gen Intel Core I7 processor. 
The hushed keyboard and supposed 12-hour battery life are amongst key highlights, but how is it to use every day, for both work and personal stuff? 
Build and design: Pure and Simple
This is one seriously good-looking laptop. With a body built of magnesium rather than aluminium – as it requires less material, so is lighter.
When closed it's a slim clam shell, ours was 'Just Black' which has a matte smooth finish and perfectly curved with edges meeting to create a seamless monolith. Alberto Villarreal sees hardware design in the same light as sculpture or furniture, and we'd agree it's more attractive than most chairs.
The bottom has a textured rippled effect, making it super easy to grip hold of in the hand. On either side, there's a rubber strip to stop it from sliding across a table too.
It weighs just over 1kg which is lighter than both a MacBook Air and the average pineapple apparently. You can open the lid with just one finger.
This opens just like a standard laptop, no 360 tricks or tablet moonlighting like the disaster that was the Pixel Slate. This is a back-to-basics chromebook, and we're delighted about that. Well, not totally basics – it still doubles as a touchscreen, which can come in handy for editing photos by hand, as you might on a smartphone and also for playing Fruit Ninja, which is a beautiful experience and this reviewer might have re-discovered an unhealthy appetite for it. Is there such a thing as too much fruit?
There's a delightful keyboard which barely makes a noise, so good news for fellow colleagues who can no longer bear my key bashing. It's worth noting the touchpad makes quite a loud click when pressed though. The keys are comfortably spaced out and there's still decent feedback despite its soft touch.
The letters on the keys light up by holding down the alt key and upping the brightness levels which is useful when you wake up in the middle of the night and suddenly feel compelled to jot down the plot to your ghost story.
You'll find two USB-C ports, and ole chum – the 3.5mm headphone jack. And that's it. We'd like to see an SD slot too, for expandable storage alone.
One last thing before we get along to the screen, there a front facing 1080p camera that can record video at 60fps, that's sharper than the MacBook Pro and means that my Google Hangout pals will be able to count my freckles (if I had any).
Screen and sound: Bright and beautiful
The bezels are fine and the 13.2 1080p display is vibrant and colours feel natural without looking overly saturated. This is especially useful as the Chromebook lends itself to basic photo editing with on-board Lightroom basics and Google Photos which is where I store my albums.
There's also the 'Night Light' option which is easier on your eyes and can help you read your screen in dim light.
The 16:9 touchscreen gives a wider and narrower frame, which is totally fine for watching Netflix or YouTube. The wider look can feel cramped at times though, especially the lack of height when reading long documents when browsing the web or working on a presentation.
The top-tier model rocks a superior 2840×2160-pixel 4K display, but sadly we didn't get to see it – plus we're not convinced it's necessary given the rest of the specs.
Sound comes from the front-firing speakers either side of the keyboard and although it's not awful, and fine for watching a few funnies on YouTube, it won't cut the mustard for music. It completely lacks bass and just isn't very loud.
Performance and features: Wizard of OS
It feels a bit like an empty room, so start by downloading apps from the Google PlayStore. You'll be asked to sign into your gmail and then all your things will just be set up in a half spooky, half reassuring way as you're reminded that Google knows just about all your private details.
On security, Chromebooks are harder to hack into as there are less ways to get infiltrate the system. There's no fingerprint sensor here which would've been cool, however, should you be using a Pixel phone or any other Android, you'll be able to unlock with your biometric sensor there. Ecosystem bliss.
Lightroom was installed on my Pixelbook Go, but you have to pay extra for a monthly subscription to the full suite, which is very tempting and well worth it.
You can also speak to your laptop with a little 'Hey Google' which can be handy when you don't want to touch the lovely keyboard. Like when you're making a frangipane and you can't remember how many eggs to fold in, but your hands are full of sugar and butter.
Performance-wise, the Pixelbook Go didn't struggle with any of the daily tasks required. Considering there's a fanless Intel CPU inside, you can't expect mad levels of grunt. And it's not like you can do much gaming on it unless it's Android based, of which there are loads of good'uns to choose from.
Many reported issues with Bluetooth with the original Pixelbook. We were able to connect to Apple Airpods Pro with little trouble, as well as a Bluetooth speaker – so any issues there seem to have been ironed out.
I tend to throw a lot at my browser and often have a multitude of tabs and apps open and running, so I did experience some stalling when I had over 15 apps running with a smattering of google search tabs.
Battery life: A long time chome-ing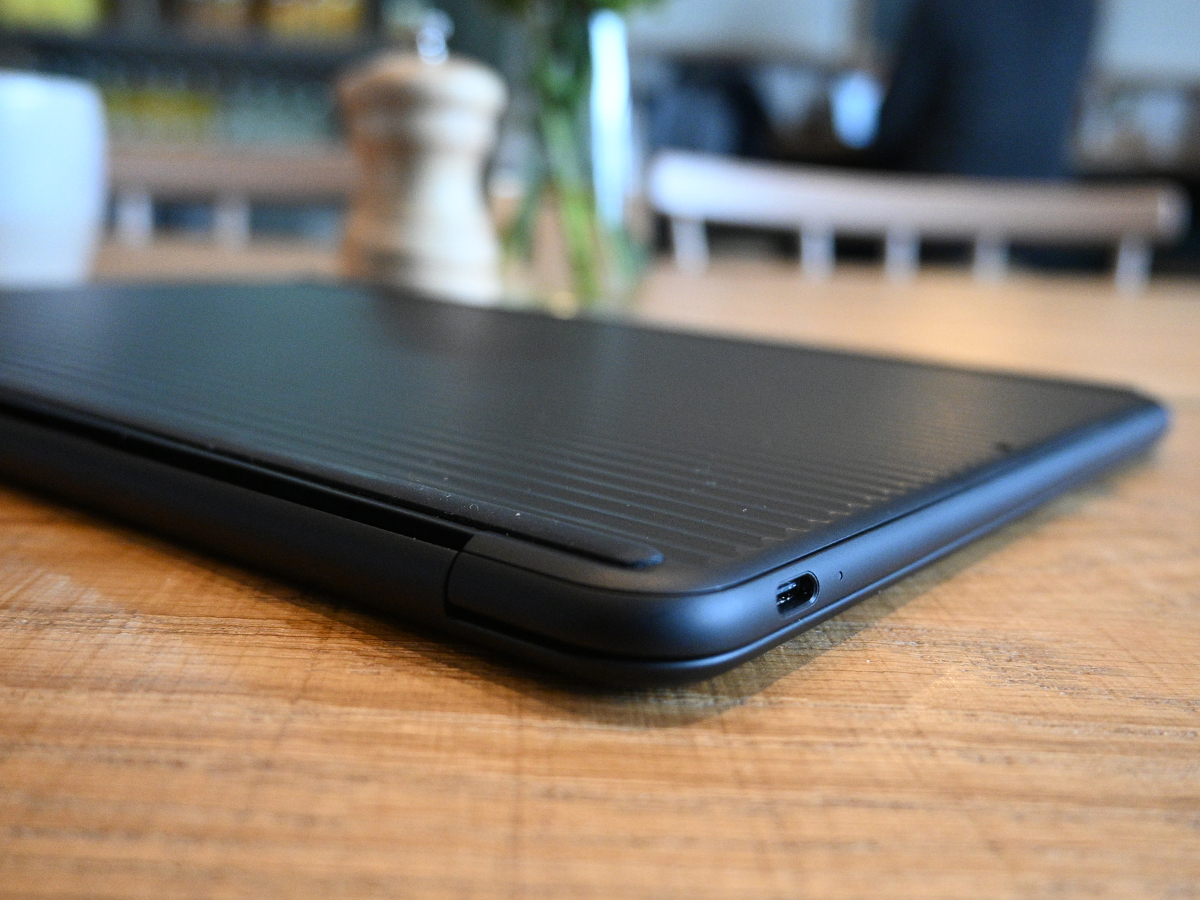 We're yet to do a video playback testing but having used the Pixel book for a few days with some quite heavy use I've only had to plug it in a couple of times.
The battery had only lost about 50% of charge on the first day of usage and that was after downloading lots of vital apps and editing a load of photos and sifting through all emails and editing work docs on Outlook (which is available to download). That amounts to at least 5 or 6 hours.
One thing is sure, it'll last at least an hour longer than the 2019 MacBook Air. After just 20 mins on charge, the Pixelbook Go can get at least 2 hours extra charge.
For portability and little conveniences like fast charging, puts it straight back in the line-up of our favourite Chromebook. Google promise 12 hours, and from using it this week that's about right, maybe just shy of.
Pixelbook Go verdict
The Pixelbook Go gets a lot right – stunning design, long lasting battery and portability factor.
It does just boil down to what is a luxurious Chromebook with a touchscreen and an in-built assistant – and we'd recommend this to anyone who travels a lot and uses Google's suite of apps. The webcam is another plus for those who have a lot of web meetings.
If you're usually in browser mode and use cloud-based apps for work, then the Pixelbook Go is the ideal companion.
Tech specs
| | |
| --- | --- |
| Processor | 8th Gen Intel Core m3, i5, or i7. |
| RAM | 8GB / 16GB of RAM |
| Storage | 64GB / 128GB / 256GB SSD |
| Weight | 1.3KG |
| Thickness | 0.5in |
| Display | 3.3in, 16:9 touchscreen; HD (1920 x 1080) or 4K (3840 x 2160) |
| Battery | 11-12 hours |
Stuff Says…
If you want a light and stylish laptop and spend most of your time in the cloud, it's for you.
Good Stuff
10 hour+ battery
lovely deisgn
lightweight
silent keyboard
excellent webcam
Bad Stuff
not the best specs
there are cheaper alternatives