Honbike Uni4 review: the wheel deal
Distinctive looks meet comfortable electric commuting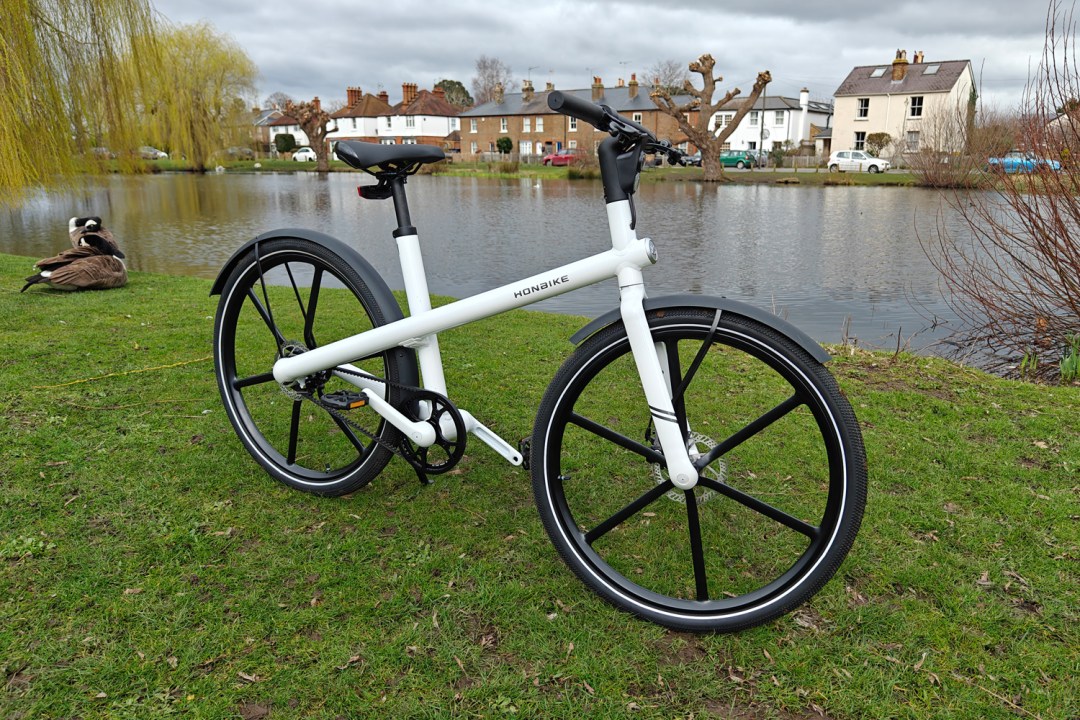 Electric bikes rarely major on looks. Those chunky battery packs have to go somewhere, after all, and manufacturers usually just bolt them on wherever they'll fit. Not so with the Honbike Uni4 (£1699, from Honbike): its lithium cells are fully stealthed inside its svelte tubular frame, which is rocking an eye-catching asymmetric look.
This urban commuter is designed to be as maintenance-free as possible, with no gears, integrated lights and a hub that swaps greasy chain drive for an altogether cleaner belt drive. It's an approach that has kept the Vanmoof S3 near the top of our best electric bike list for what feels like eons. The Honbike foregoes a few of the features seen on its rival – but is a bit easier on your wallet as a result. Does that make it an ideal ebike?
Design & setup: totally tubular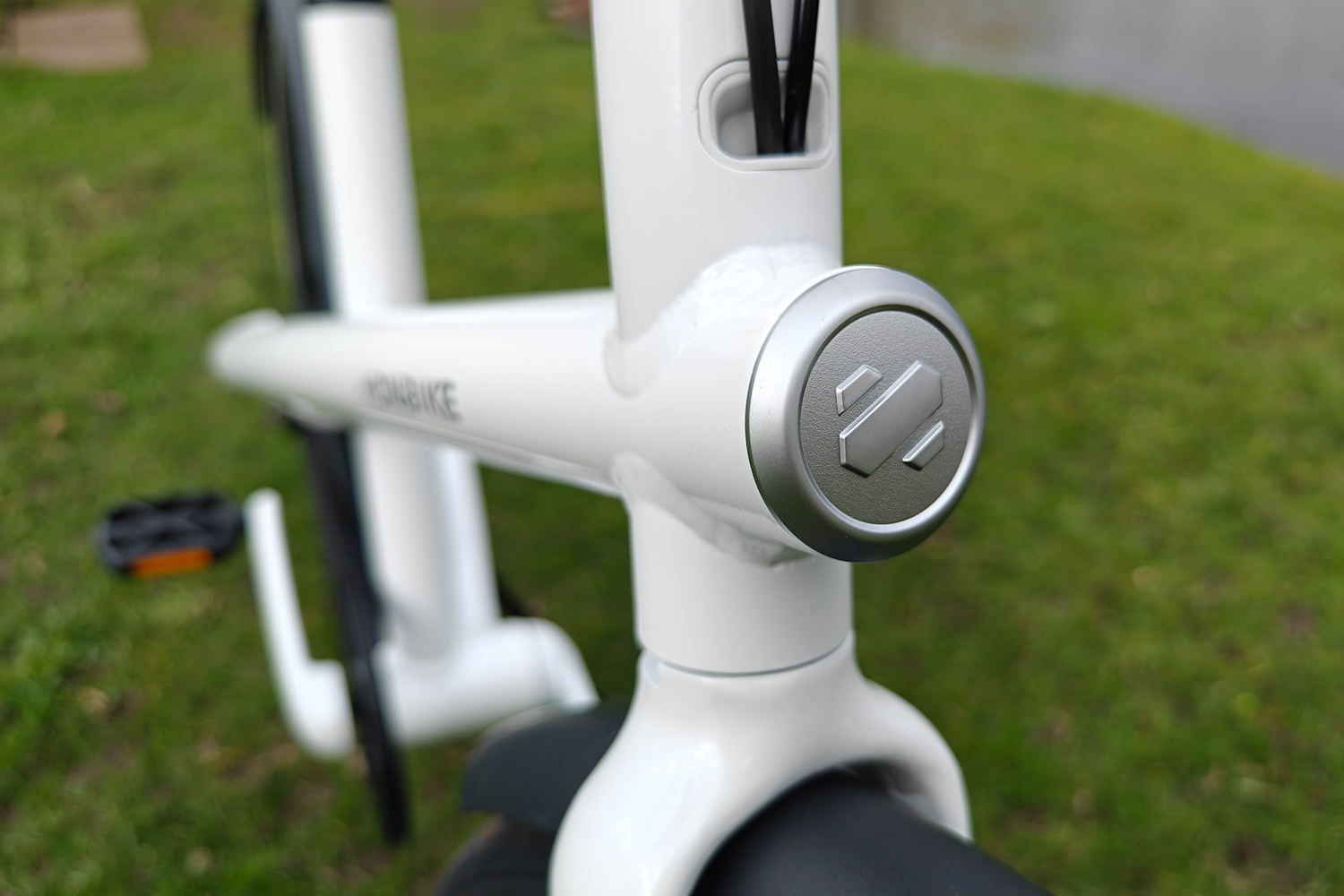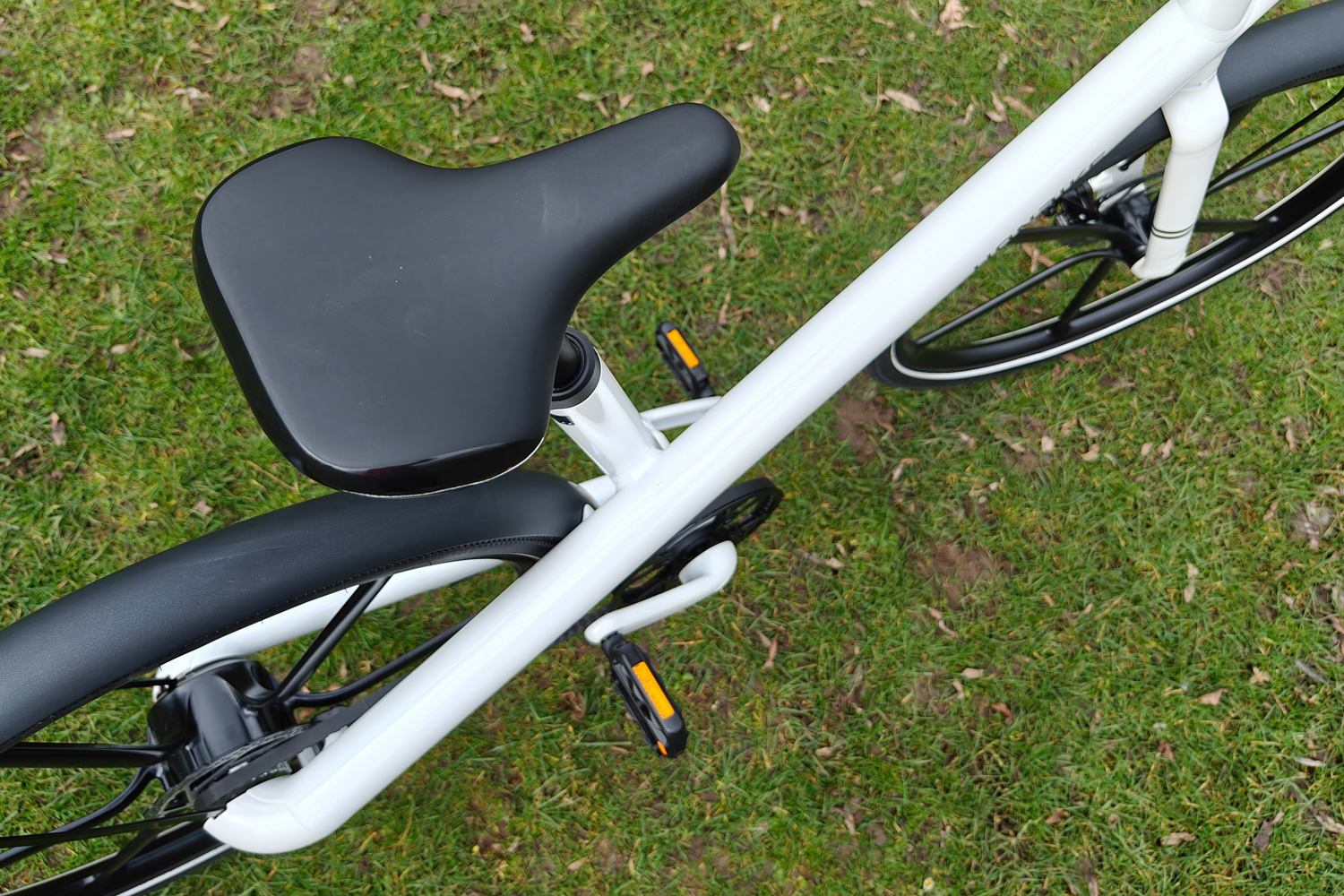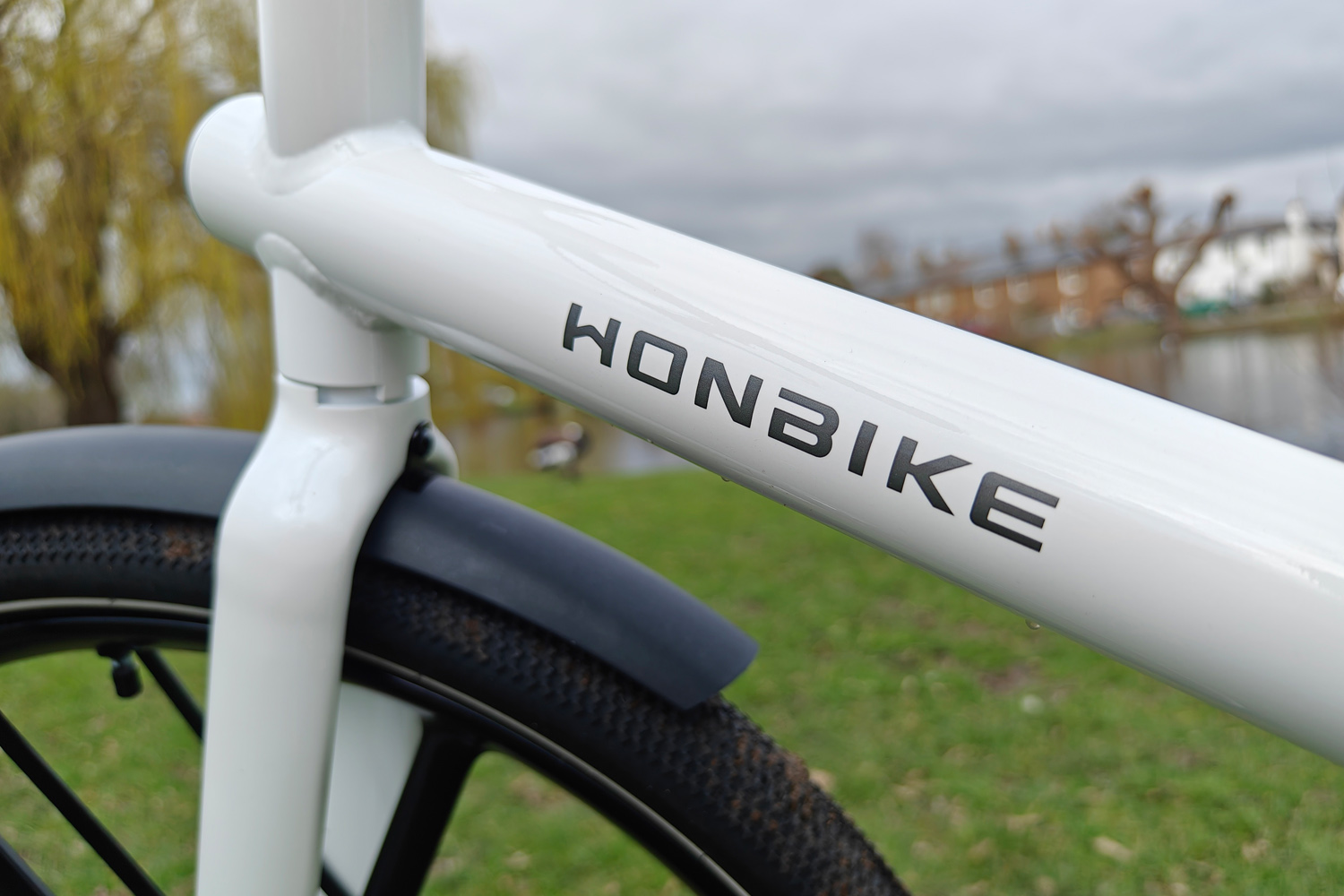 While the matte black Uni4 looks like something Batman would ride, the glossy white version sent to us for testing is more Apple-esque than stealth bomber chic. With minimal branding, internal brake cables and distinctive six-spoke magnesium wheels, it's very much the head-turner – and that's before you clock the three tube frame. It's asymmetrically offset to make plenty of space inside for batteries, but you can't tell once you hop on board – it all feels perfectly balanced.
The frame is built from aluminium (aircraft-grade, according to Honbike), with curves being the order of the day. There's barely a 90-degree angle in sight, and no sharp edges anywhere. At 20kg it's no featherweight, but still a lot lighter than traditional electric bikes like the Momentum Transend E+, so we were able to lug it up sets of steps without too much strain. The kickstand has no trouble holding it securely in place, either.
Flat handlebars are the first major clue this is a bike built primarily for commuting. The bars and stem are a single part, with a built-in LCD display in the centre and headlight at the front. There are also buttons and a bell (mechanical, not electric) to the left and a thumb throttle to the right. Other notable inclusions are front and rear mudguards, and an integrated kickstand.
The bike arrives mostly complete; we just had to fit the front wheel, screw in the pedals and attach the front mud guard using the supplied hex keys and nut wrench. You'll also need to adjust the seat based on your height, which is the work of a few minutes. We quickly realised we'd mounted the mud guard backwards, after a wet ride left the frame considerably more splattered with grime than we were expecting. The instruction manual could have been clearer here.
Features & battery: twist and go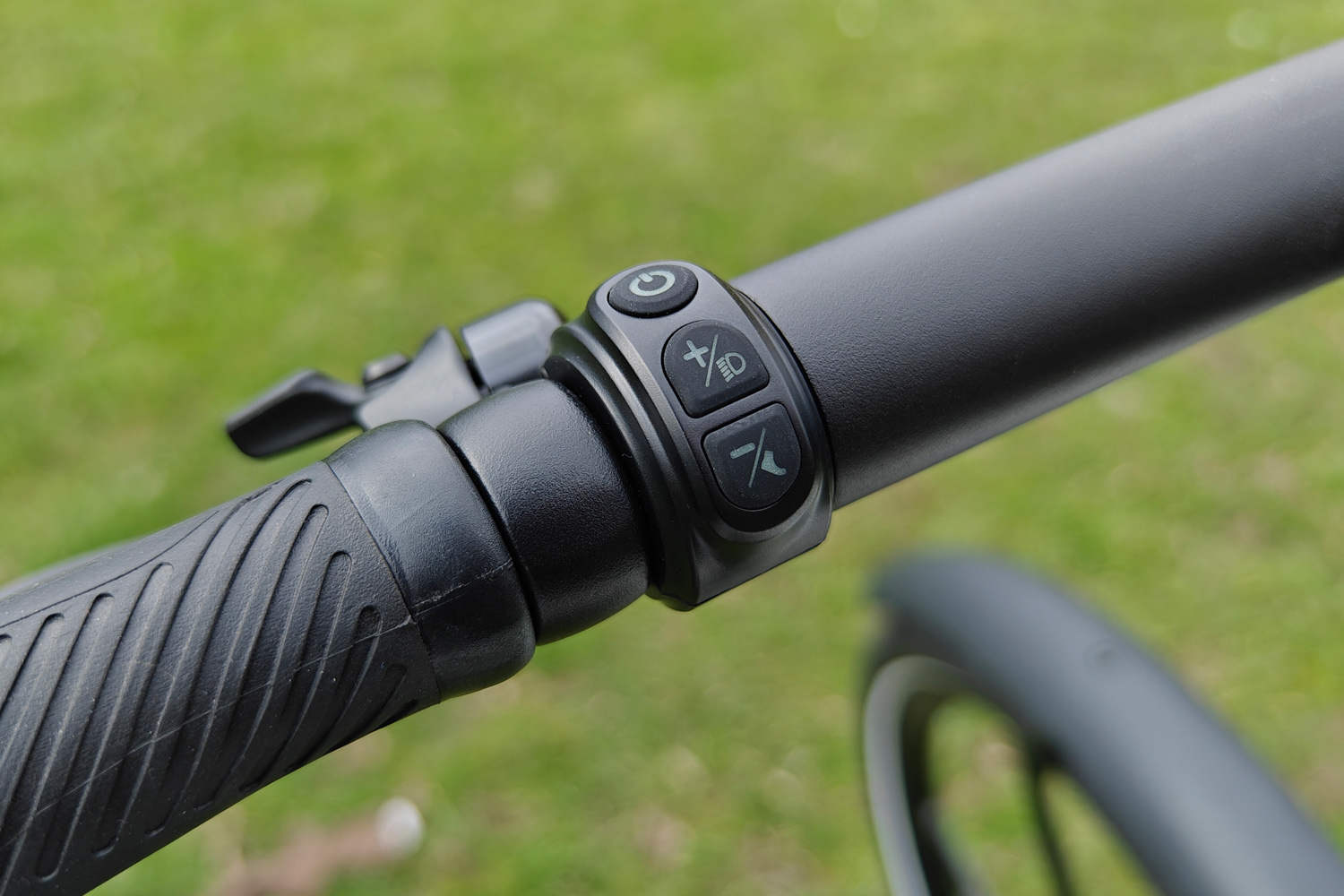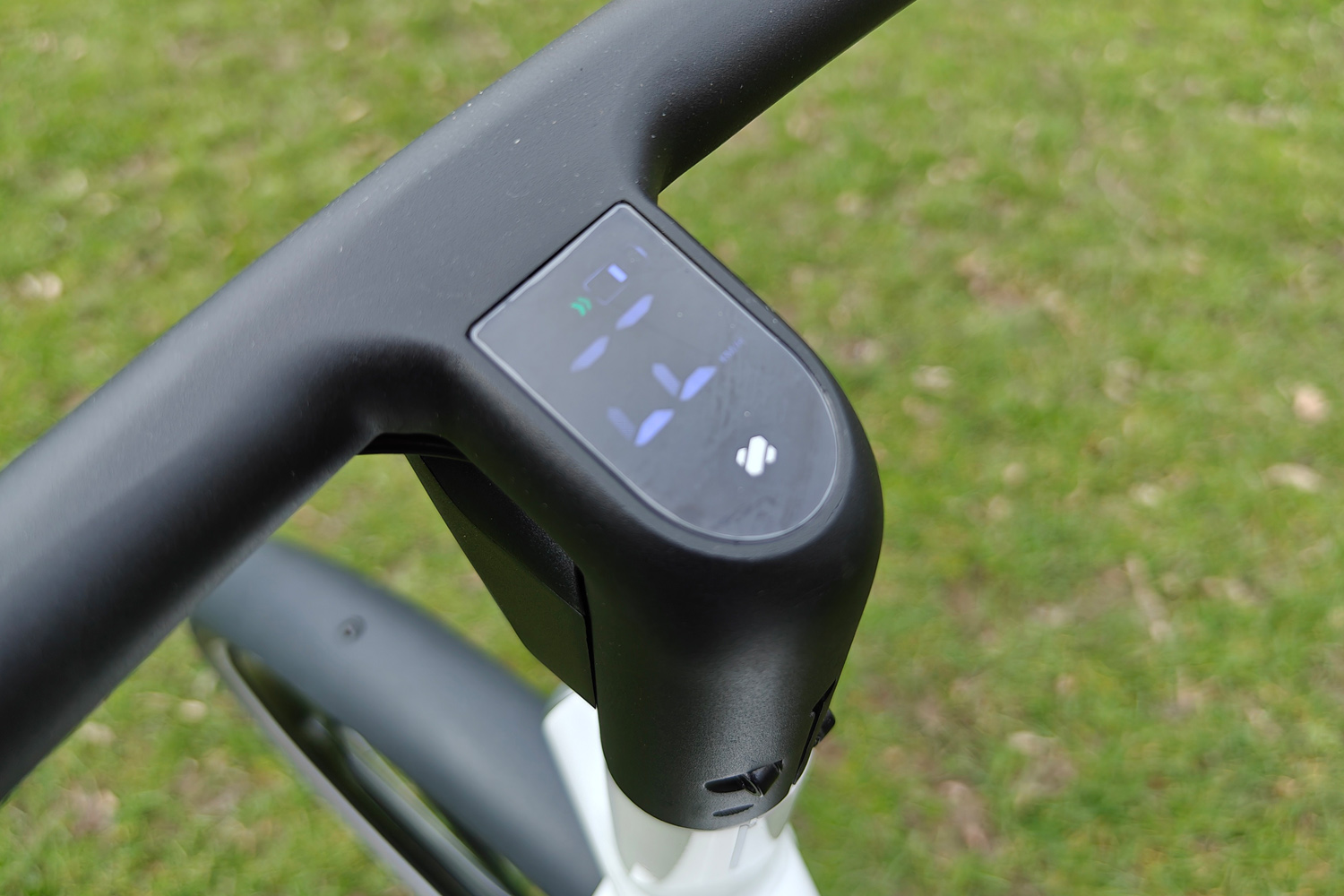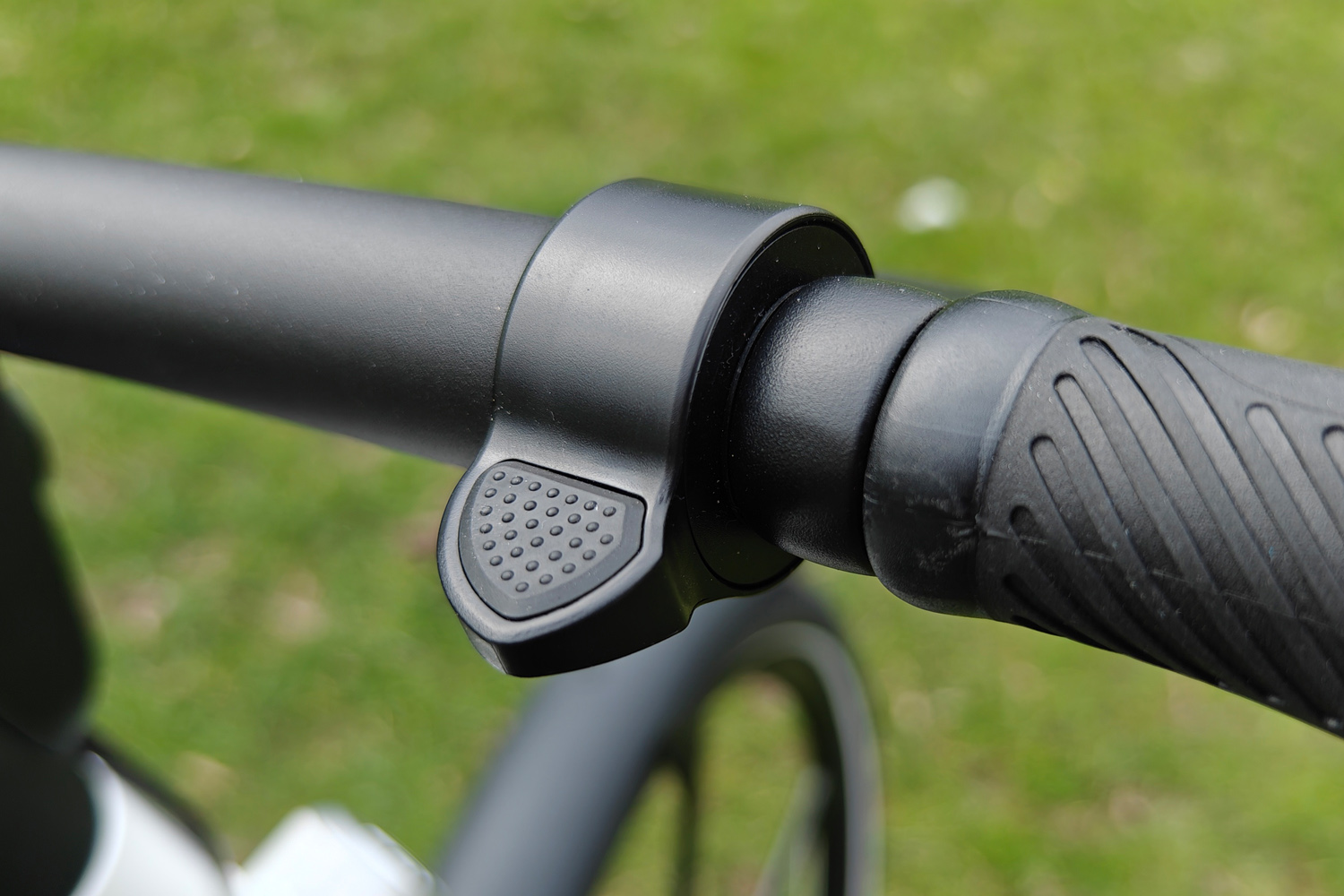 Hold down the power button with your left thumb and the LCD display springs into life. It's a simple affair, with a speedo front and centre (in your choice of mph or kph), a battery indicator and icons to show Bluetooth connectivity, assisted walking mode and whether the headlight is turned on or not. A rear light might be fitted as standard, but is battery operated and has to be switched on manually.
Green, blue and red icons represent Eco, City and Sport power modes, with each delivering a little more juice. Plus and minus buttons on the handlebar controls swap between them quickly and smoothly. A built-in gyroscope also knows to give a little extra oomph when tackling hills, even if you don't change modes, and there's the option to ride with pure pedal power if you like. It leaves the display on and means you can continue to use the headlight.
Ebike regulations being what they are in Europe, it's unusual to see one sold here with a throttle. Honbike has used a lever design that you push with your right thumb. US-based Uni4s can hit 20mph without pedalling, but here it'll max out at 3.7mph. That's still useful for pulling away at traffic lights with minimal effort, though.
Built-in Bluetooth means you can hook up the bike to Honbike's smartphone companion app, which can record rides using your phone's GPS and give a good indication of how many calories you've burned, even with electrical assistance. It's a cinch to export to third-party services like Strava, too. There's no generic Bluetooth ANT+ support here, though, meaning separate bike computers aren't compatible.
Honbike promises a maximum range of 62 miles from the battery, depending on which power modes you use. We saw closer to 40 with a mix of City and Sport modes, which isn't a huge distance – but means it'll manage the typical UK commute, in both directions, without needing to plug in between legs.
The one downside to a fully integrated battery is that you'll need to bring the whole bike close to a plug socket once it's time to charge; other ebikes let you detach that battery and just bring that inside instead. A full charge takes over four hours, so while the cable was of a reasonable enough length we could dangle it out of a window, we felt safer bringing the bike indoors for the duration.
Ride & performance: a relaxed ride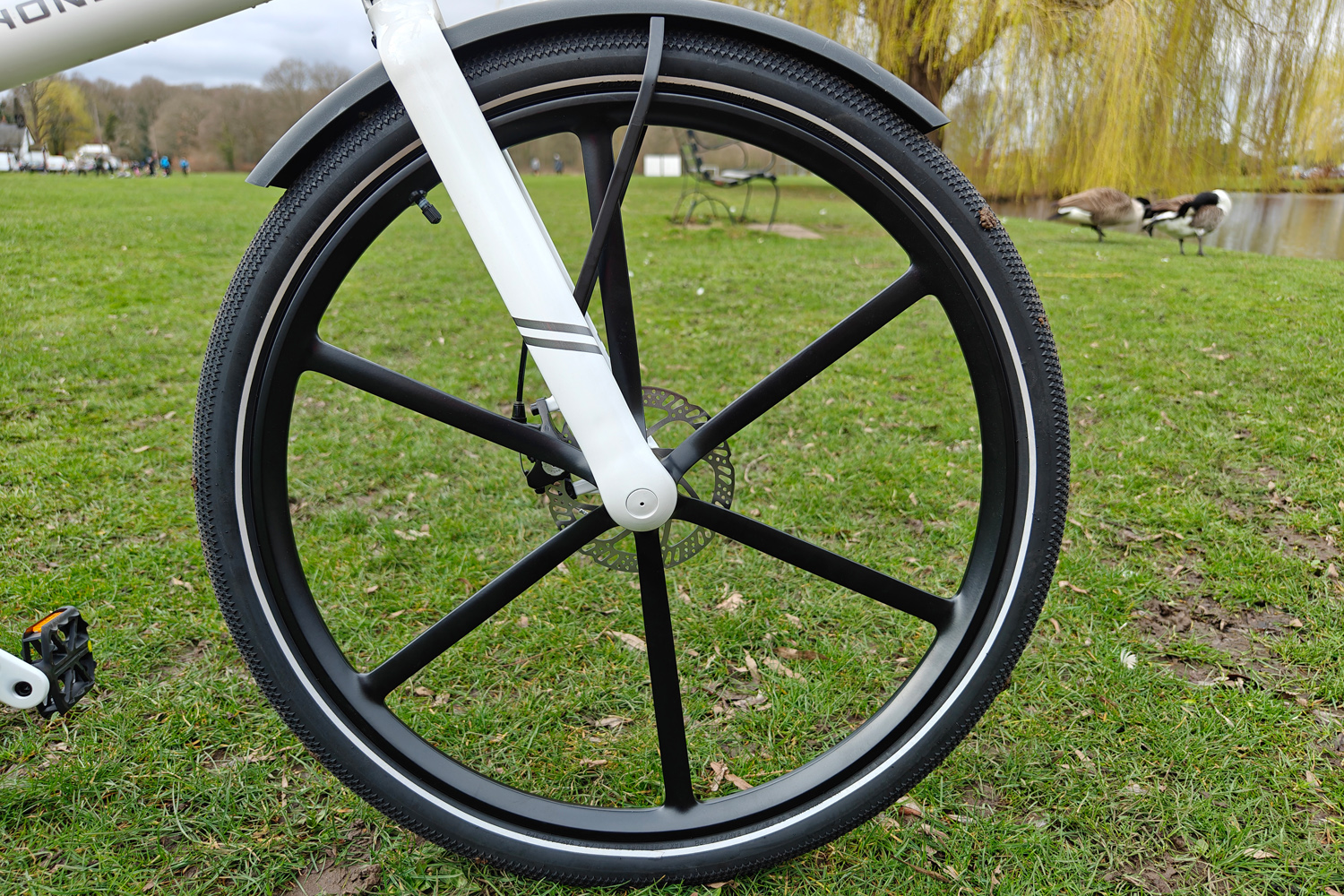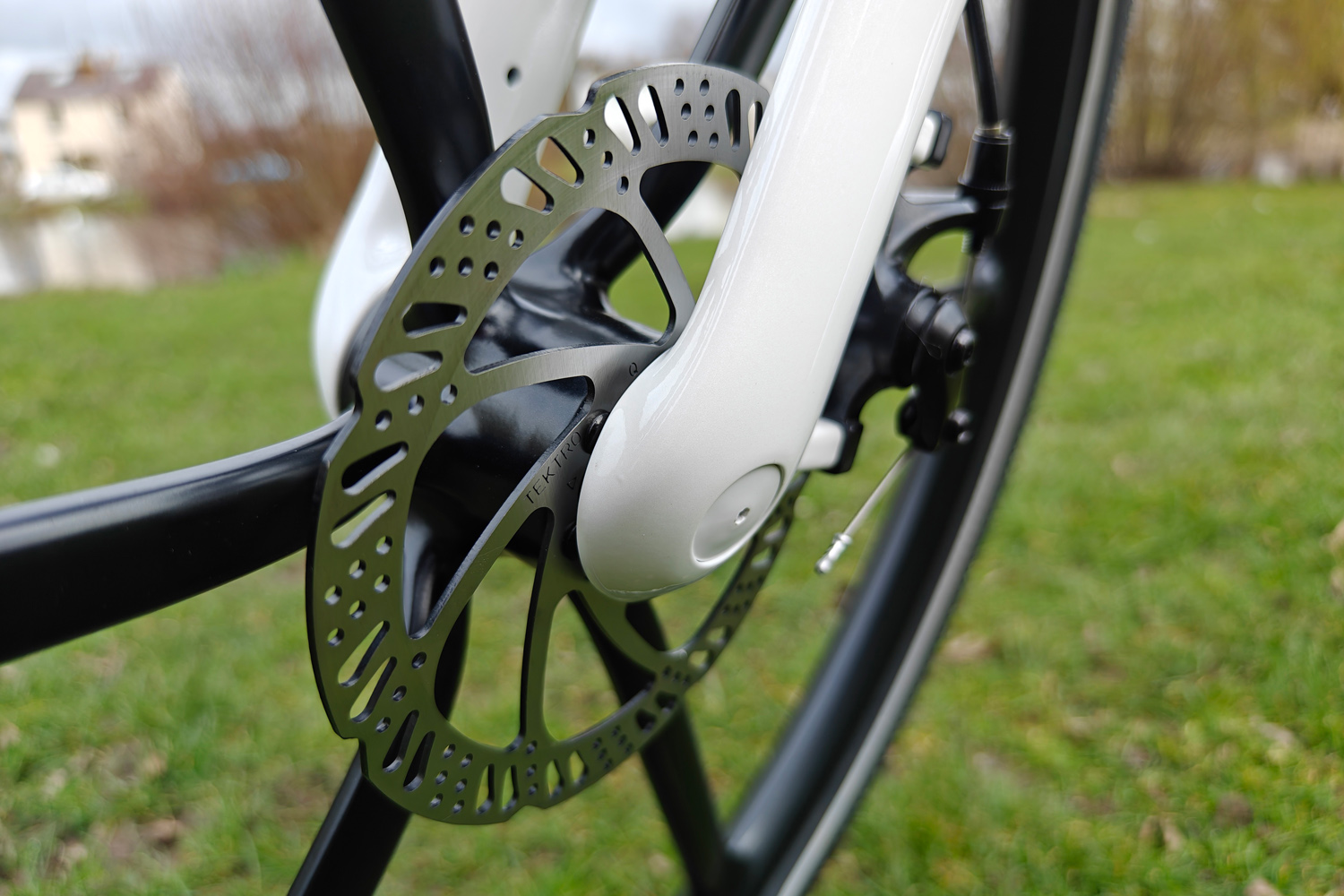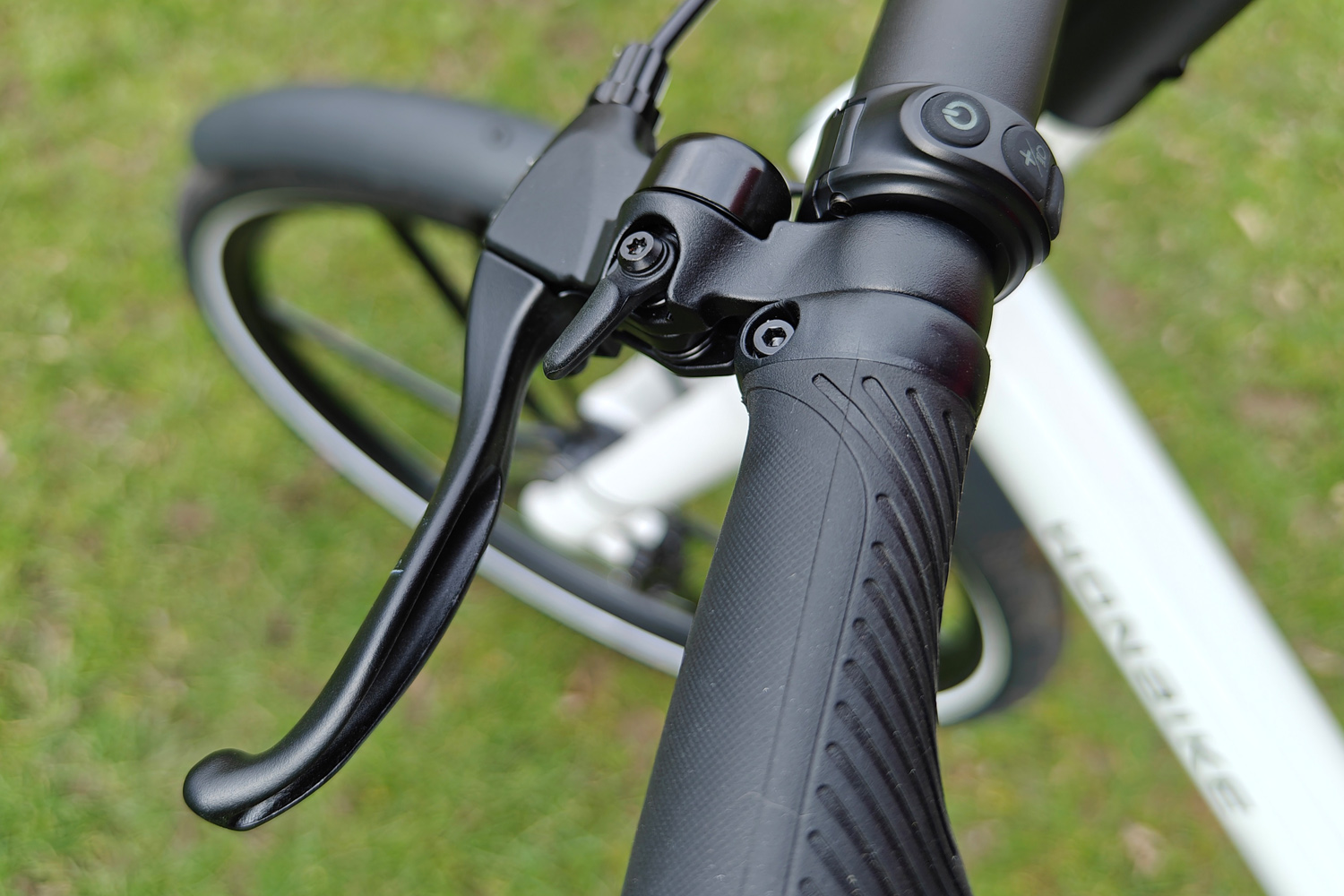 Out on the road, the Uni4 delivers its power smoothly and efficiently, getting you quickly up to speed. Electrical assistance is restricted to the UK standard 15mph, with anything above that relying on your leg muscles (or downhill gradients). We peaked around 21mph when really pushing, so you're not going to be chasing down professional athletes with ease, but hills were suitably flattened and stop-start traffic lights were a breeze.
The Uni4's disc brakes had effective stopping power in a mix of conditions, and on a range of surfaces. The chunky tyres are as at home on gravel tracks as they are on Tarmac roads, and work well with the magnesium wheels to absorb shocks. It doesn't have suspension, but we didn't feel it needed any. That's thanks in part to the seat, which is perfectly padded for moderate distance commuting, and the palm-friendly handlebar grips that suit an upright riding style.
Those wheels don't need spoke tension adjustment, and the Gates carbon drive belt system is as low maintenance as it gets, with a service interval of 11,000km. Most consumable parts are user serviceable, with Honbike able to provide replacements for everything else. Just hose it down once in a while, pump the tyres and you're good to go.
Honbike Uni4 verdict
With outstanding looks, a slick integrated display, and enough range for even an extreme commute, the Honbike Uni4 is a fantastic ebike. It's comfortable to ride for hours at a time, and is a fair bit lighter than many rivals. It undercuts other, similarly stylish bikes on price, yet doesn't skimp on features, and should keep maintenance to a minimum too.
The internal battery also lets you go incognito, rather than announce to the world you're being assisted by electrons. That does mean this is a poor choice for flat and apartment dwellers, and the fixed gearing limits its touring appeal for anyone after a true do-it-all bike that can keep pace with a peloton as well as get them to work and back.
If your leisure rides rarely go further than the Uni4's maximum range in a single session, though, it's an otherwise fantastic all-rounder.
Stuff Says…
A stylish and low-maintenance ebike that's ideal for commuting. It's not a distance rider, but the Honbike Uni4 is a fantastic choice for those wanting a stealthier ride
Good Stuff
Stylish looks that don't scream "ebike"
Slickly integrated lights and LCD screen
A comfortable commuter
Bad Stuff
Fixed gearing not built for speed
Has to be brought to a plug socket to charge
No ANT+ support
Buy the Honbike Uni4 from Honbike
Honbike Uni4 technical specifications
| | |
| --- | --- |
| Motor | 250W |
| Battery | 36V 432Wh |
| Top speed (assisted) | 15mph |
| Range (assisted) | 100km (max) |
| Charge time | 4.5 hours |
| Frame | aluminium |
| Shifters | N/A (fixed gear) |
| Brakes | Disc |
| Dimensions | 1035x1780x670mm, 20kg |